Best cycling computers
The best cycling computers are feature-packed, intuitive and easy to live with head units that provide data, maps and more.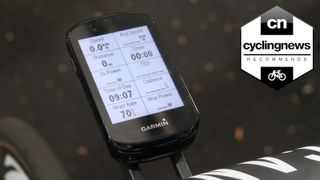 (Image credit: Josh Croxton)
The best cycling computers available are a far cry from the original 'Cyclometer' invented by Curtis H Veeder, an analogue device that counted how many times a wheel rotated, and converted that into distance using a formula.
Now, compact handlebar-mounted devices feature a GPS chip, Bluetooth, ANT+, WiFi and provide a host of information such as maps, power, calories, speed, distance, time, training stress score, Strava Live Segments and many, many more. Most can even control your turbo trainer in place of software such as Zwift.
When you're shopping for a new cycling computer it can be challenging to navigate the vast spec sheets that come along with even the most basic units, so in the list below we'll help you to wade through the tech jargon and help to find and buy the best cycling computer for you.
Price
Just like anything else in cycling, trying to figure out which cycling computer will fall within your budget constraints while offering the features you prioritise, can be a tall order.
Depending on how much money you have to spend, your GPS computer may have base maps, interval timers, in-depth power metrics, a colour touch screen and more connectivity than you can shake a stick at, or it might be a simple, compact unit with a black and white display and basic training metrics.
Connectivity
Every cycling head unit on the market will give you data fields like speed, distance, and time. Even at the bottom end of the spectrum, most cycling computers will support and ANT+ or Bluetooth connection to a heart rate monitor plus speed and cadence sensors. However, some less-expensive units may not support power meters.
More cycling computers are beginning to work with both ANT+ and Bluetooth sensors now. There are still a few hold-outs sticking to one or the other, but the majority will facilitate a Bluetooth connection to your phone for on-screen notifications, firmware updates and the like. Further still, some devices also connect to your home WiFi network to allow for your ride to be on Strava before you've taken your helmet and sunglasses off.
Navigation
Most cycling computers feature a GPS chip, as well as access to other satellite networks like GLONASS, BeiDou, and Galileo, and offer some definition of navigation. Many also have a base map pre-installed which allows for turn-by-turn directions, on-the-fly redirection and some allow you to create routes and courses directly on the device.
More budget-friendly head units won't have a base map, but may still offer what's called 'breadcrumb' navigation, where the head unit will display your route as a line which you're meant to follow.
Display
As you go up in price, you get things like touch and colour screens, but these are not something you'll necessarily need. While touchscreens are great for swiping through pages of metrics or manoeuvring maps, if you're wearing full-finger gloves or if it's raining, the screen may not function as advertised. The same goes for colour displays, which only really become a necessity if you're using maps.
Third-party apps
Finally, there are the extras like Komoot, Strava Live Segments, and on-screen workouts populated by Today's Plan, Training Peaks and TrainerRoad, uploadable training metrics and data fields, drivetrain and light integration, the companion app and more.
Where these features are available will depend on the cycling computer you choose, but they are not reserved for the premium units, and you'll see features like Strava Live Segments and drivetrain integration trickling into mid and lower range units.
Best overall
Small form factor, big battery
When it was released, the Wahoo ELEMNT Bolt was basically a more compact 'aero' version of the brand's first computer. It had all the same features, minus one set of LED's along the side of the screen and longer battery life — claimed at 15 hours.
Like the Roam, the Bolt relies heavily on the companion app for setup, but it's a streamlined and intuitive process, and the ease of use is second to none. While it doesn't get a colour screen, the monochrome version is excellent for data fields, but when it comes to navigation, it's sometimes challenging to figure out where you're supposed to go.
Speaking of navigation, the device comes with preloaded global maps optimised for bike-friendly routes and turn by turn navigation.
Like its more expensive cousin, the Bolt features tons of training metrics, support for both ANT+ and Bluetooth, as well as WiFi for speedy uploads to Strava, Training Peaks or wherever else you'd like your rides to be stored.
Best navigation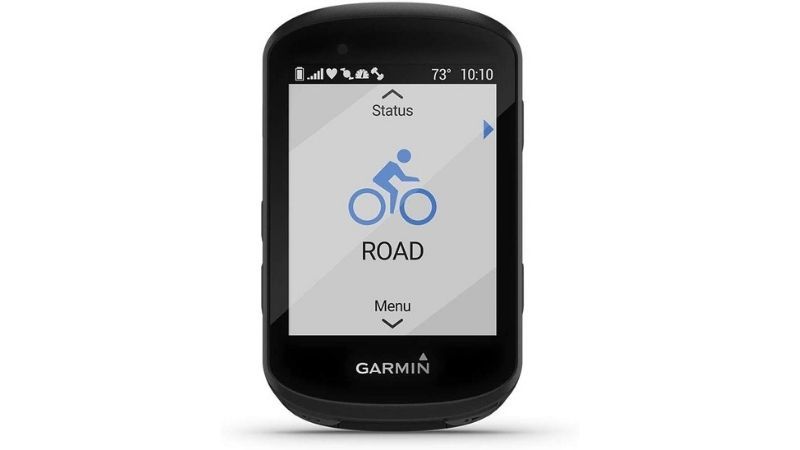 Mapping is clear and simple
The follow up to the uber-successful Edge 520, the brand new Garmin Edge 530 expands on the rich training suite and adds a faster processor to massively improve mapping.
Despite many reports of setup headaches - something we also experienced - once out of the way, the long list of features makes for a great device that is fast, clear, and a positive addition to your ride. The lack of touch screen makes for labour-intensive map browsing, although that's not something you're likely to do often.
If you're a touchscreen advocate, opt for the Edge 830, but if you prefer the tactile feel of button pushes, the 530 is equally feature-rich and refined.
With both Garmin Cycle Maps and Trail Forks pre-installed on the Edge 530, whether on the road or trail, it can help you find your way. With a battery life of 20 hours - 40 in battery saver mode - it's also one of the longest-lasting computers on the market, and that's before you add the Garmin Charge optional battery pack.
The Edge 530 also gets access to the Garmin Connect store, meaning you can add apps like Accuweather, Yelp, and Komoot among others, download data fields, and the computer can also talk to Garmin's Varia Radar lights.
Best interface
Massive screen with a refined interface
The big computer on Garmin's campus, the Edge 1030 has been the gold standard when it comes to cycling computers and navigation. Utilising the brand's cycle maps, the 1030 guides you via Garmin's Trendline Popularity Routing, drawing from billions of miles of Garmin Connect ride data to guide you towards more bike-friendly routes.
With a huge 3.5in / 89mm colour touchscreen, you can create routes directly on the device, and it will even let you know if a sharp bend is coming up. The touchscreen isn't quite as responsive as your smartphone, but it's pretty good as far as bike computers go.
Being that this computer sits at the top of Garmin's range, it's no surprise it's got every training bell and whistle the brand has to throw into a single unit and supports both ANT+ and Bluetooth sensors including power meters.
When it comes to a benchmark cycling computer in terms of functionality and quality, look no further.
Best battery
Excellent 32-hour battery life
Best known for flashy pumps and drool-worthy tools, Lezyne dipped its toe into the GPS cycling computer market in 2016, and its line of Super GPS computers have found a good balance between functionality and price point.
Utilising a non-touch colour screen, the Mega C boasts a claimed battery life of 32-hours, edging in just above the Bryton Aero 60. The computer also supports ANT+ sensors including power meters and can store up to 800 hours of ride data. The companion app facilitates quick uploads and automatically pushes ride data to Strava, Training Peaks or Today's Plan.
The little head unit can also help you chase Strava KOM / QOM's with Live Segments, let you know if it's your kids or work calling you during your ride with on-screen notifications, and offers electronic drivetrain integration through ANT+.
The Mega C does offer turn by turn navigation and even in-activity rerouting, though you'll need to kick off the route using your mobile phone. In lieu of a pre-installed based map, you'll also need to sync offline maps from your phone to the computer.
Best value
Takes some getting used to, but offers great value for money
In our experience, Bryton cycling computers come with a bit of a learning curve and aren't the most user-friendly units on the market, but after a bit of learning, what they do offer is serious bang for your buck and are currently used by Israel Start-Up Nation in the WorldTour.
With a companion app, you can create yourself a route and sync it to your unit for breadcrumb style routing. There's support for ANT+ and Bluetooth sensors, 77 functions and a claimed 35-hours of battery life.
The Rider 420 also allows for workouts to be exported from TrainingPeaks directly through the device, auto-sync to third-party training software, and allows for the screens and data fields to be set up through the companion smartphone app.
If you're someone who follows routes often, the Rider 420 might not be the best for you, but if you're after big function with a small price, look no further.
Best budget option
Uses a solar panel to auto-charge
With a host of colors to choose from, the Cateye Padrone is a simple and practical computer that comes in a small unit, but still features a clear, large display. It features an auto-pause function that will pause your ride whenever it senses the rider has come to a stop to ensure your average speed and duration remains correct. As for the data it supplies, you get all the good stuff such as current, average and maximum speed, as well as distance, time, and a clock. The flex-tight bracket makes it easy to fit, adjust, and even swap between bikes.
Mildred is a Reviews Writer for Cyclingnews who enjoys everything from road cycling to mountain biking, but is a utilitarian cyclist at heart. Determined to do everything on two wheels, she's even moved house by bike, and can regularly be found pedalling around Bristol and its surrounding areas. She's spent over four years volunteering as a mechanic and workshop coordinator at the Bristol Bike Project, and now sits on its board of directors. Her expertise comes from previously working in a bike shop and learning the ins and outs of the industry, and she's previously written for a variety of cycling publications, including Bikeradar, Cycling Plus, Singletrack, Red Bull, Cycling UK and Total Women's Cycling. At home on slicks and knobblies alike, her ideal ride covers long distances through remote countryside, on mixed terrain that offers a bit of crunch, followed by a gourmet campfire meal and an overnight bivvy beneath the stars.
Sign up to the Cyclingnews Newsletter. You can unsubscribe at any time. For more information about how to do this, and how we hold your data, please see our privacy policy
Thank you for signing up to Cycling News. You will receive a verification email shortly.
There was a problem. Please refresh the page and try again.