Best pressure washers
Blast away dirt with our pick of the best pressure washers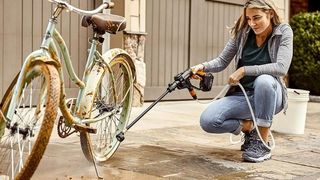 (Image credit: Worx)
Cycling is an ongoing battle with dirt, road grime and mud, especially during the winter. After a muddy ride, it's important to make sure you get the muck off your frame before it solidifies.
When it comes to electric power washers, there are a lot of options that will turn your water tap into a concentrated stream. You need to be sensible when pressure washing bikes. As long as you don't point a stream of high-velocity water directly into bearings seals at point-blank range, they can be a beneficial tool to simplify your post-ride clean up.
How much power?
If you're looking at a pressure washer for your bike, you only need enough power to unstick stubborn mud.
When it comes to flow rate, the lower end of the spectrum will be more than enough to clean your ride; look for a jet washer with a max pressure of around 1600 psi - even then you won't need the full power - and a low flow rate to minimise water usage.
Stand back
Even with a light-duty pressure washer, at point-blank range, you can still strip the paint off your frame, not to mention grease from the inside of bearings. Take a step back and start at the distance where the stream begins to transition to mist, and only move closer for really tough mud.
Spray nozzle and lance
Look for a nozzle that fans the water out into a sheet as this will help to get rid of the stickiest mud while also spreading the water pressure out over a wider area.
Sign up to the Cyclingnews Newsletter. You can unsubscribe at any time. For more information about how to do this, and how we hold your data, please see our privacy policy
Thank you for signing up to Cycling News. You will receive a verification email shortly.
There was a problem. Please refresh the page and try again.