Best cycling sunglasses
Find eyewear that blends fashion with function with our pick of the best cycling sunglasses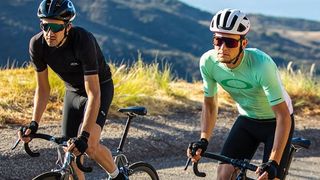 (Image credit: Oakley)
The best cycling sunglasses do a lot more than just shield your eyes from the sun. Here is our round-up of the best cycling sunglasses available right now.
Eye protection is nothing new to cycling, having first appeared more than 100 years ago in the form of military-style flying goggles. These goggles, while bulky in appearance, kept grit, debris and rain from entering the eyes but slowly disappeared from the peloton as modern frame designs became more fashionable and easier to wear, and cycling sunglasses were born.
As a result, many cyclists began wearing aviator-style sunglasses and spectacles during the '50s, '60s and '70s – especially those with visual impairments. As technology improved, so did the rhetoric behind eye protection and the role it served in contemporary sport, not just cycling.
To find out what you should consider when picking your next pair of sunglasses, you can find our guide on what to look for below.
What to look for
Recently, the design and shape of cycling sunglasses have come full circle and back to where it all started – large, goggle-style lenses are presently the flavour of the month. Despite the influx of newer and trendier upstarts, Oakley remains a major force in the industry as the eyewear war continues to blur the lines between style and function.
Cycling sunglasses are as much about fashion as they are function, but their main purpose still hinges around the primary role of protection, be it from bugs, debris, rain or the harmful UV rays of the sun.
It's easy to get lost in all the marketing jargon and the sheer number of choices available when shopping for a new pair of cycling sunglasses so it's important that you know your hydrophobics from photochromics – we'll explain later. While all the major brands offer a range of design styles to accommodate the facial attributes of most individuals, it's highly recommended that you test fit a pair to ensure a snug and comfortable fit.
Frames
The most important part of any pair of cycling sunglasses is the frame geometry and fit. After all, what's the point of having the best lenses in the world if the fit is terrible?
Most of the major players offer built-in flexibility and adjustability around the arms and nose bridge for a somewhat tailored fit. There are three distinct frame types: full frame, half frame and frameless, each of which has a substantial bearing on lens size, eye coverage and field of view.
Lenses
There are various lens types designed for specific conditions and environments, some of which are also interchangeable depending on the manufacturer.
Most reputable brands offer a variety of special lenses designed to enhance vision and performance, these include photochromic (change from clear to dark in the light), hydrophobic (repel water), polarised (reduce glare), oleophobic (smudge resistant) and prescription variety of lenses.
Industry stalwarts, Oakley, has developed its own distinct lens technology, called Prizm – which amplifies clarity and improves depth of field.
Sign up to the Cyclingnews Newsletter. You can unsubscribe at any time. For more information about how to do this, and how we hold your data, please see our privacy policy
Thank you for signing up to Cycling News. You will receive a verification email shortly.
There was a problem. Please refresh the page and try again.