Best bike reflectors
By Mildred Locke published
Stay visible at all times of day with our pick of the best bike reflectors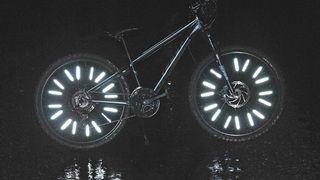 (Image credit: Jusmar)
Feeling like you're visible in traffic helps you to feel safe as a cyclist. While you may already have lights and hi-viz clothing, you may also want to invest in some reflectors for an added safety boost. They can be as simple as adding a white reflector to the front of your bike and a red one to the rear, or you can have lots of fun with them. Nowadays you can buy spoke reflectors that light up your entire wheel as you roll along, as well as reflective stickers that you can put wherever you want.
They're a really affordable way of adding an extra layer of safety and reassurance to your ride, as well as a great opportunity to express your unique personality and put a personal stamp on your beloved bike.
Here are our suggestions for the best bike reflectors.

Thank you for reading 5 articles this month* Join now for unlimited access
Enjoy your first month for just £1 / $1 / €1
*Read 5 free articles per month without a subscription

Join now for unlimited access
Try your first month for just £1 / $1 / €1
Mildred joined as Reviews Writer for Cyclingnews and BikePerfect in December 2020. She loves all forms of cycling from long-distance audax to daily errand-running by bike, and does almost everything on two wheels, including moving house, and started out her cycling career working in a bike shop. For the past five years she's volunteered at The Bristol Bike Project as a mechanic and session coordinator, and now sits on its board of directors.
Since then she's gone on to write for a multitude of cycling publications, including Bikeradar, Cycling Plus, Singletrack, Red Bull, Cycling UK and Total Women's Cycling. She's dedicated to providing more coverage of women's specific cycling tech, elevating under-represented voices in the sport, and making cycling more accessible overall.
Height: 156cm (5'2")
Weight: 75kg
Rides: Liv Devote, Genesis Equilibrium Disc 20, Triban RC520 Women's Disc, Genesis Flyer, Whyte Victoria, Cotic BFe 26, Clandestine custom bike
Sign up to the Cyclingnews Newsletter. You can unsubscribe at any time. For more information about how to do this, and how we hold your data, please see our privacy policy
Thank you for signing up to Cycling News. You will receive a verification email shortly.
There was a problem. Please refresh the page and try again.