Best bike inner tubes
Keep your steed rolling with our pick of the best bike inner tubes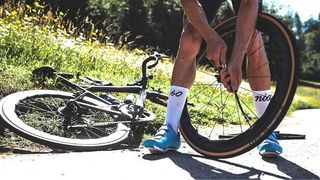 (Image credit: Tubolito)
The inner tube may be a simple part of your bike, but it's also one of the easiest to get wrong if you don't know what to look for. There's a huge range of sizes available, plus differing valves and materials. In order to keep your bike rolling smoothly, you need to make sure you buy the right ones.
Fear not, however, as we're here with our useful guide on how to choose the right inner tube for your bike, along with some recommendations for the best ones available.
Size
There is no 'one size fits all' when it comes to inner tubes, and it's important to match the size to your wheel's diameter, and tire's thickness. This will also depend upon the kind of bike you're riding, but it really doesn't have to be as complicated as it may sound. The first thing you need to do is establish which size you need.
Road bikes will generally have a 700c diameter wheel, and so you'll need a 700c tube to go with it. Many commuter hybrids will have 700c wheels as well.
Mountain bikes, on the other hand, are a bit more variable: their wheels can come in 26in, 27.5in or 29in diameters.
Just to be a little more confusing, gravel and adventure bikes sometimes come with smaller 650b wheels, but this is exactly the same as 27.5 inches.
Children's bikes will have much smaller wheels, and the sizing depends on the age group and size of the bike. They'll likely be 16in, 20in or 24in. This also applies to folding bikes.
It's important to get the diameter right, and from here you also need to establish the width. Thankfully, these are a little more forgiving, with inner tubes covering a range of width sizes. All you need to do is find out the width of your tires, and select a size range that includes yours.
Tire and inner tube widths are measured in millimeters for road bikes, and inches for mountain bikes. As an example, a 700x20-25 sized inner tube will work for a road bike with 23mm tires, while a 27.5x1.75-2.5 sized inner tube will fit a mountain bike tire that's 27.5in in diameter and 2.35in wide.
Valve type
Once you've worked out the size, the next thing you need to establish is the type of valve you need. The two most common valves used these days are Presta and Schrader valves.
Presta valves are generally more commonly used these days. They're longer and narrower, and have a screw at the tip, which needs to be undone in order to pump it up. Pressing down on the tip when it's undone will release air.
The tip of the Presta is actually part of the valve core, and this can sometimes be removed and replaced if it's damaged. This does mean you need to be careful not to accidentally unscrew the valve core, or bend it when attaching and detaching a pump.
The Schrader valve on the other hand is short and stubby, and looks just like the valves found on car tires. It's important to get the correct valve, because it must thread through a hole in the wheel's metal rim. If you buy a tube with a wide Schrader valve for a Presta-compatible rim, it won't fit.
Valve length
As well as establishing the correct valve type, if you're buying a new Presta inner tube, you should consider the length of the valve as well. This is because the majority of the valve needs to poke through the hole in the rim in order to be secured in place and accessible to pumps, but rim depths can also vary. If you have deep section rims, which are becoming more and more common on road bikes these days, then you need to make sure your valve is long enough to poke all the way through.
Valve lengths can go all the way up to 80mm. It's better to have one too long, rather than too short, but an oversized valve will look a bit odd.
While it can be less common, it is possible to have wheels with rims that are even deeper than the longest valve you can find. If this happens to be the case for you, you can buy a valve extender that screws on top, to add some extra length.
Materials
Most inner tubes are made from rubber: either butyl or latex. Latex tubes are lighter in weight, while butyl tubes are more common, heavier, and create additional rolling resistance. They are, however, cheaper than latex. What's more, they're also easier to repair using a standard puncture repair kit, so they tend to offer a lot more in longevity. Latex may offer weight savings, but it's also quite flimsy and fragile, making latex tubes more awkward to fit.
Multi-pack value
Affordable and durable butyl road bike inner tubes
VeloTubes haven't been around for long, but their butyl inner tubes are affordable, durable, and long-lasting. They come in 700c size for road bikes, with a 48mm long presta valve, so they're compatible with road wheels that have a rim shallower than 40mm. These particular tubes are suitable for 18-25mm tires.
Best for everyday use
A go-to option for many a cyclist
Continental is arguably the market leader when it comes to bicycle tires and inner tubes, alongside many products in the automotive industry. Since they're the fourth-largest producer of tires in the world, it only stands to reason that their inner tubes will be made to a high standard.
These particular tubes are suitable for any 700c tires sized from 20 to 25mm, though Continental has a huge suite of sizes available to choose from. This bundle includes five tires so you never have to worry about being caught out, and what's more, it even comes with two Park Tool tire levers and a full repair kit. That kind of value is hard to beat.
Best for racing
Butyl tubes with latex properties
Some racers care about shedding ounces like there's no tomorrow, to keep their machines running as quickly as possible. So if you love racing, the Supersonic tubes from Continental are a must. Weighing under two ounces, they're lighter than latex tubes and have all the durability and reliability of butyl (which they're actually made from).
These particular tubes have a 60mm valve length, so they're suitable for most racing wheelsets with a rim depth of up to 50mm.
Most lightweight
Ridiculously light TPE inner tubes
These road tubes from Tubolito are staggeringly light, weighing just 1.3 ounces. Instead of the usual butyl or latex rubber, Tubolito's inner tubes are made from durable thermoplastic elastomer (TPE).
Not only is it one of the lightest inner tubes you can buy, it also boasts twice the amount puncture resistance than regular tubes, as well as four times the elasticity.
Most versatile
Rugged enough for the rough stuff
The Kenda name is synonymous with high quality inner tubes, and these butyl ones are designed specifically for rougher roads, gravel, and long-distance touring.
With an 80mm valve, they're compatible with rims up to 70mm deep, while they work well with tires up to 30mm wide, making them truly versatile. This pack of four will suit most cyclists' needs, from commuters to gravel grinders.
Lowest rolling resistance
Their bright color helps you spot installation errors
Serious racers tend to opt for latex inner tubes because they're well known for their lower rolling resistance. This means less friction caused between the tube and the tire, leading to smooth and easy sailing.
These latex tubes from Vittoria are coloured bright pink, which serves a nifty purpose, in that after you've installed them, if you've experienced any issues with properly seating the tire in the rim bead, you'll be able to see your mistakes.
This pair of tubes cater to tires with a width between 25 and 28mm, and come with a 51mm Presta valve. This makes them compatible with rims up to 40mm deep.

Thank you for reading 5 articles this month* Join now for unlimited access
Enjoy your first month for just £1 / $1 / €1
*Read 5 free articles per month without a subscription

Join now for unlimited access
Try your first month for just £1 / $1 / €1
Mildred is a Reviews Writer for Cyclingnews who loves all forms of cycling from long-distance audax to daily errand-running by bike. She does almost everything on two wheels, including moving house, and started out her cycling career working in a bike shop. For the past five years she's volunteered at The Bristol Bike Project as a mechanic and session coordinator, and now sits on its board of directors. Since then she's gone on to write for a multitude of cycling publications, including Bikeradar, Cycling Plus, Singletrack, Red Bull, Cycling UK and Total Women's Cycling. She's dedicated to providing more coverage of women's specific cycling tech, elevating under-represented voices in the sport, and making cycling more accessible overall.
Height: 156cm (5'2")
Weight: 75kg
Rides: Liv Devote, Genesis Equilibrium Disc 20, Triban RC520 Women's Disc, Genesis Flyer, Whyte Victoria, Cotic BFe 26, Clandestine custom bike
Sign up to the Cyclingnews Newsletter. You can unsubscribe at any time. For more information about how to do this, and how we hold your data, please see our privacy policy
Thank you for signing up to Cycling News. You will receive a verification email shortly.
There was a problem. Please refresh the page and try again.