Best bar tape for bikes
Protect your hands with our pick of the best bar tapes for your bike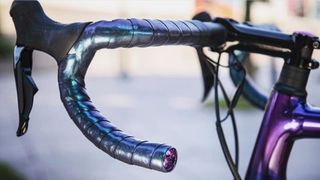 (Image credit: Supacaz)
One of the easiest upgrades you could make to your bike is changing the handlebar tape. Since the handlebar is a major contact point between you and your bike, upgrading to a better bar tape can make all the difference to how it feels when you ride, whether it enhances comfort or puts you in better control.
Considering how much time your hands spend in contact with your bar tape, this one detail can have a huge impact on your riding experience, so it shouldn't be overlooked - especially when it doesn't cost very much to get it right.
Bar tape comes in a range of thicknesses and materials which will make a difference to the characteristics of your handlebar and offer a custom feel to your bike.
So whether you are looking to improve road feel, add comfort or give your bike a refresh, scroll down for our pick of the best bar tape available to buy.
First though, here's our guide for how to choose the right kind of bar tape for you.
Material
Originally, bar tape was made from cork or leather, both of which are still popular for the level of grip, comfort and aesthetics they offer.
While these options work well, they do also have limitations, and modern bar tapes are made from synthetic materials combined with foam or gel. These offer improved comfort, all-weather grip and are available in a wider range of colors or designs.
Due to the wide range of finishes now available and, as bar tape is very much a personal preference, it is worth shopping around to find the material or texture you like the most.
Grip
Grip is dependent on the bar tape's materials and textured finish
Synthetic materials like polyurethane can have a tacky finish to provide grip in both wet and dry conditions for gloved or bare hands. Meanwhile, textured surfaces or perforations can also be used to give some extra purchase to the handlebar.
An element of breathability is also important to allow sweat and moisture to be drawn away from the hand and help maintain a good grip when the temperature rises.
Thickness
Bar tape comes in a variety of thickness to suit feel and comfort. Traditionally racers prefer a thin wrap which offers a close road feel and a direct response on the bike.
Thicker tape between 2.5mm and 3.2mm will lessen road buzz for more comfort and reduce potential numbness in the hands over a long distance.
For rides like the Paris-Roubaix or gravel riding, an even thicker bar tape can be used to reduce fatigue and help with control on rough surfaces. To add additional comfort to a favourite bar tape, gel inserts can be added underneath the tape, or bars can be double-wrapped. However this will add an element of bulk to the handlebar, so consider carefully.
Color
Most bar tape is available in a wide range of colors and styles to suit all tastes and fashions. Whether you want to play it safe with a simple black, color match with details on your bike, or stand out with an eye-catching fluro gradient, there will be a bar tape that suits everyone.
Remember lighter colors will quickly show dirt and grime and require a little extra care to keep it looking its best. If you'd prefer to just fit and forget, then a classic black will stay looking good for a long time.
Best overall
Classic design with gel inserts for more comfort
Cinelli revolutionised bar tape in 1985 and for the last 30 years have stuck with their winning EVA/cork formula which is a favourite amongst many riders.
By combining EVA and cork Cinelli was able to create a wrap that is soft, tear-resistant and comfortable when riding with or without gloves. The addition of a thin layer of Vibrasorb gel adds further vibration absorption and improved comfort to Cinelli's classic.
Available in five colors which have a pleasant speckled look. Two Cinelli branded plastic push-in bar ends are supplied.
Runner up
A race-inspired bar tape at a competitive price
The Deda Presa is a double density bar tape combining a bottom layer of EVA to reduce vibrations with Polyurethane for grip. This dual-density construction gives a balance in performance to offer a firm but forgiving feel.
Grip and breathability are enhanced using perforated details along the centre of the wrap. These perforations also provide a subtle addition of color along with understated black on black Deda logos. Deda includes two black branded push-in bar ends and finishing tape.
Eco-friendly
Comfortable, sustainable and unique
Have you ever considered using cloth bar tape as opposed to plastic and foam? There's something very retro about it, and yet it's an incredibly forward-thinking product to opt for at a time when sustainability and the protection of our environment is so prominent. Even the dyes used to color them are environmentally friendly.
This cloth bar tape from Newbaum's is absolutely lovely, with the texture and thickness of milled cloth. It still has an adhesive backing for easy wrapping, and although you may worry that it's not stretchy enough, you'll find it pulls beautifully around the contours of your drop bars.
It gives a lovely vintage look to your bike, feels incredible without gloves, and doesn't impact the environment in the same way other bar tapes do. Just be aware that you will likely need two rolls for a whole set of drop bars. This at least means that for anyone wrapping smaller surfaces like bull horns or flat bars, there's less waste at the end.
Best colors
Head-turning style to suit any personality
Supacaz has featured on many WorldTour bikes and ridden to great success by the likes of Sagan, Nibali and Cavendish. The Super Sticky Kush tape is offered in an outrageous selection of colors and designs from classic black to shiny oil slick. There is something to suit all styles and personalities, so if your criteria when choosing bar tape is proven race performance and standing out from the crowd then Supacaz bar tape is going to tick your boxes.
The Supacaz uses a layer of foam to dampen vibrations with a top layer of Polyurethane material to offer a tacky texture in wet conditions, ideal for riders who don't wear gloves. Included with the bar tape is a pair of aluminium expander bar plugs which are anodised or powder coated to match your tape, offering a premium upgrade over the standard push-in plastic bar ends.
Best value
Light, durable and excellent value for money
SRAM's Supercork bar tape delivers a smart finish as well as vibration-damping comfort, to help you stay in the saddle for longer. The polyurethane tape is embedded with cork which provides superior grip and cushion, while feeling incredibly lightweight and strong.
You can get great coverage with it because it's super stretchy, plus it's not overly sticky so it's very forgiving if you need to go back and re-wrap.
It provides just enough padding to feel comfortable beneath your hands, without feeling too chunky.
The only thing to watch out for is that the surface is very porous, which means if you frequently ride with grubby gloves, or sweat a lot, it can get dirty fairly easily. As long as you keep your gloves clean, and give it a spray and wipe every few rides in the height of summer, it should stay good for longer.
Best grip
Premium bar tape that offers ultimate control
Fizik Vento is a thin 2mm lightweight bar tape that is aimed at riders who want uncompromised bar feel for ultimate control and was designed in collaboration with Fizik's sponsored pro riders.
The Vento MicroTex has a tacky feel and textured finish to offer a non-slip performance in all conditions. Thanks to its 2mm thickness the Vento MicroTex will suit riders with small hands as well as being very light at a feathery 38.7g (claimed). Simple push-in Fizik branded bar ends are supplied with the bar tape as well as finishing tape.
Fizik offers their Vento Microtex tape in a range of plain and fluro colors as well some contemporary bi-color designs.
Sweat-free
Superb grip for gloveless riding and great breathability
This PU leather bar tape from Kingou offers excellent grip, thanks to its anti-slip surface, making it a great option for riding without gloves in the summer. The material is super breathable as well as sweat-absorbent, so it can keep your hands feeling cool and dry when the temperature rises.
It doesn't come with adhesive on the back, which means it's really easy to wrap and re-wrap, in case you're a perfectionist, or decide to readjust your hoods afterwards (it's so annoying when you finish wrapping and then realise the height is all wrong!).
The material is soft and cushioned, which helps to mitigate the shock from the road, which makes it much easier to cover long distances and put hours in the saddle. Plus it comes in eight different color options to match most paint jobs.

Thank you for reading 5 articles this month* Join now for unlimited access
Enjoy your first month for just £1 / $1 / €1
*Read 5 free articles per month without a subscription

Join now for unlimited access
Try your first month for just £1 / $1 / €1
Mildred is a Reviews Writer for Cyclingnews who loves all forms of cycling from long-distance audax to daily errand-running by bike. She does almost everything on two wheels, including moving house, and started out her cycling career working in a bike shop. For the past five years she's volunteered at The Bristol Bike Project as a mechanic and session coordinator, and now sits on its board of directors. Since then she's gone on to write for a multitude of cycling publications, including Bikeradar, Cycling Plus, Singletrack, Red Bull, Cycling UK and Total Women's Cycling. She's dedicated to providing more coverage of women's specific cycling tech, elevating under-represented voices in the sport, and making cycling more accessible overall.
Height: 156cm (5'2")
Weight: 75kg
Rides: Liv Devote, Genesis Equilibrium Disc 20, Triban RC520 Women's Disc, Genesis Flyer, Whyte Victoria, Cotic BFe 26, Clandestine custom bike
Sign up to the Cyclingnews Newsletter. You can unsubscribe at any time. For more information about how to do this, and how we hold your data, please see our privacy policy
Thank you for signing up to Cycling News. You will receive a verification email shortly.
There was a problem. Please refresh the page and try again.