Best bar tape for bikes
Protect your hands with our pick of the best bar tapes for your bike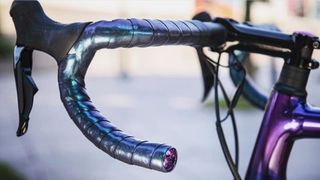 (Image credit: Supacaz)
Changing your bar tape is one of the easiest ways to upgrade the contact points on your bike, which can also make the biggest difference to how it feels, enhancing comfort and control while riding. 
Considering how much time your hands spend in contact with your bar tape, this one detail can greatly impact your riding experience, and shouldn't be overlooked. Especially when it doesn't cost very much to get it right. Bar tape comes in a range of thicknesses and materials which will define handlebar characteristics and offer a custom feel to your bike.
Whether you are looking to improve road feel, add comfort or give your bike a refresh, scroll down for a pick of the best bar tape available today. First though, here's our guide to how to choose the right kind of bar tape for you.
Material 
Originally bar tape was made from cork or leather which are still popular now for their levels of grip, comfort and for a classic look. While these options work well they do have limitations and new synthetic materials which can be combined with foam or gel have since been introduced. These modern bar tapes offer improved comfort, all-weather grip and are available in a wider range of colors or designs. Due to the wide range of finishes now available and, as bar tape is very much personal preference, it is worth shopping around to find the material or texture you prefer.
 Grip
Grip is based on the materials used and textured finish applied. Synthetic materials such as polyurethane can be made to have a tacky finish to provide grip in both wet or dry conditions for gloved or bare hands. Textured surfaces or perforations can also be used to give some extra purchase to the handlebar. An element of breathability is also important to allow sweat and moisture to be drawn away from the hand and help maintain a good grip.
Thickness
Bar tape comes in a variety of thickness to suit feel and comfort. Traditionally racers prefer a thin wrap which offers a close road feel and a direct response on the bike. Thicker tape between 2.5mm and 3.2mm will lessen road buzz for more comfort and reduce potential numbness in the hands over a long distance. For rides such as the Paris-Roubaix or gravel riding an even thicker bar tape can be used to reduce fatigue and help with control on rough surfaces. To add additional comfort to a favourite bar tape gel inserts can be added under the tape or bars can be double wrapped although this will add an element of bulk to the handlebar.
Color
Most bar tape is available in a wide range of colors and styles to suit all tastes and fashions. Whether you want to play it safe with a simple black, color match with details on your bike, or stand out with an eye-catching fluro gradient, there will be a bar tape that suits. 
Remember lighter colors will quickly show dirt and grime and require a little extra care to keep looking at its best. If you're looking to simply fit and forget then a classic black will stay looking good for a long time.
Sign up to the Cyclingnews Newsletter. You can unsubscribe at any time. For more information about how to do this, and how we hold your data, please see our privacy policy
Thank you for signing up to Cycling News. You will receive a verification email shortly.
There was a problem. Please refresh the page and try again.