Live coverage
Tour de Suisse stage 2 - Live coverage
All the action on a punchy day into Lachen
Refresh
Hello there and welcome along as we take on the second stage of the 2021 Tour de Suisse. After Sunday's opening time trial, it's time for the puncheurs to shine, with a hilly second half to today's parcours and a steep late climb.
This is the scene at the start in Neuhausen
Almost ready for stage 2: pic.twitter.com/lB1Ne1hZhGJune 7, 2021
The riders are on the move. They've just rolled out and are heading through the neutral zone before the stage gets underway.
We're off!
The riders reach kilometre-zero and the race is waved underway
Here come the early attacks and Claudio Imhof (Swiss national team) is away.
Nickolas Zukowsky (Rally Cycling) is up there with Imhof.
The duo haven't been let off the leash. More attacks come and go from the peloton, where the collective foot hasn't been taken off the gas.
Tom Bohli (Cofidis) launches another counter-attack.
Roland Thalmann (Swiss national team) is with Bohli, and they make their way over to the front two.
This four-man move looks like our breakaway of the day as the peloton sits up and the gap grows to more than two minutes.
The escapees are:
Claudio Imhof (Swiss national team)
Roland Thalmann (Swiss national team)
Tom Bohli (Cofidis)
Nicolas Zukowsky (Rally Cycling)
Correction, Thalmann isn't in this break. It is instead Matteo Dal-Cin. So that's two for Rally Cycling, and just the one for the Swiss national squad.
Either way, with 30km on the clock, their lead is up to 4:40.
After a flat start, the riders are ticking off an uncategorised climb ahead of 60 or so more undulating kilometres. But the terrain becomes properly hilly in the last 70km, with two solid category-2 climbs, followed by two much shorter but steeper ascents nearer the finish.
Just in on Cyclingnews is a big story concerning the Bahrain Victorious team. Following their success at the Giro and Dauphiné, doping suspicions have been voiced anonymously by two individuals - including one team boss - in a French newspaper. We've spoken to Bahrain Victorious chief Milan Erzen to hear his reaction.
Back in the Tour de Suisse and the four breakaway riders covered 46km in the first hour to establish their lead, which now stands at 5:30
Here's a first shot of our breakaway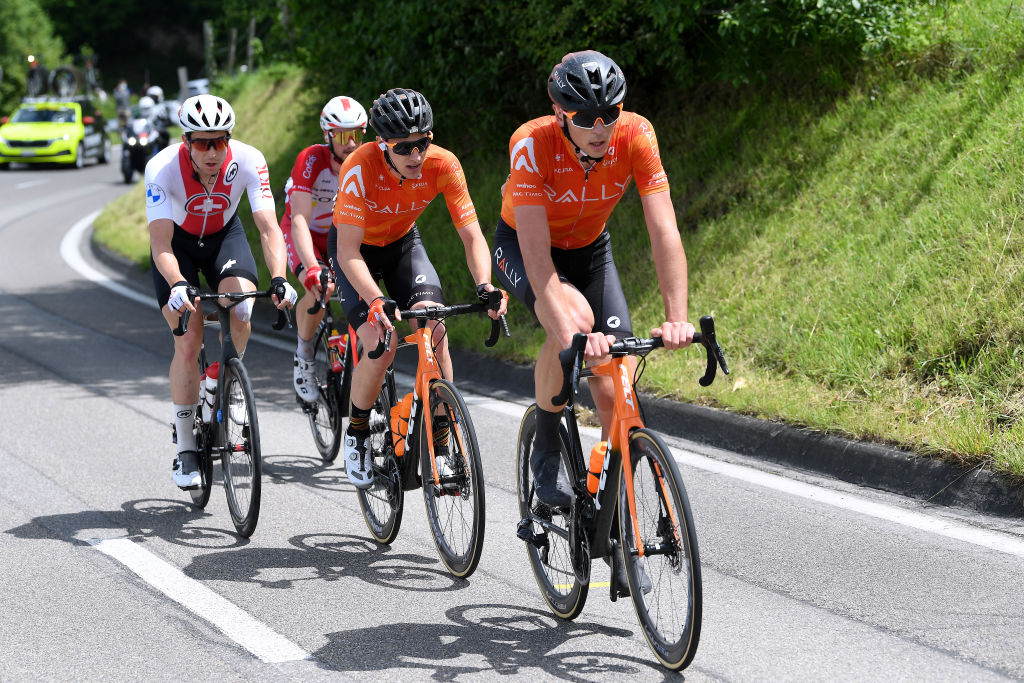 And here's race leader Stefan Kung in the yellow jersey.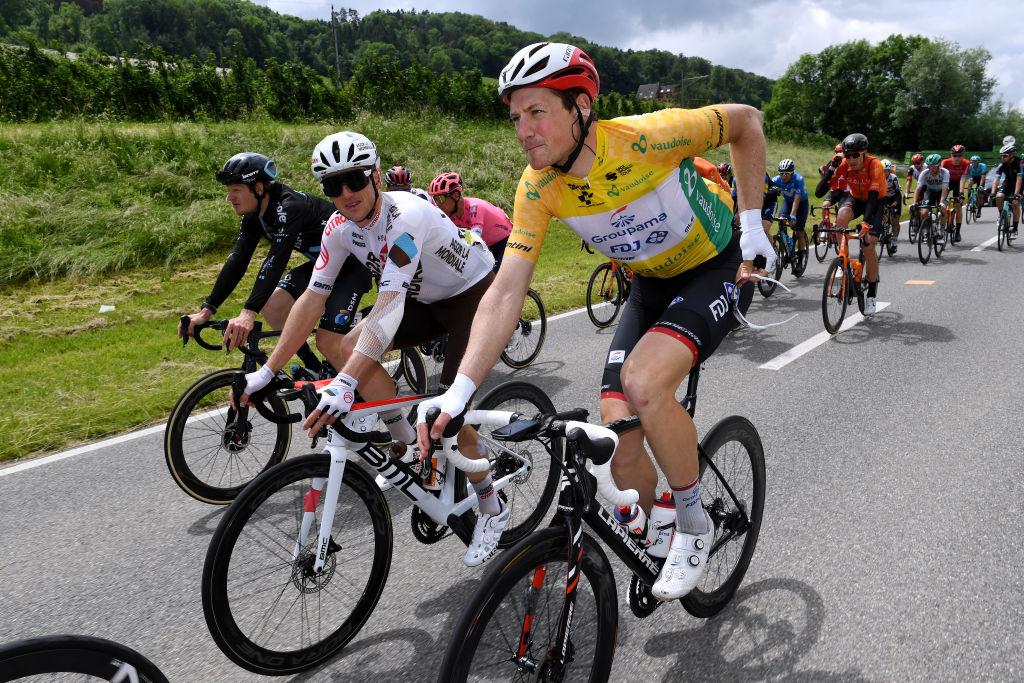 110km to go
The leading quartet take their lead out to almost six minutes now.
All calm as we approach the half-way mark. Kung's FDJ teammates are controlling the peloton, just under six minutes behind the break.
We've already had a bit more rain today. Here's the world champion's jersey covered up by a rain cape. Alaphilippe will be among the favourites for today's stage.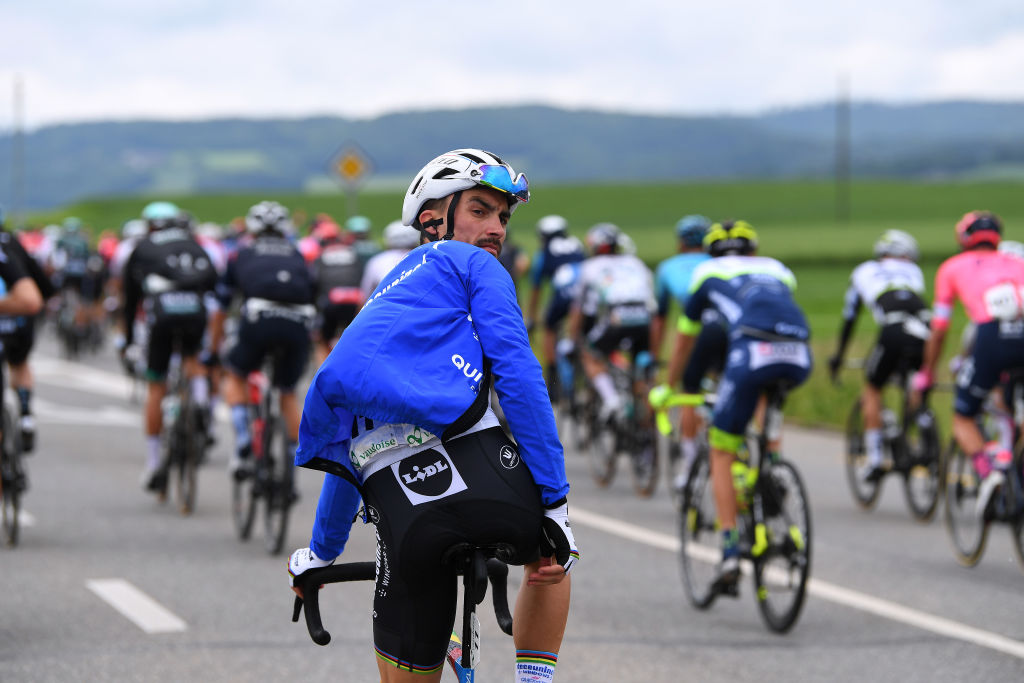 Alaphilippe is here but there are plenty of other candidates for this stage, which could go in a few directions. Provided this breakaway doesn't stay away, that late climb should encourage big attacks from the puncheurs, with Benoit Cosnefroy (AG2R), Max Schachmann (Bora-Hansgrohe), Marc Hirschi (UAE Team Emirates), and Michael Woods (Israel Start-Up Nation) all here.
Mathieu van der Poel (Alpecin-Fenix) has been mountain biking but has to be considered among the favourites, while Michael Matthews (BikeExchange) and Christophe Laporte (Cofidis) would rival him as the fastest finishers who'd get over that climb in a reduced group.
43km/h is the average speed after two hours of racing.
75km to go
The gap falls slightly to 5:15 as we take on an uncategorised climb ahead of the first of the two cat-2 ascents.
The leaders are now dipping downhill and they'll soon be on the cat-2 climb to Ghoch. It's 8.3km long with a modest average gradient of 4.7%. However, that figure is mitigated by a couple of plateaus, and there is some much steeper stuff.
The leading quartet hit the climb with a lead of 5:30.
Alaphilippe's Deceuninck-QuickStep teammates have started to ride at the front of the peloton.
Onto the upper reaches of the climb and the gap hasn't come down - still 5:30.
61km to go
Up to the summit and Zukowsky is first to the line to take maximum mountains points ahead of Bohli, Dal-Cin, and Imhof.
The top of the descent is dry but there's sudden heavy rainfall further down.
Alpecin and Astana are also contributing alongside QuickStep in the peloton as they head over the top.
Tim Declercq is chasing hard on this downhill as the peloton hits the wet section. He and Alpecin's Otto Vergaerde are doing the work, while race leader Stefan Kung is staying up there in third wheel.
Declercq calls for some more cooperation, and Tobias Ludvigsson (FDJ) gives the Belgian a prolonged bemused look.
50km to go
With 50km to go, the gap to the break is falling, now down to 4:45. That's manageable but it'll require a solid chase.
The leaders hit the second of the two cat-2 climbs. It's 7.8km at a steadier average gradient of 5.1 per cent.
The peloton begins the climb with a deficit of 4:05.
FDJ have now started to contribute again.
44km to go
The leaders hit the steepest gradients of just under 10 per cent, and they continue to lose ground. 3:30 is the latest time check.
The rain continues to fall from the leaden skies on this second climb.
It's still a large peloton on this climb but the pace is high and the gap continues to plummet. 2:40 now.
The leaders are into the final kilometre of the Oberricken climb.
Zukowsky looks over his shoulder. If he's first over the top again then he'll be in the lead of the mountains classification.
Bohli can't be matched. That was a big acceleration.
Bohli and Zukowsky are now level on mountains points have traded first and second places on the two cat-2 climbs. There's one more categorised climb to come, but it's unlikely the break will still be away by that point. In which case, the jersey will go to the rider better placed on GC, which as it stands is Bohli.
Van der Poel accelerates....
The Dutch champion hits the front of the bunch as they now come to the top of the climb. It looks like it was just for positioning as he takes on the descent in pole position, but his rivals were alive to the danger, with Alaphilippe, Matthews, and Hirschi all getting themselves up there.
You just never know when Van der Poel's going to take flight. 37km to go but he's done stranger things before.
Bohli has continued his effort on the descent and is solo.
It's splitting up in the break. Imhof isn't happy with the pace and attacks the Rally duo to set off in pursuit of Bohli.
The peloton splits on the descent now!
I guess that's why someone like Van der Poel wanted to be up front. The roads are still wet and anything can happen. The bunch is in three.
The second part of the peloton scrambles back onto the back of the front section, but a third group is cut adrift.
There are around 25 riders in that dropped group, although it doesn't appear any big names have been caught out.
Imhof bridges across to Bohli. They have a good 20 seconds on the Rally duo, who have let things slip away from them.
30km to go
Imhof and Bohli are really pushing things on the bottom part of the descent, where the bends are still treacherously wet. They're 2 minutes up on the bunch.
Out onto the flat now and we have the first of two intermediate sprints coming up shortly.
Imhof takes the points and three bonus seconds by virtue of being on the front at the time, but there wasn't a contest there - just two riders working together full gas to try and stay away.
BikeExchange have started to work hard in the bunch. A reminder that they're here with Michael Matthews.
More splits in the peloton!
There are around five separate groups on the road at the moment.
Imhof and Bohli are going all-in now. They're holding a two-minute lead over a peloton where the pace and tension are high.
24km to go
We have two steep climbs coming up in this finale. The first is uncategorised but the first still averages almost 10 per cent over a kilometre. The second one is the key point of this race, with the cat-2 Litschstrasse boasting a similar gradient over double the distance. From there, it's 7km to the finish.
First climb coming up in around 6km time.
Around 50 riders in the front peloton and around 50 in the second one. There are 20 riders in group 3.
Imhof and Bohli are making a really good go of this. Both look hugely powerful. They've put the Rally duo back to 1:10 already, with the bunch still at 1:37.
Qhubeka Assos are working en masse in the second peloton. Their GC leader Pozzovivo has missed out here.
John Degenkolb (Lotto Soudal) has also missed out.
Zukowsky and Dal-Cin are caught by the first peloton.
It looks like Pozzovivo is the only GC candidate who has missed out. Tom Dumoulin is back there but Jumbo-Visma have Sam Oomen up front.
Ineos have lost some numbers in Dennis, Golas, and Henao but Carapaz is still up front.
BikeExchange have the best numbers in the front group and they're all near the front of it, driving this move on. They have Matthews as a candidate for the stage win and Esteban Chaves as their GC card.
18km to go
The two leaders are about to hit the first climb. Their lead drops to 1:20.
Here we go. The road tilts viciously uphill. Imhof moves past Bohli.
Bohli is fighting to stay in the wheel.
Bohli is all over the place, head and shoulders swinging from side to side. He's hanging on to the much more still and steady rider in front of him.
Bohli relents. He simply can't force the power through the pedals and Imhof eases away.
There are 30 seconds between the front two pelotons.
BikeExchange lead that front bunch onto the climb now, just 50 seconds behind Imhof now.
BikeExchange have four on the front, with two ahead of Matthews and Chaves.
They sweep past Bohli now.
Alaphilippe is in the middle of that bunch with Vansevenant and Devenyns for support.
Imhof heads over the top and downhill and it's chucking down with rain again.
The first peloton of 50 riders follows at 35 seconds.
It's absolutely pelting down, with the raindrops pinging back up of the tarmac. It's a narrow country lane that winds downhill and the bunch is strung out.
They'll be spat out onto the flat for a few km ahead of the final climb.
And there it is. Onto flat roads, through two bends, and that'll string things out even more.
12.5km to go
Imhof is still away but now has only 20 seconds in hand.
There's the second intermediate sprint and Imhof is first again.
Here comes the bunch and no GC riders are interested in the remaining bonus seconds. Matthews eases clear to take some points.
Perhaps some unreliability in the live time gaps but Imhof is now registered at 37 seconds ahead of the bunch once more.
The pace eases slightly in that front peloton and it bunches up again.
10km to go
Imhof heads under the 10km to go banner. What a ride this has been. He still has 32 seconds but we have that steep climb coming up, where he's likely to bleed time.
BikeExchange continue the chase behind.
Here we go. Imhof begins the climb. It's 2.4km with an average gradient of 8.3 per cent.
The maximum gradient is 12.5% and should inspire attacks from the select bunch behind.
Alpecin-Fenix take it up on the approach. Van der Poel is second wheel
Alaphilippe moves up now! Devenyns pilots him through
Devenyns is Alaphilippe's trusty lietenant and we can expect a move from the world champion here.
That front bunch explodes
Devenyns continues the preparation work
Alaphilippe is posed in second place.
But now Alexis Vuillermoz (Total Direct Energie) hits the front.
Eddie Dunbar (Ineos) puts in a big one.
Schachmann is third now, then Carapaz, and then Alaphilippe.
Van der Poel is more than 10 places back.
Alaphilippe attacks! There it is
Cortina (Movistar) is up there. Schachmann and Woods can follow but no one else can
Alaphilippe continues his effort. He looks around but no one else takes it up
Van der Poel claws his way up
Fuglsang is with Van der Poel and they're about to make contact
Hirschi is hitting out behind.
Near the top now but he can't shake Schachmann.
Schachmann now hits the front as they crest the climb
Kung is distanced but not out of it. He's with Matthews and Oomen.
5.8km to go
Onto the descent now
Nine riders out front: Alaphilippe, Schachmann, Van der Poel, Carapaz, Fuglsang, Woods, Hirschi, Cortina, Mader
4.5km to go
A short steep descent then a flat final couple of kilometres
There's a few seconds between that elite front group of nine and a larger chasing group with Kung.
Cortina, yet to win for Movistar, is perhaps the fastest in that front group along with Van der Poel.
3.5km to go
Down the last part of the descent and onto the flat.
He's not waiting for a sprint. Fuglsang goes after him.
Fuglsang can't finish the job in closing this!
Schachmann is also there in a chasing trio, ahead of the rest.
1.9km to go
Schachmann hits out and closes the gap to Van der Poel. Fuglsang and Mader are distanced.
The pair are away as Carapaz attacks and tries to get over to Fuglsang and Mader.
Schachmann starts to collaborate with Van der Poel
1km to go
Flamme rouge! Here we go. This looks like a two-up between Van der Poel and Schachmann.
But Mader is close at hand, dropping Fuglsang!
Into the final 500m and they start to look around.
Schachmann hits the front as Mader makes contact
Schachmann settles for second. Mader third, just ahead of the advancing Cortina as the rest of that group lose little time in the end.
Matthews leads the main chasing bunch home at 22 seconds. Kung was in there and should hang onto yellow just about - although it'll be very tight to Alaphilippe and Schachmann.
A huge sprint there from Van der Poel, especially when you consider he was the one who attacked on that flat run-in and spent most of it in the wind. He looked around and swung over a couple of times as he saw Mader close to making contact and when Schachmann was keeping it sensible through the 300m to go banner he decided to go for a long one and started sprinting from 250m out. He quickly got several bike lengths and that was that.
Correction: The Bahrain rider in third was in fact Wout Poels - not Mader.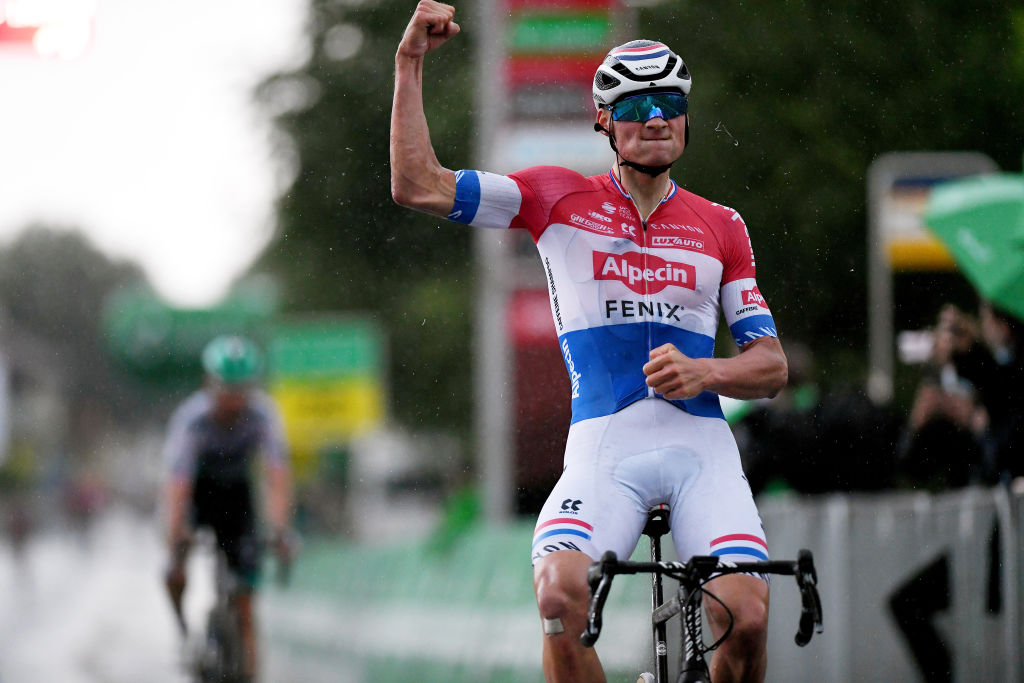 Results

| Pos. | Rider Name (Country) Team | Result |
| --- | --- | --- |
| 1 | Mathieu van der Poel (Ned) Alpecin-Fenix | 4:12:30 |
| 2 | Maximilian Schachmann (Ger) Bora-Hansgrohe | 0:00:01 |
| 3 | Wout Poels (Ned) Bahrain Victorious | 0:00:03 |
| 4 | Marc Hirschi (Swi) UAE Team Emirates | 0:00:04 |
| 5 | Richard Carapaz (Ecu) Ineos Grenadiers | |
| 6 | Michael Woods (Can) Israel Start-up Nation | |
| 7 | Julian Alaphilippe (Fra) Deceuninck-QuickStep | |
| 8 | Jakob Fuglsang (Den) Astana-Premier Tech | |
| 9 | Andreas Kron (Den) Lotto Soudal | 0:00:09 |
| 10 | Benoit Cosnefroy (Fra) AG2R Citroën Team | 0:00:11 |
General classification after stage 2

| Pos. | Rider Name (Country) Team | Result |
| --- | --- | --- |
| 1 | Stefan Küng (Swi) Groupama-FDJ | 4:24:52 |
| 2 | Julian Alaphilippe (Fra) Deceuninck-QuickStep | 0:00:01 |
| 3 | Maximilian Schachmann (Ger) Bora-Hansgrohe | 0:00:02 |
| 4 | Mathieu van der Poel (Ned) Alpecin-Fenix | 0:00:06 |
| 5 | Mattia Cattaneo (Ita) Deceuninck-QuickStep | 0:00:12 |
| 6 | Richard Carapaz (Ecu) Ineos Grenadiers | 0:00:13 |
| 7 | Neilson Powless (USA) EF Education-Nippo | 0:00:25 |
| 8 | Gino Mäder (Swi) Bahrain Victorious | 0:00:30 |
| 9 | Andreas Kron (Den) Lotto Soudal | 0:00:33 |
| 10 | Gonzalo Serrano Rodriguez (Spa) Movistar Team | 0:00:34 |
Let's hear from the winner
"I really enjoyed being back on the road bike. It was a super fun stage, especially with the rainy conditions at the end. It was a bit of a Classics parcours at the end so that suited me really well. The team did a really good job to make the race hard as I asked and I'm really happy to finish it off.
"If you see which riders I'm racing against here, this is is a very difficult one. I wanted to grab a stage win here. The first three days suit me well then it's up to the climbers. I'm just really happy to begin here with a win.
"I'm doing mountain bike at the Olympics, so the Tour de Suisse and then the Tour de France is my last step towards hopefully my best shape to try and get the gold medal there in Tokyo."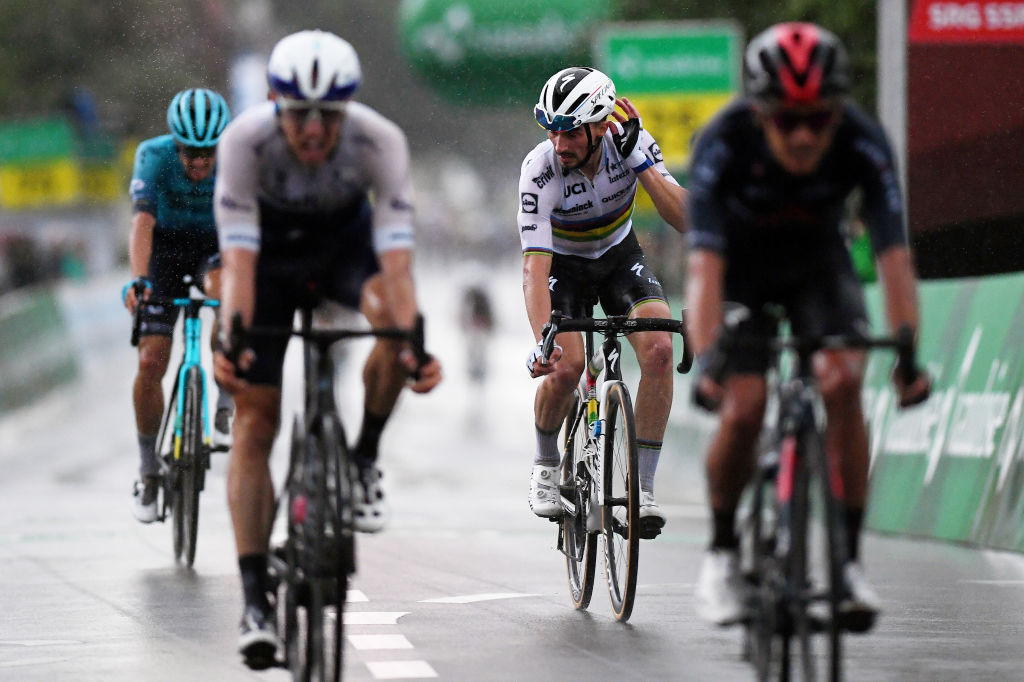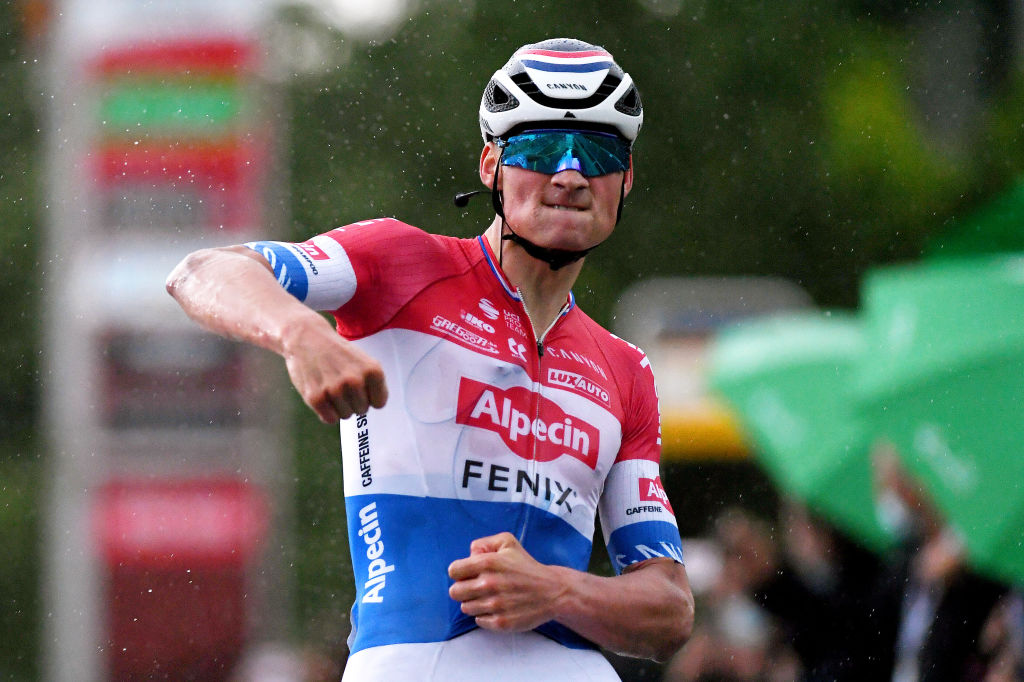 Let's hear from Kung, who fought brilliantly to survive that final climb and keep the yellow jersey by a single second
"My goal was to defend it. I was feeling good. It was going to depend on how hard they raced the final climb, but I gave everything I had. On the flat, I tried to close it as much as possible. I'm happy to keep it one more day. A one-second lead is not a lot but I'll give my best and try and defend it again tomorrow."
Sign up to the Cyclingnews Newsletter. You can unsubscribe at any time. For more information about how to do this, and how we hold your data, please see our privacy policy
Thank you for signing up to Cycling News. You will receive a verification email shortly.
There was a problem. Please refresh the page and try again.