Live coverage
Tour de Romandie stage 4 - Live coverage
All the action on the key summit finish at Thyon
Tour de Romandie race hub

Race preview

Stage 3: Marc Soler solos to victory and overall lead

Chris Froome: I won't wake up one day and suddenly win again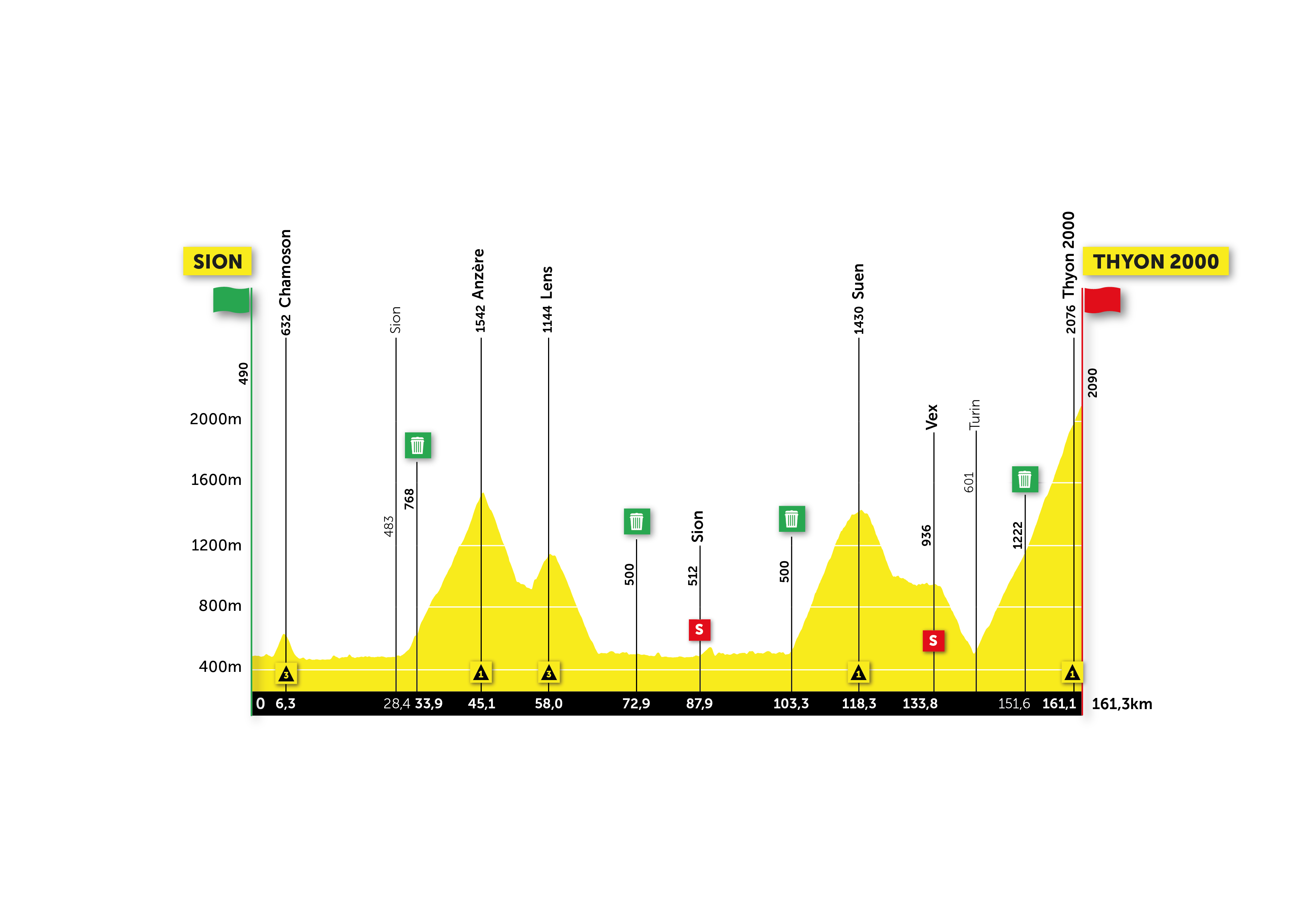 Situation
Refresh
Hello and welcome to live coverage of stage 4 of the Tour de Romandie. It's the penultimate day and the most important so far, with a summit finish at Thyon at 2000 metres.
The stage is already underway and that's because it has been brought forward by two hours due to forecasts for snow up at Thyon. As it stands, the road up is rideable and the route remains unchanged.
As we pick up the action, with just over 25km on the clock, we have a breakaway of seven riders.
Matthew Holmes, Kobe Goossens (Lotto Soudal)
Simon Pellaud (Swiss Cycling)
Magnus Cort (EF-Nippo)
Simone Petilli (Intermarché-Wanty-Gobert)
Josef Cerny (Deceuninck-QuickStep)
Mads Würtz Schmidt (Israel Start-Up Nation)
We had an early cat-3 climb at Chamoson (which you may remember from the other day), where the ever-active Joel Suter (Swiss Cycling) bolstered his lead in the mountains classification.
It was only after that the break formed, with Goossens, Schmidt, and Cerny first going clear before being joined by the other four and then being let off the leash by the peloton.
We're now heading onto the second of our four climbs and the first of our two cat-1 ascents. It's the climb up to Anzère, and it's 12km long taking them up to 1500 metres altitude.
The total elevation gain for this 160km stage is listed as an eye-watering 4607m.
122km to go
It's all calm as the two groups make their way up the switchbacks. The gap has gone out to nearly six minutes now.
The top of the climb is enshrouded in fog. The breakaway seven are still together, six minutes up on the bunch.
#TDR2021 🇨🇭It's another wet day in Switzerland, time to wrap up! 🌧Meanwhile the breakaway have stretched their advantage out to over 5 minutes ⏱ pic.twitter.com/djMC1Ex2nAMay 1, 2021
116km to go
Pellaud is first to the top of the Anzères climb, ahead of Goossens and Holmes.
Onto the descent now, and this is a treacherous one, with wet roads and poor visibility
Movistar lead the peloton over the top at 6 minutes.
Following this fast descent, the road immediately tilts uphill again, for the cat-3 climb to Lans, which measures 3.5km at 7.7%.
Alexis Gougeard (AG2R) Filippo Conca (Lotto Soudal) and Phil Bauhaus (Bahrain Victorious) have all abandoned. It could be a high attrition rate today. Nico Denz (DSM) and Oliveiro Troia (UAE Team Emirates) were non-starters.
The seven escapees get down in one piece and now begin to climb once more.
104km to go
The break take a lead of 5:30 over the Lens climb
Here's a shot of the break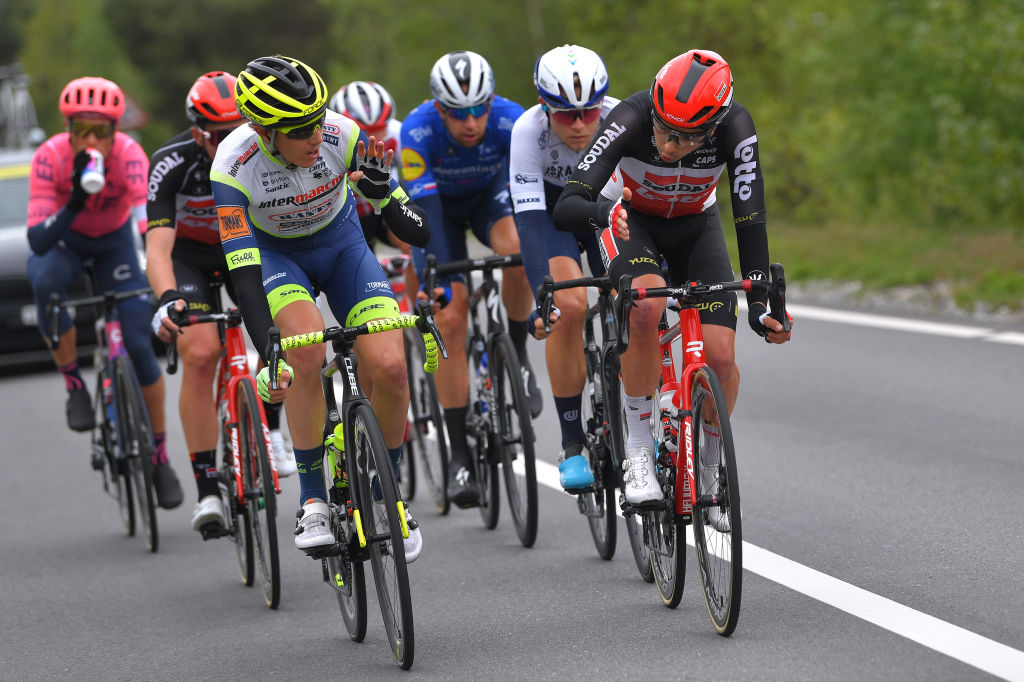 Pellaud was once again first to the top of that climb. He's defending the lead of his teammate Suter in the mountains classification.
Crash in the peloton on the descent from Lens. Gorka Izaguirre (Astana) and Tony Martin (Jumbo-Visma) are down but back on their bikes.
92km to go
Meanwhile, the breakaway hits the flat, and we've now got almost 40km in the valley, ahead of the two first-category climbs that will form the big finale.
Here's Soler in yellow. His Movistar teammates are working hard so far but the Ineos riders are gathering like sharks behind. Thomas and Porte are 14 seconds down on GC.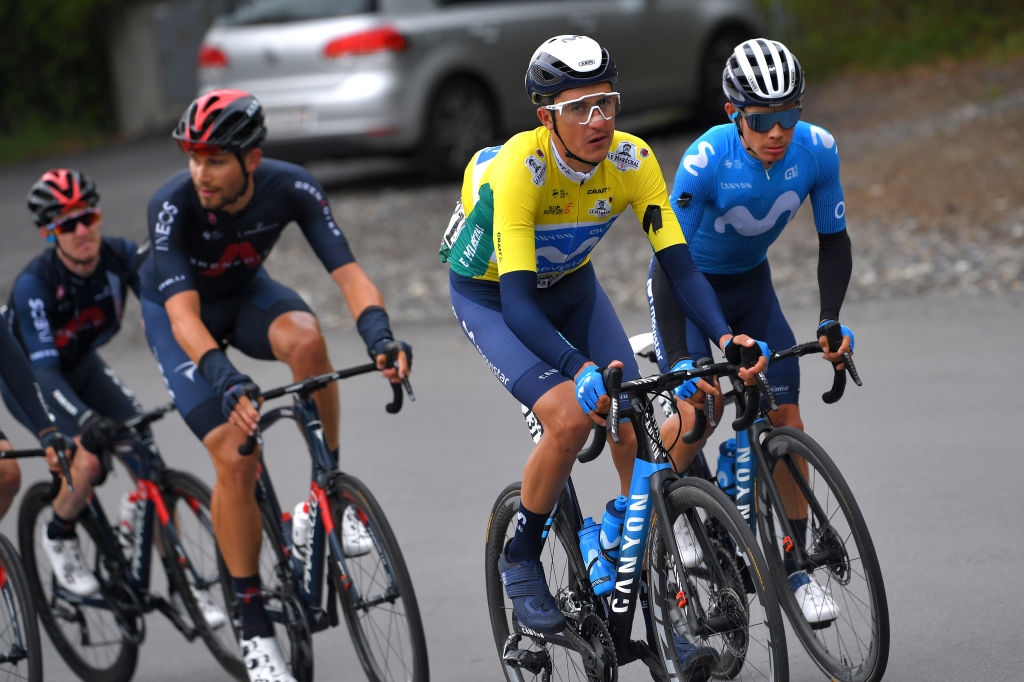 In terms of the stage dynamics, Cort is only 59 seconds overall. It's unlikely that it would anyway, but his presence means the break can't be allowed to sail away into the sunset. Movistar will have to set a steady tempo on this flat section. The gap is still up around six minutes, but the break would need much more than that heading onto the two big final climbs.
It's raining again. What a miserable week it's been for these riders.
75km to go
The leaders are heading back through Sion, our start town, and will complete another valley loop to take in an intermediate sprint before heading up the penultimate climb.
The gap has edged out to 6:30
Our Giro countdown continues today with a celebration of the 90th anniversary of the pink leader's jersey. Stephen Farrand takes us through the history of the maglia rosa and we've plenty of photos of pink jerseys stretching all the way back to the 1930s.
The break reach the intermediate sprint in Uvrier and it's Cort who takes maximum points.
We're coming towards the end of our long jaunt in the valley and it's time for things to get serious. Two first-category climbs coming up, the first taking them up to Suen before they descent in a similar direction back down to Sion, and from there's it's all the way up to Thyon at 2000 metres.
56km to go
Cort, Goossens, Holmes, Pellaud, Cerny, Petilli, and Schmidt start the climb to Suen with a lead of six minutes over the Movistar-led peloton.
The climb to Suen is 13.6km long. The average gradient is 6.8%, with maximum pitches of 10%.
With a plateau on the descent, and given the difficult nature of the final climb, not to mention the weather, it's unlikely we'll see any GC fireworks on this penultimate climb. But the peloton is likely to thin down significantly as the general tempo rises. The break still have a handy lead of six minutes.
The Swiss national squad have taken over from Movistar at the head of the bunch. They have Pellaud as one of the stronger climbers in the break. Not sure what's going on here.
Johan Jacobs is dropped. He did the hard early yards for Movistar.
Schmidt is dropped from the break
Switzerland continue their drive at the head of the bunch. Are they trying to bring this back for Suter? His lead in the mountains classification has been cut to just 2 points, with Goossens closing in and poised to take over at the top of this climb. But they're not going to close a 5:30 gap by the top of this climb, surely, and surely they can't hope to win the stage from the bunch, either.
The escapees head up above the fog line once more. Visibility is low and the roads are slick.
Holmes is driving the break on here, working for Goossens. Cerny is hanging on at the back having briefly lost contact a little earlier.
A reminder of the overall standings at the start of the day
1 Marc Soler (Spa) Movistar Team 12:38:40
2 Geraint Thomas (GBr) Ineos Grenadiers 0:00:14
3 Richie Porte (Aus) Ineos Grenadiers
4 Sonny Colbrelli (Ita) Bahrain Victorious
5 Marc Hirschi (Swi) UAE Team Emirates 0:00:16
6 Mattia Cattaneo (Ita) Deceuninck-QuickStep 0:00:20
7 Wilco Kelderman (Ned) Bora-Hansgrohe 0:00:21
8 Ilan Van Wilder (Bel) Team DSM
9 Sepp Kuss (USA) Jumbo-Visma
10 Rui Costa (Por) UAE Team Emirates 0:00:24
Suter is dropped. There goes that plan then.
Plenty of riders being distanced now from the thinning bunch. We're more than half way up.
48.5km to go
Swiss Cycling have ceded the front positions in the peloton back to Movistar but they still have a representative up towards the front. The pace is pretty high and the gap to the break has fallen to 4:30.
Schmidt is still digging in, riding a minute behind his former companions now.
Breaking: The Suen descent will be neutralised
It's not snowing here but the the visibility is poor and the roads are wet. The descent, which is steep in two parts either side of a plateau, would be dangerous, notably the top part.
The race director's car is up there informing the break of the situation.
The race will continue to the summit but then time gaps will be frozen there to allow the riders to carefully negotiate the descent.
Soler is not happy. A Movistar soigneur is holding out bidons and completely blanks the team leader.
The break's lead is down to 3:40 as they enter the final kilometres of the climb.
The rain is really coming down now and the roads are soaking wet. The riders are all putting full rain capes on.
Into the final kilometre of the climb for the break. Holmes is still pushing it on for Goossens.
The top is in sight and we're going to see another Goossens-Pellaud battle for the points.
It was close but it looked like Pellaud got there again. Still, it's not enough to keep his teammate Suter in the virtual KOM lead, as Suter collects enough to take that honour.
Schmidt follows over the top at 1:35.
Visibility levels have been better 🌫️🌫️🌫️🌫️#TDR2021 pic.twitter.com/Sp4l30M2OAMay 1, 2021
The leaders are descending at ease now.
Update: Only the first 3km of the descent will be neutralised
The race directors have put cars in front of both groups to try and maintain the gaps at the summit. Once the riders are out of the fogline, they'll be allowed to race again.
The peloton crest the climb now, 3:45 in arrears. They're all caped up and following the car down now.
The peloton is bunched up behind the director's car, with riders constantly on the brakes. The riders up in the breakaway are able to ride with a little more space.
We're off again!
The director's car pulls away from the break and they pick up speed once again.
It appears the peloton's speed has been restricted to a greater extent than the break's. The gap is back up to 4:30.
Schmidt has been content to take this ultra-cautiously and he's now at 3:38.
Onto the plateau and Cort and Cerny steal a march on the rest of the break.
Cerny and Cort are back now.
The peloton is let off the leash now as well. The gap is 4:45, so they've lost a minute as a result of that neutralisation...
It's difficult to blame the organisers for being proactive and communicating clearly, but it seems they've made a mess of that neutralisation.
This twist does give the break a new sliver of hope, and let's not forget Cort started the day just 59 seconds down overall.
Goossens did in fact take maximum points at the top of the climb, so he now leads that classification by 10 points.
31km to go
The gap has risen to 5:05.
Goossens, who's already set to take the mountains jersey, is himself only 1:24 down overall.
This stage could still go a number of ways, and that botched neutralisation could yet be a major talking point this evening.
The break are coming to the end of that plateau, where we have an intermediate sprint.
27.5km to go
Cort is first at the sprint, taking the three bonus seconds. Goossens doesn't appear interested, as Petilli is second and Holmes third.
Cort has now won both intermediate sprints and therefore picked up six bonus seconds. That puts him 53 seconds down on the virtual GC.
The seven escapees now take on the second part of this descent back down into Sion. Their lead has crept up to 5:25.
Movistar are still working in the peloton.
Here's Soler a little earlier, just before he put his cape on at the top of the previous climb.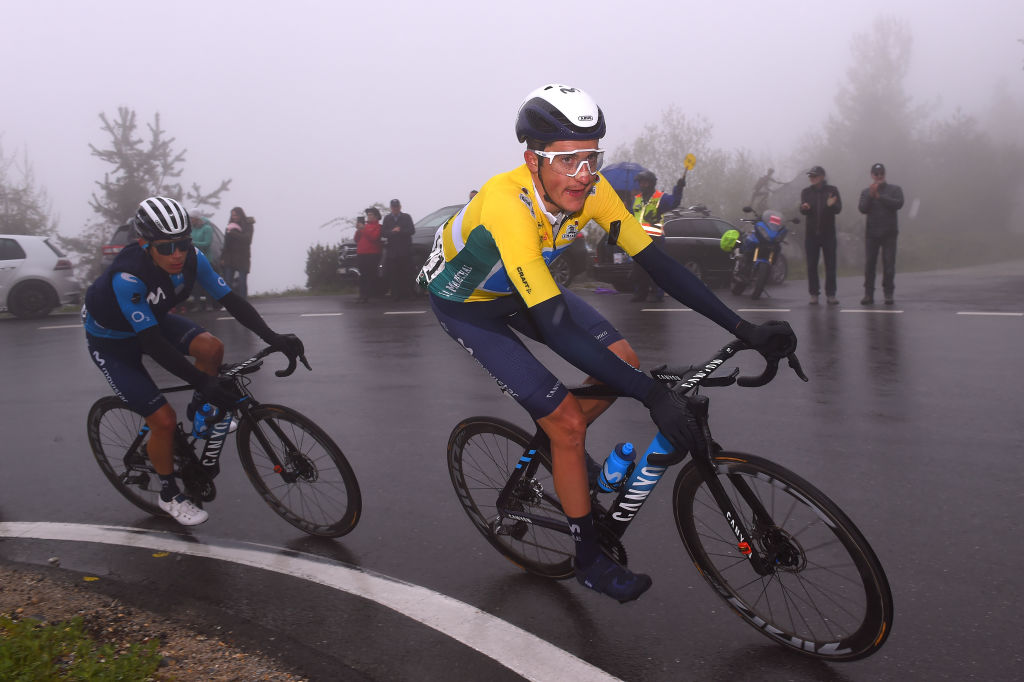 The breakaway sense an opportunity here and they're pushing on down this decent, taking their lead out to 5:37. Meanwhile Movistar are leading the bunch down at a safer pace.
21km to go
Here we go. The six remaining leaders exit the final bend of the descent and now the road immediately tilts uphill. The big final climb is about to begin!
Here are the stats for our summit finish at Thyon
Length: 21km
Average gradient: 7.6%
Maximum gradient: 11%
Altitude: 2076 metres
The Lotto Soudal duo took a little less speed off that descent and had to play a little bit of catch-up. Goossens is back up there but it looks like Holmes, who did the lion's share of the work on that previous climb, has been dropped.
Here come the bunch down the tight wet final corners. Movistar lead them onto the climb at a deficit of 5:45.
Cerny is now dropped from the break
Movistar continue to lead the bunch on the lower slopes. They're not making inroads just yet, as the gap goes out to 5:55.
Ineos sense then need to take responsibility. Owain Doull takes it up for the British team.
Movistar have been working all day but Ineos have numbers and are starting to use them.
Cort is keen here. He and Petilli are pressing on and have opened up a gap over Goossens and Pellaud.
Cort looks really strong here, climbing out of the saddle. Petilli is just sitting behind as a big gap opens to the other two.
Ineos knock it off. Movistar are back on the front.
The Spanish team have three riders in front of Soler. It's Villella, Cataldo, and Lopez.
Cort, who now has Petilli chipping in with some turns, is not losing time just yet. The gap has nudged down to 5:45 but he has ticked off nearly 5km of this climb with little damage.
The peloton will undoubtedly get closer as we head up this climb and especially as the GC favourites open hostilities, but how close will they get? It probably depends on Ineos, and if and when they take it up
It doesn't look like Goossens is going to get any more reward than the mountains jersey today. Pellaud has ridden away from him.
14km to go
There are still more than 30 riders in the peloton as the gap dips to 5:35.
The gap drops to 5:25 now. It's starting to come down but is it too late? Cort and Petilli have lost just 20 seconds on the first 7km of this climb.
Ineos take it up now!
Dunbar on the front, Dennis poised behind.
12.5km to go
Ineos move aside again. Dunbar's push reduces the arrears to 5:05, but now Movistar take it back up.
Cort and Petilli are shown a blackboard with a gap of 5:25 written in chalk. Live timings suggest the gap is down to 5 minutes, so it's unclear at the moment what's the truth. Cycling...
Cataldo is working for Movistar. Lopez, who's 2:50 down overall after yesterday, is second wheel in front of Soler.
We're back into the fog now. The roads are still wet but no snow at this point.
11km to go
We'll go with the live timings, which show Cort and Petilli now 4:30 clear of the bunch, with just over 11km to the top.
Pellaud is chasing 1:30 behind the two leaders.
Lopez hits the front now.
A glimpse of yellow behind. Soler and the others have ditched their rain capes but are still in gilets
Into the final 10km of the climb and Cort and Petilli take on one of the really steep sections. They can barely see a thing.
Ineos move to the front again.
It's Dunbar and Dennis again. How long will it last this time?
9km to go
Cort is skipping out of the saddle on the steep gradients. He looks behind and sees Petilli has lost the wheel. The gap is down to 4:09.
This appears to be a more sustained push from Ineos. Soler has slotted in behind Dunbar and Dennis but he's alone in the middle of an Ineos train, with Thomas and Porte poised behind.
The gap is tumbling now. 3:45 with 8.5km to go.
Dunbar's turn has thinned out the bunch a little more. Soler looks isolated. I'm not sure if Lopez has been fully dropped but he has certainly slipped away from the front.
Michael Woods (Israel) almost crashes while trying to take off a jacket.
7.5km to go
The gap is down to 3:25. Cort lost some time on the steeper sections but has steadied the ship. Still a huge ask, though.
Rui Costa is dropped as the bunch continues to reduce in number. His UAE teammate Marc Hirschi had already been distanced.
Wow, the race leader rides away from the Ineos train
I'm not sure anyone saw that coming, and Dennis looks visibly shocked as he clocks it. Soler is back now but he's shaken things up there.
Woods was the rider who quickly reacted to that little dig, along with Clement Champoussin (AG2R)
6km to go
The gap falls to 3 minutes after that acceleration.
Porte in trouble?
The Ineos rider, third overall, is right at the back of what is now a GC group rather than a bunch
Dennis is leading it but Porte is losing contact...
Only a dozen or so riders left in the yellow jersey group as they catch Pellaud. Things are really intensifying and this is where Cort is going to feel the damage.
5km to go
Into the final 5km and Cort's lead is down to 2:55.
Attack from Lucas Hamilton (BikeExchange)
The Australian started the day 21st overall, 35 seconds down on Soler.
More time gap confusion. The live ticker has just bounced back out and continues to rise, all the way up to 3:50 now with 4.5km to go. That must be an error.
The live ticker is removed and we continue into the final 4500 metres of this climb and this crazy stage in deep fog and a state of suspense. Cort could still win the stage, he could still take the overall lead. Who knows? Either way, what a ride.
Dennis done
The Australian pulls off the GC group
Woods attacks! The Canadian makes his way over to Hamilton.
Who's going to react behind?
Cort on the limit? The Dane has visibly slowed and the gradient is ramping up again.
Champoussin joins Hamilton and Woods. Masnada attacks from behind.
Porte is still there with Thomas and Soler
Champoussin gets over to Woods. A gap to Hamilton
Cort downs a gel in desperation. He looks to be close to the end of his resources. There are still 4km to go
Champoussin is gapped as Woods skips clear
Cort's legs have gone. Petilli is coming back up to him.
Woods started the day 30 seconds down. He's looking really good here.
Thomas and Porte are with Soler and Damiano Caruso (Bahrain) in a group behind Hamilton and Masnada.
Peltilli rides away from Cort under the 4km to go banner.
Woods reaches Cort and flies past him!
3.8km to go
Woods makes his way over to Petilli now and does the same.
Champoussin is still not far behind Woods.
Correction: The AG2R rider is Ben O'Connor. This is his best ride for them so far.
Thomas losing ground? Porte is still with Soler.
3km to go
Into the final 3km and Woods leads this stage by around 10 seconds over O'Connor.
There's the answer on Thomas. He has attacked and reached Masnada. They're not far behind Woods.
Hamilton is slipping now, riding behind Thomas and Masnada. Behind him are Porte and Soler.
Thomas and Masnada reach O'Connor
2.5km to go
The 2018 Tour de France winner is on a great day here and rides away from the pair. He's 14 seconds behind Woods.
Thomas has Woods in sight!
Thomas accelerates through a hairpin to close the gap to Woods. 2.2km to go and they're together.
Thomas comes straight through to keep the pace high. Soler is losing a lot of ground now.
O'Connor has dropped Masnada and is chasing Thomas and Woods
Soler is 40 seconds down on Thomas and Woods. Yellow is gone.
Thomas pushes on now and Woods is in the wheel as the snow piles up on the roadside.
1km to go
Thomas is riding into the overall lead ahead of a final-day time trial that will suit him. Can he take the stage win too? Flamme rouge
O'Connor slips back a little. The push from Thomas has cost him.
Thomas is going to drive this all the way to the line. Woods might fancy his chances of winning the sprint for the line but after a stage like this who knows?
Thomas remains seated and injects some more power. Woods gets out of the saddle to respond.
300m to go and still Thomas leads
Woods is out of the saddle still, ready to go
Woods launches with 150m to go. But Thomas comes through again
Woods wins, O'Connor passes Thomas for second
Thomas is back on his bike but finishes 20 seconds down. Incredible.
Soler finishes at 51 seconds
That's going to deprive Thomas of yellow. Not sure how that happened, he seemed to fumble with his bars and lose control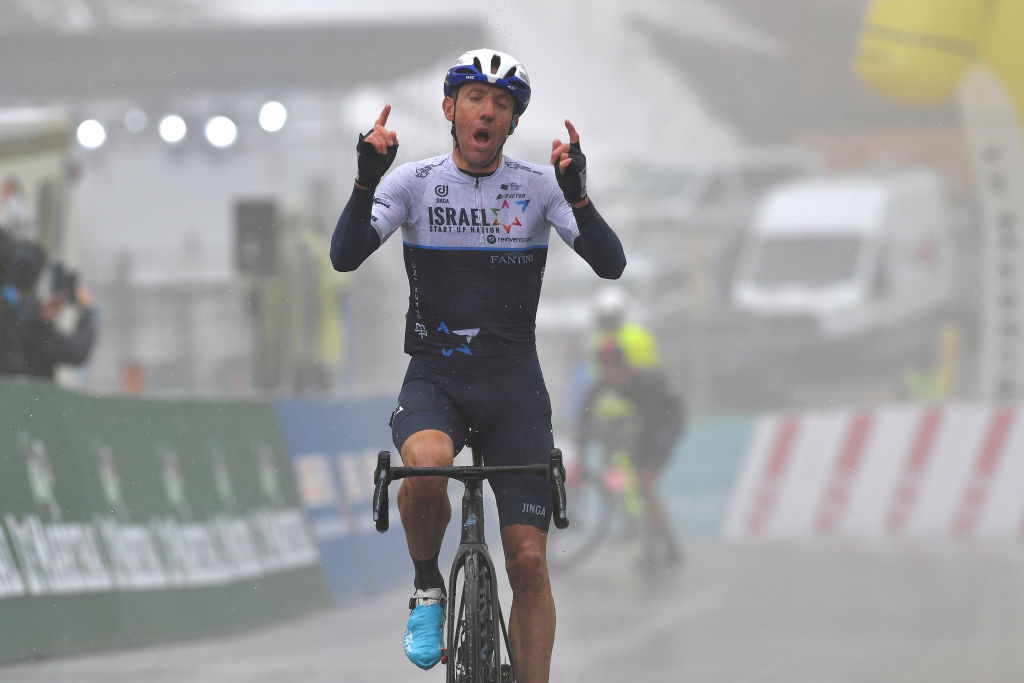 Results

| Pos. | Rider Name (Country) Team | Result |
| --- | --- | --- |
| 1 | Michael Woods (Can) Israel Start-up Nation | 4:58:35 |
| 2 | Ben O'Connor (Aus) AG2R Citroën Team | 0:00:17 |
| 3 | Geraint Thomas (GBr) Ineos Grenadiers | 0:00:21 |
| 4 | Lucas Hamilton (Aus) Team BikeExchange | 0:00:34 |
| 5 | Fausto Masnada (Ita) Deceuninck-QuickStep | 0:00:37 |
| 6 | Richie Porte (Aus) Ineos Grenadiers | 0:00:42 |
| 7 | Ion Izagirre Insausti (Spa) Astana-Premier Tech | |
| 8 | Damiano Caruso (Ita) Bahrain Victorious | 0:00:52 |
| 9 | Marc Soler (Spa) Movistar Team | 0:01:57 |
| 10 | Thymen Arensman (Ned) Team DSM | |
General classification after stage 4

| Pos. | Rider Name (Country) Team | Result |
| --- | --- | --- |
| 1 | Michael Woods (Can) Israel Start-up Nation | 17:37:35 |
| 2 | Geraint Thomas (GBr) Ineos Grenadiers | 0:00:11 |
| 3 | Ben O'Connor (Aus) AG2R Citroën Team | 0:00:21 |
| 4 | Marc Soler (Spa) Movistar Team | 0:00:33 |
| 5 | Richie Porte (Aus) Ineos Grenadiers | 0:00:36 |
| 6 | Fausto Masnada (Ita) Deceuninck-QuickStep | 0:00:45 |
| 7 | Ion Izagirre Insausti (Spa) Astana-Premier Tech | 0:00:48 |
| 8 | Lucas Hamilton (Aus) Team BikeExchange | 0:00:49 |
| 9 | Damiano Caruso (Ita) Bahrain Victorious | 0:01:04 |
| 10 | Thymen Arensman (Ned) Team DSM | 0:01:58 |
Let's hear from Thomas
"I had no feeling what so ever in my hands and I tried to change gear but instead I just lost the bars. It's so frustrating because even if I had just stayed in that great and came second place … but to deck it there, I feel like a right whopper."
More quotes in a full story on the way very shortly.
Sign up to the Cyclingnews Newsletter. You can unsubscribe at any time. For more information about how to do this, and how we hold your data, please see our privacy policy
Thank you for signing up to Cycling News. You will receive a verification email shortly.
There was a problem. Please refresh the page and try again.