Tour de France stage 2 - Live coverage
All the action as the race heads into the mountains
Refresh
Hello and welcome to our live coverage from stage 2 of the Tour de France. Once again we start and finish in Nice but today we go into the mountains for a day that will test the GC contenders.
We're about 30 minutes away from the official start of the stage but the weather has improved on yesterday's heavy rain, which is something for the riders after the terrible conditions that the had to endure 24 hours ago.
Alexander Kristoff starts in yellow for the first time in his career after taking an impressive win on stage 1 but it'll be even more impressive if the Norwegian can hang on today because ASO have fired their first volley of mountains into the race on stage 2. It's day for the GC riders, and probably a reduced bunch sprint.
The stage is 186km in length but it's the ascents and not the distance that will do the damage today - especially after so many riders crashed yesterday. Three have already gone home and we're hearing that Wout Poels is starting with a fractured rib.
These climbs will be familiar to anyone who is a fan of the early-season stage race, Paris-Nice, especially the scenic Col d'Eze that is an institution for the 'Race to the Sun.'
Consider this is a bold statement from organisers ASO as the second day of racing features two category 1 mountains - the Col de la Colmiane at the 63.5km mark and Col de Turini at 99.5 kilometres on the route. Both were tackled in the 1973 Tour, while the Colmiane was on the route of the stage to Pra-Loup in 1975 where Eddy Merckx wore his last ever yellow jersey.
The Col d'Èze is a punchy haul out of the eastern end of Nice and the peloton will climb it in the last quarter of the stage, then loop back and ride up the first half of the climb before turning off at the bonus sprint at Col des Quatre Chemins with 9km to go. While the two big climbs will split the field, the real action will come with the punchy finale and bonus sprint, sure to offer an opportunity for a rider like Julian Alaphilippe (Deceuninck-QuickStep).
🚲 Stage 2 / Étape 2 🚲🚩 @VilledeNice🏁 @VilledeNice⠀📏 186km⏰ 13:00 CET > 18:08 CET⠀⛰️ 2x1️⃣c, 1x2️⃣c💚 km16#TDF2020 #NiceCyclingParadise #TDFunited pic.twitter.com/jbwDO0OpwoAugust 30, 2020
By the way, don't forget to bookmark this page for all your Tour de France needs. It's got everything from news, results, videos, interviews, features, photos and blogs. If you don't bookmark this page and make it your homepage for the next three weeks you're a terrible person. I don't want to sound harsh but that's just the way it is.
#TDF2020 Sign on ✍️✅Almost go time for stage 2! pic.twitter.com/mqTpYtqTkLAugust 30, 2020
Valls, Degenkolb and Gilbert are the three non-starters after crashes yesterday, after the stage had to be neutralized by the increasingly popular Tony Martin. For a full run down on how fell and their injuries, you should read Stephen Farrand's comprehensive story, right here. The conditions were awful and we'll talk about them in greater length later on as the stage evolves. Luckily, we have gorgeous blue skies overhead today and the riders should remain dry. Sun's out, masks out. We're about ten minutes away from racing on stage 2 of the 2020 Tour de France.
Who do you think will win?
It's a wide open stage to be honest but who do you think will win? You can let me know on Twitter and we'll post your picks right here on our live coverage.
A number of teams - including Ineos - were warming up on the rollers by their bus. It's a clear indication that we could see some really intense racing right from the start. Not sure we'll see a lot from Sivakov, who will be hoping to simply recover as much as possible after his two falls on stage 1. He really was in the wars yesterday but he battled through and finished the stage. Fair play.
The riders are rolling out now and the conditions are lovely. Sagan is in green, of course he is, because Kristoff is wearing yellow. The neutralized zone is 10km in length so it's a decent little warm-up for the peloton this afternoon.
Kristoff has gone for an all-yellow attire today but he doesn't have a yellow bike so it's not complete overkill. Bit on Kristoff, seems to be some sympathy from some commentators that suggest he's some plucky underdog who hasn't maybe had great results. Utter tosh. He's won four stages in the Tour, he's won Milan-San Remo, Tour of Flanders, and he won Gent-Wevelgem last year. He's class.
Still rolling through the mixed zone, so a chance to show you these comments from Bradley Wiggins, who thinks that after yesterday, riders unwilling to take risks in bad conditions should consider retiring, which is strange because he didn't quit immediately after the 2013 Giro d'Italia, and conditions yesterday were a lot worse. Anyway, story is here.
🇫🇷 #TDF2020 Good afternoon from a sunny Nice! 👋 pic.twitter.com/u3925I0jBxAugust 30, 2020
Still rolling through the mixed zone at the start of stage 2. The yellow jersey is chatting with riders around him, clearly enjoying the experience. The intermediate sprint today comes after only 16km and it could be the only chance for a number of sprinters to pick up points. Could we see that play a part or will the break go from the gun?
Sivakov right now is just near the back of the bunch and easing himself into racing. He'll surely have the day off today as he tries to recover after yesterday's two crashes. He's wearing bandages on both sides.
Tony Martin is now on the front of the bunch and he's smiling too after yesterday's wise intervention when it came to neutralizing the stage. He, like the rest of the field, will be hoping for a less tense stage today, although it will be a tough one given the terrain.
We're about to race but Prudhomme is waiting to allow Van Garderen to come back from an early bike change. The American has to stop again though, there's another problem with his bike.
And we're racing and already we have attacks with five riders going clear. Cofidis and AG2R are pushing things along.
Bora are chasing things because it looks like they want to take the intermediate sprint points. Trentin is on the attack though.
I think even Sagan has made the split and made it into the Trentin group and Jumbo Visma are now chasing.
I can only think that Jumbo Visma want the stage but at the back of the bunch Gaudu is dropped and he's in trouble already.
The young French climber is going backwards and he's in real pain. He crashed yesterday and has a problem with his back and it just looks like he can't put the power down on the pedals. The FDJ car comes up to talk to him bit looking at this... it's only going to go one way.
This Sagan/Trentin group has 14 seconds and it's a really strong group. Tony Martin is marking moves right now as we see more shots of Gaudu. He's trying to stretch his back but he can't even do that. Right now he's behind the team car and it's simply heartbreaking.
Who is in the break?
Peter Sagan and Lukas Pöstleberger, (Bora-Hansgrohe), Benoît Cosnefroy (AG2R-La Mondiale), Kasper Asgreen (Deceuninck-Quick Step), Toms Skujins (Trek-Segafredo), Anthony Perez (Cofidis), Michael Gogl (NTT) and Matteo Trentin (CCC). They have 18 seconds with 176km to go.
It's Sunweb and UAE who are chasing as we see that Gaudu is already 50 seconds back.
The peloton aren't letting the break settle as we see more of Gaudu behind the team car. The bunch for a second do ease up with the sprint coming up in about 3km.
One QuickStep rider finds himself on the wrong side of the barrier on the main road. That's not good.
Here we go... intermediate bunch sprint coming up. Can Sagan get it done?
Sagan against Trentin and it's the Italian who takes it with a very strong sprint. He then needs to stop for a rear wheel change.
Robert Gesink, another rider who fell yesterday, is off the back of the peloton. Gaudu is somewhere out there too.
The break, minus Trentin, are carrying on and they have a lead of 1'44 with 166km to go.
The slowing in pace from the peloton has allowed Gaudu to come back as UAE set the pace now on the front of the peloton with the gap to the break at 2'15.
The two Bora riders have stopped working in the break, in which case they might be asked to sit up.
Situation
Peter Sagan and Lukas Pöstleberger, (Bora-Hansgrohe), Benoît Cosnefroy (AG2R-La Mondiale), Kasper Asgreen (Deceuninck-Quick Step), Toms Skujins (Trek-Segafredo), Anthony Perez (Cofidis) and Michael Gogl (NTT).
They have 2'29 with 160km to go.
The Bora riders, after their little break, have started to contribute once again. So we're back up to seven working riders in the break.
The gap is creeping towards three minutes, which is probably bridgeable for riders who might want to come across on the first major climb of the day. It will be very interesting to see who rides on the front once we start climbing. UAE have the race lead but it wouldn't be a great look if they dropped their own race leader.
UAE continue to set the pace as the road slowly starts to climb as we see a number of riders go back to the peloton to pick up bidons.
Situation
Peter Sagan and Lukas Pöstleberger, (Bora-Hansgrohe), Benoît Cosnefroy (AG2R-La Mondiale), Kasper Asgreen (Deceuninck-Quick Step), Toms Skujins (Trek-Segafredo), Anthony Perez (Cofidis) and Michael Gogl (NTT) have a lead of 3'01 with 148km to go.
A bit of a false flat but we will be climbing again soon enough with the Col de la Colmiane, which is our first 1st cat climb in this year's race.
Mirror image: we can see Trek line out on the left and EF Pro Cycling just behind them, with both teams shielding their pint-sized climbers, Richie Porte and Sergio Higuita, respectively.
Onto the climb and the break, you feel, just don't have complete harmony. Bora are coming through but there's no real intent and the gap is just hanging there at three minutes with 137km to go.
David de la Cruz is suffering. He also fell yesterday and on the lower slopes of the climb he's slipping back. It's going to be such a tough day for a number of riders today after yesterday's ordeal.
Is this the best jersey in the peloton? Mads Pedersen blend of rainbow and white jersey?
A different jersey for @Mads__Pedersen today but still with some nice 🌈 details 👌#TDF2020 pic.twitter.com/kfAK0CHsvEAugust 30, 2020
UAE have reduced the break's advantage to 2'14 with 134km to go. The yellow jersey is neatly tucked in behind his train, although it's strange to see Kristoff being paced up the mountain in this fashion.
Gogl looks back and shares a joke with the two Bora riders but the gap continues to come down because there's no real impetus here. There are lots of KOM points at the top of the climb though, so there's a clear incentive.
Adam Yates drifts back, takes a bidon and empties the contents over his head. On paper, today could suit him if he can go away on the final climb. Not sure he has the form, however.
We've still got 8km of the climb to go and the pace is relatively gentle, it has to be said. Sagan and Pöstleberger have gone back to not working, while UAE Team Emirates continue to tap out a steady pace. The yellow jersey looks good.
Toms Skujins, another contender for having one of the best kits in the race, does a turn and then calls for the team car. Trek are leading the teams' classification, so all their riders are wearing yellow helmets today.
Situation
Peter Sagan and Lukas Pöstleberger, (Bora-Hansgrohe), Benoît Cosnefroy (AG2R-La Mondiale), Kasper Asgreen (Deceuninck-Quick Step), Toms Skujins (Trek-Segafredo), Anthony Perez (Cofidis) and Michael Gogl (NTT) have 2'06 of a lead with 128km to go.
Richie Porte was off the back for a quick break but he's being paced back by the world champion as we continue to climb with around 6km to go until we reach the summit. Still no work from the Bora duo at the the back of the break.
Sagan drops back to the team car and picks up some food with the break now 4km from the summit of the first major climb of the day.
Nizzolo is off the back and he's struggling. He also came down in the crashes yesterday but the break are beginning to close in on the summit, with 2.2km to go with the time gap at 1'45.
And Ewan is the next rider to be dropped by the bunch with 122km to go. He'll come back on the descent.
Benoît Cosnefroy (AG2R-La Mondiale) has gone clear though and he takes max points in the KOM competition.
The peloton crest the top of the climb 2'12 down on the break with Bahrain McLaren and Jumbo Visma now setting the pace. UAE can relax, their job is done for the day as we see some splits in the break with Benoît Cosnefroy (AG2R-La Mondiale) joined by three more riders.
It's a rapid descent but the surface is good as we see Tony Martin leading the peloton with 117km to go go. The gap to the break is at 2'02.
The good thing about Sagan being in mountain breaks is that we get to watch Sagan riding down mountains.August 30, 2020
Just over 100km to go and we're ratting along to the base of the Col de Turini. The gap is still around 2;30 as Jumbo Visma lead the peloton, with Roglic sitting just behind a swarm of his teammates.
Kristoff is forced to stop but he's coming back as the leaders reform into one large seven rider group with 100km to go. We're about to start climbing.
And just like that, we hit the lower slopes of the climb as Kristoff races back to the peloton. He might struggle on this next ascent if teams start to truly open the race up.
It's a 14.9km climb and the peloton are on the lower slopes with Ineos moving a rider to the front for the first time today. There's still a lot of yellow and black from Jumbo Visma present, though.
Dauphine winner Martinez has to stop for a mechanical but he has plenty of support with two more EF riders waiting for him.
UAE Team Emirates have actually moved up and have begun setting the pace with 98km to go. The leaders have found a bit more time and the gap is out to 3'15.
It looks like Sagan has sat up, so that leaves us with 6 riders in the break as Martinez makes it back to the main field.
Situation - 97km to go
Peter Sagan and Lukas Pöstleberger, (Bora-Hansgrohe), Benoît Cosnefroy (AG2R-La Mondiale), Kasper Asgreen (Deceuninck-Quick Step), Toms Skujins (Trek-Segafredo), Anthony Perez (Cofidis), Michael Gogl (NTT) with the gap at 3'07.
Not sure Bora know what they want, because Sagan has made it back to the break as further down the field more and more riders are being dropped on, even though we have about 10km to go until we reach the summit.
Nizzolo has been dropped again, and few more pockets of riders have slipped back under the pressure from UAE. Sagan, again, drifts off the back of the break.
95km to go and Gogl and Perez have pushed clear.
There's a regrouping but Benoît Cosnefroy (AG2R-La Mondiale) has been dropped. He was first on the opening climb but he's not going to repeat that as he goes back towards the peloton. Sagan also dropped.
Benoît Cosnefroy (AG2R-La Mondiale) looked so good on the first climb but he also crashed hard yesterday so he could be starting to feel the effects.
Can't see Kristoff near the front but he should still be in the main field at this point. The break has extended their lead and it's at 3'41 with 94km to go.
There's Kristoff, just towards the back of the main field but still hanging on as we see Arkea move up and help UAE with the pace setting. Bahrain are also joining the fray and this could spell the end for Kristoff if they lift the pace. Still 5km to go until the summit.
Situation 91km to go
Lukas Pöstleberger, (Bora-Hansgrohe), Kasper Asgreen (Deceuninck-Quick Step), Toms Skujins (Trek-Segafredo), Anthony Perez (Cofidis) and Michael Gogl (NTT) have 3'53 over the bunch with 91km to go.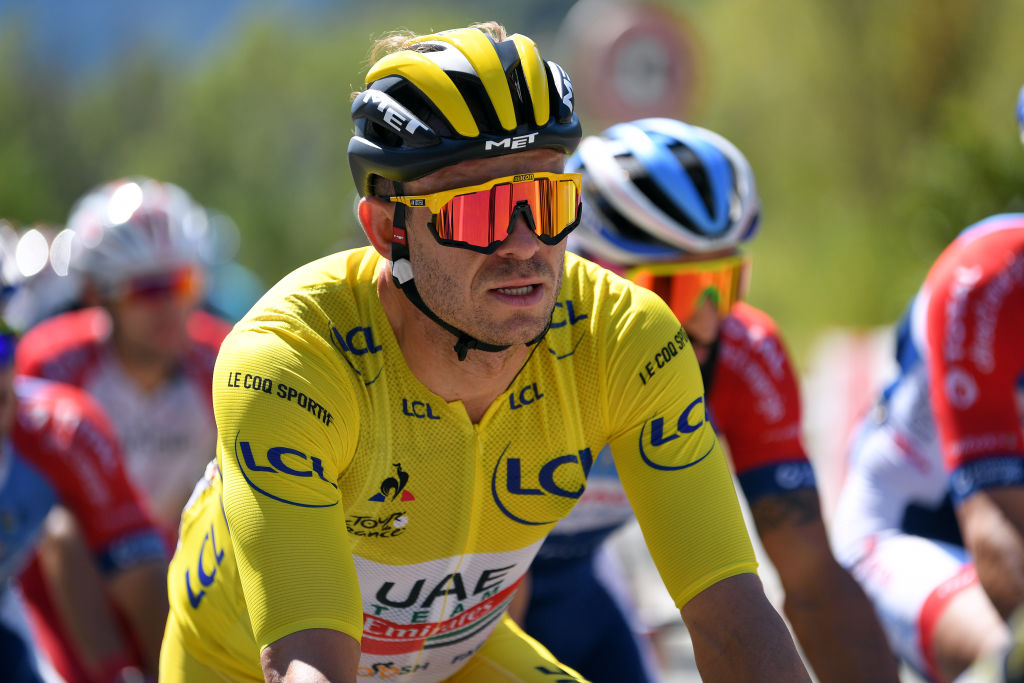 90km to go and Kristoff has been dropped by the peloton.
A couple of riders have one back with the maillot jaune and they'll look to come back on the long descent in a few kilometers time.
And now Jumbo Visma move up and begin to set the tempo with Tony Martin once again put to work as we see Benoît Cosnefroy slowly crawl back to the break. What a comeback from the Frenchman, who was dropped like a stone earlier on the climb.
Benoît Cosnefroy has made it back to the leaders so we're up to six again as we see a bit of a battle at the front of the peloton for position just before the descent.
And now the battle for the KOM points. Gogl is itching to go clear.
Gogl goes, Perez and the rider from AG2R go with him but it's Perez who takes it ahead of Cosnefroy. They both have 18 points each.
Jumbo crest the top of the climb and the gap is at 1'42 with 83km to go. There were some concerns about this descent but at least the weather is holding. Kristoff around four minutes down and it's hard to see him coming back at this point but it depends on how the bunch take the descent.
The break have lost a large chunk of their time in the last 10km of racing as we see Wout van Aert lead the bunch on the descent.... while also taking on some food.
And Arkea now come to the front and take the pace duties off Jumbo Visma's hands. Quintana's men want to be on the front as we see Ineos and Movistar just holding back slightly.
Arkea are swallowed up as Jumbo Visma come back at them and take over. The gap is at 1'22 with 72km to go.
The break are now on the technical section of the descent as we see them take a number of tricky corners. All good so far.
No chance of Kristoff coming back at this race as the gap to his group is around five minutes. He can relax though, he'll make the time cut as his group pick up more and more riders before the finish.
Pogacar has to stop and take a wheel on the descent. He has a teammate so he should be fine.
It's such a long descent but concentration and positioning will be key, rather than legs, right now. It's still Jumbo Visma doing the pace setting for the peloton as we get our first glimpse of Julian Alaphilippe today. He's a real favourite for today. Some have questioned his form but he dropped everyone on the Poggio a few weeks ago, so he's not going badly. He's got less pressure on him today simply because he's trying to fly under the radar. However he's still Alaphilippe and he's still racing the Tour de France, so there's always some pressure.
Pogacar is a minute down at the moment on the bunch but still he shouldn't stress if he can stay in the convoy.
Situation 64km to go
Pöstlberger, Asgreen and Skujins are clear now by about 20 seconds from the rest of the break. The pelton are at 1'47.
Kristoff is at 6'10 now off the break and four minutes off the peloton, while the three leaders have just 11 seconds.
Away from the Tour, Remco Evenepoel has responded to the CADF investigation that has been launched into what was in his back pocket at Il Lombardia. You can find the story, right here.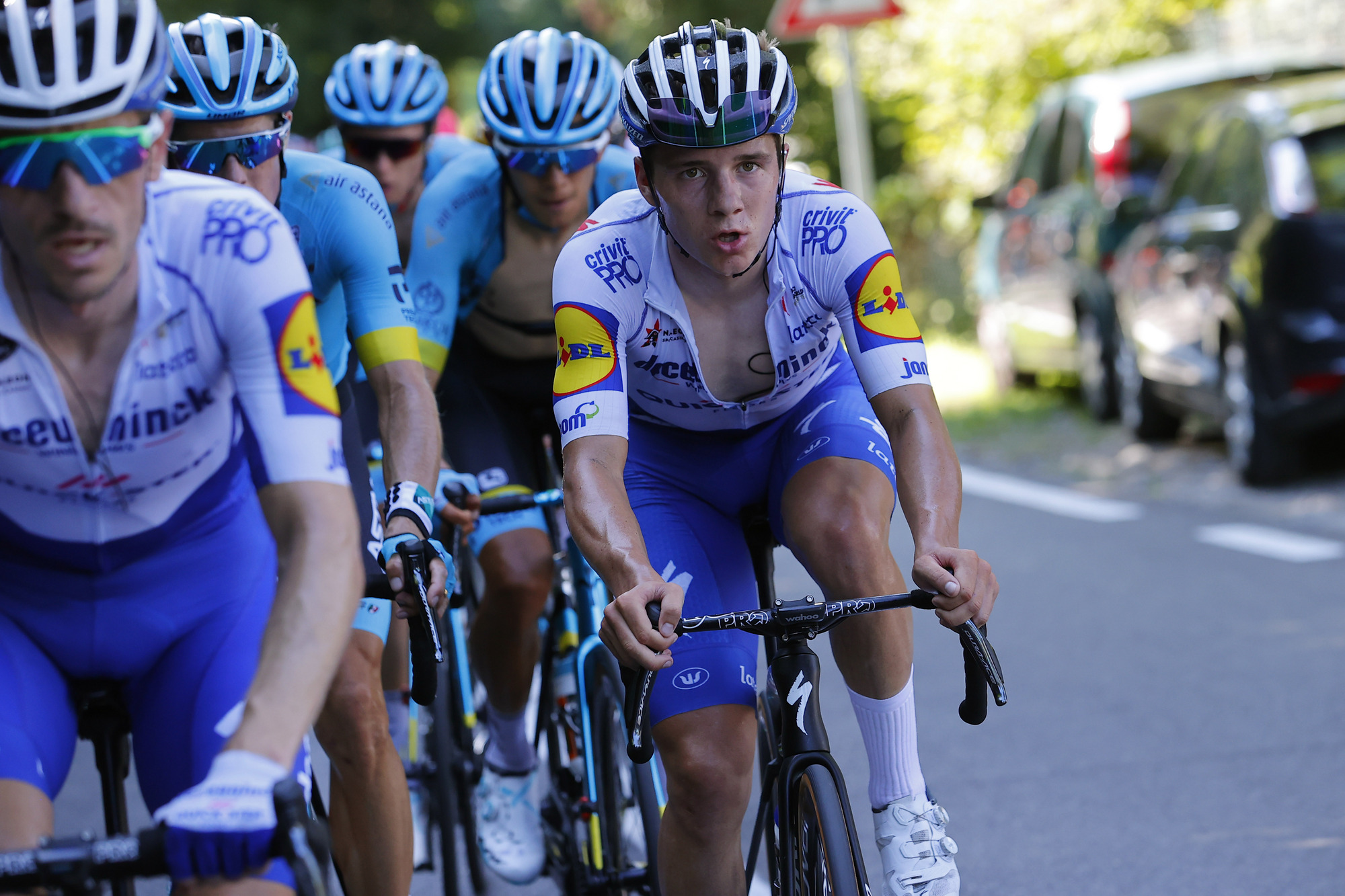 And here we have the latest injury update from Wout Poels, who is riding today with an injured lung and a banged up rib. Story, just here.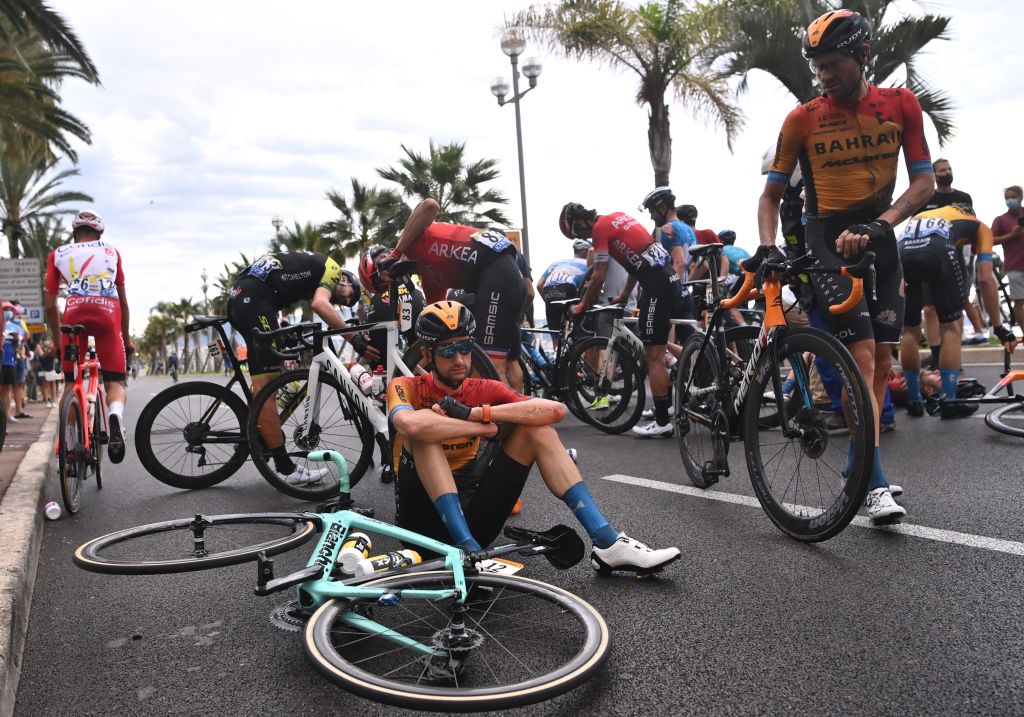 In the peloton it looks like Sivakov is sitting up and taking his foot off the gas. His ride today should be applauded though. He crashed twice yesterday, and had a heavy fall at the Dauphine. Getting through today is all that matters.
Back up to six riders at the front of the race, with the break holding an advantage of 1'24 with 51km to go. We've got the Col d'Èze coming up shortly, which could really tear this race apart. It's always an important climb in Paris-Nice, will it prove to have a similar impact at the Tour.
It's about another 15km until we're on the Col d'Èze but the break are working but Postlberger is just drifting around the back of the group. The leaders only have 1'13 at the moment, and at this rate they'll be caught on the next climb as we see Bernal sitting just off Dumoulin's shoulder.
Van Garderen has just moved up and started to set the pace for EF. That's interesting because they have Martinez and Higuita, who would both be perfect for a stage like today.
And the gap is coming down, it's at just 40 seconds as a flood of teams hit the front of the bunch. EF move up with more riders but there's a real fight for position as we head towards the foot of the next climb.
CCC are also interested in coming up as they look to set up Trentin or GVA. The break only have 14 seconds as we race through Nice. 41km to go.
Perez sits on the front of the break but the bunch are at 9 seconds and they can see him just ahead. 40km to go and they'll be caught before the climb.
Onto the climb and here we go. Break caught and Trentin has been dropped having done a big turn. Gogl goes but the bunch are closing.
Dan Martin dropped. He too crashed on stage 1.
Here come EF. Is that Powless? As we see Sagan get dropped.
Yes it's Powless who pushes on alone with 39km to go. The American is looking good and has a bit of a gap already. Benoot has been dropped. That's a surprise.
QuickStep are chasing down Powless but Ineos have a lot of numbers in the mix as we continue to climb.
Powless lacks the punch he started with and is about to be caught but he's done his job for the day.
It's one single QuickStep rider on the front and then a line of Ineos riders. Jumbo are just to the right, and here they come with Gesink.
37km to go and Pinot is just sitting in the wheels but he's quite far back. So is Bardet.
Lots of attention from Bora at the moment as they move Buchmann up towards the front.
Alaphilippe is just waiting for the moment to pounce but will it come on this climb or the next one? There's still 36km to go but there has to be a selection at some point. Trek are moving up too as the group goes down to about 60 riders.
Crash! Kamna is down on the ground. He's back on his feet and riding again but we're lucky only one rider went down.
Devenyns has been on the front for most of the climb and he's still setting the pace but now he's done and Gesink takes over with 34km to go.
Higuita is also quite far back on this climb. Valverde as well as we continue to climb. Jumbo are just softening everyone up at the moment. Wout Van Aert is still here.
1km to go until we hit the summit as a few more riders slip off the back of the peloton. Powless is just about hanging on.
Roglic is just 4th wheel and looking comfortable as we almost crest the top of the climb. Cherel has been dropped as Porte takes a bottle near the top of the climb. Gesink will lead us over the top as Anacona is dropped.
One more climb to come with the Col des Quatre Chemins on the menu but before that we have a very quick descent and then a short stretch of flat roads. Still, it's Gesink who is doing a tremendous job on the the front. 31km to go!
Crash and Martinez is down. He's very slow at getting back up. That just happened on a left turn coming off the descent.
Martinez has a new bike but surely that's his stage opportunities gone for the day as Jumbo drill it on the front with 29km to go.
Martinez is alone and will have to chase to save his GC ambitions. He might be okay if the pace eases before the next climb but it's going to cost him a lot. He's 1'15 down with 27km to go.
Still Gesink on the front for Jumbo but his job for the day will soon be over as there's no let up in pace.
Martinez is holding the gap at 1'15 but he can't take a draft. He has to cross his fingers that Jumbo sit up as a teammate comes back for the Dauphine winner, it's Carthy.
The gap has dropped to 1'06 and Gesink is almost done for the day as the gap comes down to 59 seconds.
Valverde is off the back too. I'm not sure why, but I don't think he fell.
A few more teams come up as the road widens as we see Martinez come back through the car. It's a headwind, which will help the EF rider as the peloton slows ever so slightly.
Martinez is putting in a huge effort on the descent but we'll be climbing in a few kilometers. Will EF send another rider back?
Jumbo move up and the pace has dropped for just a moment as the bunch get ready for this final climb to the stage.
Valverde is still coming back as UAE now put a rider on the front as we race along the coast with this headwind as we head over the finishline for the first time before we begin this final lap.
If Martinez doesn't make it back now he's done for. He might have made it, there are two EF riders at the back.
And Gesink resumes the pace setting duties on the front as we approach the final climb of the Col des Quatre Chemins. 16km to go!
Yeah Martinez is there. He's made it back after a frantic chase after his crash. 15km to go.
And now we climb and Gesink gives it one last turn but here come QuickStep with 14km to go. Alaphilippe is second wheel and there are bonus seconds at the top of the climb.
Roglic is fourth wheel, as Jungels sets the pace. Yates is there, so is Uran and Bernal. This is a massive turn from Jungels though as Alaphilippe just waits for his moment.
13.km to go and Alaphilippe attacks, and he's clear.
Sunweb try and respond but the Frenchman still has a way to go as Martinez is dropped.12.7km to go.
Alaphilippe has been joined by Hirschi, great ride from the Sunweb rider as Jumbo lead the chase with about 2.4km left on this climb.
Crash on the climb. and I think it's Roglic.
No it's Dumoulin who is down. 12km to go. There was a touch of wheels with Kwiatokowski and down he went.
Alaphilippe and Hirschi have 11 seconds as Bennett leads the pace for Roglic and it looks like Dumoulin has made it back. They can't give Alaphilippe too much room.
And 11.2km to go and Yates attacks and Jumbo have pulled off the front. The two leaders have 15 seconds.
Great move from Yates, and we now how three leaders on the road as Bennett peels off.
Now an attack from Movistar with Ineos now setting the pace. Nothing from Roglic.. yet.
Yates offers some eh advice to the Sunweb rider but the gap is at 18 seconds as we see that the Movistar rider is Soler and he's been caught as Ineos lead the chase but the gap is at 21 seconds now. Alaphilippe could well be in yellow at the end of the day. Now it's at 15 seconds.
I think Yates took the bonus seconds at the line but now they have to work together on the descent. Don't write off Hirschi though, he's a class act.
8km to go and Ineos lead on the descent with the gap at 17 seconds.
The gap is back up to 21 seconds with 7.2km to go. It's mostly downhill until the line as Alaphilippe leads the trio back towards Nice.
The trio are working well together and they're holding that gap with 6km to go. Yates now takes a turn.
Astana are now leading the peloton but it's not going to be enough. The gap is at 21 seconds.
5km to go and the stage and the yellow jersey are up for grabs.
21 seconds with 4.4km to go. It's almost downhill until the final 2km.
19 seconds and this should be enough for the leaders as they tear down this descent. 3.5km to go.
2.6km to go and the gap is at 17 seconds as Astana do everything to try and bring them back.
Yates hits the front with 1.8km to go but the gap is coming down. It's 16 seconds now.
1.4km to go and I think they're going to do it.
Yates again on the front with Alaphilippe on the back.
Now the Frenchman comes through.
Alaphilippe goes first, but the bunch are coming.
They're closing but the Frenchman has opened his sprint. Yates is out of it.
Hirschi is coming back but Alaphilippe takes the win and the yellow jersey on stage 2 of the Tour de France.
That was such a close finish but Alaphilippe didn't panic and he timed his sprint perfectly.
An emotional Alaphilippe at the finish has dedicated the win and the yellow jersey who passed away a few months ago. We'll have quotes from the winner shortly.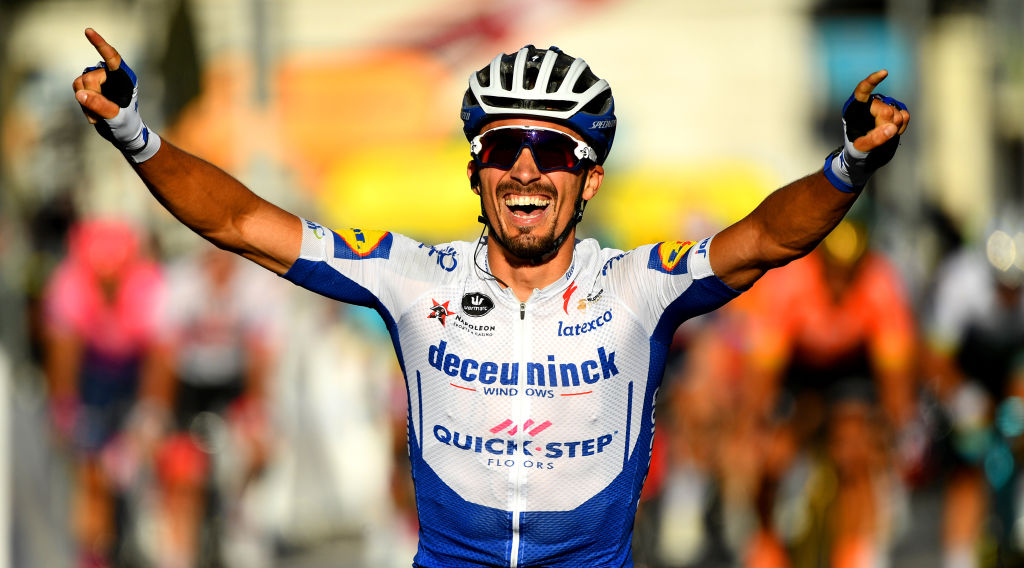 It looks like Greg Van Avermaet took fourth on the line.
Adam Yates alert: I just came across to Julian Alaphilippe and Hirschi and then we started working on the descent. There was a block headwind coming into the final and it wasn't' super easy. In the end I was never going to win the sprint, them too were both faster than me but to come third on stage 2, I'm pretty happy with that.
Maybe if there was another climb or something, but like I said, in a sprint with them two, on this kind of finish, I was always going to end up second or third. All in all it was a good day.
Matt White alert: "It's not a normal stage 2 of the Tour de France and with the special bonus seconds as well there as an added incentive for the yellow jersey if a group could stay away. It has, Alaphilippe is in yellow but that was a great ride today by Adam when he bridged across to the two leaders."
Greg Van Avermaet alert: "It was super hard, but in a good way compared to yesterday. I had in mind to take yellow and to win the stage, so I gave it all, like a one-day race. Unfortunately, three guys stayed in front, and they were the best. In racing, anything can happen, and I just played my cards. I'm a bit disappointed, of course, after surviving these kind of climbs and these kinds of riders. It would be nicer to come closer to victory, but I cannot change it. I think stage 5 is a good one for me with an uphill sprint. The legs are responding well. I am hoping there are a few more chances for me, and I'm hoping it's not my last chance for a stage win in this Tour."
Egan Bernal, alert: I feel happy to be in the race again, to be honest. I enjoyed the stage, it was a proper Tour stage. In the final Kwiatkowski and Richard Carapaz did a great job. We just arrived at the finish and saved as much of our legs as possible. That's the Tour. We just go day-by-day and try to save energy for the last part of the Tour.
You can find our complete race report, and results, right here.
Thanks for joining us today. We'll be back with more from stage 3 on Monday.

Thank you for reading 5 articles in the past 30 days*
Join now for unlimited access
Enjoy your first month for just £1 / $1 / €1
*Read any 5 articles for free in each 30-day period, this automatically resets
After your trial you will be billed £4.99 $7.99 €5.99 per month, cancel anytime. Or sign up for one year for just £49 $79 €59

Join now for unlimited access
Try your first month for just £1 / $1 / €1