As it happened: Paris-Nice stage 7
Tadej Pogacar extended his overall lead with another victory atop the Col de la Couillole
Refresh
Good morning from a very normal country. I'm coming to you impartially and apolitically and I'm being treated very well indeed.
It's Paris-Nice final weekend time - when has it ever let us down before? Sunday's rolling thriller in the hills behind Nice will have the final say but first up is this, more of a set-piece mountain stage with a summit finish on the Col de la Couillole. We'll have every pedal stroke covered right here.
Here's the scene at the start. No, I don't really like the fact we're already in Nice, a day before the end of Paris-Nice, but I have seen many many worse views from sign-on podiums.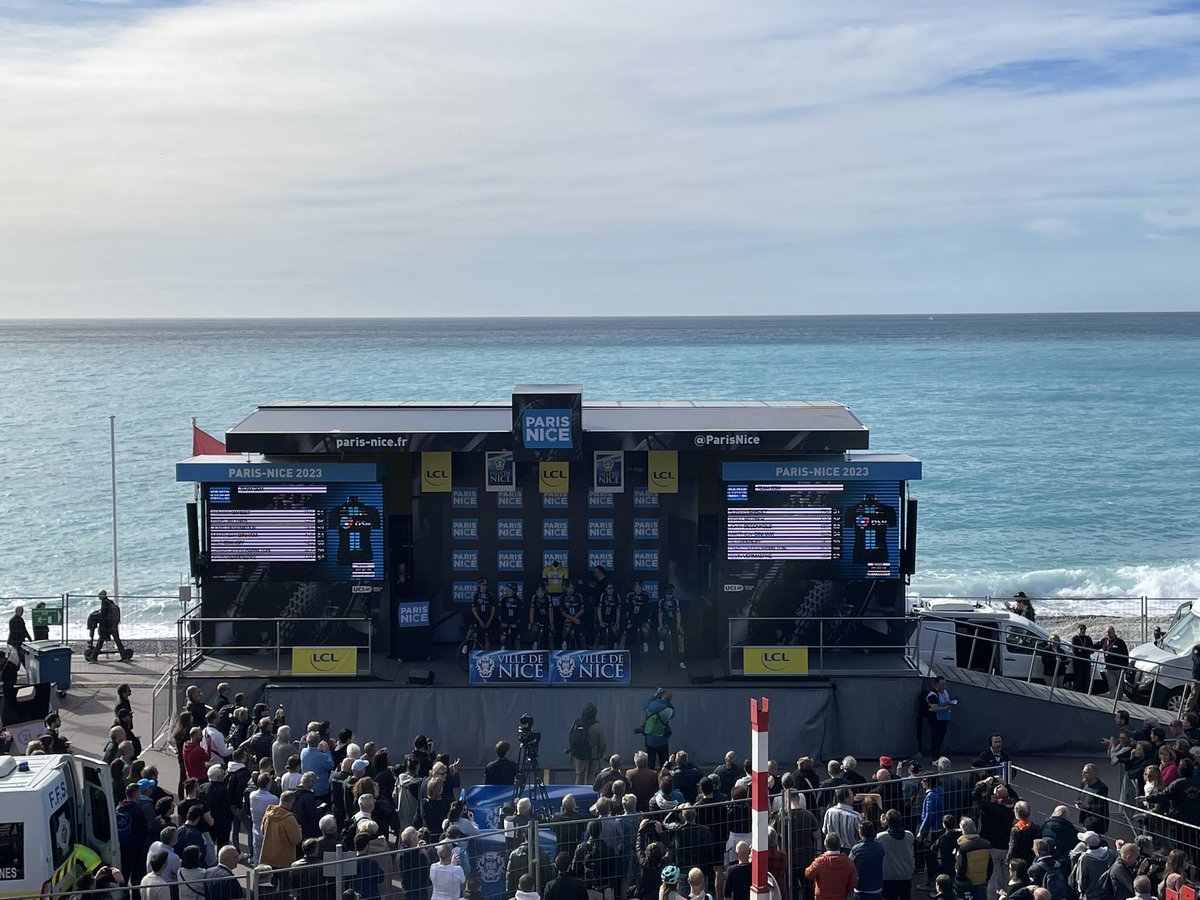 The riders are steadily signing on and they'll be rolling away at 10:40 local time. They then have a lengthy neutral zone to negotiate so the stage proper should get underway at 11, so in just over half an hour.
Here's what's in store today. The Côte de Tourette-du-Château has been given ASO's liberal Paris-Nice approach to climb ratings but the final climb of the Col de la Couillole looks every bit a category-1 summit finish. It's the same average gradient as the Loge des Gardes a few days ago, but twice as long. We saw some drama then, this promises more.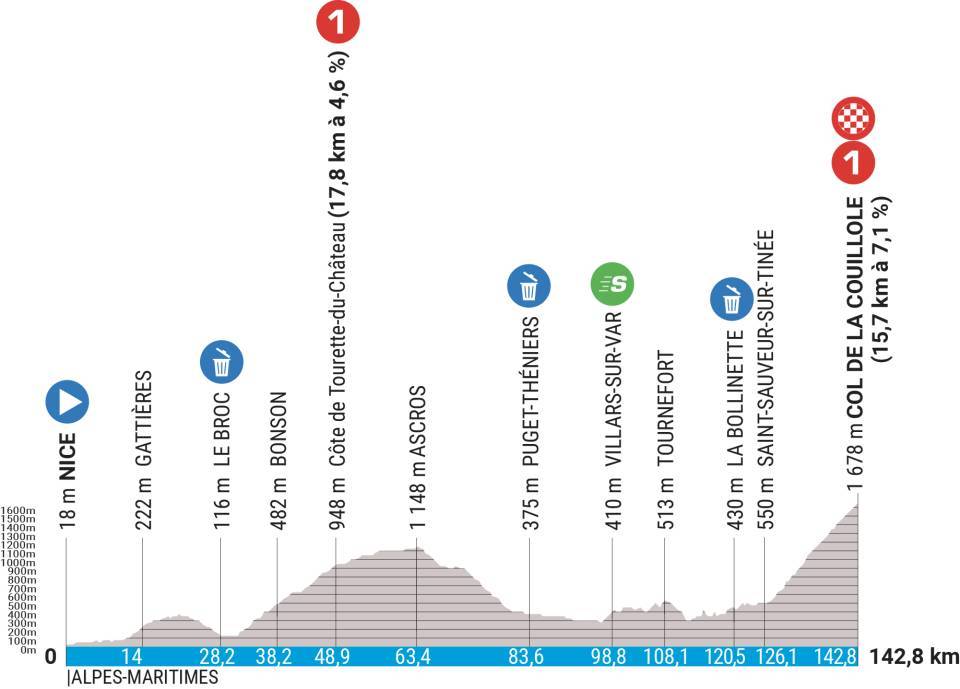 Before we get going, now's the time to catch up on yesterday's action, or lack thereof. Extreme winds forced the complete cancellation of stage 6, so there was no stage winner and no change to the general classification.
We're on the move. The riders roll out of Nice but it'll still be a little while before this stage really gets underway.
A reminder of the overall standings

We're off!
The stage has been waved underway and I'd bet we'll see a fair bit of interest in today's breakaway.
Some non-starters
Two-times Paris-Nice winner Max Schachmann is technically a non-starter, even if Bora-Hansgrohe announced his exit with illness after stage 5 and before stage 6 didn't take place. His teammate Sam Bennett is also heading home, as is Lotto-Dstny's Arnaud De Lie - there's little left for the sprinters now. Aslo gone are no fewer than three Israel-Premier Tech riders: Taj Jones, Gay Sagiv and Tom Van Asbroeck (Israel Premier-Tech) did not start.
As expected, it's a ripper of a start - over 50km/h so far.
This was always likely to generate breakaway interest but when you take an entire stage out of the race - one tailor-made for breakaway artists no less - then the appetite only intensifies.
No attacks sticking so far.
It's also tailwind out there.
Lilian Calmejane (Intermarché-Circus-Wanty) has attacked with Javie Romo (Movistar) and Nils Politt (Bora-Hansgrohe)
We're on that early lump and some riders are already being dropped.
The trio have company. Larry Warbasse (Ag2R-Citroen), Florian Sénéchal (Soudal Quick Step), Brent Van Moer (Lotto Dstny) and Hugo Houle (Israel-Premier Tech) bridge across.
We have a counter-attack but the margins are slim at the moment and this is anything but settled.
Arnaud Démare is in this counter. What's he up to?
One of the interesting sub-plots of this Paris-Nice has been the relationship between the French sprinter and his FDJ teammate David Gaudu, after the pair publicly fell out earlier this year - well, after David Gaudu slagged off Démare to his mates while playing video games on an internet streaming platform (I think I've got that right).
Anyway, Démare led out Gaudu for bonus seconds at an intermediate sprint the other day, not only providing the perfect platform but also cleverly shutting the door on Tadej Pogačar to maximise the gains. Gaudu said it was 'cool' - all good now?
Démare joins the front along with Dorian Godon (Ag2R) and Soren Kragh Andersen (Alpecin Deceuninck).
Kelland O'Brien (Jayco Alula), Josh Tarling (Ineos Grenadiers) and Pascal Eenkhhorn (Lotto Dstny) set off now and are in between break and bunch.
It's been a rapid opening 30km and we're now onto the lower slopes of the Côte de Tourette-du-Château, the first of our two cat-1 climbs today.
Those three get across to the front now, so we have 13 in the breakaway as we head up the climb.
This climb is 17.6km long but the gradient - disrupted by a few flatter sections - only averages out to 4.6%.
We have another counter-attack. It's Lucas Hamilton (Jayco Alula) and Remi Cavagna (Soudal Quick Step).
They're joined by Démare now, who's been dropped from the lead and will likely only slide further. That's probably what he was doing - giving himself some sliding room.
The peloton is a minute behind the front of the race.
There are sill riders jumping out of the bunch here
The race leader in typically high spirits today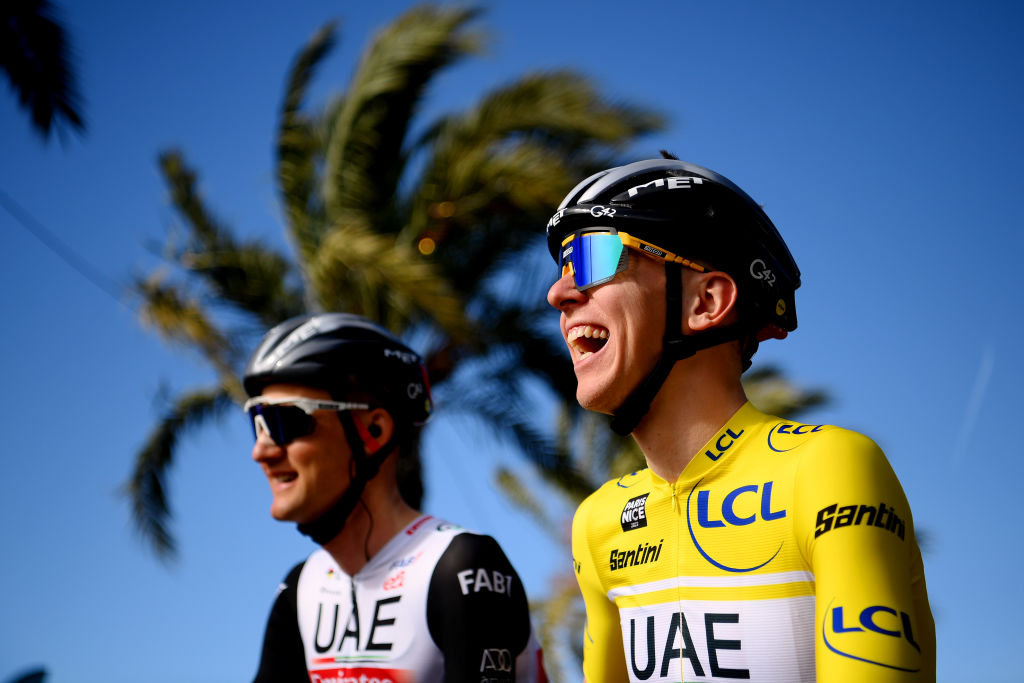 Cavagna and Hamilton are closing in on the break.
Behind, Michael Matthews (Jayco Alula), Gregor Muhlberger (Movistar), Harrison Sweeny (Lotto Dstny), Daan Hoole (Trek Segafredo), Kobe Goosens (Intermarché), David De la Cruz (Astana Qazaqstan) are a short way ahead of the peloton.
Mads Pedersen (Trek-Segafredo), the green jersey, has abandoned Paris-Nice. More to follow.
Ruben Fernandez (Cofidis), who crashed earlier, also abandons, as does Soren Waerenskjold (Uno-X) who has crashed a couple of times this week.
Cavagna and Hamilton are across and the next group is coming close now, too.
Trek-Segafredo confirm that Pedersen was ill, with "symptoms of a cold". The stage 2 winner was dropped on the first uncategorised rise today.
Bora have also confirmed that Bennett was ill, and so were the three Israel abandonees. We're nowhere near the scale of last year, but seems there's something going round.
The latest counter - Muhlberger, Sweeny, Hoole, Goosens, De la Cruz - gets across. Matthews was in there initially but is not anymore. Jayco-AlUla claim the peloton wouldn't let him go.
The newly-expanded breakaway is coming to the top of the first climb now.
The gap rises towards the two-minute mark as the groups head over the summit, although the road continues to drag uphill for some 15km yet.
Here's how the mountains points were dished out on the Côte de Tourrette-du-Château

1. Eenkhorn 10 points
2. Cabot 5 points
3. Calmejane 3 pts
4. Romo 2 pts
5. De la Cruz 1 pt
In terms of the mountains classification, Jonas Gregaard (Uno-X) has a pretty solid lead in the polka-dots - not mathematically unassailable, but firm enough for him not to bother with the break today.
A little simplified summary after a frantic start
We have a breakaway of 19 riders with a lead of just over two minutes over the peloton.
Pogačar's UAE men are controlling the peloton and they're not giving this breakaway much room. They've pegged the gap below the two-minute mark.
The riders have crested the long post-climb drag and we're now dipping downhill for a while.
The best-placed rider in this break is Cavagna, who started the day 24th overall at 3:20 from Pogačar.
The Frenchman, best known as a time triallist, is trying to reinvent himself as a GC rider for week-long races but it's an experiment in its infancy.
The gap rises slightly, it's out to 2:30.
Josh Tarling (Ineos Grenadiers) has crashed out of the breakaway and out of the race on this descent. We'll have an injury update when we can.
Tarling is a 19-year-old neo-pro who has skipped the U23 ranks to go pro with one of the biggest teams, and he's been thrown in right at the deep end - most riders don't race the juniors one season and Paris-Nice the next. He also did UAE Tour - another WorldTour race - before this, and started his season at Bessèges, with 18 days of racing already.
Here was Tarling at the head of the breakaway on the earlier climb.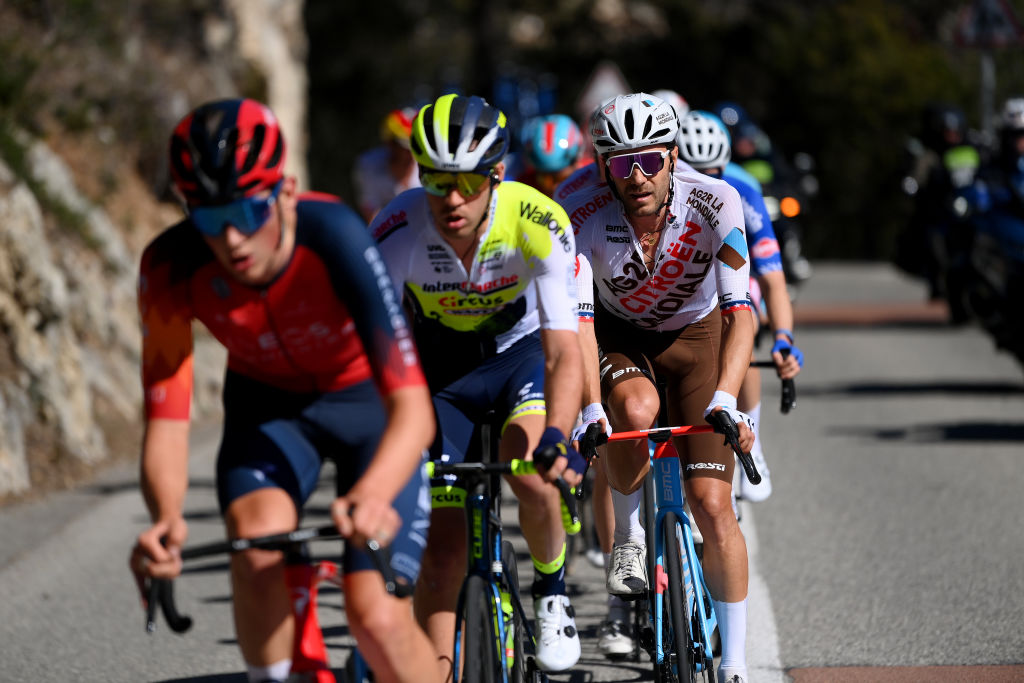 50km to go and the breakaway are zipping along with a lead of 2:45.
The fight for position begins already. The pace has lit up in the peloton as we continue down this gentle descent.
We've got an intermediate sprint coming up but it's inconsequential given the bonus seconds will be snaffled by the breakaway.
The int-sprint is still at the top of a hill, and it's fairly steep one.
Mechanical for Romain Bardet (DSM). That's not a good time as the bunch continues quickly up this kicker.
Bardet is sixth overall. Here's a reminder of the overall standings.

With the help of two teammates, Bardet gets back onto the back of the bunch as the road continues uphill.
Ineos Grenadiers have taken over the pace-making in the peloton.
De la Cruz bagged the bonus seconds at the intermediate sprint, but he was 3:32 down at the start of the day. He was followed by Goosens and his teammate Romo.
Those riders have decided to press on and are away, along with Sweeny, as the road heads downhill again.
The four of them have a lead of 15 seconds over their former breakaway companions.
Meanwhile, with 40km to go, the gap back to the bunch is down to just above two minutes.
Ineos are tearing down this descent.
There's a crash at a major pinch point over the narrowest of bridges leading into a corner. That helps chop the front of the peloton into 40 riders.
34km to go and some riders catch back up with the peloton.
Ineos have burned a few matches here. Omar Fraile is looking ragged, with Sivakov and Martinez behind him.
UAE still have decent numbers in there.
The breakaway reformed after that earlier split but they're only 1:44 ahead now with no realistic chance of the stage win.
Fraile handles the last kicker and takes us onto our last little descent. After this, it's a drag towards our long final climb.
Nightmare for Arkea, who have lost Vaquelin and Champoussin to incidents. They're both chasing now. Both are bright French prospects but Vaquelin especially has made an impression this season and here at Paris-Nice where he was top five on the Loge des Gardes summit finish.
Mechanical for Senechal, a dropped chain and he drops from the break and right through the bunch.
Onto that drag now and the break has split again! Five riders clip off the front.
Romo, Goosens, Cabot, Politt, and Eenkhoorn are the five up the road with a small gap.
Vaquelin is 40 seconds down
Pierre Latour scrambles to get back into the small bunch. He had trouble following on the descent.
Vingegaard has two teammates in this reduced peloton. Gaudu has three. Pogacar has just one.
Pogacar has two, sorry - Bjerg and Grossschartner.
Jumbo-Visma take over from Ineos now!
Vauquelin is back!
Panic over for the Frenchman as the second portion of the peloton scrambles back. The bunch has doubled in size now with 24km to go.
Van Hooydonck is setting the pace in the bunch for Jumbo, who also have Tobias Foss with Vingegaard.
The final climb starts with 15.7km to go. So that's another 6km of false flat up the valley.
The Col de la Couillole averages 7.1% gradient, and it takes us up to 1678 metres. It's a proper mountain.
Up front, the breakaway have found a little more room. The quintet is still out front with 2:20 in hand now.
Crash. Touch of wheels in the peloton and Thomas De Gendt falls and others come down with him.
Mattias Skjelmose is down. He's Trek's GC leader and was 13th overall at the start of the day.
Skjelmose went flying head over heels and someone is examining his face. That looks nasty. He then clipped his teammate Julien Bernard, and Uno-X's Alexander Kristoff also came down and vented his anger.
Jayco-AlUla are trying to bring the rest of the break back to the front of the race but they're a minute down now and it's surely a lost cause.
Vingegaard has moved up ahead of Pogačar now, making it three Jumbo riders at the head of this peloton as we approach the final climb.
Final climb time!
The Col de la Couillole begins - it's 15.7km at 7.1%
Goosens attacks immediately
Romo gives chase. Politt, Cabot, and Eenkhoorn are surely dropped for good.
Van Hooydonck had relented just before the start of the climb, leading FDJ to take it up for a while, but Foss has now started working for Jumbo as the bunch hits the climb 1:20 down.
Grossschartner is dropped. Pogačar has no teammates left!
The bunch has thinned to 20 riders already.
Romo has linked up with Goosens at the front of the race. They're 13.2km from the summit and they're just 53 seconds in front now.
The Ineos leader, who won the recent Volta ao Algarve, was slightly off the pace the other day but he's going to lose a stack of time here. That's a surprise, especially because Ineos were on the assault not long ago.
Ineos still have Pavel Sivakov here, but he's down in 18th place overall.
Goosens and Romo have just 30 seconds in hand now with 11km to go.
Ion Izaguirre (Cofidis) is the next to be dropped. Bob Jungels (Bora) now, too.
17 riders left now as Molard drops for FDJ.
Foss still leading this bunch. Great ride from him so far.
Calmejane and Berthet are the next to lose contact. 15 now.
Goosens, who doesn't seem to have got a turn out of Romo, looks around and he can see the bunch.
Romo drops, Goosens drags it out for a little while longer. 10 to go.
Foss continues with Vingegaard and the dozen others in his wheel. Goosens is lurking round a couple of blind bends at 8 seconds.
Goosens caught. End of breakaway with 9km to go.
This is the front of the race
Tobias Foss, Jonas Vingegaard (Jumbo-Visma)
Tadej Pogacar (UAE Team Emirates)
David Gaudu (Groupama-FDJ)
Matteo Jorgenson (Movistar)
Romain Bardet (DSM)
Simon Yates, Chris Harper (Jayco-AlUla)
Jack Haig, Gino Mader (Bahrain Victorious)
Pavel Sivakov (Ineos Grenadiers)
Aurelien Paret-Peintre (AG2R)
Neilson Powless (EF-EasyPost)
Pierre Latour (TotalEnergies)
David De La Cruz, Javier Romo (Astana)
Foss is still going. Vingegaard is out of the saddle, he looks twitchy, this is being set up very nicely for him.
A reminder that after his downfall at La Loge des Gardes, Vingegaard needs to find 46 seconds on Pogačar.
Gaudu is a much more imminent threat to the yellow jersey at just six seconds. Yates is the only other rider within a minute.
Foss is still going but the damage is more limited now. Goosens is hanging onto the back still.
And as I write that, we have an attack!
It's Chris Harper (Jayco)
Harper is no threat on GC, he's a teammate for Yates.
The writing was on the wall - Foss is done
Vingegaard takes it up! 6km to go
It's not a full-blown attack but Vingegaard accelerates
The yellow jersey senses Vingegaard coming to the end of his burst and as he looks around to his right, Pogacar hits him on the left.
Touch of wheels and Paret-Peintre crashes uphill.
Vingegaard is forced to try and grind Pogačar back. The gap is a few seconds.
This has exploded the group now.
Yates dropped, along with Haig, Powless, Harper, Latour. And now Mader.
Sivakov loses the wheel now.
Only Gaudu, Bardet, and Jorgenson can follow VIngegaard as he tracks down Pogačar.
Vingegaard has plugged this at five seconds.
Bardet and Jorgenson lose the wheel!
This is actually looking pretty good for Gaudu. He's getting a ride back up to a yellow jersey who's not getting away.
Gaudu comes through and starts to work with the Tour de France champ.
4km to go and Pogacar leads by four seconds over Vingegaard and Gaudu.
And now Vingegaard closes the gap. Three at the front.
Vingegaard loses contact!
More worrying signs for Vingegaard. He's not dropping like a stone but he has lost the wheel again.
Vingegaard is back, but he's vulnerable.
Yates, Powles, Mader, Sivakov reach Jorgenson and Bardet... and Yates instantly attacks.
Up front, Pogacar is leading the way but it's a lull for now.
The lull is seeing the chasers coming back to our three leaders.
Yates, Powless, and Bardet have the leaders in sight
Gaudu attacks! 2.3km to go
Pogacar responds but Vingegaard is dropped!
Pogacar is right on Gaudu and sitting in the wheel.
Gaudu has a great finishing kick but Pogacar looks poised for a second stage win here.
Gaudu asks for a turn, he doesn't get one.
Vingegaard can't respond to these attacks, but he's not imploding like the other day. He's clawing his way back.
Pogacar does come through now. 1500 metres to the top.
Gaudu goes again! A slower attack now but he ratchets it up and up
A slight regrouping behind and they're attacking each other. Sivakov and Jorgenson dropped as Powless goes with Yates, Mader, Bardet.
Final kilometre!
Gaudu leads Pogacar with Vingegaard a few seconds behind.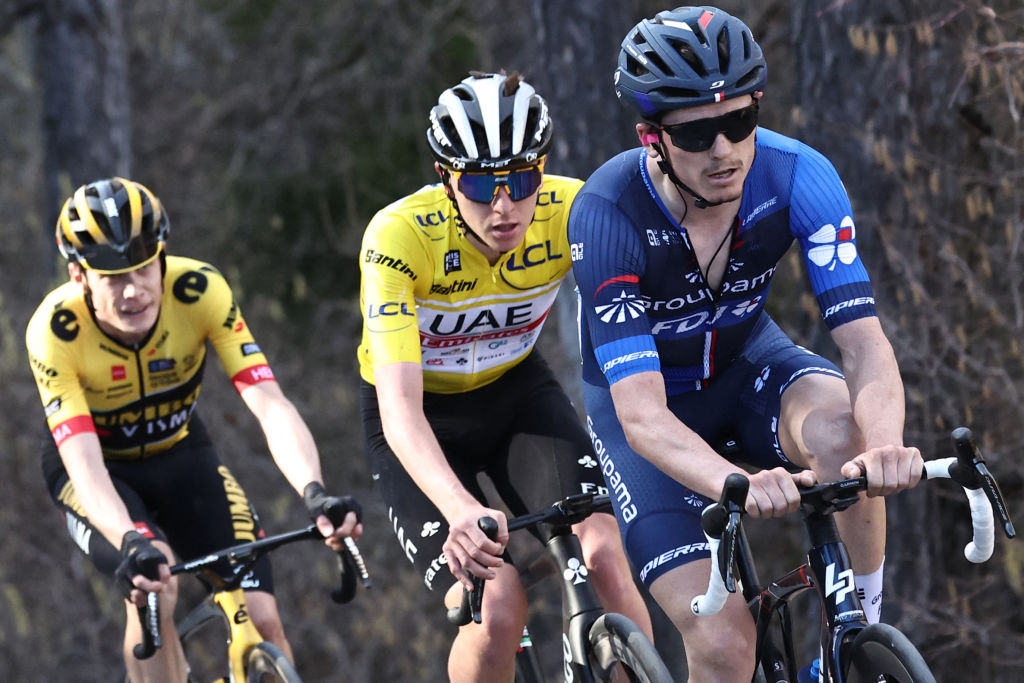 Vingegaard claws his way back again...
It's a trio once more and it's going to come down to the final kick to the line.
It's clear Vingegaard doesn't have the legs for this. Pogacar looks the heavy favourite, but what can Gaudu do? And how far out does he go?
Gaudu leads it up, Pogacar and Vingegaard in the wheel. 350m to go
Gaudu out os the saddle in the preamble. He looks around.
Pogacar is straight into action.
Vingegaard fades, Gaudu can't match Pogacar either.
Pogacar punches the air, he's won it.
Yates takes fourth, then Powless, Mader, Bardet at 33 seconds. Sivakov and Jorgenson next at 40 seconds.
Tadej Pogačar wins stage 7 of Paris-Nice
Pogacar opened a two-second gap on Gaudu by the line. Once bonus seconds are factored in, that means he doubles his overall lead from six seconds to 12 seconds. Vingegaard is third on the stage at six seconds and third overall but now at 58 seconds.
Let's hear from the stage winner and race leader
"We were racing full-gas from start, Ineos did a big effort in the middle of the stage and coming to final climb everyone was already a bit dead. For sure today was one of the toughest battles for the finish.
"[My attack] was a bit early, but I didn't want too many riders in the front, so it would be less stop-start. In the end it went perfectly how I imagined it.
"Tomorrow is another really hard day - I think the hardest of the whole Paris-Nice but the climbs are better for me tomorrow. We try to defend as hard as possible."
Dani Martinez has just crossed the line, nearly 20 minutes down.
Here's the winner's shot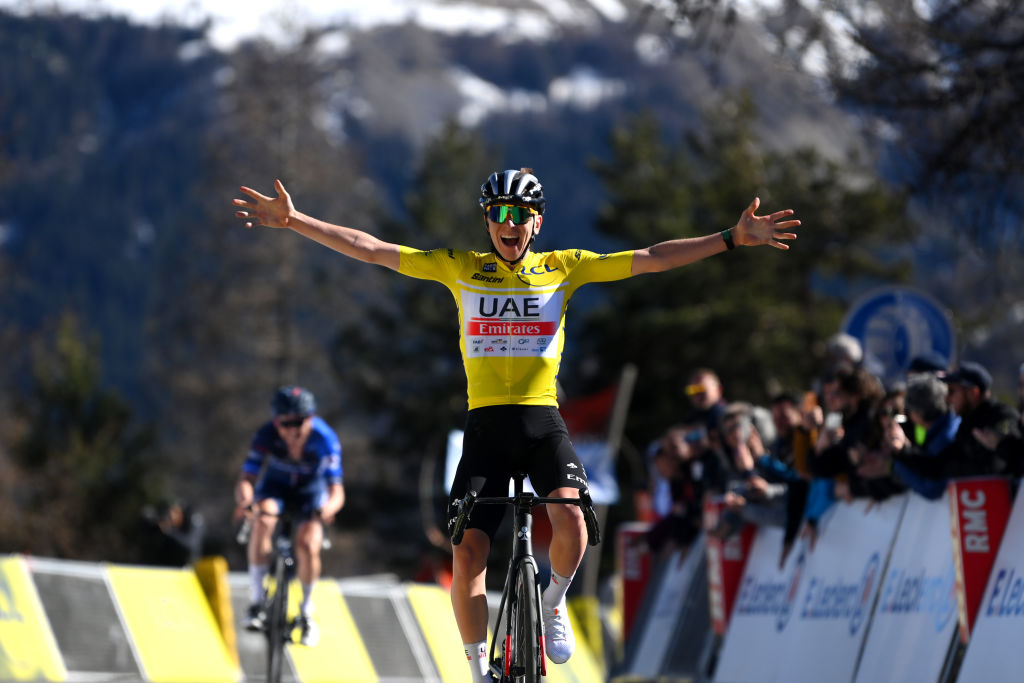 Get The Leadout Newsletter
The latest race content, interviews, features, reviews and expert buying guides, direct to your inbox!
Thank you for signing up to The Pick. You will receive a verification email shortly.
There was a problem. Please refresh the page and try again.