Giro d'Italia 2019: Stage 21
January 1 - June 2, Verona, Italy, Road - WorldTour
Refresh
Welcome to our live coverage of the final stage of the Giro d'Italia, a 17km time trial around Verona.
Stage 20 report: Bilbao wins queen stage
Giro d'Italia: Lopez hits fan after being knocked from bike
Verona time trial to crown Carapaz as Giro d'Italia winner – Preview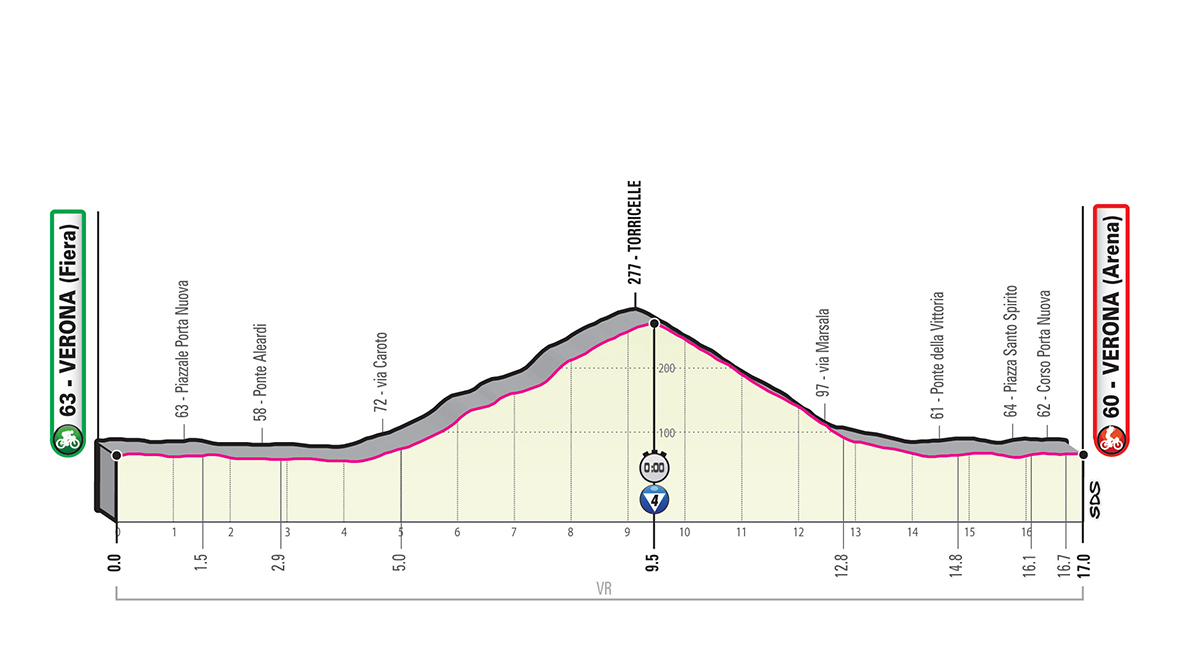 We're around half an hour from the first rider taking the start. It'll be Sho Hatsuyama of Nippo-Vini Fantini-Faizane.
Riders will set off in one-minute intervals until the top 20 on GC head out - they'll leave the start at three-minute intervals. You can find the full start order here.
And here's our stage 21 preview - Victor Campenaerts is the favourite for the stage win, the pink jersey is wrapped up, and it's Landa vs Roglic for third overall.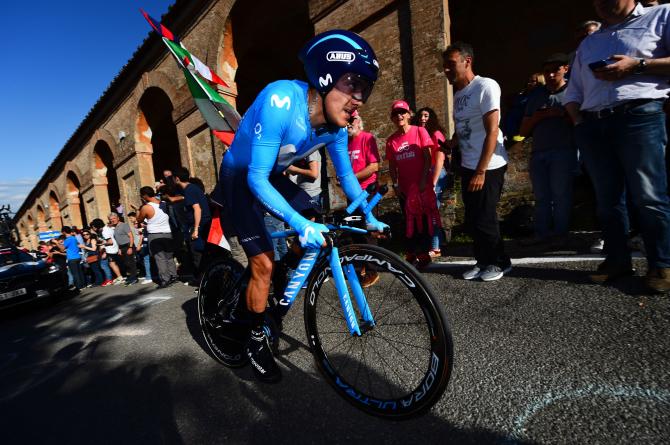 If you missed the drama of yesterday's stage, you can read up on Miguel Angel Lopez's pugilistic sideshow on Monte Avena. The Astana rider was knocked off his bike by a spectator, and gave the fan a few slaps before continuing to the finish. Read the full story and watch a video of the incident here.
15 minutes until Hatsuyama sets off now.
Here's our latest story. Mikel Landa took third overall after yesterday's stage to Monte Avena - a combination of time gained on the stage, a time bonus at the finish, and a time penalty for Primoz Roglic sees him 23 seconds up on the Slovenian ahead of today's time trial. But over 17km, Roglic is the favourite to take the final podium spot come the end of the race.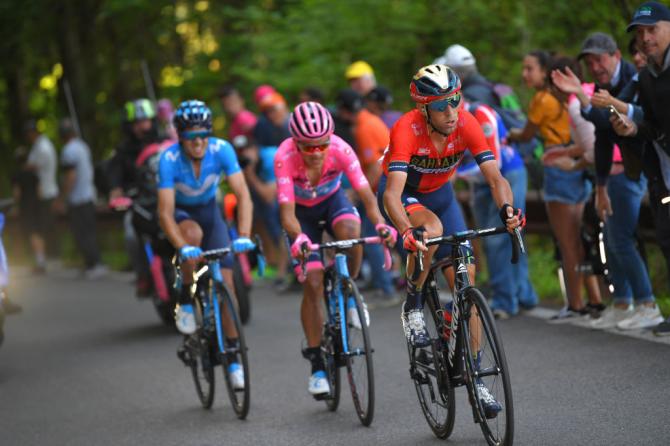 A look at today's course and is something of a technical one with plenty of turns through the city streets as the riders head north out of Verona before turning around and finishing in the city.
There are five flat kilometres to start, and four flat kilometres to finish. In the middle comes the ascent and descent from the Torricelle climb, the final categorised climb of the Giro. It's a fourth cat climb, measuring in at 4.5km and an average of 4.6%. The finish comes on Piazza Bra, outside the Arena di Verona.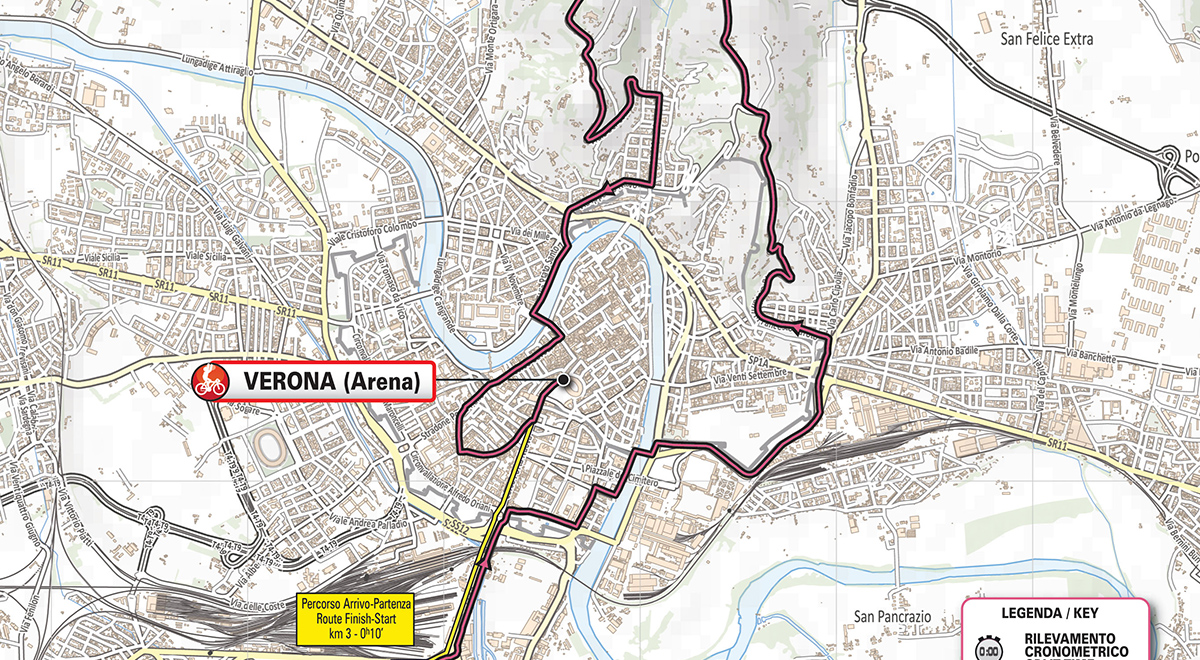 There are 142 riders remaining at the Giro. Assuming they all finish today, it'll be the lowest number of finishers at the race since Ivan Basso's victory all the way back in 2010, when only 139 men made it all the way to the end.
The first rider of the day, Sho Hatsuyama sets off. The Japanese rider, a debutant at the Giro, is 6:03:31 down on GC.
Tom Bohli (UAE Team Emirates) is likely to set the early running. He's third down the start ramp.
Stage favourite Victor Campenaerts (Lotto Soudal) sets off at 14:15 local time. Chad Haga of Team Sunweb starts his ride at 14:22, followed by Jos Van Emden (Jumbo-Visma) a minute later.
Bob Jungels (Deceuninck-Quick Step) starts at 15:34, Tanel Kangert (EF Education First) leaves at 15:55. Then Bauke Mollema (Trek-Segafredo) and Primoz Roglic (Jumbo-Visma) set off at 16:34 and 16:37 respectively.
Several riders are out on course now, including stage 18 winner Damiano Cima (Nippo-Vini Fantini). We should see times from the checkpoint at the top of the climb coming in soon.
Over on British Eurosport, Brad Wiggins is talking through the intricacies of time trialling. He has criticised the looseness of Richard Carapaz's skinsuit during the San Marino TT, pointed out a flappy helmet strap, and talked about the inefficiency of standing up while climbing on a time trial bike.
He had provided some real insight on the pre- and post-race shows during this Giro. A strong addition to the team.
Hatsuyama is on the climb now. It's a beautiful day in Verona, almost 30°C and not a cloud in sight.
Markel Irizar (Trek-Segafredo) is out on course. The Basque veteran is due to retire at the Clasica San Sebastian later in the year - this will be his last Grand Tour stage.
Tom Bohli catches and passes Will Clarke and Hatsuyama as the trio reach the top of the hill. Bohli started a minute behind Clarke, and two behind Hatsuyama. Safe to say he's the fastest man out on course so far.
Bohli went through the checkpoint with a time of 14:39. Miles Scotson (Groupama-FDJ) goes through in second,18 seconds down. Clarke and Hatsuyama are one and two minutes down, obviously.
Bohli heads back into Verona now. Points classification leader Pascal Ackermann just set off.
And Bohli crosses the line as the first finisher of the 2019 Giro d'Italia. His time is 22:41 with an average speed of 44.9kph, the fastest so far, obviously.
Scotson is the only man within a minute of Bohli's time so far. Victor Campenaerts sets off - he should be the first man to beat Bohli.
Hatsuyama takes the maglia nera as last-placed finisher. It's not an official jersey of course, but they've whipped one up for him.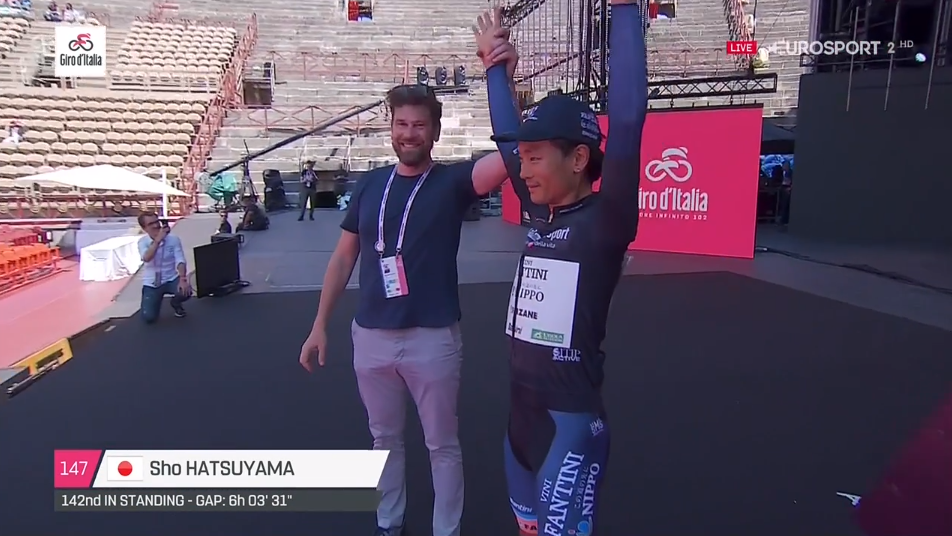 Hatsuyama finished 3:03 down on Bohli at the finish.
There's a special stage set up inside the Arena di Verona. Riders continue from the finish up a pink carpet into the amphitheatre, and we'll see the final podium ceremony take place in there in front of a large crowd.
Chad Haga and Jos Van Emden set off. Meanwhile, Kamil Gradek (CCC Team) takes second at the finish, 35 seconds down.
Campenaerts passes his minute man Guy Niv (Israel Cycling Academy) on the climb.
Lluis Mas (Movistar) goes third fastest, equal on time with Gradek.
Campenaerts goes fastest at the checkpoint with a time of 14:08, while Jasha Sutterlin (Movistar) goes second at the finish, 30 seconds down on Bohli.
Campenaerts was 31 seconds faster than Bohli to the checkpoint.
Pascal Ackermann (Bora-Hansgrohe) crosses the line, his points classification victory secured.
Josef Cerny (CCC Team) just went fastest at the finish with a time of 22:18.
Campenaerts duly goes fastest at the finish. Only by 7 seconds though - his time was 22:11 at an average speed of 45.980kph.
Chad Hag is 1/4 of Sunweb's remaining team. He's six seconds down on Campenaerts at the intermediate checkpoint.
Wow! Chad Haga goes fastest! 22:07 for the American. A great time.
Haga is a strong time trialist, but that's quite a surprise result.
Van Emden goes fifth-fastest, 42 seconds down on Haga.
Rob Hatch on Eurosport points out that Haga has finished in the top 100 only once since the San Marino time trial. He clearly saved something for this effort.
He has a decent chance of winning the stage now, considering the likes of Primoz Roglic and Bob Jungels have expended a lot more effort in the mountains.
Stage 12 winner Cesare Benedetti (Bora-Hansgrohe) sets off.
Jack Bauer (Mitchelton-Scott) crosses the line with a time of 22:56, a decent time to round off his Giro.
Out on course, Swedish TT champion Tobias Ludvigsson (Groupama-FDJ) passes his minute man. Gustav Erik Larsson was the Swedish TT champ when he won here the last time the race finished in Verona in 2010.
;Ludvigsson is 11 seconds down on Campenaerts at the checkpoint, and 5 down on Haga. A good ride for him so far.
Luke Durbridge comes across the summit of Toricelle 7 seconds down on Campenaerts, just one second behind Haga.
Haga is the only man to average over 46kph over the course so far. His average speed was a super 46.119kph.
Haga has one victory to his name so far during his career. It came in 2013 with Optum p/b Kelly Benefit Strategies at the prologue of the Tour of Elk Grove. His best result so far in 2019 came in San Marino, where he finished sixth in the time trial.
Ludvigsson crosses the line with a time of 22:18, 11 seconds down on Haga. He's third-fastest so far.
Durbridge is next up. He's at 21:26 with a kilometre to race.
Durbridge crosses the line with a time of 22:34. He went out a touch too fast, it seems.
Haga names Roglic and Nibali as the main men to fear for him. But he does question how much risk those GC men are prepared to take on this final time trial. He said he took a lot of risks out there.
Antonio Nibali crosses the line, 60th fastest so far at 25:24.
Haga talked about how tough the climb was to pace, saying there's no rhythm on the hill, and that he had to constantly adjust his pace up there. He added that he watched the video of the descent maybe 20 times this morning, as well as riding the course, in order to get things just right. It has certainly paid off so far...
Dario Cataldo (Astana) is out on course now. The 34-year-old took his first Giro d'Italia stage win this year from the break on stage 15.
Ivan Sosa (Team Ineos) heads out. He's had a quieter debut Giro than some might have anticipated, getting into the break on one occasion. Last season the Colombian won Adriatica Ionica and the Vuelta a Burgos, but the 21-year-old has been outshone by 21-year-old teammate Pavel Sivakov over the past three weeks.
Thomas De Gendt is going fast. He's seven seconds down at the checkpoint.
Ion Izagirre (Astana) sets off.
And off goes Bob Jungels (Deceuninck-Quick Step). Can he salvage something from a disappointing Giro for him and his team?
Here's Chad Haga looking content in the hot seat.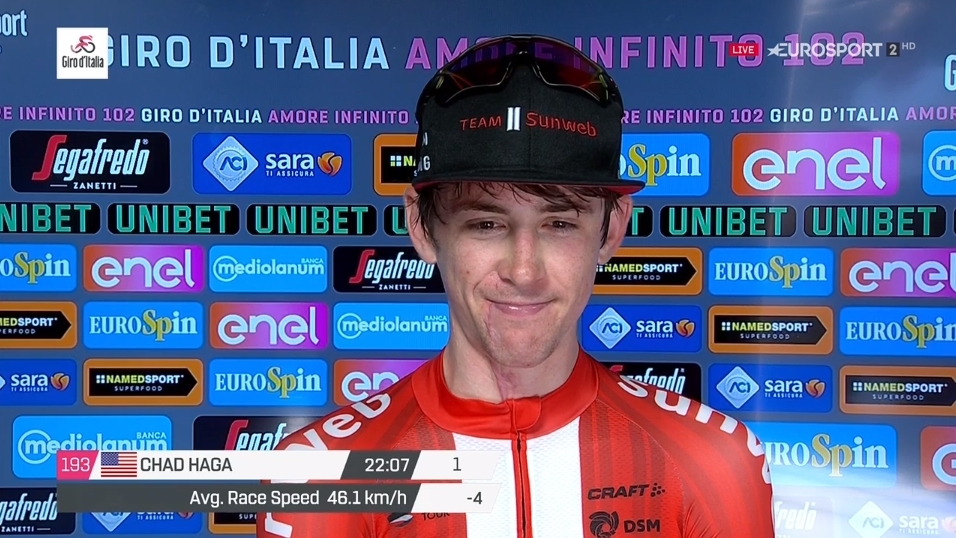 Cataldo went ninth at the checkpoint, a nice time from him.
Meanwhile, Thomas De Gendt has gone third-fastest at the finish. His time of 22:13 is just six seconds down on Haga.
Cataldo ended up tenth at the finish, a minute down on Haga.
Andrey Amador (Movistar) went 11th at the checkpoint.
The top 20 riders are heading out now. They're all separated by three-minute intervals, of course.
Pello Bilbao (Astana) and Mattia Cattaneo (Androni Giocattoli) have had strong starts to their rides. They lie 7th and 8th at the checkpoint, 12 and 13 seconds down on Campenaerts' time.
And Damiano Caruso (Bahrain-Merida) has gone out super fast! He's second-fastest on the top of the climb, two seconds down on Campenaerts.
Caruso has caught his minute man Sebastian Henao and now passes Jan Hirt, his two-minute man.
Bob Jungels was only tenth at the finish, with a time of 22:51. Bilbao went quicker - he's sixth at the moment at 22:24.
An amazing time by Caruso. He's fourth at the finish with a time of 22:16.
Cattaneo impressed too. He put in a time of 22:27.
Tanel Kangert (EF Education First) is out on course now. The Estonian national champion's jersey looks strange from behind - all black with blue arms and helmet.
Kangert goes through the checkpoint 31st fastest.
His teammate Joe Dombrowski is next to start. We're getting close to the top ten riders now.
Giulio Ciccone (Trek-Segafredo) is out on course. He started the Giro by flying up the climb on the opening time trial in Bologna, taking the blue KOM jersey straight away and only ceding it for one day (to teammate Gianluca Brambilla). The Italian has dominated the competition during the past three weeks - will he try and cap it off with the fastest time up the climb? It'll be a big ask after his efforts over the last three weeks and the relative ease of the gradient, which perhaps favours power riders over real climbers.
Team Ineos look to be in a battle for last place on the stage. Ivan Sosa held the spot for while, with a time of 26:11, but Eddie Dunbar has superceded him, crossing the line in 26:27. Pavel Sivakov, who lies ninth overall, is unlikely to try and beat his teammates.
Kangert comes into the finish, while Primoz Roglic warms up in his icepack vest. Ilnur Zakarin (Katusha-Alpecin) heads out to start his ride.
Meanwhile, Ciccone didn't try for one last KOM win. He was a long way down in 67th at the top of the hill. Still, it doesn't detract from a great Giro for the 24-year-old.
Jan Polanc, pink jersey wearer for a couple of stages earlier in the race, goes tenth at the checkpoint with a time of 14:28.
Sivakov heads down the start ramp.
Simon Yates (Mitchelton-Scott) heads out now. It's been an up-and-down campaign for the Brit, though it's been mostly downs. Two second places in Bologna and Courmayeur, as well as a third in Como, were his race highlights.
Polanc comes across the line with a time of 22:44, good for 11th fastest so far.
Carapaz warms up before his effort, the final 17km of the Giro. If he can finish within 1:54 of Vincenzo Nibali, he'll get his hands on that trophy on the right, the Trofeo Senza Fine.

Davide Formolo (Bora-Hansgrohe), a local, finishes with the 16th fastest time so far. A decent Giro for him, though he faded somewhat in the final few days.
Pugilistic phenomenon Miguel Angel Lopez (Astana Pro Team) sets off. Here's hoping the fans on the climb stick to the side of the road today.
Nothing spectaculr to report out on course yet. Madouas, Dombrowski and Carthy are 61st, 31st and 46th at the checkpoint.
Zakarin was 7th fastest with a time of 14:18 at the top of the hill.
Dombrowski finishes his Giro, a great race for the American, who will finish just outside the top ten. He's 28th-fastest so far.
Yates groes through the checkpoint with a time of 14:45, 19th fastest.
Sivakov was 12th at the checkpoint.
Carapaz rolls to the start ramp. He'll head off in five minutes, after Nibali.
Zakarin crosses the line 11th fastest at 22:43. He might not have had the best race from a GC perspective, but he has a stage victory at Ceresole Reale to savour.
Nibali sets off. He's safe in second place overall today.
Majka goes 12th fastest at the checkpoint, a nice time for the Bora-Hansgrohe man.
Sivakov crosses the line in 17th place provisionally, 57 seconds down.
And Carapaz is off! It's just a matter of staying upright and concentrating for the Ecuadorian here.
There he goes!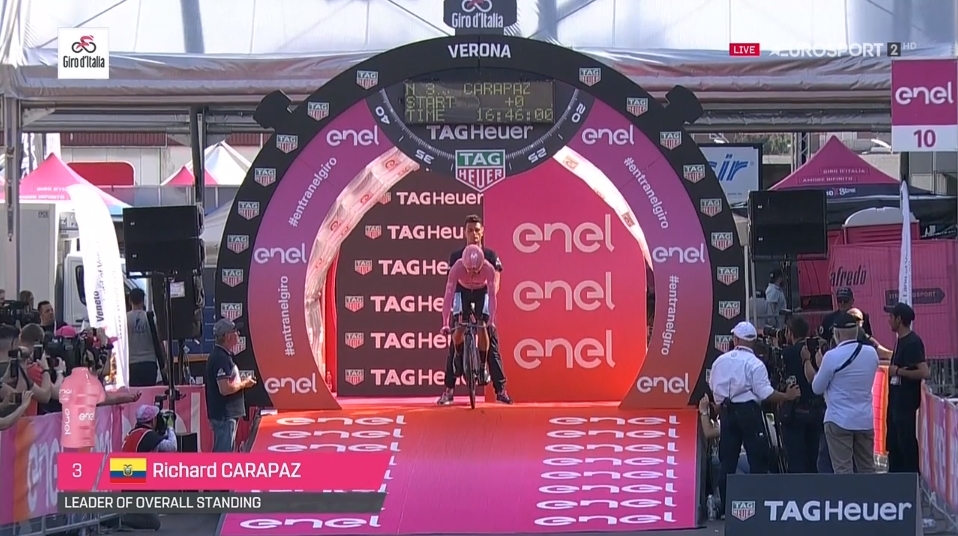 Lopez crests the climb at 15 minutes, in 36th place.
Simon Yates crosses the line. He's 20th fastest, a minute down on Haga.
Landa is losing 11 seconds to Roglic so far. The Slovenian needs 24 to take third.
Majka crosses the line 13th, 40 seconds down on Haga.
Roglic crosses the checkpoint in 14:23. That's 9 seconds slower than Haga!
14 seconds between Roglic and Landa now.
We don't have time checks on Carapaz vs Nibali yet, but I assume it's not particularly nailbiting.
Lopez finishes his effort in 38th place, 1:20 down on Haga.
Landa has shed 20 seconds to Roglic at the checkpoint. He was 20th fastest up the hill.
Nibali is 11th fastest at the checkpoint, two seconds up on Roglic.
Roglic is nowhere near Haga at the finish. He finishes in 22:33, ninth fastest.
Landa is losing the podium here. 25 seconds behind Roglic is the current check.
Carapaz lost 33 seconds to Nibali at the chekcpoint. No problem for him though.
A good time trial for Landa, considering his reputation, but he loses the podium spot to Roglic. Landa finishes 20th, 57 seconds down on Haga and 31 down on Roglic.
Roglic takes third by 8 seconds.
Nibali enters the final kilometre at 21:20. 47 seconds to beat Haga...
Nibali finishes 9th with a time of 22:30. Just Carapaz to go now.
Carapaz has plenty of time to finish here. Pink is not under threat, barring a catastrophe.
Carapaz has over two minutes to cover the final kilometre.
And Carapaz finishes with a time of 23:19. Richard Carapaz wins the 2019 Giro d'Italia!
Carapaz keels over his aero bars with emotion on the stage inside the Arena di Verona.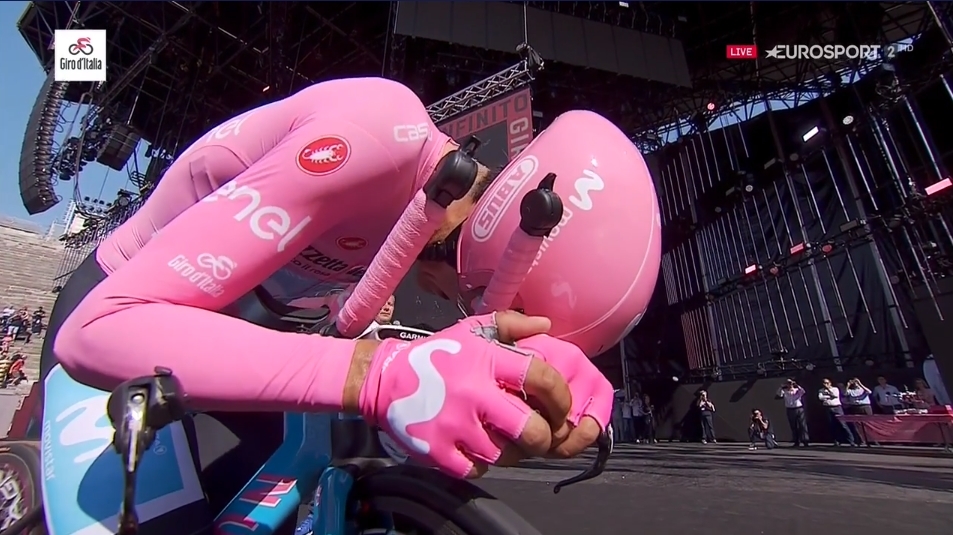 Here are the top tens for the stage and overall.
1 Chad Haga (USA) Team Sunweb 0:22:07
2 Victor Campenaerts (Bel) Lotto Soudal 0:00:04
3 Thomas De Gendt (Bel) Lotto Soudal 0:00:06
4 Damiano Caruso (Ita) Bahrain-Merida 0:00:09
5 Josef Cerny (Cze) CCC Team 0:00:11
6 Tobias Ludvigsson (Swe) Groupama-FDJ
7 Pello Bilbao (Spa) Astana Pro Team 0:00:17
8 Mattia Cattaneo (Ita) Androni Giocattoli-Sidermec 0:00:20
9 Vincenzo Nibali (Ita) Bahrain-Merida 0:00:23
10 Primoz Roglic (Slo) Team Jumbo-Visma 0:00:26
1 Richard Carapaz (Ecu) Movistar Team 90:01:47
2 Vincenzo Nibali (Ita) Bahrain-Merida 0:01:05
3 Primoz Roglic (Slo) Team Jumbo-Visma 0:02:30
4 Mikel Landa (Spa) Movistar Team 0:02:38
5 Bauke Mollema (Ned) Trek-Segafredo 0:05:43
6 Rafal Majka (Pol) Bora-Hansgrohe 0:06:56
7 Miguel Angel Lopez (Col) Astana Pro Team 0:07:26
8 Simon Yates (GBr) Mitchelton-Scott 0:07:49
9 Pavel Sivakov (Rus) Team Ineos 0:08:56
10 Ilnur Zakarin (Rus) Katusha-Alpecin 0:12:14
Roglic overhauls Landa for third place, and Lopez drops down a spot as Landa takes sixth. Other than that, no changes in the top ten.
Here's Carapaz celebrating on the stage once he had come to terms with him victory.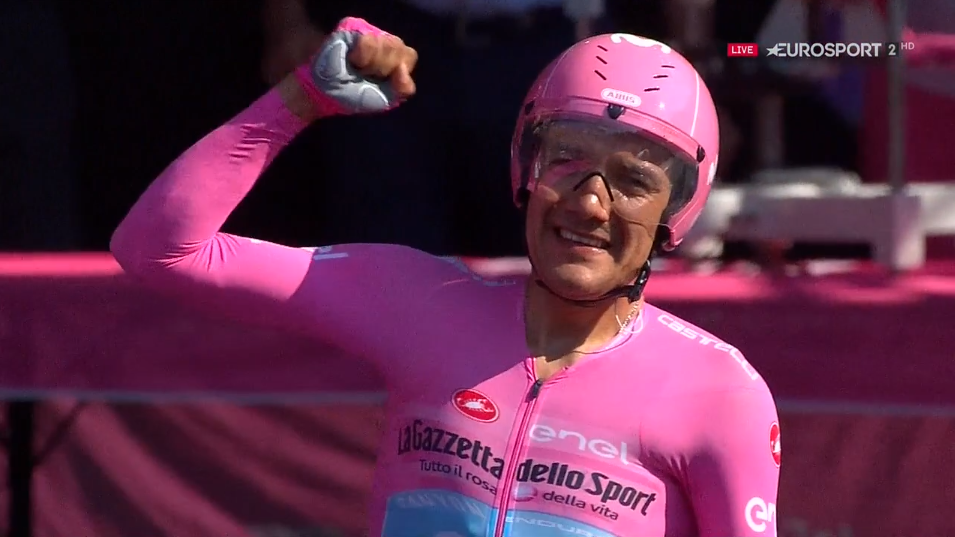 Carapaz, Nibali and Roglic are taking to the podium now.
Here are the top three on the podium.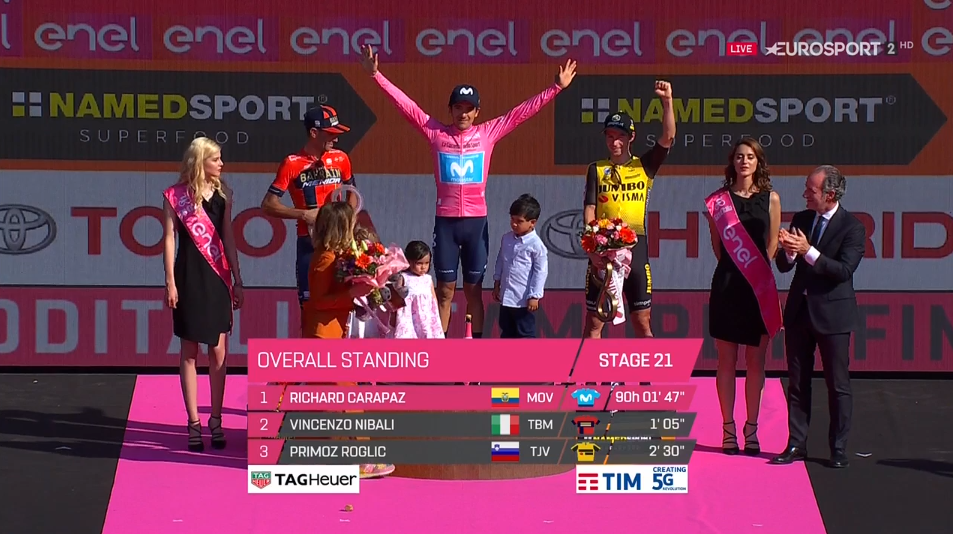 Carapaz is now parading the Trofeo Senza Fine in front of the assembled photographers. We'll have a full photo gallery, as well as full report and results here soon.
Here's our quotes piece from the final stage of the Giro. We have quotes from the entire GC podium, stage winner Chad Haga, and more besides.
That's all from our live coverage of the 2019 Giro d'Italia! Keep your eyes peeled for more news, interviews and reaction from the race throughout the evening.

Thank you for reading 5 articles in the past 30 days*
Join now for unlimited access
Enjoy your first month for just £1 / $1 / €1
*Read any 5 articles for free in each 30-day period, this automatically resets
After your trial you will be billed £4.99 $7.99 €5.99 per month, cancel anytime. Or sign up for one year for just £49 $79 €59

Join now for unlimited access
Try your first month for just £1 / $1 / €1
Get The Leadout Newsletter
The latest race content, interviews, features, reviews and expert buying guides, direct to your inbox!
Thank you for signing up to The Pick. You will receive a verification email shortly.
There was a problem. Please refresh the page and try again.