Live coverage
Giro d'Italia stage 3 - Live coverage
By Patrick Fletcher published
An opportunity for the sprinters on a flat final day in Hungary
- 2022 Giro d'Italia
- Stage 2: Simon Yates edges Van der Poel to win time trial
- Analysis: Early pace set by Yates but Giro d'Italia remains a marathon
- How to watch the Giro d'Italia – Live streaming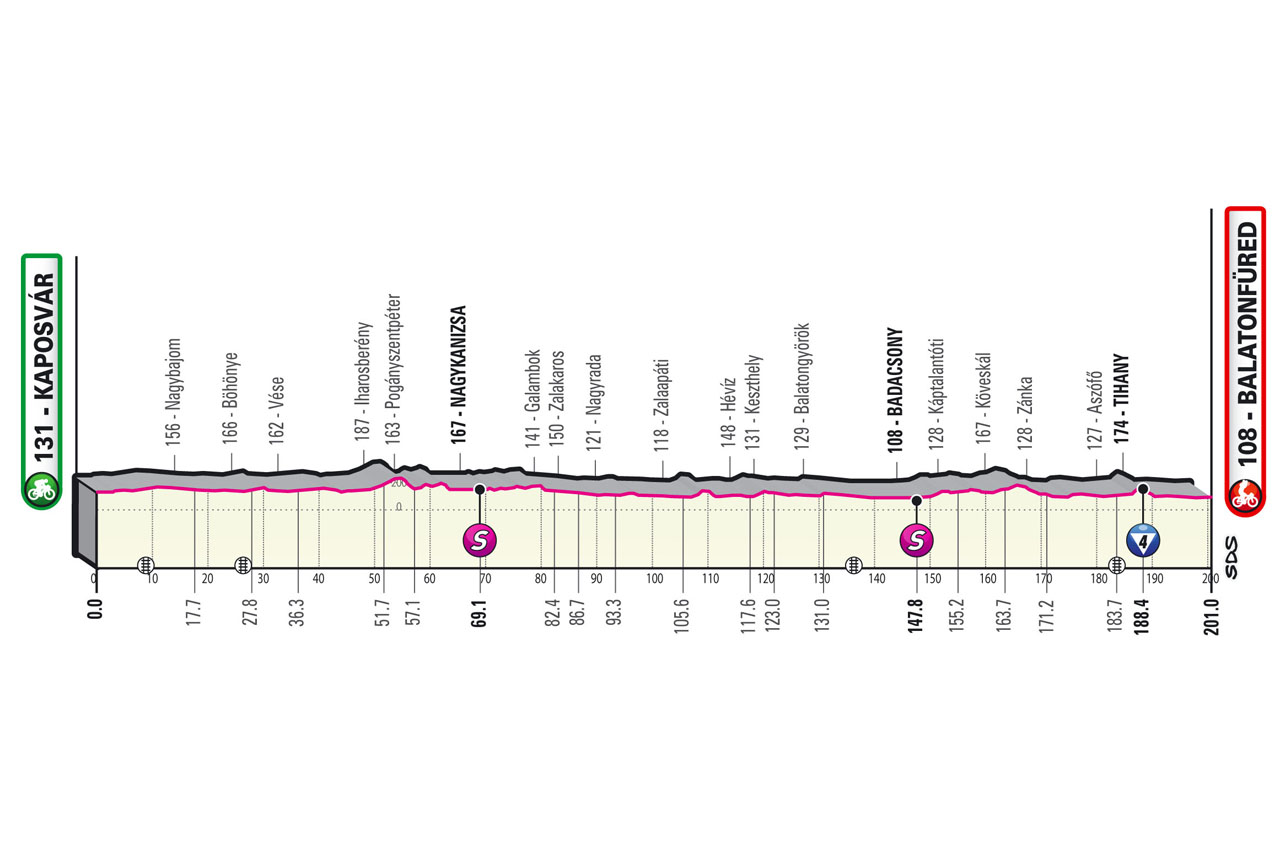 Race notes
Mark Cavendish (QuickStep-Alpha-Vinyl) wins stage 3 of the Giro d'Italia
Refresh
Hello there and welcome along to Cyclingnews' live coverage of the 2022 Giro d'Italia. Stage 3 today, and the final day on Hungarian soil before the race transfers to Italy on Monday. It's a long 201km stage but is largely flat and is widely expected to culminate in a bunch sprint along the shores of Lake Balaton.
The riders are signing on under grey skies in Kaposvar. The roll-out is coming up at 12:25 local time and we have a lengthy neutral zone today so the race proper will kick off at 12:40.
Hey Mark! 😄 🙌#Giro pic.twitter.com/Cd4NPUanIgMay 8, 2022
Mark Cavendish there on the podium. This is his first Giro in nine years. He already has 15 stage wins to his name here - can he add to that today?
Cavendish will face stiff competition from Caleb Ewan (Lotto Soudal) today. The Australian took a tumble in the finale of the opening stage but showcased his form by being up there at the end of the climb. Race leader Mathieu van der Poel could legitimately challenge but insists he's working for Alpecin-Fenix sprinter Jakub Mareczko, while Biniam Girmay (Intermarché-Wanty-Gobert) should be in contention after being edged out by Van der Poel on that opening day.
Other fast finishers here include Giacomo Nizzolo (Israel-Premier Tech) and Arnaud Démare (Groupama-FDJ), Fernando Gaviria (UAE Team Emirates), Phil Bauhaus (Bahrain Victorious), and Alberto Dainese (DSM).
There's Girmay, wearing the maglia ciclamino (which is looking a little light in shade and dangerously close to the maglia rosa in that shot). The points classification leader is Van der Poel but he's in pink so Girmay wears this one on loan.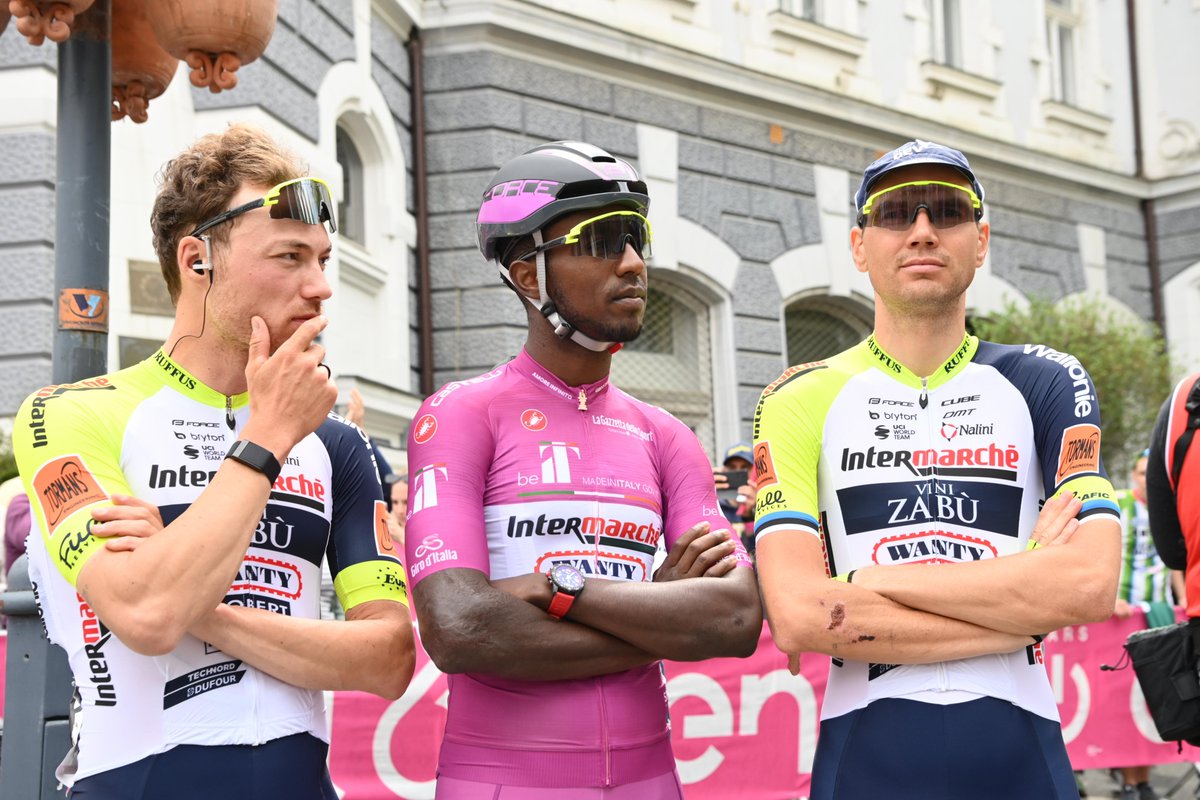 Van der Poel rocks up to sign-on
🙌 Are you ready?@mathieuvdpoel#Giro pic.twitter.com/00qe0hdinlMay 8, 2022
We're off!
The riders come to the end of the neutral zone and the flag is waved.
Breakaway formed already
There is absolutely no battle for the escape today. Three riders clip away and no one else bothers. The peloton is soft-pedalling already.
The three escapees are:
Mattia Bais (Drone Hopper-Androni)
Filippo Tagliani (Drone Hopper-Androni)
Samuele Rivi (Eolo-Kometa)
The trio know they're away and they're not rushing to stretch out their advantage. This could be a long and sleepy day of racing.
Still follow along though...
The gap goes out to three minutes after 10km of racing.
180km to go
5:30 is the gap now as Lotto Soudal post a couple of riders to the front but what they're doing cannot really be called chasing.
175km to go
And now Alpecin-Fenix come to the fore, and this looks like more of an organised chase.
The peloton stretches out and the speed picks up a little. It's still not fast, by any stretch, but Alpecin have called for an end to the lull and the gap stabilises around the 5:30 mark. That's all the breakaway trio are going to be allowed today.
The gap is in fact coming down. 4:45 now.
Abandon (the first one of this Giro)
Jan Tratnik (Bahrain Victorious) climbs off. He crashed on the opening day and struggled through yesterday's time trial. He started today but cannot go on.
The pace is picking up again here. Alpecin have their whole team on the front and the gap drops to 4:15.
And now it settles down again but not before the pace reaches 60km/h and the gap drops to 3:45. It seems there's a whiff of wind out there.
161.5km to go
39.5km covered in the first hour of racing.
The gap dips below three minutes as Alpecin continue to take charge.
New on the site, and proving very popular, is the story of how Rick Zabel wound up in the blue jersey today. He was the fastest up the 1.3km climb at the end of yesterday's time trial, going quicker than Simon Yates and all the rest. It was all part of a 'crazy plan'... Full story here.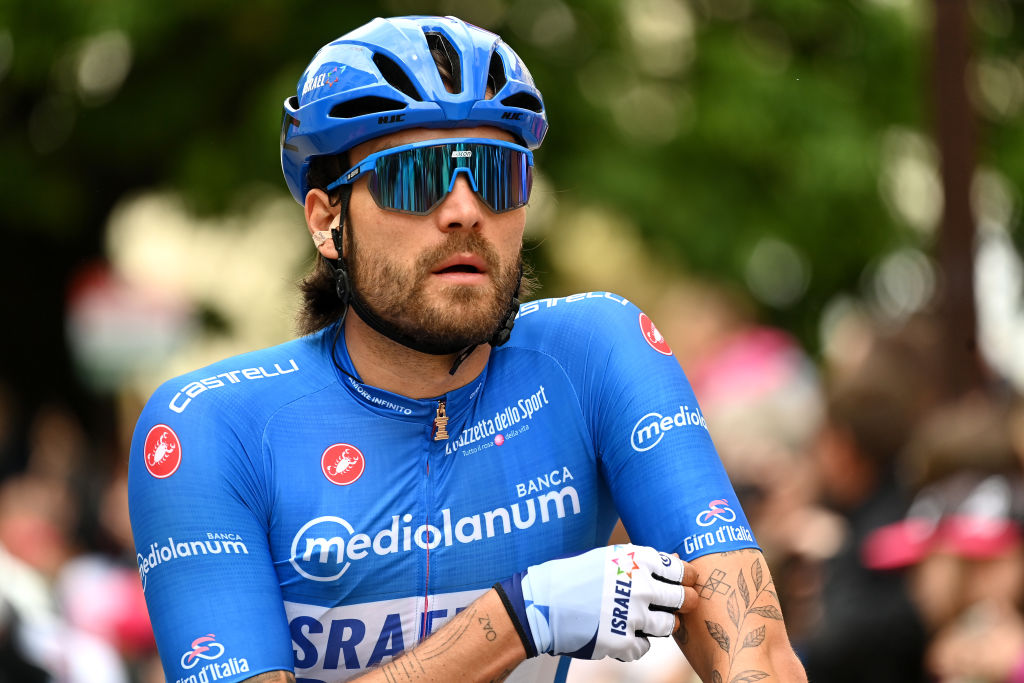 146km to go
The gap is hovering around the 2:30 mark now.
Caleb Ewan and his Lotto Soudal teammates are gathered behind the Alpecin riders but they're letting Van der Poel's men get on with it at the moment.
We've got an intermediate sprint coming up in a few kilometres' time - the first of two on today's route. This one will carry points for the points classification, and the breakaway will battle for the first three helpings before the sprinters in the peloton decide whether or not to compete for the leftovers.
Here comes the sprint. Drone Hopper have two in this break so have to be the favourites.
Tagliani duly takes it, after a lead-out from Bais. Rivi tries to follow but is well beaten.
That's 12 points in the ciclamino standings, plus 10 for the separate intermediate sprints classification.
Here comes the peloton and it's Bardiani leading it out. Shouldn't they be in the break? They have Modolo here as their sprinter.
Girmay is getting a lead-out and so is Demare.
This is a first clue as to which sprinters are going all the way in this Giro. Ewan will certainly leave early and so has no business here.
Gaviria hits out, and Demare gets alongside as they hit the line.
Nizzolo, Girmay, and Modolo up there, with Cavendish trailing further back.
125km to go
The gap stands at 2:10. We have 75km to our next intermediate sprint, then 40km to our first and only climb, which isn't much of a climb at all, then 13km to the finish line.
Here are the official results from the intermediate sprint
1. Filippo Tagliani (Drone Hopper-Androni Giocattoli) 12 points for the Maglia Ciclamino, 10 points for the intermediate sprints
2. Samuele Rivi (Eolo-Kometa) 8 points, 6 points
3. Mattia Bais (Drone Hopper-Androni Giocattoli) 6 points, 3 points
4. Fernando Gaviria (UAE Team Emirates) 5 points, 2 points
5. Arnaud Démare (Groupama-FDJ) 4 points, 1 point
6. Giacomo Nizzolo (Israel-PremierTech) 3 points
7. Biniam Girmay (Intermarché-Wanty-Gobert) 2 points
8. Filippo Fiorelli (Bardiani-CSF-Faizanè) 1 point
Here's a shot of our breakaway trio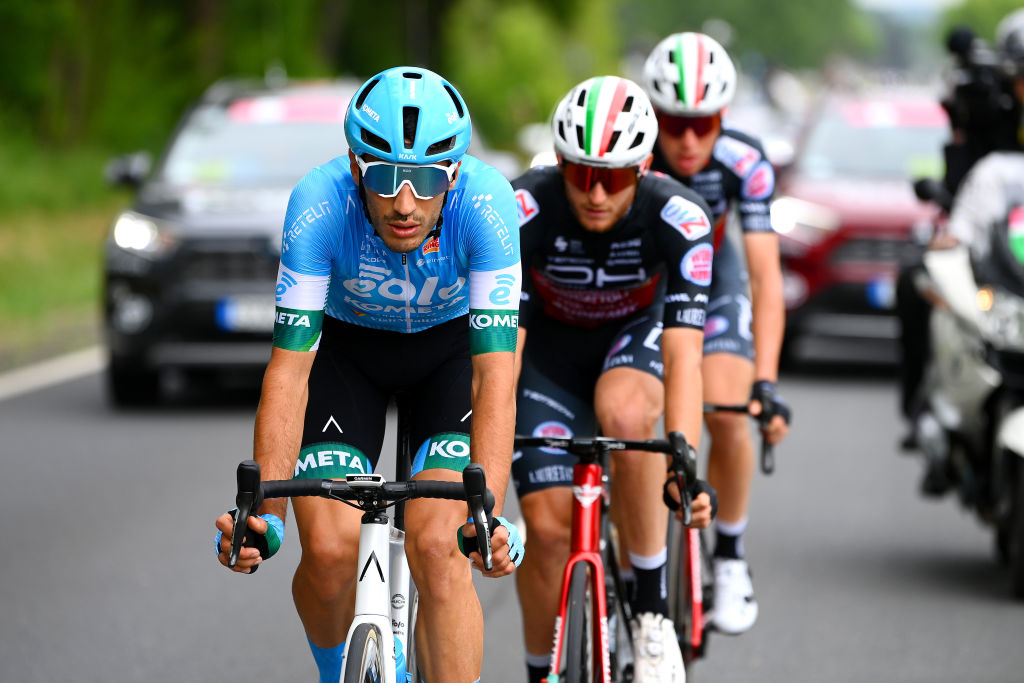 And this is what the peloton has looked like for much of the day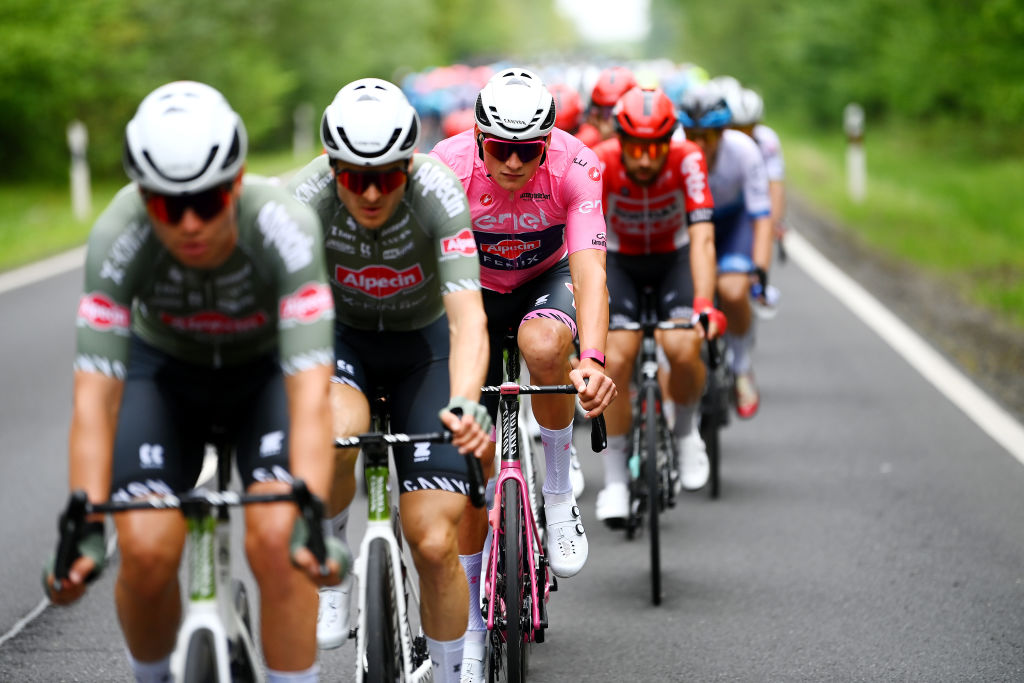 100km to go
We've done 101 kilometres now. How about another? Half-way through this stage and it's about as uneventful as they come so far. Our three-man breakaway has a lead of 3 minutes over the peloton.
Lotto Soudal have now posted a rider to the front and Alpecin have stopped riding en masse. But it's a bit of a go-slow at the moment.
Valverde is waving at the cameras, riders are chit-chatting, some are stopping for nature breaks. It's all calm out there.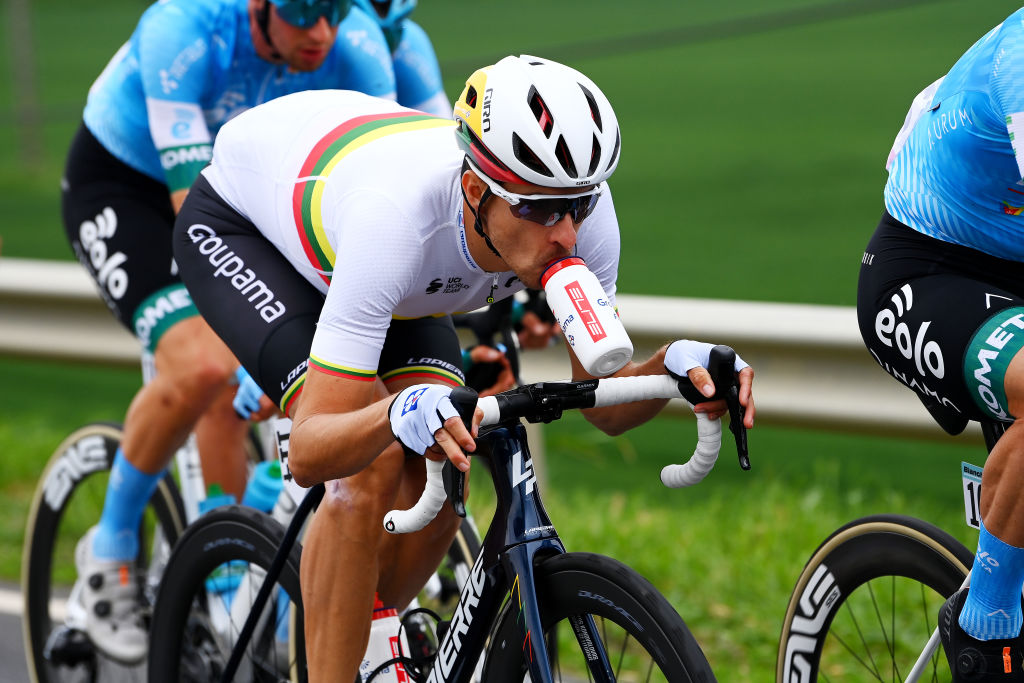 FDJ are also contributing now as the pace picks up a little. They've posted Clement Davy to the fore.
Van der Poel is still towards the back of the bunch chatting to teammates.
Cavendish's QuickStep team have also posted a man to the front. It's Pieter Serry.
So QuickStep, Lotto, Alpecin, and FDJ all have a man in rotation on the front. UAE (Gaviria) and Israel (Nizzolo) are continuing to sit back.
88km to go
The gap is coming down again, back towards the two-minute mark.
You sense that Mark Cavendish might not really want to be here. The Tour de France is still up in the air but his presence here may indicate that Fabio Jakobsen is QuickStep's lead sprinter for July as it stands. And yet Cavendish, despite not being here for nine years, has a rich history with this race, including 15 stage wins and stints in the maglia rosa. Barry Ryan charts the Manxman's journey at the Giro.
80km to go
Bais, Tagliani, and Rivi enjoy a lead of 2:10 with a couple of hours of racing remaining.
65km to go
The gap between break and bunch stands at 90 seconds now. We have just over 10km to go until our second intermediate sprint.
A local on a mountainbike on the roadside bike path draws up alongside the break and keeps up with them for a good couple of kilometres. He keeps shouting over at them, and Rivi musters a wry smile while trying to look like he's not really trying. It's probably the most interesting thing that has happened all day.
The gap rose to 1:50 but is now back down to 1:20. They have so much time to catch them. They could shut this down in the last 5km if they wanted but this stage has just become a waiting game.
54km to go
We're coming towards that second intermediate sprint now.
Here it comes. Same again as Bais leads it out for Tagliani.
And Tagliani takes it again. A much bigger sprint there, and Rivi rivals him again but can't get around.
The second intermediate sprint of stages does not count towards the ciclamino points jersey standings, but it does still count towards the intermediate sprints classification, and also offers bonus seconds of 3-2-1 for the top three. That's irrelevant really but Tagliani now leads the intermediate sprints classification and it's been a job well done from him and his Drone Hopper team today.
After that sprint we can see a few more teams starting to move up and get organised. Hello DSM and Israel-Premier Tech.
48km to go
The gap falls to 45 seconds as a result.
30 seconds now. No huge push from the peloton but the breakaway will soon be in sight.
Attack! Something happening!
Rivi springs away in the break
There were discussions there between the Drone Hopper duo - probably about how long they carry on dragging this out. Rivi catches them off guard and launches a stinging acceleration.
Bais jumps into action and scrambles to get on terms. Tagliani quickly sits up - done for the day.
43km to go
Bais gets on terms with Rivi and starts turning with him. The peloton back off once again and the gap rises back out to 45 seconds
40km to go
Bais and Rivi are zipping along now, fully emptying the tank. Meanwhile it's calm in the bunch and the gap rises out to 1:13
Cavendish makes his way back to the bunch after a quick stop. He has plenty of teammates and not much ground to make up, so no fuss there.
Israel have taken the reins at the head of the peloton
Rivi goes again! He uses a small uphill drag to try and shake Bais
Bais launches a big effort but manages to keep pace. Rivi looks around and sees he still has company.
Ineos get organised now on the left. They don't have a sprinter here but are always ultra-cautious in keeping their GC leaders near the front and out of trouble.
31km to go
The pace is picking up again in the bunch and the gap comes down to 30 seconds.
The Drone Hopper rider now looks to spring a surprise of his own. Rivi still has the legs and is able to respond.
A reminder that the Giro runs a prize for most kilometres spent in breakaways. Bais is the leader of that competition by some distance. He and Tagliani were also away together on the opening day - the only two in the break all day. So Rivi couldn't catch him today but he doesn't want to lose any ground whatsoever. There's also the combativity prize to think about, which often goes to the last man standing from the break.
The peloton are ticking along and they can now see the two escapees. It's a matter of seconds now.
Thomas De Gendt on the front and the catch is imminent.
28km to go
All together
Rivi and Bais exchange words and drift back into the bunch. Gruppo compatto!
25km to go
So, 25 to go and we'll now have a gradual wind-up for the sprint, although no doubt someone will try and throw in a long-range attack.
UAE come to the fore now for the first time all day. Same goes for EF. Trek are also starting to get organised.
Most teams seem happy with their positions and are just holding them at the moment. Still a long way to go and it'll be a little while before it gets really hectic.
A reminder of the sprinters who'll be in contention today.
Mark Cavendish (QuickStep-AlphaVinyl), Caleb Ewan (Lotto Soudal), Biniam Girmay (Intermarché-Wanty-Gobert), Giacomo Nizzolo (Israel-Premier Tech), Arnaud Démare (Groupama-FDJ), Fernando Gaviria (UAE Team Emirates), Phil Bauhaus (Bahrain Victorious), Alberto Dainese (DSM).
We also have a certain Mathieu van der Poel (Alpecin-Fenix), but he has indicated he'll lead out Jakub Mareczko. Will he be true to his word?
15km to go
Israel, FDJ, UAE, and Ineos hold the front positions as we look at the bunch head-on.
We're just over 2km from our first and only climb of the day, although it's a mere pimple in the road. It's a category-4 ascent at Tihany and will likely pass by largely unnoticed.
A reminder that Rick Zabel is in blue, tied with Van der Poel at the top of the mountains classification. Will he try and hit out here?
Eenkhoorn - who also tried to take blue yesterday - attacks!
Zabel hits out in repsonse!
They swing across the road as they come together
Zabel looks over his shoulder and launches his sprint
But he fades and Eenkhoorn takes it!
That's three points for Eenkhoorn, and two for Zabel. That makes them tied at the top on five.
Eenkhoorn continues his effort and is away solo. Zabel sits up, remembering he's a lead-out man.
10km to go
10 to go and Eenkhoorn leads solo with 10 seconds in hand over a full peloton.
They're letting Eenkhoorn dangle at the moment.
Here's a map of today's stage. We've just gone out and back for that climb and we're now coming onto the final stretch along the shores of the Balaton lake to the finish line.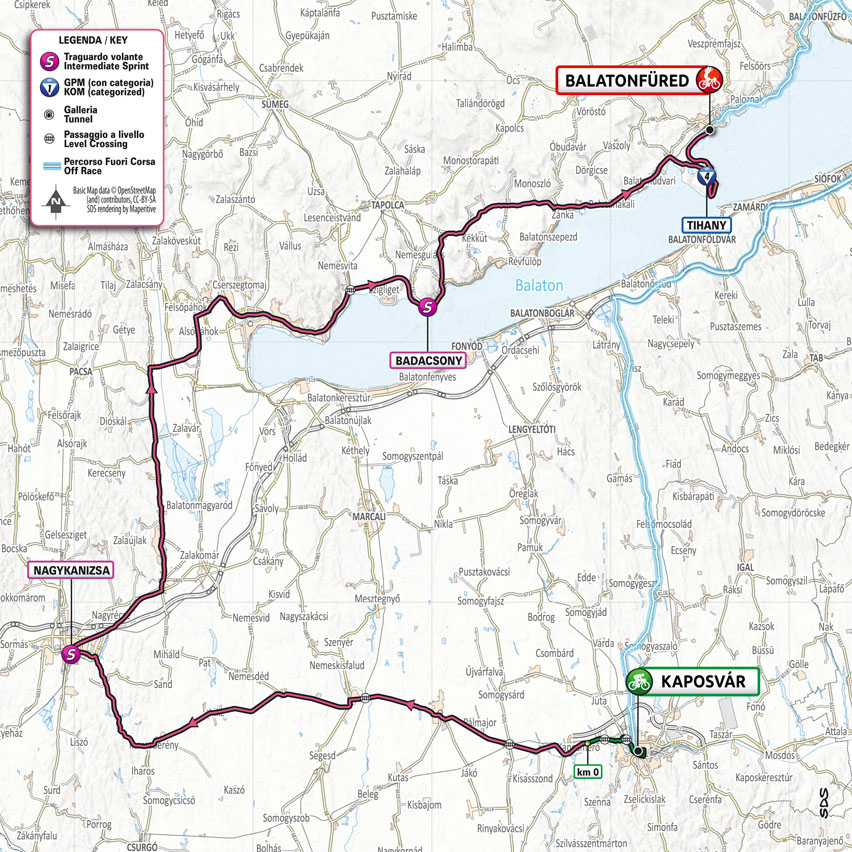 And here's the profile of the final 3km. It's a pretty straightforward and untechnical run-in.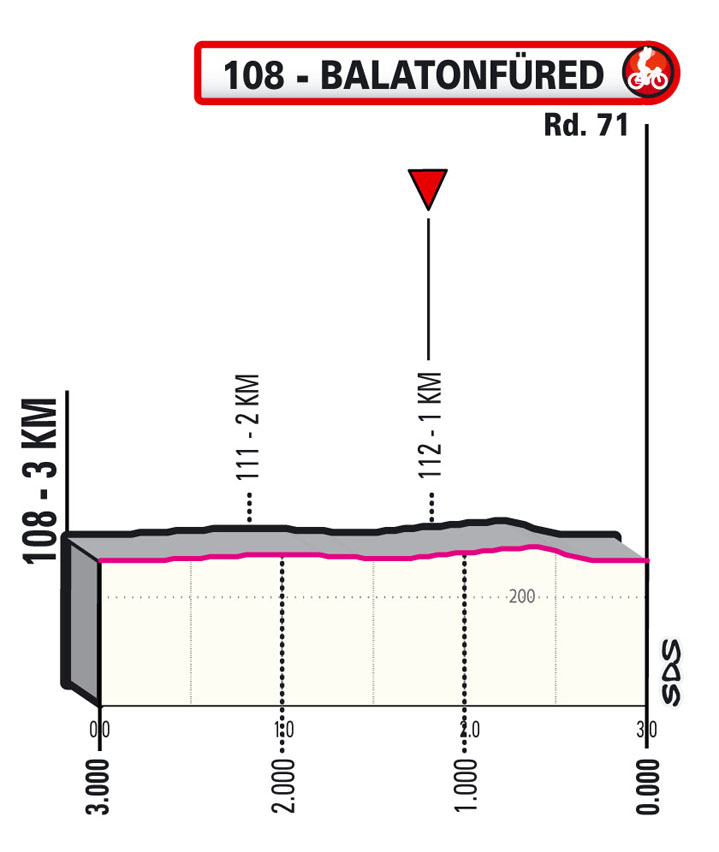 6.2km to go
Eenkhoorn is caught. All together again.
Ben Swift hits the front for Ineos. Once a fast finisher, he's now a road captain and is leading the way in keeping Carapaz safe.
A reminder that GC times will be neutralised in the event of a crash inside the final 3km, so that's the safety point for the overall favourites.
Intermarche now hit the front with three in front of Girmay.
Israel are keeping their position on the right.
Narvaez hits the front now for Ineos.
Alpecin were working so much so early and now they wake up again. A big effort from Van der Poel's men to move up en masse on the left.
Alpecin have the left of the road with De Bondt on the front. Intermarche are behind and once again Van der Poel and Girmay are alongside one another.
QuickStep have set up behind Intermarche. Cavendish has Ballerini, Van Lerberghe, and of course Michael Morkov.
2km to go
2 to go and it's still not super hectic!
Alpecin continue on the left, Van der Poel now third wheel.
QuickStep hit the front now!
The Belgian team take command with four there.
1km to go
Ballerini leads through the flamme rouge. Here we go
Ballerini pulls off and now Alpecin hit the front again
Richeze now appears to lead out Gaviria
But Morkov launches for Cavendish
Gaviria and Demare come up, but Cavendish wins it!!
Mark Cavendish (QuickStep-Alpha-Vinyl) wins stage 3 of the Giro d'Italia
Wow. Cavendish returns to the Giro after nine years and collects his 16th stage win.
Some sprint, that. Once again it's top work from Morkov who hits the front when it matters and puts Cavendish in the perfect position - while Van der Poel is leading out for a sprinter who's two wheels back. It's a long sprint, but Cavendish is full value as Gaviria on his left and Demare on his right can't get on terms. Girmay is slightly boxed in behind while Mareczko comes with speed but started too far back.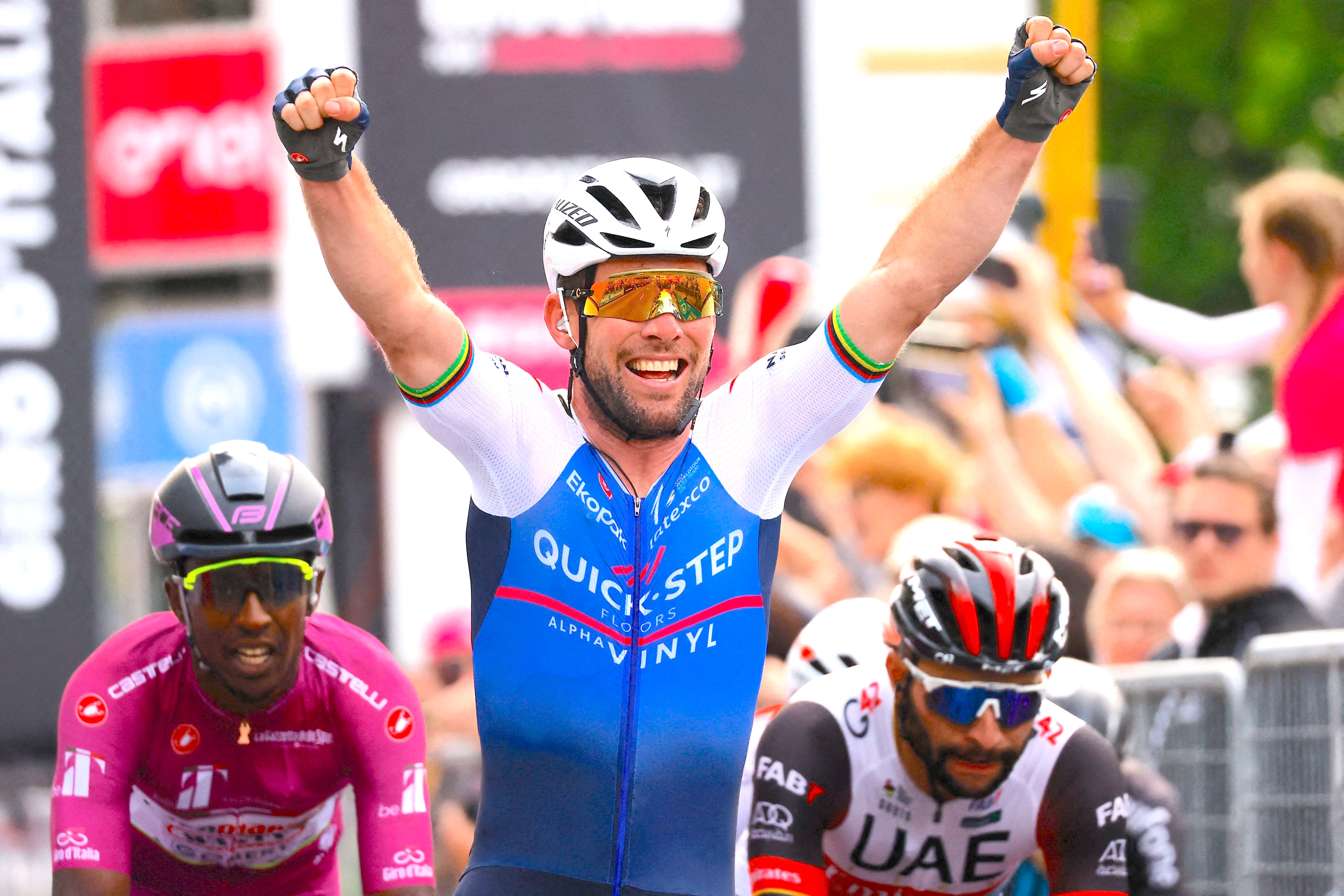 Let's hear from Cavendish
"It's really nice. We wanted to do good in this first sprint, we did, and I'm very happy.
"We've got half a team for the climbs half for the sprints, but everyone committed," Cavendish said. "With Ballero, Van Lerberghe, and Morky, I've got an incredible final group there and they delivered today.
Ballerini kept it to the roundabout then Van Lerberghe went, other teams came, but Morky stayed super cool. In the end I had to go long, I had to go with 300 to go. I just had to hold the side. I'm happy I could hang on for that long."
The latest race content, interviews, features, reviews and expert buying guides, direct to your inbox!
Thank you for signing up to Cyclingnews. You will receive a verification email shortly.
There was a problem. Please refresh the page and try again.