Video: Hill and Brosnan up the ante for Australian talent
Two downhill teammates talk about their training and racing
Image 1 of 4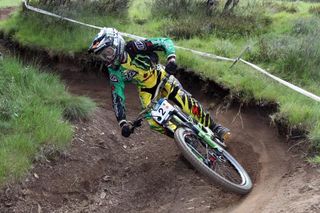 Image 2 of 4
Image 3 of 4
Image 4 of 4
This article first appeared on BikeRadar.
Perth, Australia - miles from the continent's major metropolises of Sydney and Melbourne - is Sam Hill's stomping ground. Monster Energy/Specialized Teammate Troy Brosnan joined him there earlier this year for some pre-season training, which was captured by Specialized's cameras.
While Hill, once the young up-and-comer, now the elder statesman after winning five downhill world titles (two as a junior) and two World Cup series, needs no introduction, Brosnan now fills the role of young and hungry. He's the reigning junior downhill world champion and junior downhill World Cup winner, and is prepped to break into the elite ranks in 2012.
And he's giving Hill a run already this season after winning the Australian national series and national championships. His 2012 goals include finishing in the top five in the elite World Cup series, and victory at the world championships, because "no one really remembers second place".
Hill will become a father in May and says this is providing extra motivation for the 2012 season. "I told you man, I want to win," said Hill on the spot. "I don't want to be anywhere else but first."
This video is courtesy of Specialized.
Cyclingnews Newsletter
Sign up to the Cyclingnews Newsletter. You can unsubscribe at any time. For more information about how to do this, and how we hold your data, please see our privacy policy