Vande Velde back in support role - for now
By Laura Weislo Christian Vande Velde stood on the podium of last year's Tour of California when he...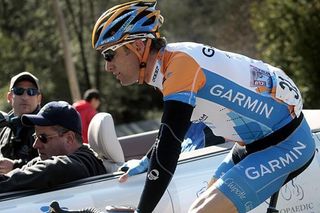 By Laura Weislo
Christian Vande Velde stood on the podium of last year's Tour of California when he placed third behind teammate David Millar and winner Levi Leipheimer, but this year he's taken a step back from his usual leadership role due to a bad break on the first stage, where he finished in a group over five minutes down.
The American who wore the pink jersey in the Giro d'Italia last year thinks his bad luck was a blessing in disguise which could help him when it comes to the Grand Tours. "A lot of times I ride above my level here, and pay for it in weeks to come after this race. My form isn't as high as it's been in the past [here], and at the same time the field is so much stronger and the racing that much more aggressive.
The course is also much more difficult with the mountains and the horrible weather we had in the first three days," Vande Velde said. Since the first stage, the Chicago native has been riding for David Zabriskie, who sits in second overall, and Tom Danielson, who is in 11th, and he's enjoying getting back to a role he's played for years before rising to the status of team leader last year. "It's a long season, and sometimes playing a supportive role [is good] - that's my natural habitat anyways. So, I like riding there and supporting my team, and I know it'll come back around 360 degrees later in July." R
ather than sit in and protect the team's leaders, Vande Velde's job on Saturday was to make sure the team was represented in the day's breakaway, and that is just what he did. But getting there wasn't easy. "I knew it was going to be aggressive from the get-go, and our team wanted to get someone in the breakaway. It was super hard - it took 35-40 miles before the breakaway was established, and that was not fun. But once we got away it was a really strong group and we knew it was going to stay away." Coming into Pasadena, Vande Velde was impressed by the huge crowds that lined the circuit around the Rose Bowl.
"The fans were unbelievable. Frank Schleck came up to me and showed me he had goose bumps all over - it was a neat feeling to race through a throng of fans like any Grand Tour stage." A group of three escaped from that breakaway, with AG2R's Rinaldo Nocentini taking the stage ahead of Hayden Roulston (Cervelo) and Peiter Weening (Rabobank). Vande Velde finished in ninth after marking several attacks.
Cyclingnews Newsletter
Sign up to the Cyclingnews Newsletter. You can unsubscribe at any time. For more information about how to do this, and how we hold your data, please see our privacy policy