Two-time Leadville champ Rose Grant scores podium in final year of racing
'I've had so much heartbreak, betrayal, and hard lessons in sport' says 10-year veteran now fifth in Life Time Grand Prix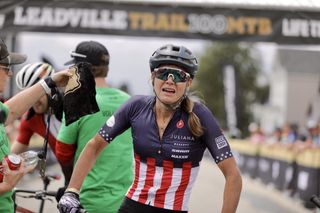 (Image credit: Leadville Trail 100 MTB)
Rose Grant came into Leadville Trail 100 MTB to defend her two-year domination in the women's pro division. It would be her final attempt to claim the big, shiny belt buckle as a professional, as Grant announced prior to the start that she would end her 10-year racing career at the end of the season.
Grant kicked up the dust to repeat on the podium at the 104-mile mountain bike endurance contest in Colorado on Saturday, this time around finishing second to Hannah Otto (née Finchamp). She also added major points to her quest for a top placement in the Life Time Grand Prix Series presented by Mazda, moving to fifth place overall.
"I feel like this season is in some ways a bonus tour. Last year, I was torn about continuing to race into this season. I hadn't verbally communicated that to anybody because I wasn't sure. I didn't know how to transition," Grant said about her indecision to move away from professional bike racing.
"I didn't want to continue racing just because I didn't know how to quit or reinvent myself. Because my identity was so wrapped up in this one thing. The accolades from doing well were so addicting, I didn't want that to be me."
For Grant, it was the challenge of the Life Time Grand Prix presented by Mazda that helped her to decide to race another season. Why not, with a season-ending $250,000 prize purse to be split evenly between the top 10 women and top 10 men after the best score in five of six off-road events across the US.
"I would be ecstatic to finish in the top three, so much can happen," Grant said about the women's standings in the Life Time GP. "A lot of athletes have already sat out a race so if anything did go wrong with one of the three remaining, there's a lot of space to shake things up."
After Leadville, there was a shakeup in the women's standings of the Life Time GP. Previous leader Sofia Gomez Villafane did not finish the Leadville event, so scored no points. Haley Smith, with her third-place finish Saturday, took over the series lead by one point over Gomez Villafane, while Sarah Sturm, fourth place in Leadville, was now in third. Otto jumped to fourth in the series. Only 11 points separate Rose from the series lead, with two events to go.
Speaking as a rider with six US marathon national championship titles and four appearances at the Mountain Bike World Championships, Grant was looking forward to following Leadville with the final MTB event in the series, Chequamegon MTB Festival in Cable Wisconsin on September 17. The final race is a classic 100-mile gravel event, Big Sugar Gravel in Bentonville, Arkansas on October 22.
"I like mountain bike racing so much more. I love the individual effort of a mountain bike. I really enjoy riding gravel, but I don't enjoy racing gravel," Grant said. "A gravel race with a single track, more technical sections or with more climbing, those are all fine. But riding in a group and drafting with a lot of men in those groups just adds a scenario that I'm uncomfortable with.
"Some of the [gravel] events I've done have been scary for me but I feel like you kinda have to do both. Off-road racing is now mountain biking and gravel, so it's OK. I did Unbound for the first time because it was part of the Life Time Grand Prix which is my primary focus this season. If I was towards the beginning of my career I could totally see myself improving in my weaknesses. But I'm more like, 'Nah, I'm good, I've done that and I don't ever have to do it again'." Group riding has never been a natural strength for me."
Grant, 39, lives in northwest Montana with her husband Nelson and nine-year-old daughter Layla. She said the timing was right after the Life Time Grand Prix to focus on her daughter.
"I had some great opportunities with the Life Time Grand Prix Series and some partnerships opportunities. But I feel really confident that I am supposed to transition and reinvent myself. I want to let the structure go so I can be more versatile. I want to be able to participate in a lot of other adventures and not be so one dimensional, especially with my daughter who's nine. She's at such a good age to adventure with and create memories."
There is more to life than taking a startline and being competitive, she noted, but she appreciated the opportunities she received in cycling, and the rollercoasters of emotions that come with training and racing.
"I've had so much heartbreak, betrayal, and hard lessons in sport. I'm able now to have a healthy boundary of how messy I allow my heart, mind, soul, and body to be committed. I'm not going to let it negatively affect me or my family," she explained.
"My husband's really not competitive and enjoys life so much. I watch him and I'm envious. Sometimes I wish that I could just enjoy things and not be competitive. The amount of respect I get from my daughter, and how proud she is of me as an athlete is cool to see. If there's something mothers are passionately wanting to pursue, protect that space because no one is going to protect it for you. It can so easily get consumed or overcome with those mom-guilt type of things."

Thank you for reading 5 articles in the past 30 days*
Join now for unlimited access
Enjoy your first month for just £1 / $1 / €1
*Read any 5 articles for free in each 30-day period, this automatically resets
After your trial you will be billed £4.99 $7.99 €5.99 per month, cancel anytime. Or sign up for one year for just £49 $79 €59

Join now for unlimited access
Try your first month for just £1 / $1 / €1
Marshall Opel started out as a young road bike racer in Montana, and found success as a junior racer for both the junior and U23 US National team. He has swapped racing for writing, and has covered gravel rides across the US extensively in the past three years.