Richard Freeman struck off British medical register
Tribunal rules that former Team Sky and British Cycling doctor loses licence to practise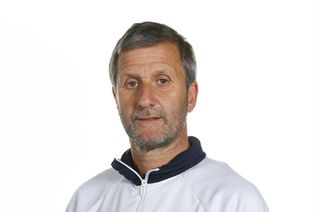 (Image credit: Getty Images)
Richard Freeman can no longer work as a doctor after his long-running tribunal case concluded with him being struck off the UK medical register on Friday.
The former Team Sky and British Cycling doctor was working at an NHS practice in Blackburn, helping with the COVID-19 vaccinations roll-out, when the tribunal delivered its damning initial verdict last week.
However, he will soon have to stop that work as he will be 'erased' from the medical register and stripped of his licence to practise medicine.
After being found guilty of have ordered the banned substance testosterone in 2011 'knowing or believing' it was for a rider, Freeman's fitness to practise was deemed 'impaired' by the tribunal on Thursday.
On Friday, the tribunal handed down its final sanction, bringing an end to a process that first began in 2019 and suffered numerous delays.
Freeman is able to appeal the decision in the High Court, but he and his legal team have not yet indicated whether they will do so.
Erasure from the register does not ordinarily take effect for 28 days but the tribunal will now consider whether to impose an immediate order to cover the appeal period.
"The Tribunal considered that Dr Freeman's behaviour is fundamentally incompatible with continued registration," read Friday's verdict.
"The Tribunal has therefore determined that erasure is the only sufficient sanction which would protect patients, maintain public confidence in the profession and send a clear message to Dr Freeman, the profession and the public that his misconduct constituted behaviour unbefitting and incompatible with that of a registered doctor."
Referring to Team Sky and British Cycling, the tribunal also noted that Freeman had "created a reputational risk for organisations who had trusted in his honesty and professionalism".
British Cycling said it found the initial guilty verdict "extremely disturbing", outlining how its medical protocols had changed since. Meanwhile, Ineos Grenadiers – as Team Sky are now known – distanced themselves from Freeman and insisted no rider was involved in doping.
Both organisations are yet to comment on the final sanction.
Freeman's lies surrounding the testosterone delivery were the most significant factor behind his erasure on Friday.
He initially claimed, during a UK Anti-Doping investigation, that he did not order the 30 sachets of Testogel, and even obtained a forged receipt from the supplier to say the package had been returned. However, once the tribunal opened, he admitted ordering it but claimed it was to treat erectile dysfunction in Shane Sutton, which Sutton vehemently denied. Freeman later claimed he washed the gels down the sink.
On Thursday, the tribunal noted that Freeman's admissions of previous dishonesty were designed to "perpetuate the bigger deception", and concluded he had shown no efforts to rectify his dishonesty. The Sanctions Guidance for medical tribunals is clear that persistent dishonesty is likely to result in erasure.
"Although it may not result in direct harm to patients, dishonesty related to matters outside the doctor's clinical responsibility is particularly serious. This is because it can undermine the trust the public place in the medical profession," read the guidelines.
"Health authorities should be able to trust the integrity of doctors, and where a doctor undermines that trust there is a risk to public confidence."
As such, while the tribunal found some mitigating factors - in terms of Freeman's GP work before and after his involvement in cycling and his mental health issues – it was deemed that restrictions or a temporary suspension would not be enough of a punishment.
"The extent of his dishonesty in relation to the Testogel – the number of lies Dr Freeman has told, the range of people and professional bodies to whom he has told them, the sustained period over which they have been told, and the number of people whose professional reputation he was prepared to damage to save his own - was a particularly significant aggravating factor in the case," read the verdict.
"Another significant feature of his dishonesty was the extent to which Dr Freeman was prepared to put to use private information he held on professional colleagues (Mr Sutton's subsequent clinical needs) in order to facilitate his fabricated account. The Tribunal considered that the public and the profession would regard such conduct as deplorable."
The tribunal also noted that former head of medicine Steve Peters, who still works with Ineos Grenadiers, placed his own reputation at risk in trusting Freeman.
Peters was initially told by Freeman the testosterone was sent in error when it was discovered by physiotherapist Phil Burt, and Peters repeated that lie to the media in 2017. At the tribunal, he was unable to offer any further clarity on the delivery.
"Dr Peters, meanwhile, trusted in the probity of his friend and colleague, Dr Freeman, on more than one occasion; and, in doing so, innocently and unwittingly placed his own reputation at risk," read the verdict.
"In relation to both people, Dr Freeman exploited their reputation as individuals of truth and integrity in order to protect himself."

Thank you for reading 5 articles in the past 30 days*
Join now for unlimited access
Enjoy your first month for just £1 / $1 / €1
*Read any 5 articles for free in each 30-day period, this automatically resets
After your trial you will be billed £4.99 $7.99 €5.99 per month, cancel anytime. Or sign up for one year for just £49 $79 €59

Join now for unlimited access
Try your first month for just £1 / $1 / €1
The latest race content, interviews, features, reviews and expert buying guides, direct to your inbox!