Olympics: Crash between Denmark and Great Britain in men's Team Pursuit
Denmark to race Italy in final after ruled to have caught rivals before crash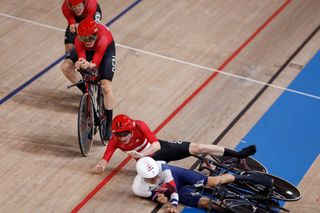 (Image credit: Getty Images)
A dramatic final-lap crash in the men's Team Pursuit at the Tokyo Olympics saw Denmark's Frederik Rodenberg Madsen ride into Great Britain's Charlie Tanfield, sparking chaos, anger and confusion about who will go into the final and ride for the gold medal.
Denmark looked set to win their ride and go into the final after Great Britain fell apart and their third rider Tanfield lost contact. However, as Denmark caught him, Rodenberg failed to see Tanfield and rode into the back of him, sparking the crash.
Both teams failed to record a final time for the full four-kilometre distance, leaving race commissaries to work out who qualified for the final.
They eventually ruled that Denmark had officially caught Great Britain and will go on to race against Italy in Wednesday's gold medal final.
Great Britain was later given a time of 4:28.489 after Tanfield got up to ride to the finish. However, that time was too slow to secure a place in the ride-off for bronze.
New Zealand and Australia qualified for the bronze medal ride but Great Britain is expected to have its appeal heard before the racing on Wednesday.
"I've spoken with the commissaires after our ride to try and get some clarity on what the result was looking like," British coach Iain Dyer said to Eurosport. "My belief was that in [Denmark] causing the crash with the opponents [GB] they were going to get DQ'd. We saw the same where the Swiss rider hit his opponent in the individual pursuit in St Petersburg World Cup only a month ago.
"That's why I was also really super-keen to get Charlie back on his bike after the crash because my belief was if we finished the ride, finished the 4km, irrespective of the time, the winner of that was going to go through to the gold medal ride.
"In the event, the commissaires had determined that the overlap had already taken place, that the Danes were declared winners and the fact that we were crashed subsequently hasn't impacted the result. But of course, it has impacted on us very heavily because we weren't able to complete our ride. The time that we've been given was 4:28 which I've no idea where that time came from. I think it's just been magic-ed out of thin air and that puts us in the ride for seventh and eighth tomorrow for what that's worth."
Italy set a new world record in a close battle with New Zealand as they enjoyed a clean and fast ride into the gold medal final. Filippo Ganna rode the final three laps on the front, dragging the Italians back from defeat to set a new record of 3:42.307.
New Zealand had taken the lead in the second half of the race but will now ride for bronze after setting 3:42.397.
Australia bounced back from their qualifying ride crash to set a time of 3.44.902 and give them a chance for a bronze medal.
Australia changed their line-up and checked their equipment to set a new Olympic record in their ride and confirm their true level.
Credit: Stream every unmissable moment of Olympic Games Tokyo 2020 live on discovery+, The Streaming Home of the Olympics.
Sign up to the Cyclingnews Newsletter. You can unsubscribe at any time. For more information about how to do this, and how we hold your data, please see our privacy policy
Thank you for signing up to Cycling News. You will receive a verification email shortly.
There was a problem. Please refresh the page and try again.