Milram medical report
By Susan Westemeyer Team Milram was hit by the injury-and-illness plague this spring, and must have...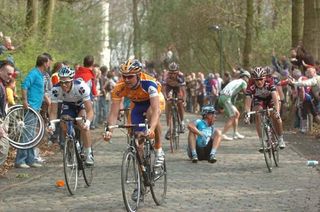 By Susan Westemeyer
Team Milram was hit by the injury-and-illness plague this spring, and must have considered opening its own hospital to care for its many patients. But it finally has some good news to report about at least some of its sick and injured, the team announced on its website, team-milram.de.
The most seriously injured was Marco Velo, who fell victim to the slaughter on the Kemmelberg during Gent-Wevelgem. Hebroke a collarbone and suffered a severe knee injury, the latter causing the most problems. He is now recovering at home in Italy. However, he is not allowed to bend his knee for at least another six weeks, after which it is hoped that he can start rehabilitation. The team does not expect him to ride again this season.
But three other riders have better news and can expect speedier returns to action. Dennis Haueisen underwent emergency surgery because of blood in his stomach. "I feel a lot better than I did two or three weeks ago," he said. The doctors have allowed to resume training, "but I would rather wait a bit." He anticipates returning to racing the end of July or the beginning of August.
Elia Rigotto hopes to back racing in six weeks. He broke a collarbone when he crashed in the Scheldeprijs Vlaanderen. He must wait another three weeks for the wound to heal, and expect to be back in action three weeks after that.
The first to be back will be Björn Schröder. He is not only still recovering from a crash in the Volta ao Algarve, but is also suffering from an infection he picked up at the País Vasco. He plans to return at the Bayern Rundfahrt the end of May.
Cyclingnews Newsletter
Sign up to the Cyclingnews Newsletter. You can unsubscribe at any time. For more information about how to do this, and how we hold your data, please see our privacy policy