inCycle video: Remembering Marco Pantani
Life-long friend Andrea Agostini remembers Il Pirata on the day the Giro d'Italia should have visited Cesenatico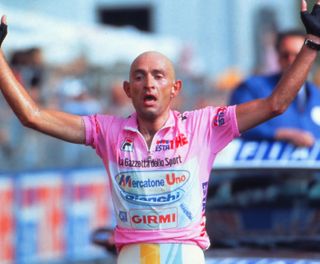 (Image credit: Bettini Photo)
The Giro d'Italia was due to finish in Cesenatico today, to celebrate the 50th anniversary of the Novi Colli Gran Fondo event and, as ever in May during the Corsa Rosa, to remember Marco Pantani, who would have also been 50 this year. Pantani started cycling with the Cesenatico Fausto Coppi cycling team and the same volunteers organise what is widely considered as the first and still one of the best Italian Gran Fondo events.
The Giro d'Italia has been postponed until October due to the COVID-19 coronavirus pandemic and the 50th edition of the Novi Colli will be held on May 23, 2021. If the spread of the COVID-19 virus is under control and the Giro d'Italia goes ahead, the race will take over Cesenatico on October 15, covering the Novi Colli route deep into the Romagna hills and no doubt celebrating Pantani's victories at the Giro d'Italia and recalling his innate climbing ability, which was crafted in the steep country roads.
Despite Pantani's tragic death, and wide belief that he used EPO during his career like so many of his generation, Italy still celebrates Pantani every May during the Giro d'Italia and mourns his death every St Valentines Day after he died alone in a hotel room in nearby Rimini in 2004.
He represents his generation in every way, but people have quickly forgotten his Icarus-like fall from grace due to drugs and depression, they prefer to recall the emotions of his victories and the daring of his attacks in the high mountains of a Grand Tour.
Pantani captured the hearts of millions of Italians during his best years like few riders ever have. The nation watched him from the roadside and on television as he overcame a series of injuries and setback, dueled with Lance Armstrong, attacked in the mountains with his hands on the drops and eventually triumphed at the 1998 Giro d'Italia and then Tour de France. They empathized with him because his mix of shyness, resilience and love of life.
Every Italian who watched and loved cycling in the nineties has a personal memory of Pantani but Andrea Agostini has more than most people.
He grew up with Pantani in Cesenatico and they rode and raced together in their youth. Later Agostini eventually became Pantani's trusted press officer at Mercatone Uno and he tried to protect his friend in the final, troubled years of his life.
Agostini is now involved in the organisation of the Novi Colli and is also the Chief Operating Officer of the UAE Team Emirates team. He was quarantined in the UAE in February due after being diagnosed with COVID-19 but is now back in Italy. May 21 should have been a day of cycling celebration. Instead it will be a day of reflection and memories, in the hope of better times.
In this special inCycle TV video interview from 2014 for the tenth anniversary of Pantani's death, Agostini speaks intimately about his boyhood friend, how Pantani was so different when he returned home to Cesenatico. The video also interviews former rival Giuseppe Guerini, who admitted that Pantani's dominance led him to leave Italian teams and move to the German Telekom team.
"I remember when we were 12, 13 years old, he was able to climb the hardest (mountains) here, and he was absolutely the best," Agostini told inCycle TV, speaking outside the flat bread sandwich bar once owned by Pantani's family and so the centre of so much of his cycling success.
Agostini reflects on how age and success changed Pantani.
"He changed when he was out of this city," he explained. On the road, he was a superstar, "but when he came back here, he was the simple Marco again. He had two faces. He had a mask. It was strange for me to see this double life."

Thank you for reading 5 articles in the past 30 days*
Join now for unlimited access
Enjoy your first month for just £1 / $1 / €1
*Read any 5 articles for free in each 30-day period, this automatically resets
After your trial you will be billed £4.99 $7.99 €5.99 per month, cancel anytime. Or sign up for one year for just £49 $79 €59

Join now for unlimited access
Try your first month for just £1 / $1 / €1
The latest race content, interviews, features, reviews and expert buying guides, direct to your inbox!
The latest race content, interviews, features, reviews and expert buying guides, direct to your inbox!
Thank you for signing up to The Pick. You will receive a verification email shortly.
There was a problem. Please refresh the page and try again.