Fulcrum launches 1,285g Speed 25 climbing wheels
Using Fulcrum's proprietary tech, the Speed 25 wheels maximise climbing performance without negatively impacting aerodynamics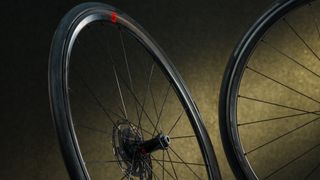 (Image credit: Fulcrum)
Fulcrum has today launched its brand-new Speed 25 wheelset, designed to maximise climbing performance, and is celebrating the launch with a 10-day Strava challenge that offers a chance to win a set. They feature a 26mm profile, which is symmetrical on the front and asymmetrical on the back. According to Fulcrum, this optimises the sweet spot between lightness and aerodynamics, with the wheelset weighing a claimed 1,285g.
Developing the Speed 25 wheelset, according to Fulcrum, was inspired by its race-winning Racing Light XLR wheels, arguably some of the best lightweight wheels, which have proven popular with both the general public and the pros who favour them for mountain stages. Using this as a foundation on which to build, the brand has infused the new Speed 25 wheels with several of its proprietary technologies to maximise on lightness, handling and smoothness.
Lightness
Destined for the big climbs, the Speed 25 wheels were designed to be as light as possible. With a claimed weight of 1,285g for the pair, Fulcrum says several factors went into producing them. These include a 26mm profile and rims with a 'Direct Inmold Matte Finish' (DIMF), without paint treatments that would have added unnecessary weight. Fulcrum does this by using specific resins that protect the rim directly from the mould.
In addition to this, a minimally designed hub also contributes to the low overall weight of the wheels. Fulcrum says the hub's weight has been reduced by optimising its internal and external sections, making it as aerodynamic as possible, while remaining strong, reliable, and able to withstand considerable torsional stresses.
Handling
With its low profile making it lightweight, the Speed 25 wheelset was also designed to offer great handling and ride feel. According to Fulcrum, this boils down to the symmetrical front rim and asymmetrical rear, which "guarantees excellent aerodynamics and extreme reactivity". The asymmetrical rear rim design allowed the team to create better dish angles and achieve high lateral stiffness, which should translate to improved uphill sprints.
Meanwhile, the flat-bladed spokes used on the Speed 25 — 24 front and back — also contribute to the wheelset's aerodynamics. Fulcrum's design philosophy encompasses the idea of perfect alignment between the nipple and spoke, where the spokes don't touch at all, and this is at play in the lacing of the Speed 25. According to Fulcrum, there are several advantages to this approach, which include long-term durability, resistance, and stiffness.
Smoothness
The Speed 25 wheelset is designed for climbing, which means the team needed to achieve minimal rolling resistance. Fulcrum's USB (Ultra Smooth Bearings) ceramic bearings are employed, guaranteeing 50 per cent less rolling resistance compared to standard bearings, according to the brand.
The wheels also make use of Fulcrum's 2-Way Fit profile, which makes them compatible with both clincher and tubeless tyres, and does away with the need for rim tape, thanks to a non-drilled bridge.
It's all rounded off with what Fulcrum describes as its "construction technique based on single CNC thru-axles", which is claimed to provide a stiff and solid base for all internal mechanisms, delivering maximum smoothness and stiffness on the road.
Fulcrum Wheels Peak Conquering Challenge
To celebrate the launch, Fulcrum has also set a Strava challenge, called the Fulcrum Wheels Peak Conquering Challenge. For the next 10 days, Strava users can earn a Fulcrum digital badge and a chance to win a set of Speed 25 wheels, by climbing 1,285m — the official claimed weight of the wheels.
Join the Fulcrum Wheels Cycling Club on Strava to enter.
Fulcrum Speed 25 price and availability
The Fulcrum Speed 25 wheelset is available now with three freehub options: HG11, XDR and N3W. Pricing is as follows:
HG11: £1,999.99 / $2,749.00 / €2,186.00
XDR: £1,999.99 / $2,762.00 / €2,195.00
N3W: £1,999.99 / $2,759.00 / €2,191.00

Thank you for reading 5 articles in the past 30 days*
Join now for unlimited access
Enjoy your first month for just £1 / $1 / €1
*Read any 5 articles for free in each 30-day period, this automatically resets
After your trial you will be billed £4.99 $7.99 €5.99 per month, cancel anytime. Or sign up for one year for just £49 $79 €59

Join now for unlimited access
Try your first month for just £1 / $1 / €1