Flexpoint going for three in France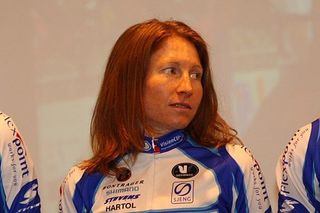 Team Flexpoint's Amber Neben will lead the squad's lineup at the Tour de l'Aude, which starts today in France, in an attempt to claim her third consecutive victory. The American took her first victory at the race in 2005, beating home the previous year's winner Trixi Worrack.
"We will absolutely go for the third overall win in a row" says team spokesperson Jean-Paul van Poppel. "The team time-trial is a specialty and an advantage for us, but the real time will not be crucial to make a real difference in this race."
Neben will face stiff competition from her rival teams with both T-Mobile and Menikini-Gysko announcing strong lineups for the race yesterday. Amongst those announced was two time victory Judith Arndt who is backed by a strong T-Mobile squad.
"Further it's a disadvantage that there will not be any mountaintop finishes," added van Poppel. "Amber Neben is not that good in descends so she can't make bigger differences. Also the missing of a real individual time-trial is a disadvantage for our team."
Team Flexpoint roster: Amber Neben (USA), Loes Gunnewijk (Ned), Luise Keller (Ger), Susanne Ljungskog (Zwe), Madeleine Sandig (Ger), and Iris Slappendel (Ned).
Cyclingnews Newsletter
Sign up to the Cyclingnews Newsletter. You can unsubscribe at any time. For more information about how to do this, and how we hold your data, please see our privacy policy