Environmentalists damage Ineos Grenadiers vehicles in East Flanders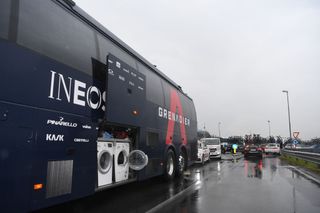 (Image credit: Getty Images Sport)
Four people were arrested in Deinze, Belgium on Sunday after vandalizing six of the Ineos Grenadiers team vehicles, according to a report by the Belga news agency.
The vehicles were painted with the phrase "Ineos will fall" at the team's service course in an action described by some as 'ecoterrorism'.
The report did not state what group, if any, the four adult suspects belong to, but suggested they were protesting a new chemical plant that Ineos is building in the port of Antwerp that aims to make durable plastics from recycled feedstock.
The British team, sponsored as part of a marketing effort for Jim Ratcliffe's new SUV brand, has been targeted since Ineos stepped in for Sky as title sponsor in 2019.
Ineos is one of Europe's biggest producers of plastics, and the petrochemical company has had to fend off accusations of 'sportswashing' since being announced as the team's sponsor.
Environmentalist anti-fracking groups threatened to target the team at the 2019 Tour de Yorkshire because of Ineos' drive to bring the damaging shale gas extraction to the United Kingdom.
In Deinze werden voertuigen van de wielerploeg van Ineos gisteren beklad met @IneosWillFall spreuken. Dit heeft niets meer met democratisch burgerprotest te maken, maar glijdt af nr puur ecoterrorisme! Het gedweep met dergelijke marginale figuren / bewegingen mag dan ook stoppen. pic.twitter.com/Q6WQ0exB0cDecember 21, 2020

Thank you for reading 5 articles this month* Join now for unlimited access
Enjoy your first month for just £1 / $1 / €1
*Read 5 free articles per month without a subscription

Join now for unlimited access
Try your first month for just £1 / $1 / €1
Sign up to the Cyclingnews Newsletter. You can unsubscribe at any time. For more information about how to do this, and how we hold your data, please see our privacy policy
Thank you for signing up to Cycling News. You will receive a verification email shortly.
There was a problem. Please refresh the page and try again.