BMC adds five more racers
By Kirsten Robbins The USA-registered professional continental team BMC added five talents to join a...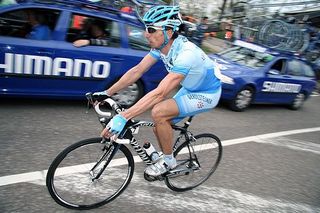 By Kirsten Robbins
The USA-registered professional continental team BMC added five talents to join a seasoned mixture of Swiss-American riders.
New arrivals include former Swiss national champion Markus Zberg from Gerolsteiner along with his fellow countrymen Mattias Frank also from Gerolsteiner, Florian Stalder from Volksbank and Thomas Frei from Astana. Directeur sportif, John Lelangue also confirmed with Cyclingnews that US national team member Chad Beyer will join the team in his first year as a professional.
BMC entered into the professional continental ranks at the beginning of 2008, taking a step that would increase the learning curve of American riders who had never experienced overseas competition.
"Last year we had young riders experiencing the pro level," Lelangue said. "It was a discovery year – to learn to work as a team. We felt the team worked well in the second part of the season with some good performances in Utah, at Nationals and some European tours. This year is a confirmation year, and we will be focusing on good results."
Lelangue kept the majority of the same riders from the previous season to continue the vision of slowly building to a team participating in the Tour de France. "It is an important challenge, and the vision of Andy Riis to grow step-by-step and next year try to have some races on the calendar that weren't on it for 2008," Lelangue said regarding the addition of European events like the Tour of Belgium, Tour of Ireland along with the major American tours in California and Missouri.
"We have a vision for the next five years – to be one of the leading international teams participating in races like the Tour, Flèche-Wallone and Paris-Roubaix. But right now we are happy to have BMC have a step by step vision. We have to grow with the young Swiss and American riders of the future."
The 2009 roster will total 19 riders including eight from Switzerland and eleven from the US. The team will not be split by nationality; instead, the top eight riders will be chosen for each event.
Swiss team members include Zberg, Stalder, Frei, Frank, Martin Kohler, Danilo Wyss, Steve Bovay and Alex Moos. On the American side, Beyer will join his fellow countrymen Jeff Louder, Scott Nydam, Ian McKissick, Brent Bookwalter, Taylor Tolleson, Jackson Stewart, Tony Cruz, Jonathan Garcia and espoirs Cole House and Chris Barton.
Cyclingnews Newsletter
Sign up to the Cyclingnews Newsletter. You can unsubscribe at any time. For more information about how to do this, and how we hold your data, please see our privacy policy