UCI race classifications decoded
From the WorldTour to the national level how the UCI race class works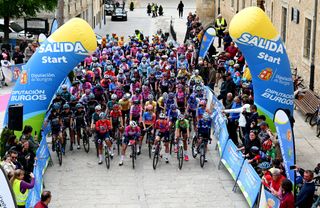 (Image credit: Getty Images Sport)
One of the most commonly asked questions of our hard working editorial team at Cyclingnews is, "What do the weird numbers e.g. 1.1, 2.UWT, CM etc. beside the race names mean?"
The UCI has classification criteria that it applies to races in all disciplines, with a classification convention that reflects the type (one day or stage race); and relative importance of the race with respect to UCI points, prize money, size of the field and number of teams from each teams division that can start.
There are some designations that apply to all disciplines for events that include all rider categories (elite, under-23, junior) or multiple disciplines.
Universal abbreviations
JO = Olympic Games (Jeux Olympiques)
CM = World Championships (Championnat Mondial)
CN = National Championships
CC = Continental Championships
JC = Continental Games
JR = Regional Games
NE = National Event (No UCI points)
Road race classes
There are three major designations for road: WorldTour events such as the three Grand Tours, the Pro Series and the Class 1 or 2 events.
The value before the decimal in the race class designates whether the event is a one-day race (1) or a stage race (2).
The second indicates what type of race it is or its series: UWT for men's WorldTour, WWT for women's WorldTour. Pro for ProSeries, 1 and 2 are class 1 and 2 and can apply to elite men, elite women, under-23 and junior events.
Rider categories:
ME = elite men
WE = elite women
MU = under-23 men
WU = under-23 women
MJ = junior men
WJ = junior women
Because under-23 men can compete in 1.2 or 2.2 ranked races, the events specifically for that category have a U tacked onto the end. There is also an under-23 Nations' Cup series that gets NCup at the end.
Road race classes
1.UWT = Men's WorldTour one-day race
1.WWT = Women's WorldTour one-day race
2.UWT = Men's WorldTour stage race
2.WWT = Women's WorldTour stage race
1.Pro = ProSeries one-day race
2.Pro = ProSeries one-day race
1.1 = Class 1 one-day race
2.1 = Class 1 stage race
1.2 = Class 2 one-day race
2.2 = Class 2 stage race
1.1U/2.1U/1.2U/2.2U = under-23 only version of above
1.NCup = Nations' Cup one-day race
2.NCup = Nations' Cup stage race
Mountain Bike race classes
Mountain biking has even more abbreviations because of the different types of races.
Mountain bike race abbreviations
XCO = Cross-country Olympic
XCM = Cross-country marathon
XCP = Cross-country point-to-point
XCC = Cross-country short track
XCE = Cross-country eliminator
XCT = Cross-country time trial
XCR = Cross-country team relay
XCS = Cross-country stage race
DHI = Downhill individual
DHM = Downhill marathon
4X = Four cross
EDR / EDR-E = Enduro or Enduro eBike
PUM = Pump track
SNO = Snow Bike
E-MTB = E-Mountain Bike
MTB race classes
CDM = World Cup
SHC = Hors (above) category stage race
S1 = Class 1 stage race
S2 = Class 2 stage race
HC = Above category one-day race
C1 = Class 1 one-day race
C2 = Class 2 one-day race
C3 = Class 3 one-day race
Track race classes
Track events can have many races but the overall event can also be of a certain class. In addition to the universal designations like World Championships, there is a Nations' Cup (CDN) and Track Champions League.
CDN = Nations' Cup
CL1 = Class 1
CL2 = Class 2
TCL = Track Champions League
Cyclocross race classes
There are only three designations for non-championship cyclocross races, the World Cup being the highest designation.
CDM = World Cup
C1 = Class 1
C2 = Class 2

Thank you for reading 5 articles in the past 30 days*
Join now for unlimited access
Enjoy your first month for just £1 / $1 / €1
*Read any 5 articles for free in each 30-day period, this automatically resets
After your trial you will be billed £4.99 $7.99 €5.99 per month, cancel anytime. Or sign up for one year for just £49 $79 €59

Join now for unlimited access
Try your first month for just £1 / $1 / €1