Philippa York: Everyone's a winner in Mark Cavendish's move to Deceuninck-QuickStep
30-time Tour de France stage winner offers experience and exposure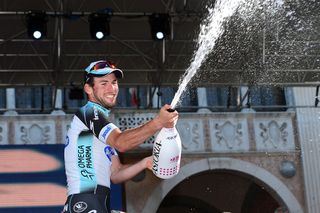 (Image credit: Getty Images)
2020 has been a rather topsy turvy year - full of change, disappointment and postponement for everybody - but I imagine in the Cavendish household things have been particularly tense.
You like to think that when you've reached the top levels of the sport, as Mark Cavendish has, you'd have the freedom to choose when and how you bring an end to your innings as a pro bike rider.
Retirement isn't something that suddenly appears on the horizon; it creeps up on you slowly. You notice that races where you once did well have now become harder, everyone seems younger, and, worst of all, people start to question: 'is this going to be your last year?'
But it's a fabulous thing, racing a push bike, and generally you still love doing it, so you apply yourself more, rely on your experiences when you can, and reassess your place in the pecking order. The main thing is to feel you can be competitive and have an influence on proceedings.
Behind the public part of the job, you need whoever you are working with to appreciate and support what you are doing, otherwise you begin to question whether all the suffering is worth it. Without feeling any kind of love for it, the situation becomes more and more difficult. In those circumstances, retirement - and how it comes about - takes on a bit more importance. You would like to step away from it all with a bit of dignity and a modicum of self esteem intact.
With all that in mind, Cavendish's reactions in the final few races of an unusual season are perfectly understandable.
Clearly, he was having difficulties with the Bahrain McLaren management decisions, the lack of racing was affecting his confidence, and, with nothing on the horizon for the following year, it was looking likely that he would be leaving the peloton in sorry circumstances, considering his palmarès and his contribution to the sport over the years. Professional cycling is not an easy world to exist in, and when you've been around for as long as he has, you don't want to be cast aside after giving so much.
When I read that Deceuninck-QuickStep might be interested in signing the Brit, my heart perked up. This team was where he did some of his best rides, and he integrated seamlessly into the Belgian way of working. You could tell he felt appreciated and loved there, which, for someone as emotional as Cavendish, is essential.
For all the criticism that Patrick Lefevere receives for being ruthless in his contract negotiations and team building plans, the signing of the Manxman shows that he does have a heart, after all. But don't think it's only sentiment; the decision to offer Cavendish a place on the peloton's most prolific team is a shrewd move and one that could work out very nicely for all concerned.
As a sprinter, there's nothing much more Cavendish can learn, and that experience will be invaluable to the team's current and up-and-coming fast men - in terms of positioning, dealing with pressure, and having confidence when things don't go to plan.
In terms of work ethic, sprinters don't often get the credit they deserve but he's entering his 17th season and you don't survive that long without the proper attitude. That's something that will rub off on all the young riders as they watch and learn from the former world champion. Even for someone like Julian Alaphilippe, there are things to pick up on and little tips that will make him even more successful. The Frenchman sits at the top of the tree in the team but there are situations that he's yet to go through - ones that someone like Cavendish will have done.
For the new stars like Remco Evenepoel and Joao Almeida, the opportunity to observe a rider who has won so much and been through so many good and bad times is immense. I remember watching Hennie Kuiper when I was a young pro at Peugeot and trying to learn as much as I could from him in terms of how he went about being a top professional. These are all things that have led Deceuninck-QuickStep to decide that Mark Cavendish can be useful to them, alongside the fact that he brings an aura and presence to the team that all big riders have.
Another thing you have to remember is that professional teams exist not only to win bike races but also to generate publicity for their backers - a reality that even Ineos have come around to. How you race and the personalities involved can be as interesting as who crosses the line first, and having someone like Mark Cavendish on your team is a guarantee of coverage, whatever he does.
Of course, being in the front, performing well, is an ideal scenario but there'll be just as much of a story to be told if or when he moves on to a supporting role.
So it might initially seem like a sympathy vote or a brave decision for Patrick Lefevere to give Mark Cavendish at least one more year of racing but there's a lot more to that decision than is immediately apparent. I can see the collaboration for what it could be: good for the team, good for the sponsors, and good for the rider.

Thank you for reading 5 articles in the past 30 days*
Join now for unlimited access
Enjoy your first month for just £1 / $1 / €1
*Read any 5 articles for free in each 30-day period, this automatically resets
After your trial you will be billed £4.99 $7.99 €5.99 per month, cancel anytime. Or sign up for one year for just £49 $79 €59

Join now for unlimited access
Try your first month for just £1 / $1 / €1
The latest race content, interviews, features, reviews and expert buying guides, direct to your inbox!
Philippa York is a long-standing Cyclingnews contributor who provides expert racing analysis. As a professional rider, she finished on the podium at the Giro d'Italia and Vuelta a España, as well as winning the mountains classification at the 1984 Tour de France.
The latest race content, interviews, features, reviews and expert buying guides, direct to your inbox!
Thank you for signing up to The Pick. You will receive a verification email shortly.
There was a problem. Please refresh the page and try again.