Cycling's best, worst and strangest victory salutes - Gallery
A selection of the sport's infamous gestures
Image 1 of 28
Image 2 of 28
Image 3 of 28
Image 4 of 28
Image 5 of 28
Image 6 of 28
Image 7 of 28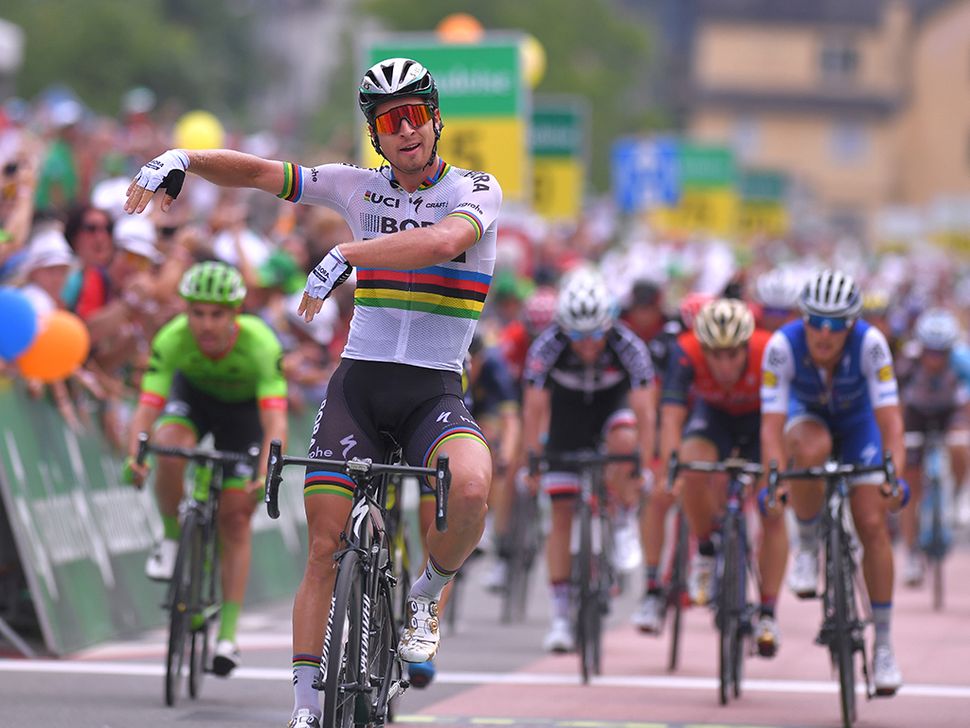 Image 8 of 28
Image 9 of 28
Image 10 of 28
Image 11 of 28
Image 12 of 28
Image 13 of 28
Image 14 of 28
Image 15 of 28
Image 16 of 28
Image 17 of 28
Image 18 of 28
Image 19 of 28
Image 20 of 28
Image 21 of 28
Image 22 of 28
Image 23 of 28
Image 24 of 28
Image 25 of 28
Image 26 of 28
Image 27 of 28
Image 28 of 28
Winning a race is something that every rider strives for and the victory celebration is a chance to revel in the moment, honour your sponsors and pay homage to those close to you. It's an image that will be beamed around the world and may well be slapped across the publicity campaigns of your team's sponsors.
Most riders will opt for the simple punching of the air or lift their arms aloft, wrapped up in the moment of joy. Some riders like to think theirs through a little bit more. Vincenzo Nibali made a nod to his nickname 'the Shark of Messina' with his shark fin celebration on stage 3 of the Vuelta a España.
At the BinckBank Tour earlier this month, Lars Boom sent a very clear message to his team – who did not select him for the Vuelta – a decision that cost him a tidy 1,000 Swiss Francs. Mark Cavendish was sent home from the Tour de Romandie by is team in 2010 for a similar celebration, which he said was a message to those that had been criticising him.
Perhaps the rider with the widest variety of finish line celebrations, thanks largely to his substantial number of wins, is Peter Sagan. In the early part of his career he had a different one each week and this year has seen a revival in his creativity, including a hula celebration at the Tour de Suisse in June.
There are those that celebrate a bit early too, like Erik Zabel at Milan-San Remo in 2004, and Caleb Ewan at the Abu Dhabi Tour earlier this year.
Flick through the gallery above to see some of the best, worst and strangest celebrations in cycling.
Cyclingnews Newsletter
Sign up to the Cyclingnews Newsletter. You can unsubscribe at any time. For more information about how to do this, and how we hold your data, please see our privacy policy