Best time trial bikes: TT and triathlon bikes to help you cheat the wind
Slice through the wind and lay down a new personal best with one of the best time trial bikes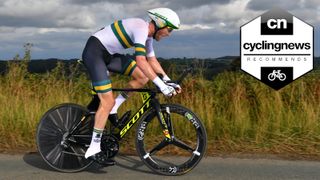 (Image credit: Getty Images)
The best time trial bikes are the ultimate in speed, designed to slice through the wind with minimal disturbance.
Whether it's a 5km prologue or a 100-mile endurance event, at its heart, time trialling is a race against the clock, so the most important consideration for the best time trial bikes is to be as fast as possible. This is predominantly achieved with a reduction in aerodynamic drag, but things such as rolling resistance and drivetrain efficiency play a part, too.
Most time trials will allow you to compete on any bike you like, but take one look at a dedicated time trial bike and it's clear that it has been designed to be as aerodynamic as possible. One of the main differences between a road bike and a time trial bike is the time trial bars that replace the drop handlebars. These allow a rider to get into a much more aerodynamic position, whilst retaining control of the bike.
This style of bike is also ultra-popular with triathletes, another against-the-clock event. However, with triathlons not governed by the UCI's rules, some brands offer different triathlon-specific bikes, which throw traditional bike design to the wind.
Best time trial bikes
Why you can trust Cyclingnews Our expert reviewers spend hours testing and comparing products and services so you can choose the best for you. Find out more about how we test.
The latest in the of the iconic P time trial bikes
Reasons to buy
+
Geometry will fit a wider range of people
+
Plenty of built-in storage
+
Disc brakes
+
Non-proprietary cockpit
Cervelo's P3 and P5 TT and tri bikes have been a staple of the brand's range, with many considering them to be the gold standard in this arena. With the new P-Series frame, the brand is aiming to offer the same level of performance at a lower price tag. Cervelo has also made the geometry slightly less aggressive than the angles of the P5, making it possible for a broader range of riders to find a comfortable fit — 506mm stack and 398mm reach with a 72.5-degree head angle in size 51cm.
In typical bike industry form, Cervelo says it's lighter, stiffer and more aero than its predecessor, even with the disc brakes. It comes equipped with provisions for a bento box, an integrated aero water bottle and a re-hydration mount.
Cervelo has opted for a non-proprietary cockpit so you can use the base bar, pads and extension that work best for you; this also means spares will be readily available.
Giant Trinity Advanced Pro 2
The best value for money upgrade-ready platform
Reasons to buy
+
Adjustability
+
Value for money
Reasons to avoid
-
UCI illegal fork
-
Low-spec wheels
The Trinity Advanced is built around a frame made from Giant's second-tier 'Advanced Pro' carbon fibre and sees a stiff front end that tracks exceptionally well, with a frame that still manages to provide one of the softest, most vertically compliant ride qualities that's easier on the body than most.
The bike features an uber steep 77-degree seat angle, 73-degree head angle, and stack and reach figures of 539mm and 417mm in a size medium.
With its Shimano 105 groupset and Giant S-R2 aluminium wheelset, the Trinity is ready to ride out the box, but serious competitors will see it as a platform ripe for upgrading.
The TT version (pictured) is one of our picks of the best time trial bikes, but triathletes may wish to choose the Trinity Advanced Pro, which features a deeper fork profile, removable hydration-storage nose cone, and fairings to cover the brake calipers.
Vitus Auro CRS TT
This consumer-direct stunner is the best time trial bike if you want race-ready on a budget
Reasons to buy
+
Value for money
+
Specification
Vitus is one of the Wiggle/Chain Reaction Cycles brands and it has a long history of making solid bikes, so it would be silly to overlook the brand's TT bike.
The frame is made from T700 Hi-Mod UD carbon with an integrated carbon aero stem and fork. At the front, there is a direct mount Tektro rim brake, which may not be as aero as some of the integrated options, but at least it works. The rear brake is also direct-mount and is hidden under the bottom bracket.
The bike features an Ultegra R8000 11-speed build and roll-on Prime Black Edition carbon clinchers, 85mm deep at the rear 60mm at the front.
The cockpit comes from Zipp with the Vuka bars allowing heaps of reach and height adjustment. Vision Metron bar-end shifters are mounted on the end of the extensions, and the saddle is a Vitus TT specific short nose 'power' saddle.
Specialized S-Works Shiv TT
The best time trial bike out there, but the price tag will sting
Reasons to buy
+
Weight
+
Disc brakes
+
Removable front derailleur mount
Reasons to avoid
-
High price
-
1x not for everyone
The Shiv comes in two versions: a tri-specific build with a HUGE hydration-store-cum-fairing behind the saddle and a tri-specific fork that's not even close to UCI legal and a more conservative road TT version. This model is the UCI legal version, and Specialized says it pushes the rules to the limit while also trying to keep the frame as light as possible to better handle the more undulating time trial courses of today.
With a 75-degree seat angle and a 72-degree head angle, the Shiv isn't a handful to pilot around corners, and Specialized incorporated years of Retul fit data updating the bridge and armrests for improved fit adjustment.
As the brand was an early adopter of disc brakes, it's no surprise to see them here, and Specialized has data from its wind tunnel showing they don't add any additional drag. The S-Works model comes with a full SRAM Red eTap AXS 1x drivetrain complete with an aero chainring and a Quarq power meter. With all of this, don't let the price tag take your breath away.
Trek Speed Concept
Best TT bike for customisation
Reasons to buy
+
Project One customisable paint
+
Easy cockpit adjustment
+
Removable TT storage fairings
Reasons to avoid
-
Only one base spec model
The Speed Concept is designed to be used across both time trial and triathlon, with a wide range of adjustments and user-friendliness in mind.
Thanks to Trek's Project One, you can customise the bike to perfectly match your needs - in both colour and spec - but the off-the-shelf model is equally ready to race.
Bontrager's Aeolus Comp 5 wheels are provided, which offer the consistent performance of an aluminium brake track coupled with the aerodynamic efficiency of deep-section rims. Shifting comes courtesy of Shimano's Ultegra mechanical groupset, while braking is taken care of by Bontrager XXX levers paired with proprietary integrated Bontrager calipers.
All of this is built onto a 500-series OCLV carbon fibre frameset, which helps keep the weight down to a respectable circa 9kg (20lb) level.
The seat tube is a pretty aggressive 78-degrees, which is matched by an equally-steep 72.2-72.5 degree head angle, with stack and reach figures of 51.7cm and 40.8cm respectively in a size medium.
Ribble Ultra TT
Spec your own time trial bike with Ribble's online bike builder tool
Reasons to buy
+
Freedom to choose your own spec
+
UCI legal
+
Value for money
With a close connection with the forward-thinking HUUB-Wattbike team and their aerodynamics expert Dan Bigham, the Ribble brand is quickly growing prominence in the time trial sphere.
There are two options in the current range, the Ultra TTR is a triathlon-specific option, whereas this Ultra TT is the UCI-legal time trial option. With Ribble's online BikeBuilder tool, you are able to choose your own spec and adjust the bike's colour at the point of purchase.
In a size medium, the stack sits at 50.6cm and the reach is 41.5cm. This is paired with a head angle ranging from 72.5- to 72.8-degrees and a seat tube angle that ranges between 76 and 79 degrees with the adjustable seatpost.
Scott Plasma 10
Budget friendly time trial bike that has earned the rainbow stripes
Reasons to buy
+
Comfort
+
Adjustability and fit options
Reasons to avoid
-
Lacks the snap of other bikes
Scott's Plasma 10 is the direct benefit of trickle-down tech, as this frame design sat at the top of the range with a massive price tag only a few years ago. Now, at a much more budget-friendly price point, the Plasma 10 is still one of the fastest bikes on the road.
It's one of the more forgiving time trial frames on the market but this doesn't come at the cost of power transfer or steering precision. If you look carefully, you'll spot a few design cues from the current Foil aero road bike, however, the aero tubing is much more exaggerated in the head and seat tubes.
At the top of the fork is a 1 1/8in steerer tube which allows for a standard stem, base bar pads and extensions — perfect for the beginner that will need to tweak their position. You'll also find direct mount brakes instead of proprietary integrated points and an interesting mix of components ranging from Shimano 105 all the way up to Dura-Ace.
BMC TimeMachine 02 Two
Infinitely adjustable with aggressive handling
Reasons to buy
+
Dual seat post locations for max adjustability
+
Standard parts
+
Aggressive handling
+
Storage
Reasons to avoid
-
Not UCI legal
-
Exposed cables
At the Road World Championships, Rohan Dennis defended his title aboard a blacked-out version of the BMC TimeMachine frame instead of his (at the time) Merida team bike. The '02' version of the frame is made from a lower grade carbon and sports a few different frame features along with a more price-friendly spec.
At the front is a Profile T2 wing bull horn bar which steers the brand's Aero Premium carbon fork with a standard rim-brake bolted on, instead of integrated brakes.
In BMC's over-engineered fashion, there are two seatpost mounts that are capable of creating either a 71-degree seat angle or an ultra-steep 82-degree seat angle. With the seat post in the steeper option, to cover the extra hole in the frame, there is a removable storage box for tools and spares which complements a top tube bento box and dual-standard bottle cages.
Bianchi Aquila CV
The most comfortable of the bunch, if you're flexible enough
With the Aquila CV explicitly designed for the likes of the Jumbo Visma team, it's no surprise the geometry is exceptionally aggressive, but if you're flexible enough, this celeste speed machine might just be the most comfortable bike in the category. Bianchi has incorporated its Countervail technology into the layup, which integrates a viscoelastic resin used by the likes of NASA into its carbon fibre and is claimed to absorb 80 per cent of the vibrations coming through the frame. The Italian outfit also says it not only helps the rider stave off fatigue but also increases the stiffness of the frame.
On the outside, every detail of the Aquila TT is sculpted to cheat the wind. The front brake sits inside the carbon fork, the rear brake is found beneath the BB, and the frame has an adjustable rear dropout which allows you to snug the rear wheel up against the seat tube to maximize aero gains.
At the front, the Aquila features a proprietary integrated bar and stem system, which does limit adjustability to a certain degree.
Cube Aerium
The Tron TT bike
Reasons to avoid
-
Sliding dropouts can be fiddly
-
Aesthetic not for everyone
-
Front brake lacks power
Cube's Aerium has a funky silhouette, with sharp angles that make it look more like something that should be lining up for a light cycle match in the movie Tron rather than at your local TT. Made using the brand's Advance Twin Mould system, the bike features rear-facing horizontal dropouts that allow you to snug the rear tyre right up against the seat post for the best possible aero benefit.
All of the cables are hidden inside the frame except for the front brake, which utilizes the brand's Aero TTVO1 caliper. The rear brake is a standard Shimano 105 caliper that's placed below the bottom bracket. While the Stem is Cube's own proprietary part, the base bar, arm pads and extensions all come from Profile Designs, and should they not be the right fit can be swapped for something that works better.
For the money, the bike comes with a full Shimano Ultegra drivetrain R8000 and roll on a set of Mavic Cosmic elite wheels, ideal for training.
What to look for in a time trial bike?
1. Wait, can't I just use my road bike?
You sure can, and with a set of clip-on aero extensions, you can get a feel for the TT position and some aero advantage. That said, not only will the time trial bike itself be more aerodynamic, the geometry also differs quite a bit to help you minimize your body's front-on profile — which is what creates the majority of the drag.
To start, the seat tube will be extremely steep (usually around 76-79 degrees), placing your derriere directly above the bottom bracket to tilt you forward. The head tube will also be short with the armrests and extensions mounted on the top of the base bar being used to dictate the stack.
A time trial bike will also typically feature shift levers (or buttons, in the age of electronic drivetrains) at the end of the time trial extensions, meaning you needn't come out of the aero position every time you wish to change gear.
2. Frame differences
As we mentioned, TT and triathlon bikes are designed with the sole purpose of minimizing wind resistance and maximising efficiency. This comes at the expense of comfort — don't expect to find flex zones or compliance built-in — and with the deep section tubing, the frames are weighty and that's before you begin to bolt on any components.
At the front, a TT bike will have a base bar where the brake levers are mounted. This also provides support for the arm pads and extensions with the gear shifters at the end.
The bike will definitely have a proprietary aero seatpost, and may even have an integrated stem, with some bikes using brand-specific cockpits too.
When it comes time to drop the anchors, you'll find everything from standard rim brakes to hidden integrated calipers and even discs — more on that later.
3. What are you racing?
When you're looking into a TT bike, it's crucial to take into consideration what you're going to be racing, and more importantly, if the UCI has jurisdiction over the event. If it does, you will need to make sure you opt for a frame that has been UCI approved.
If not, the world is your oyster, and you can take full advantage of the engineering prowess of your chosen brand's R and D department for the fastest bike possible. Here you'll find fairing's, frames with no seatpost and all kinds of wind-cheating features that aren't available on UCI legal frames.
4. Bottles, nutrition and spares
Depending on the events you'll be racing, it's also essential to take into account if the frame has mounts for a bento box or integrated bottles.
If you're doing the local club 10, then you probably don't need storage for extra water or calories, but if you're doing a 100 miler, it won't be comfortable (or aerodynamic) to stuff all those extra bottles and gels into your skinsuit pockets.
5. Wheel tax
Often TT bikes are sold with cheap alloy rims. The thinking here is that if you're shopping for a TT bike, you more than likely already have a set of race wheels and don't need another set, and this helps to lower the price a bit.
If you don't have a set of deep-section carbon hoops and are looking to maximize the performance of your new TT bike, you should look for a bike that comes with aero wheels, or spend your budget appropriately.
6. Disc or rim brakes?
The disc or rim debate has made its way to the TT and triathlon world too. With the aero-at-all-costs mentality used for this category of bikes, we have seen quite a few proprietary integrated rim brakes that are about as useful as a road tyre is to a downhill bike.
Not only do discs offer more power and modulation in all weather conditions, but wind tunnel testing also shows the aerodynamic impact is minimal to none.
What's more, when it comes to the complex integrated cable routing of the best time trial bikes, these tight corners cause friction to cables and a subsequent loss in performance. Hydraulic hoses don't suffer from this friction, meaning performance doesn't degrade over time. The same argument can be made in favour of electronic or wireless groupsets.
7. Position
Given time trialing is a race against the clock, it's important to remember that you're chasing speed, not just aerodynamics. Therefore, while you might want to ride in the most aerodynamic position possible, you might find this position causes a loss in available power output. Therefore, it's important to balance power and speed to find an optimal balance.
To that end, a time trial bike that's fast on paper, but with a lack of available adjustment, could force you into a position that is actually slower than a less-aerodynamic bike.
Time Trial bike sizing
The best way to size up any bike is to have a professional bike fit. Alongside that, check the stack and reach of the frame to compare against existing bikes.
However, a good starting point with time trial bikes is to go for a size smaller than a typical road bike size.
To set your time trial position from scratch, you'll need some trial and error. Try to find the lowest position that is both comfortable and allows you to see ahead. A narrower position offers less control against crosswinds, so start wide, but gradually work inwards to a comfortable, safe, narrow position.
What is a TT position
TT position is a term used to describe a rider's body position when riding a time trial bike with their arms on the extensions. It is considered the most aerodynamic position available where pedaling remains possible.
Is a time trial bike faster than a road bike?
Over flat terrain, a time trial bike is theoretically faster than a road bike, however there are certain factors to consider. It is not uncommon for a rider's sustainable power to be lower in the time trial position, and if a rider is unable to sustain the same power, this could offset the aerodynamic improvement.
Once the gradient of the road rises, there is another balance to strike. A time trial bike will typically be heavier than a road bike, and the tipping point at which the aerodynamics is trumped by reduced weight is around six per cent. Anything below this and the time trial bike will likely be faster.
Is a time trial bike worth it?
This very much depends on what sort of racing you typically do. If you partake in frequent time trial events over flat terrain, then assuming you are able to output the same power in the time trial position, the aerodynamic savings will certainly benefit you in competition on a regular basis.
With that said, if your only against-the-clock racing is as part of a hill climb series, the added weight of a time trial bike might cost you more seconds than the aerodynamic benefits. So look at the demands of your chosen event, if the gradient is above the six per cent mark, a time trial bike will probably be slower.
Based on the Gold Coast of Australia, Colin has written tech content for cycling publication for a decade. With hundreds of buyer's guides, reviews and how-tos published in Bike Radar, Cyclingnews, Bike Perfect and Cycling Weekly, as well as in numerous publications dedicated to his other passion, skiing.
Colin was a key contributor to Cyclingnews between 2019 and 2021, during which time he helped build the site's tech coverage from the ground up. Nowadays he works full-time as the news and content editor of Flow MTB magazine.
The latest race content, interviews, features, reviews and expert buying guides, direct to your inbox!
Thank you for signing up to The Pick. You will receive a verification email shortly.
There was a problem. Please refresh the page and try again.