Best bike torque wrenches 2022 - Make sure your bolts are correctly tightened
The best bike torque wrenches will reduce the risk of damaging your bike, saving against crash-inducing failures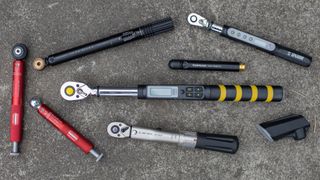 (Image credit: Josh Ross)
Choose one of the best bike torque wrenches to avoid an expensive and potentially dangerous mistake when working on your bike.
All modern bikes, not just the best road bikes, have a range of small bolts that hold them together, everywhere from the stem to the bottom bracket. Often they're screwing into aluminium alloy components or holding together carbon fibre parts on your bike.
There will usually be a torque value printed on the component which relates to how tightly a bolt should be screwed in order to function correctly. Under-tightened bolts can cause components to slip. If this happens to your handlebars, for example, it could very easily lead to a loss of control of the bike, and inevitably, a crash. Overtighten a bolt and it's very easy to damage the threads, and just as easy to crack carbon components. These components - or the bolt itself - may fail while you're riding, which again, can have nasty consequences.
That's where the best torque wrenches come in. They'll allow you to dial in the precise torque value that's specified for your bike's bolts and ensure that you hit it precisely. It's an investment that's well worth making even if all you're doing is setting your saddle height.
Whether you're buying for yourself or searching for a Christmas gift for a cyclist, here's our pick of the best bike torque wrenches, ranging from portable and inexpensive to high-quality workshop tools.
If you're unsure what to consider when buying, head to the bottom of the page for our buyer's guide on how to choose a torque wrench.
The best bike torque wrenches available today
Why you can trust Cyclingnews Our expert reviewers spend hours testing and comparing products and services so you can choose the best for you. Find out more about how we test.
Topeak Torq Stick 4-20
Best bike torque wrench for all-around use
Specifications
Included Bits:
3/4/5/6/8/10 hex, T20/T25/T30 Torx
Drive Size:
1/4-Inch Hex socket
Reasons to buy
+
Included bits are high quality
+
Small drive head
+
Easy to read settings
Reasons to avoid
-
Torque range is unnecessarily high
The Topeak Torq Stick 4-20 Nm option covers most of the needs you'd ever have for a bike torque wrench and it does so at a reasonable price. The head of the unit is very small and uses a magnet to hold the high quality included bits. If you feel like you'd prefer to add extra pieces, there is also a Pro model available. The wrench is almost exactly the same but the additional price of the Pro version adds a case, mini ratchet tool, finger bit holder, speed sleeve bit holder, and 1.5, 2, 2.5 hex bits as well as T6, T7, T8, T9, T10, T15, Torx bits. This is in addition to 3/4/5/6/8/10 hex bits and T20/T25/T30 Torx bits which are included in both versions.
There are some slight cosmetic differences between the two wrenches but the operation is the same whichever version you choose. Selecting a torque requires pulling the knurled handle down and rotating the base of the handle. There's a line in the back that denotes half way between two Nm settings and the line in the front denotes even numbers. Compared to most torque wrenches it's a joy to so easily see exactly what you've selected.
The only change we'd make to the Topeak Torq Stick is a shift of the torque range offered. Although 4-20 Nm will cover most needs, 20 Nm is unlikely to be useful on a bike and you might have a situation where you'd like less than 4 Nm.
Check out our full review of the Topeak Torq Stick Pro for some more information.
The best bike torque wrench for portability
Specifications
Included Bits:
3, 4, 5 and 6mm hex plus T25 and SL4
Torque range:
4, 5, or 6 Nm
Drive Size:
1/4-Inch Hex Shank
Reasons to buy
+
Portable
+
Magnetic head
+
Bits fit in the handle
Reasons to avoid
-
Limited to three set torque values
If your need for a torque wrench stops at the need to occasionally adjust a saddle or maybe swap a handlebar then the Pro Mini Torque Wrench might actually be enough for you.
It's designed as a piece that will fit in a saddle bag to bring with you but given that it covers 4, 5, and 6 Nm and it's comfortable to use, there are some people who won't need more. Those three torque values cover what is typical for saddle adjustment as well as the bolts that you find holding stems and handlebars on.
Plus, if you later outgrow it, you can always relegate it to a saddle bag since that's the design vision anyway. Head to our review of the Pro Mini torque wrench to read our thoughts on what makes it a great option.
LifeLine Essential Torque Wrench
The best bike torque wrench at a budget price
Specifications
Included Bits:
5mm hex extension, 3/4/5/6/8/10mm hex, T25/30 Torx
Drive Size:
1/4-Inch square
Reasons to buy
+
Wide torque range
+
Includes a hard case
+
Standard 1/4-Inch square drive makes it useable beyond a bike
Reasons to avoid
-
Partial torque numbers and unmarked numbers are nearly impossible to set
This wrench from Lifeline works. It's not a luxury piece but it clicks to let you know when you've reached the desired setting and it will do the job. It's not made by Lifeline, you can find alternatives with other brand names on them, and it doesn't feel like the highest quality tool, but it works.
The range is incredibly wide and the standard square driver means there's no reason you can't fit a variety of sockets and use it for other needs beyond a bike. It's a bulky design though so there are times when it will be tough to get in somewhere tight.
Torque wrenches with this design also have a tendency to feel imprecise when it's time to set the torque. The little coloured indicator makes it hard to be sure if you've actually hit the desired torque setting and anything besides the marked numbers are essentially impossible to set. That said, this is an incredible value and truthfully the bolts on a bike probably don't need more precision than this.
Effetto Mariposa Giustaforza 2-16 Pro
The best bike torque wrench if you want the ultimate luxury option
Specifications
Included Bits:
Deluxe kit includes 10x25mm (HEX2, HEX2.5, HEX3, HEX6, T10, T15, T20, T30, -3/16, +PH1), 3x100mm (HEX4, HEX5, T25), and 1x100mm (extension)
Drive Size:
1/4-Inch square
Reasons to buy
+
Precision machining
+
Specific guarantee of number of clicks with available recalibration
+
Easy to read
Reasons to avoid
-
Included wrap doesn't feel as nice as the tool
This option is sitting right after the Lifeline because it's the exact opposite. The Effetto Mariposa Giustaforza 2-16 is like ordering up a custom titanium bike. There's not a single plastic part on it and it's a joy to use each time. Even after a year with it, I never fail to feel impressed when I grab it.
Despite the pretty face and high-quality build, it's also an incredible tool. There is a specific guarantee of how accurate the wrench is and for how long that accuracy will last. Effetto Mariposa even checks and numbers each wrench out the door. The torque values are easy to read and feel exact, and the 1/4-Inch square drive means you can swap in other sockets as needed.
The one thing I'd love to see is a case that matches the quality of the tool. I tend to keep it wrapped in the roll and stored inside the original hard plastic packaging.
Unior Tools Electronic Torque Wrench
The best bike torque wrench if you need to measure torque in both directions
Specifications
Drive Size:
1/4-Inch square
Reasons to buy
+
Reads and registers for both left hand and right-hand threading
+
Packaging doubles as a very nice long-term case
+
Beeping and LED lights to show 95% and 100% of set torque
Reasons to avoid
-
Doesn't include any bits
The Unior electronic torque wrench is a high-quality option that covers 1-20 Nm and is likely all you'll ever need on a bike. Unlike the Topeak above, it has both lights and beeps to help you meet your torque target. On top of that, torque is adjustable with a resolution of 1/100th of a Nm.
What stopped us dead in our tracks with regard to this wrench though is that it measures torque in both directions. Almost every torque wrench on the market will allow you to reverse the drive direction but the feature is for show more than anything. It's advised not to use a torque wrench for loosening bolts, to preserve accuracy, and almost universally they don't measure torque in the opposite direction.
Every now and then you'll run into a reverse threaded fastener and in that case you'd have to go without a torque wrench, unless you've got this one. It's a feature that's almost unheard of and if you need it, this is your best bet.
Another nice feature is that the packaging is a clever plastic tube that threads open and closed and has foam at the ends. It's important to take care of a torque wrench so cases are important. This isn't as nice of a case as the Topeak d-Torq but it works quite well. The downside of the wrench is that it doesn't come with any bits or even an adapter for hex bits.
Topeak Nano TorqBar DX
The best bike torque wrench to combine with a multitool
Specifications
Included Bits:
4 / 5 / 6Nm TorqBits and 3 / 4 / 5 mm hex & T20 / T25 Torx
Torque range:
4, 5, or 6 Nm
Drive Size:
1/4-Inch Hex Shank
Reasons to buy
+
Small and portable
+
Lightweight
+
Clever internal storage
Reasons to avoid
-
No easy way to carry all three torque limiters with the wrench
This is another mobile solution that has similarities to the Pro Mini torque wrench above. The Nano TorqBar DX comes with three torque limiters and a selection of bits to go inside them.
It comes with a handle, but nothing says you have to use it. In fact, one member of the Cyclingnews team has ditched it in favour of the Topeak Ratchet Rocket Lite tool from our list of the best bike multi-tools .
Choose the desired torque limiter and insert it into the tool then put the bit inside of that and you can be sure you won't break something. That's actually the same thing as the Pro Mini Torque Wrench but the Topeak option is smaller.
If you do take the handle, there's storage for two bits inside plus a place to hold a single torque limiter at the end.
Effetto Mariposa Giustaforza 1-8
The best bike torque wrench if you want a luxury wrench for small detail precision
Specifications
Included Bits:
Deluxe kit includes 10x25mm (HEX2, HEX2.5, HEX3, HEX6, T10, T15, T20, T30, -3/16, +PH1), 3x100mm (HEX4, HEX5, T25), and 1x100mm (extension)
Drive Size:
1/4-Inch Hex Shank
Reasons to buy
+
Tiny size
+
Precision machining
+
resolution is 0.25 Nm
+
Easy to read
As the torque range goes up, and gets wider, the precision of a tool goes down. It's for this reason that it might not make sense to get a big range tool if that's not what you need.
This option is very similar to the 2-16 option up above but the smaller range means more precision. Giustaforza 1-8 goes as low as 1 Nm with a high .25 Nm resolution. This is the tool when you need to get in somewhere tight and handle a delicate fastener.
In an effort to make it even better at that, the head is a non-ratcheting design that accepts bits directly. Without the added size of a ratchet, and no need for bits to accept the socket drive tang, you end up with a perfect solution for hard-to-reach areas. It might also take a little getting used to though. As with the 2-16, the biggest drawback is that it's expensive and if you go for the Deluxe version the tool wrap pales in comparison to how nice the tool is.
Topeak D-Torq DX
The best bike torque wrench if you want an electronic option for the big stuff
Specifications
Included Bits:
Standard 3/8-inch square to hex adapter, 1/2-inch square drive adapter, 8mm-15mm sockets, T25/30/40, PH2 screwdriver, 3/4/5/6/8/10mm hex bits
Drive Size:
3/8-Inch square
Reasons to buy
+
Very nice included case
+
Case includes a place for the batteries
+
Included half inch drive adapter extends usefulness beyond the bike
Reasons to avoid
-
Doesn't work well for small torque numbers
The last two options we've included are electronic torque wrenches. Fundamentally the way that analog wrenches and electronic wrenches work is different. Analog wrenches use a spring and when you get to the correct torque there's a release of pressure along with a click and some amount of dead zone. Digital torque gauges work the way that a power meter does, with strain gauges. What that means in practical use is that there's no release of pressure and dead zone in electronic wrenches.
The Topeak D-Torq DX is an electronic torque wrench that covers a range of 4-80 Newton Metres. Being electronic means you can also switch the measurement between Nm, in/lb, ft/lb or kg/cm to suit what works for you. As you approach the desired torque there's you'll hear beeping and you can watch the torque on the display.
The whole package included is one of the nicest on the list. The case will keep it safe and there's even a spot so you can remove the batteries when you aren't using the wrench. It's a classy package but even as nice as everything is, you'll probably need a second wrench for a bike. Although 4 Nm is low enough to cover most situations, this is a big wrench. It's difficult to use it down at the bottom of its range.
How to choose the best bike torque wrench
Here is our guide to a few things that you need to keep in mind if you're looking for the best torque wrench for your needs.
What is torque?
Torque is the twisting force applied to an item. In the case of bike torque wrenches, that's the bolts and components that hold your bike together, but you'll also find torque numbers (much larger ones) mentioned in relation to the turning force delivered by the best e-bike motors.
Torque on bikes is almost universally measured in Newton meters, abbreviated Nm, although there are other units like in/lb, ft/lb or kg/cm. Make sure that your torque wrench works in Nm to avoid having to convert values each time you use your tool.
Is one torque wrench enough?
There's no easy way to say this, one wrench isn't enough. Yes, torque wrenches are expensive, so there's a temptation to try and get one to cover everything but it won't work out for every single use case.
The most used wrench is going to cover the middle range of somewhere around 4Nm up to around 20Nm. That's the range you need for all the small pieces on your bike and if you have a need to torque cleats, so it's the best place to start.
Even with a mid-range torque wrench, you are going to need to head to the bike shop occasionally. 12-speed cassettes have an incredibly tight tolerance with the frame and it takes a larger torque wrench for that application. Another common high-torque situation is bottom brackets. If you'd rather take care of everything at home that means a second, larger, torque wrench for the bigger jobs.
If you want to be able to carry your torque wrench with you, many cycling torque wrenches major on portability, whereas generic torque wrenches may need to stay at home. You're also more likely to get a wrench that comes with the array of bits with small hex and Torx heads necessary for small bike parts.
Is a torque key good enough?
For smaller jobs on your bike, you may be fine with a preset torque key rather than needing an adjustable torque wrench. Many small bike bolts specify 5Nm, so a torque key preset to this value will get you a long way. Some torque keys come with multiple fixed value torque heads, so you'll be covered for other values too.
A torque key for bikes will usually be designed to be highly portable too, so it's easy to stash in one of the best bike saddle bags.
On the other hand, an adjustable torque wrench will cover you for more use cases, although as we discussed above, one adjustable wrench may not cover every situation.
Where's the best place to buy a torque wrench?
Don't be afraid to look beyond cycling brands. A common refrain is that bike-specific brands impose a bike tax on parts. There are reasons why that's not actually true but for the purpose of this conversation, it doesn't matter much.
There is a wide expanse of situations beyond the bike that require precise torque and there are brands that cater to those. If you feel like you can find a better torque wrench from a company that's not associated with the bike industry then go ahead and look around.
The only reason you might decide to stick with a bike specific brand is convenience. Every application of a tool has small nuances and companies cater to them.
For bikes that means torque ranges that make sense for the bolts on a bike and it means scales rated in Newton metres. Purchasing something designed for another industry might be cheaper but could require constant conversions. Torque is torque though; as long as you find something that works it doesn't matter too much what it's marketed for.
How do you use a torque wrench?
Just because you are tightening a bolt with a torque wrench doesn't automatically mean you are getting the correct torque. One of the biggest mistakes is holding the wrench incorrectly. Each wrench has a design that requires a specific placement of force against it. Park Tools has an excellent video covering the details (opens in new tab) but the bottom line is you should never choke up on the wrench or hold it at the very end.
Beyond proper measurement, there is also continued calibration to concern yourself with. Torque wrenches are precision tools for measuring torque, not general-purpose wrenches. If you use your torque wrench to break bolts free, you risk pushing it out of calibration. Always use another wrench for loosening bolts and only use your torque wrench for tightening to spec.
For the same reason, you also want to be sure to release the tension on the wrench before storing it. Leaving the wrench tensioned during storage will cause it to move out of calibration over time. It only takes a moment to set the wrench to the lowest setting before storing it and it will make sure you get the most precision out of an expensive tool.
What type of torque wrench is best?
Some torque wrenches are electronic and some are mechanical. There's nothing that makes one inherently more accurate than the other but there are reasons you might choose one or the other. The main argument for mechanical is that they don't need batteries. You never run the risk of reaching for your wrench and finding it dead. Also, torque wrenches can last a very long time and LCD displays don't have the same staying power as a precision metal tool.
Electronic wrenches offer more flexibility and information. If you have a need to measure different units an electronic torque wrench lets you easily switch between them. No back of the napkin conversions are necessary.
More useful to most people though is seeing the torque as you approach your setting. It can feel comforting to know if you are getting close and loud alarms with blinking lights make it obvious when you've reached your target. It's also nice to be able to precisely set an exact number and have it easy to read. The downside is that the dead zone and click of an analog wrench when it reaches the set value is easier to feel and electronic wrenches don't have that.
Josh hails from the Pacific Northwest of the United States but would prefer riding through the desert than the rain. He will happily talk for hours about the minutia of cycling tech but also has an understanding that most people just want things to work. He is a road cyclist at heart and doesn't care much if those roads are paved, dirt, or digital. Although he rarely races, if you ask him to ride from sunrise to sunset the answer will be yes.
Height: 5'9"
Weight: 140 lb.
Rides: Cannondale Topstone Lefty, Cannondale CAAD9, Enve Melee, Look 795 Blade RS, Priority Continuum Onyx
The latest race content, interviews, features, reviews and expert buying guides, direct to your inbox!
Thank you for signing up to The Pick. You will receive a verification email shortly.
There was a problem. Please refresh the page and try again.