Best mini bike pumps
The best mini bike pumps for all your roadside tire inflation needs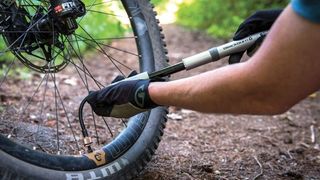 (Image credit: Blackburn)
Choosing the best bike pump is very much dependent on your tire inflation needs. If you're heading out into the wilderness, the portability and never-ending air supply of a mini-pump will be your best bet. 
Mini-pumps are the best bike pumps for those looking for portability and repeated inflation. They are a pocket friendly evolution of the classic frame pump. While the frame pump has its advantages, a mini-pump is much easier to carry, and can be mounted beside the bottle cage for easy reach.
Pumps will attach to the valve with either a built-in valve head or a flexible hose stored inside the pump body. While screw-on hoses can present an extra fiddly stage, they reduce the stress on the valve itself and allow a more comfortable pumping position.
Mini-pumps are available in high-volume and high-pressure options. With high volume being designed for mountain bikes and the high-pressure road-specific models that are capable of reaching 100psi and beyond.
While mini-pumps excel as practical and reusable offerings they can require a lot of effort to reach the desired tire pressures due to their small chamber size and slim shapes.
Sign up to the Cyclingnews Newsletter. You can unsubscribe at any time. For more information about how to do this, and how we hold your data, please see our privacy policy
Thank you for signing up to Cycling News. You will receive a verification email shortly.
There was a problem. Please refresh the page and try again.