Best mini bike pumps
The best mini bike pumps for all your roadside tire inflation needs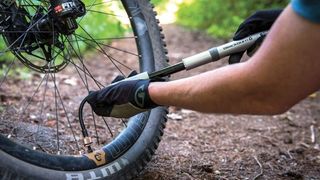 (Image credit: Blackburn)
Choosing the best bike pump is very much dependent on your tire inflation needs. If you're heading out into the wilderness, the portability and never-ending air supply of a mini-pump will be your best bet.
Mini-pumps are the best bike pumps for those looking for portability and repeated inflation. They are a pocket friendly evolution of the classic frame pump. While the frame pump has its advantages, a mini-pump is much easier to carry, and can be mounted beside the bottle cage for easy reach.
Pumps will attach to the valve with either a built-in valve head or a flexible hose stored inside the pump body. While screw-on hoses can present an extra fiddly stage, they reduce the stress on the valve itself and allow a more comfortable pumping position.
Mini-pumps are available in high-volume and high-pressure options. With high volume being designed for mountain bikes and the high-pressure road-specific models that are capable of reaching 100psi and beyond.
While mini-pumps excel as practical and reusable offerings they can require a lot of effort to reach the desired tire pressures due to their small chamber size and slim shapes.
Best overall
A small but powerful bike pump that will get you re-inflated and back on the road
Topeak has been keeping riders on the road by making innovative tools and pumps for a long time. The Race Rocket Master Blaster is a compact and lightweight pump that will easily fit into a jersey pocket and has a max rating of 120psi.
Neatly stored inside the pump body, an extendable hose is combined with Topeak's Smarthead Threadlock head. This head threads to the valve stem and allows both Presta and Schrader valves to be inflated without needing to change any fiddly internal parts.
Most durable
Presta-only mini pump that will keep going for years
Blackburn offers two versions of its Core pump, the slim road bike version is the high-pressure model which can achieve 120psi. As a nice added bonus Blackburn has paid close attention to build quality as well as product longevity by offering rebuildable internals.
The Core Slim Mini is pocketable but the pump is long so may be better frame-mounted with the included attachment. A rubber seal keeps the pump from extending when not in use and stops grit getting inside the pump body, there is also a rubber dust cap protecting the valve head.
The Core Slim is only compatible with Presta valves and features a thread on the head for a secure fit. A valve-core tool is screwed into the bottom of the pump in case you need to tighten your valves mid-ride.
Best design
Beautiful CNC design expected from Lezyne with some extra carbon bling
Lezyne has a well-deserved reputation for making high-quality precision CNC products, the Carbon Road Drive pump is no different, other than carbon fibre replaces the barrel and handle to reduce weight without sacrificing performance.
The long body pushes a good amount of air with each stroke to get you back on your bike more quickly. An ABS flex hose allows a comfortable position while pumping up tires and although the head is not compatible with Schrader valves it will work with both threaded and non-threaded Presta valves.
Lezyne wants its pump to last a long time, so if the seals become a bit worn or you accidentally lose the hose, there is a seal kit and replacement parts available.
Bluetooth-enabled
Premium build quality with bluetooth connection for digital smartphone display
The standout feature of the Silca Tattico Bluetooth mini-pump is the Bluetooth connectivity that facilitates a large-screen digital display of tire pressure by pairing with the iGauge app on your smartphone.
For Silca, the motivation behind using this system was the ability to continue using larger precision parts which result in a more accurate reading, without the need to add a cumbersome dial to what is an otherwise pocket friendly pump. For us using the product, the result is a mini-pump that can provide accurate (to one percent) readings at the side of the road. While not rechargeable, the infrequent use will undoubtedly result in a very long time before the CR2032 battery needs to be replaced.
As a standalone pump, it works flawlessly. The aluminum pump features an extendable hose for ease of connectivity, with a locking chuck that is compatible with both Presta and Schrader valves. The pump can handle pressures of up to 120psi which is more than enough for any roadside reinflation.
Of course, with the Silca name, you can expect an extremely high build quality and as such, the high price can be seen as an investment - don't expect to need to replace it for a long time.
Best value
Comes with a full glueless puncture repair kit included
This mini-pump and repair kit from Vibrelli offers exceptional value. For one thing, it comes with a glueless puncture repair kit included, so you're always prepared for that inevitable flat tire midway through your ride. But it's not just the added extras that make this great value. The quality of the pump, and the overall price tag, make it worth your consideration as well.
The 6061 aluminum alloy construction is made to last, and can stand up to the toughest of knocks, while the extendable telescopic handle makes it easy to switch between high-volume and high-pressure pumping to fill up to 120 PSI and get back on the road.
The head of the pump is compatible with both Presta and Schrader valves, and requires no adjusting or unscrewing. It automatically locks onto both valve types, with firm engagement and no leaks.
Most practical
Pro Bike Tool bike pump with gauge
The Pro Bike Tool mini pump includes a pressure gauge for accurate inflation, while the oversized piston design enables you to reach riding pressure with 30% fewer strokes compared to conventional mini-pumps. The flexible air hose design helps you reach awkward or tight valve placements, and cleverly stores away in the handle to keep everything compact.
Included on the hose is an integrated pressure gauge, helping you achieve your desired PSI with confidence, and it carries a maximum capacity of 100 PSI. The CNC-machined aluminum alloy construction offers a durable finish, and it's compatible with both Presta and Schrader valves and makes a tight connection to prevent leaking. No adapters needed to switch between the two valve types. It is however not compatible with non-threaded valve extenders, and you should take extra care if you have a Presta valve with a removable core.

Thank you for reading 5 articles this month* Join now for unlimited access
Enjoy your first month for just £1 / $1 / €1
*Read 5 free articles per month without a subscription

Join now for unlimited access
Try your first month for just £1 / $1 / €1
Mildred is a Reviews Writer for Cyclingnews who loves all forms of cycling from long-distance audax to daily errand-running by bike. She does almost everything on two wheels, including moving house, and started out her cycling career working in a bike shop. For the past five years she's volunteered at The Bristol Bike Project as a mechanic and session coordinator, and now sits on its board of directors. Since then she's gone on to write for a multitude of cycling publications, including Bikeradar, Cycling Plus, Singletrack, Red Bull, Cycling UK and Total Women's Cycling. She's dedicated to providing more coverage of women's specific cycling tech, elevating under-represented voices in the sport, and making cycling more accessible overall.
Height: 156cm (5'2")
Weight: 75kg
Rides: Liv Devote, Genesis Equilibrium Disc 20, Triban RC520 Women's Disc, Genesis Flyer, Whyte Victoria, Cotic BFe 26, Clandestine custom bike
Sign up to the Cyclingnews Newsletter. You can unsubscribe at any time. For more information about how to do this, and how we hold your data, please see our privacy policy
Thank you for signing up to Cycling News. You will receive a verification email shortly.
There was a problem. Please refresh the page and try again.