Best bike locks
The best bike locks will ensure your bike remains yours and prevent thieves from stealing your pride and joy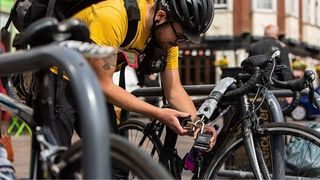 (Image credit: Hiplok)
Although your bicycle might not be the most expensive item you own, there is an inarguable emotional attachment to it, which makes bike theft an agonising experience, and a bike lock an essential for any cyclist.
If you commute to work, pop down to the store for groceries, or leave your bike latched to your car's bike rack outside a venue, without the security of sturdy bike lock there is always the risk of it not being there on your return. 
Bike theft is a scourge. It has been incentivised by the demand for pre-owned bikes and components, due to ever-growing retail prices. Thieves can quickly use online resources to calculate the expected returns from their illicit activity. 
To ensure that your bike is always where you parked it last, investing in a robust bike lock is paramount. Good bike locks are a one-time purchase and don't require replacement every other riding season – unlike most components. Their ability to guarantee – quite literally – the value of your bike, by keeping it in your rightful ownership is incalculable. 
 Types of bike lock 
Bike locks come in various shapes and sizes, including U-locks, foldable locks and more traditional chain or cable systems. 
U locks (also referred to as D locks) tend to be heavier, they can offer a considerable amount of security but can be limiting in their operation. Without the flexibility or length of chains and cables, the U lock is unable to be fed through multiple awkward routing points. On its own, a small U lock will need a small anchor point - it won't have the breadth to wrap around a lamppost. A U lock can be paired with a cable or chain to overcome its limiters, but be aware that any security claims offered by the U lock could be forfeited by a weak cable, enabling a quick bolt-cutter snip, before the thief can tackle the sturdy U lock in the privacy of their home. U locks often come with a frame-mounted bracket which enables simple, secure transportation, and reduces the likelihood of leaving it at home. 
Cable or chain locks both function comparably, but their construction differs, of course. Cables tend to be more compact, as they are often coiled by design, and occasionally also come with a frame-mounted bracket. Both are generally encased in either a plastic or fabric layer as a frame-damage preventative. A chain lock will often be heavier than its cable counterpart and can be noisy in transportation - for which wrapping around a section of the frame is sufficient but a rucksack may be preferred. Some brands go further and design locks to be wearable.
The length and thickness will vary depending on manufacturer and price-point. As expected, more thickness will invariably equal greater security, and length will dictate whether or not you can route via both wheels. 
There are a few additional variations in construction, such as a fabric-based cable or even a basic zip-tie option for the very quick cafe stop. 
Folding locks work similarly again, but are made from solid sections that are hinged at each end. This can be unfolded to create a loop, then folded again to create a 'brick-like' shape that is easy to transport.
 Key bike locks vs combination bike locks 
The two most common locking methods utilise either a key or a combination. Both have their merits, and both have their pitfalls. 
A combination lock can be susceptible to prying eyes. If the wrong person knows your combination, expect your steed to bolt from the stable. At the cheaper end of the market, a combination lock can be hacked without the need for tools. 
A key lock can be less prone to compromise, however, if ever you leave your keys on the train, you could be left having to 'steal' your own bike from the station. 
No matter the variant, bike locks are like front door mechanisms: they work on the principle of very close mechanical tolerances and don't enjoy too much water or environmental contaminant ingress, which can lead to rust or jamming. 
Some locks have weather-proof covers which protect the keyhole, but all bike locks can benefit from similar care to what you'd apply to any drivetrain chain or suspension stanchion in terms of preventative maintenance. Clean, dry and lube them – for longevity and frustration-free locking performance.
 Insurance requirements 
Most insurers have minimum locking requirements to ensure a bike is covered in the event of theft. This varies by insurer, so it's worth checking your own provider's minimum requirements before investing. 
Sign up to the Cyclingnews Newsletter. You can unsubscribe at any time. For more information about how to do this, and how we hold your data, please see our privacy policy
Thank you for signing up to Cycling News. You will receive a verification email shortly.
There was a problem. Please refresh the page and try again.