Best bike locks
The best bike locks will ensure your bike remains yours and prevent thieves from stealing your pride and joy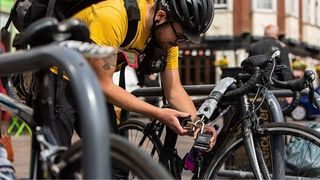 (Image credit: Hiplok)
Although your bicycle might not be the most expensive item you own, there is an inarguable emotional attachment to it, which makes bike theft an agonising experience, and a bike lock an essential for any cyclist.
If you commute to work, pop down to the store for groceries, or leave your bike latched to your car's bike rack outside a venue, without the security of sturdy bike lock there is always the risk of it not being there on your return.
Bike theft is a scourge. It has been incentivised by the demand for pre-owned bikes and components, due to ever-growing retail prices. Thieves can quickly use online resources to calculate the expected returns from their illicit activity.
To ensure that your bike is always where you parked it last, investing in a robust bike lock is paramount. Good bike locks are a one-time purchase and don't require replacement every other riding season – unlike most components. Their ability to guarantee – quite literally – the value of your bike, by keeping it in your rightful ownership is incalculable.
Types of bike lock
Bike locks come in various shapes and sizes, including U-locks, foldable locks and more traditional chain or cable systems.
U locks (also referred to as D locks) tend to be heavier, they can offer a considerable amount of security but can be limiting in their operation. Without the flexibility or length of chains and cables, the U lock is unable to be fed through multiple awkward routing points. On its own, a small U lock will need a small anchor point - it won't have the breadth to wrap around a lamppost. A U lock can be paired with a cable or chain to overcome its limiters, but be aware that any security claims offered by the U lock could be forfeited by a weak cable, enabling a quick bolt-cutter snip, before the thief can tackle the sturdy U lock in the privacy of their home. U locks often come with a frame-mounted bracket which enables simple, secure transportation, and reduces the likelihood of leaving it at home.
Cable or chain locks both function comparably, but their construction differs, of course. Cables tend to be more compact, as they are often coiled by design, and occasionally also come with a frame-mounted bracket. Both are generally encased in either a plastic or fabric layer as a frame-damage preventative. A chain lock will often be heavier than its cable counterpart and can be noisy in transportation - for which wrapping around a section of the frame is sufficient but a rucksack may be preferred. Some brands go further and design locks to be wearable.
The length and thickness will vary depending on manufacturer and price-point. As expected, more thickness will invariably equal greater security, and length will dictate whether or not you can route via both wheels.
There are a few additional variations in construction, such as a fabric-based cable or even a basic zip-tie option for the very quick cafe stop.
Folding locks work similarly again, but are made from solid sections that are hinged at each end. This can be unfolded to create a loop, then folded again to create a 'brick-like' shape that is easy to transport.
Key bike locks vs combination bike locks
The two most common locking methods utilise either a key or a combination. Both have their merits, and both have their pitfalls.
A combination lock can be susceptible to prying eyes. If the wrong person knows your combination, expect your steed to bolt from the stable. At the cheaper end of the market, a combination lock can be hacked without the need for tools.
A key lock can be less prone to compromise, however, if ever you leave your keys on the train, you could be left having to 'steal' your own bike from the station.
No matter the variant, bike locks are like front door mechanisms: they work on the principle of very close mechanical tolerances and don't enjoy too much water or environmental contaminant ingress, which can lead to rust or jamming.
Some locks have weather-proof covers which protect the keyhole, but all bike locks can benefit from similar care to what you'd apply to any drivetrain chain or suspension stanchion in terms of preventative maintenance. Clean, dry and lube them – for longevity and frustration-free locking performance.
Insurance requirements
Most insurers have minimum locking requirements to ensure a bike is covered in the event of theft. This varies by insurer, so it's worth checking your own provider's minimum requirements before investing.
Best overall
An incredibly strong lock with the reputation to back it
For those who want the largest possible chassis to secure their bike, Kryptonite's New York M18 is the answer. Kryptonite is an American brand with nearly five decades of bike lock history and specialises in U-locks. The New York M18 features an 18mm diameter shackle body, which is stouter the Abus Granit Extreme 59, yet manages to weigh 60g less. It is an incredibly strong lock and the only aspect where an Abus is superior, would be weatherproofing.
Kryptonite is an American U-lock original, having been in business since the 1970s. Its designs are proven, prioritising strength and function above fashion. The result is a heavy lock, not suited to daily backpack commuting – but with stellar strength and security features. It would make for an ideal leave-at-work lock.
Despite featuring a bulkier 18mm shackle, the M18 manages to be slightly lighter than the largest Abus locks. Massively strong and genuinely affordable, you can't get more security for less. Ultimate weather sealing might not be comparable to the Abus, but this is an ideal home lock for your bikes.
For multiple bikes
Pair with a U lock to secure components or other bikes
If you have multiple bikes and want to secure them together, or you have expensive wheels and you want to keep them from being stolen, then this security cable is designed just for you. Pair it with any of the U locks we've featured here to offer the security of the U lock with the flexibility of a cable.
This cable is designed with 10mm steel braids, wrapped in a weather-proof vinyl cover and double looped at the ends for locking.
Budget option
Low cost cable combination lock
If you're looking for something that will deter the thieves for more than five minutes but don't want to break the bank, then this Sportneer combination chain is the ideal solution. With its five-digit combination, it'll stave off any opportunists looking for a quick getaway, and the zinc-coated steel chain links will keep tooled-up thieves at bay long enough for you to call the cops.
At 3.2 feet long, should easily wrap around your frame, rear wheel and your chosen lamp post, and the cloth sleeve will prevent your bike being scratched.
Most flexible
Flexible for awkward areas but very heavy and expensive for medium/high security rating
For those looking for the most flexible, most portable answer to high-level bike security, then the super heavy duty CityChain 1010 is definitely one of the best.
While it gets a Gold 'sold secure' rating and a 12 out of 15 from Abus, it only scores 2 out of 5 from ART. The 9mm links are relatively easy to get through with grinder or large bolt croppers and the while it's hard to pick, the lock can be vulnerable to a sledgehammer attack if the thief can get it onto the ground.
Nothing beats a chain lock for maximum flexibility and use in awkward spaces but the CityChain weighs a ton while still only offering mid/high security. There are better options around but be prepared to spend more.
Most packable
A neatly packaged deterrent against opportunist thieves but not proof against pros
The 440g folding lock from Abus is super convenient and still beats most cable locks for security, but it can't quite match the security of heavier D-locks and chains.
In terms of carrying and convenience, the Bordo Lite 6055 is brilliant. The mount is really well designed and it's small enough to slip into a pocket or bag and not so heavy it'll be too obvious if you do. Abus' rating of 7 out of 15 ranks it as more secure than all but one of its cable locks, too.
While it's vulnerable to tooled-up attackers, the Bordo Lite is certainly enough to stop an opportunist thief and its low weight, compact size, smart mount and general convenience make it a decent - if pricey - medium-security option.
Best for commuters
For the daily commuter, this is ergonomic excellence
If you are concerned about lugging a heavy bike lock in your backpack while commuting, a lightweight solution which does not sacrifice security is the Hiplok DX. At only 1120grams, it will hardly bother you stowed in a backpack or attached to your belt, yet still offers significant safety.
An astute concept which merges the structural strength of a traditional U-lock with low mass and outstanding portability.
The Hiplok DX does what its name implies, enabling a rider to secure this lock to a belt or shoulder strap, thanks to prongs moulded into its chassis.
Although the 14mm shackle diameter might not be as large as some rivals, none can compete with the Hiplok's remarkably low weight. If you value portability and desire the security of a U-lock, this is a compelling alternative.
Wearable
Wearable design offers backpack-free Gold security
One of the biggest inconveniences with transporting locks is that unless you attach the lock to the frame, which can be inadvisable on some bikes, or you have a pannier rack fitted, then you will likely need to resort to carrying a backpack. The Hiplok Gold solves this with a simple buckle design that allows the lock to be worn as a belt when riding so you aren't subjected to a sweaty back when riding or left carrying an empty backpack around once your destination has been reached.
The Hiplok Gold is a solid lock as well, the 10mm chain and 12mm shackle construction has a Gold rating from the independent tester Sold Secure. The Hiplok has an 85mm locking diameter which should be enough to get around most street furniture to secure your frame and a wheel.
Mildred is a Reviews Writer for Cyclingnews who enjoys everything from road cycling to mountain biking, but is a utilitarian cyclist at heart. Determined to do everything on two wheels, she's even moved house by bike, and can regularly be found pedalling around Bristol and its surrounding areas. She's spent over four years volunteering as a mechanic and workshop coordinator at the Bristol Bike Project, and now sits on its board of directors. Her expertise comes from previously working in a bike shop and learning the ins and outs of the industry, and she's previously written for a variety of cycling publications, including Bikeradar, Cycling Plus, Singletrack, Red Bull, Cycling UK and Total Women's Cycling. At home on slicks and knobblies alike, her ideal ride covers long distances through remote countryside, on mixed terrain that offers a bit of crunch, followed by a gourmet campfire meal and an overnight bivvy beneath the stars.
Sign up to the Cyclingnews Newsletter. You can unsubscribe at any time. For more information about how to do this, and how we hold your data, please see our privacy policy
Thank you for signing up to Cycling News. You will receive a verification email shortly.
There was a problem. Please refresh the page and try again.