Best action cameras for cycling 2023 – Capture and share the highlights of your ride
The best action cameras are small and tough, yet offer impressive image stabilisation, perfect for capturing your rides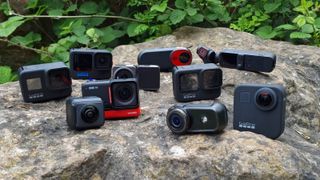 (Image credit: Mildred Locke)
Whether you're a budding filmmaker or you just like to collect memories you can relive and share later, investing in the best action camera for cycling takes time and a lot of decision-making, because there are just so many options. The market is saturated with high-quality sports cameras that, on top of video, also offer a wealth of photo and time-lapse features, as well as live streaming and GPS tracking.
Action cameras have become a huge industry and now offer a wealth of features beyond simply being a small, waterproof and crash-proof camera that can be mounted to anything. Depending on the kind you get, they can also double as a safety mechanism, as they offer the opportunity to capture close passes and any other bad behaviour on the road. The offerings from Garmin and Cycliq, for example, could also qualify as one of the best bike lights as well as cameras. Despite all these extra features, choosing the best action camera for cycling doesn't have to boggle your brain. We're here to help you narrow down your options and choose the right camera for your needs and budget.
The list of requirements of an action camera for cycling is likely to be different to that of deep-sea divers or holiday adventurers. While depth rating is likely to be low on the priority list, things such as battery life, low-light picture quality and fitment simplicity will hold more weight in the decision-making process.
Keep reading for our pick of the best options available, and beneath that you'll find a guide with some of the key considerations to make when picking an action camera.
Best action cameras for cycling
Why you can trust Cyclingnews Our expert reviewers spend hours testing and comparing products and services so you can choose the best for you. Find out more about how we test.
Modular design allows the One R to adapt to the action
Specifications
Video quality:
4k/60fps (wide angle capture), 5.7K at 30 fps (360 mode)
Image stabilisation:
Electronic
Battery life:
Up to 1 hours (claimed)
Dimensions:
72mm x 48mm x 32.4mm
Reasons to buy
+
Modular system gives huge scope for video options
+
High-quality video capabilities
+
Video stabilisation
+
360 footage editing in Adobe Premiere
Reasons to avoid
-
Lacks FPS and resolution to match GoPro
-
Voice control requires yelling
-
Memory card compartment is hard to close
The Insta360 One RS really impressed our reviewer, thanks to its modular design that allows you to switch out lenses to build a versatile setup suited to your shooting requirements. There are three lenses available for the One R - a 4K wide-angle lens, a 5.7K 360 module and a 5.3k Leica engineered 1-inch sensor unit - as well as options for bigger batteries, dive cases and drone mounts.
The Twin Edition, as we've got here, comes with two lens options: the 4K wide-angle lens and the 5.7K 360 lens, the latter of which captures footage of its entire surroundings, which you can later edit to choose your preferred angle in post.
Admittedly in terms of video quality, the Insta360 isn't quite up to par with GoPro, which is arguably the leader of the action cameras market. However what it does offer is flexibility, versatility, and upgradability. With the Insta360 One RS camera you gain the ability to choose the best solution for your creative vision and - particularly when it comes to the 360 lens - you aren't locked into a single direction.
For many cyclists, the Insta360 One RS will be a bit overkill, and it's definitely more of a filmmaker's tool than a commuter cyclist's safety product. The quantity of video and photo modes is almost overwhelming, however video makers that are willing to experiment and explore will be rewarded with features such as Auto Framing, Point to Track and Shot Lab transitions.
For more details, check out our review of the Insta360 One RS.
GoPro Hero 10 Black
The top-tier offering from GoPro with all the bells and whistles
Specifications
Video quality:
5.3K/60p, 4k/120fps, 2.7K/240p
Image stabilisation:
Electronic
Battery life:
Up to 3 hours 30 minutes
Dimensions:
71 x 55 x 34 mm
Reasons to buy
+
5K video quality, time lapse and slo-mo modes
+
User-friendly interface
+
Hypersmooth 4.0 image stabilisation is second to none
+
Built-in mounting points
+
Front display is great for vlogging
Reasons to avoid
-
Requires a subscription to export files quickly and easily
-
Suffers from overheating problems
-
Very pricey, best left to the professionals
The latest addition to GoPro's lineup, the Hero 10 Black sits at the top of the range with all the bells and whistles a budding filmmaker or professional could ask for. Building upon the success of the Hero 9 (listed below), the Hero 10 comes with more power, higher quality and class-leading image stabilisation.
It isn't quite a gamechanger in the lineup, in the sense that it's a more refined version of the Hero 9, rather than a significant step up the ladder. But the refinements are noticeable, namely in the introduction of Hypersmooth 4.0 image stabilisation which is second to none. Included among its features are TimeWarp 3.0 (a smooth time-lapse mode) and 8X Slo-Mo.
This means if you're serious about taking super smooth and ridiculously high definition footage ⁠- e.g. for professional TV and filmmaking - then you will absolutely benefit from the increased quality and power that comes with the Hero 10. However, if you're simply wanting to capture some memories, start a vlog, or film your commute for safety reasons, then the Hero 10 will probably be a bit overkill.
Physically, it's almost identical to, albeit slightly lighter in weight than the Hero 9 (although only by a few grams), whereas the Hero 8 is a much smaller and lighter option with a front display, if this is important to your decision-making process.
Being a GoPro, it comes with a plethora of mounting options. The mounting point is built into the body of the camera itself (there are two 'legs' at the bottom which you unfold and then screw into place), and you can choose from a wide variety of accessories should you wish, in order to mount it to your handlebar or helmet, strap it to your chest, or hold it with via a grip.
It's a pricey option, which is why we recommend this more for the professionals who are paying for the extra special quality. Included in the price is a 32GB SD card and rechargeable battery.
A truly versatile action camera fit for cyclists
Specifications
Video quality:
5k/30fps, 4k/60fps, 1080p/240fps, 720p/240fps
Image stabilisation:
Electronic
Battery life:
Up to 1 hour 40 minutes
Dimensions:
71mm x 55mm x 34mm
Reasons to buy
+
Inbuilt mounting points
+
5K video quality, time lapse and slo-mo modes
+
Decent battery life: up to 3 hours at 1080p
+
Front display great for vlogging
Reasons to avoid
-
Requires a subscription to export files quickly and easily
-
Slightly larger and heavier than the Hero 8
-
Connectivity is a bit erratic
Once the flagship model, the GoPro's Hero 9 Black is now second in line, but this doesn't make it any less good. While some of its features are a step down from the Hero 10's — it comes with HyperSmooth 3.0 instead of 4.0, for example — it still offers exceptional quality footage and image stabilisation for the majority of people's needs.
It's another one that would work well for professionals, but suits the amateur just as easily, particularly one who's developing their skills and beginning to upgrade their equipment.
The Hero 9 shares many similarities with the Hero 10 listed above - they're almost identical in size, weight and layout, though the Hero 9 does suffer from a less responsive touchscreen and navigation, which can be irritating at times.
Unlike the Hero 10, the Hero 9 can film at slightly lower resolutions, like 1080p, which still offers decent quality visuals, but requires significantly less processing power in order to edit and publish. Battery life is great when sticking to 1080p filming, and I managed to get a full three hours of footage out of it before it died.
Our GoPro Hero 9 Black review has even more detail.
GoPro Hero 8 Black
A more affordable option for budding vloggers and casual capturers
Specifications
Video quality:
4k/60fps, 1080p/240fps, 720p/240fps
Image stabilisation:
Electronic
Battery life:
Up to 1 hour 20 minutes
Dimensions:
62.3mm x 44.9mm x 33mm
Reasons to buy
+
Incremental but noticeable improvements in video quality and stabilisation
+
GoPro Mods extend function to enhance video capabilities
+
Front display works well for vlogging, although it's much smaller than the Hero 9 and 10.
Reasons to avoid
-
Inbuilt mic is still vulnerable to wind noise
-
Hero 8 no longer waterproof when used with the Media Mod
With the Hero 7 and its predecessors now discontinued, the Hero 8 is GoPro's most affordable offering. It's much smaller than the 9 and 10, making it more discrete and slightly less demanding of handlebar space. Like its stablemates, it comes with a front display, making it a good option for vloggers and selfie-takers, though due to its smaller size overall, naturally, the screen is also pretty minuscule.
Still, while the technology has been surpassed, it still delivers excellent quality video and image stabilisation in the form of Hypersmooth 2.0 and TimeWarp 2.0, so you can achieve decent time-lapse footage as well, plus it's still capable of filming in 4K.
The Hero 8 is also compatible with various GoPro Mods: features that allow you to boost the capabilities of the standard camera, meeting the increasing demands of vloggers and home filmmakers.
If you want to benefit from a GoPro but don't feel you need the latest and greatest model, the Hero 8 will serve you well.
DJI Osmo Action
A two-screened alternative to GoPro, with great features and a simple-to-use interface
Specifications
Video quality:
4k/60fps, 1080p/240fps, 720p/240fps
Image stabilisation:
Electronic
Battery life: :
Up to 2 hours (estimated)
Dimensions:
65mm x 42mm x 35mm
Reasons to buy
+
Dual screen
+
User-friendly
+
High-quality video capabilities
+
Video stabilisation
Reasons to avoid
-
Can't stabilise 4k/60fps video
DJI is a big player in the drone market and is now making some of the best action cameras, vying for the top spot with its feature-packed Osmo Action.
A robust exterior features a unique front colour screen which makes framing simple when setting up shots, taking selfies or vlogging. This is combined with a video mode that will automatically detect faces to base exposure metering, which will make the Osmo Action an appealing option for those that frequently turn the camera on themselves.
The Osmo Action can shoot sharp colourful HDR footage up to 4k/60fps and DJI's own RockSteady stabilisation technology does a great job of smoothing out vibrations. A responsive rear touch screen allows easy navigation of settings or video playback.
Cycliq Fly 6 Gen 3
Best action camera for cyclists who want to record their ride in the event of an accident
Specifications
Video quality:
1080p/30fps, 1080p/60fps, 720p/60fps, 720p/120fps
Image stabilisation:
Six-axis
Battery life:
Up to 7 hours
Dimensions:
84mm x 35mm x 44mm
Reasons to buy
+
100 lumen light
+
Deletes old footage on a loop
+
Seven-hour battery life
+
'Black Box' auto incident detection
Reasons to avoid
-
Not the brightest rear light by comparison
Cycliq's Fly 6 isn't quite an action camera in the traditional sense, but when many cyclists look to action cameras, it's not the 4K footage, live streaming capability and deep-sea diving compatibility of the camera they're looking for. Much of the time, the best action cameras for cyclists offer a simple function of being able to record the ride, in the event of an incident or accident. Now in its third generation, that's exactly what Cycliq's Fly 6 offers.
Integrated into a 50-lumen rear light, the camera offers highly stabilised 1080p / 720p footage at up to 120fps, shooting at a 135-degree angle. The footage is stored on a removable SD card (compatible up to 32GB), which when it fills up, will automatically wipe the oldest footage to provide a continuous recording of the most recent footage.
However, the Fly 6 Gen 3 comes with what the brand calls 'Black Box' technology — automatic incident detection that auto-saves footage when a crash is detected. This means it will cleverly preserve the footage from the incident and not overwrite it, so you can rest assured it will still be there when you return home.
Best crash-detecting rear light camera for those already using Garmin's eco-system
Specifications
Video quality:
1080p/30fps, 720p/30fps
Battery life:
4 hours solid or night flash, 5 hours peloton, 6 hours day flash
Dimensions:
106.5 x 42.0 x 31.9 mm
Reasons to buy
+
Rear light and Varia functionality continues to be amazing
+
USB-C charging
+
IPX7 exceeds the competition
+
Controllable via some Garmin head units
+
Good battery life
Reasons to avoid
-
Lacks image stabilisation
-
Video isn't good enough to catch low-light licence plates
If you're already a Garmin user, then this addition to its ecosystem could be a welcome sight. Not only is the Garmin Varia Radar a good rear bike light in itself, but the RCT715 also offers excellent functionality that seamlessly pairs with your other Garmin devices. This means you can control it remotely from your head unit (dependent upon which model you're using), and use the same apps you're already familiar with to download your footage.
Similarly to the Cycliq Fly 6 listed above, Garmin's Varia Radar RCT715 also offers automatic incident detection, which isolates the important footage from the rest and preserves it while the recording continues to loop and overwrite older footage. Compared to the Fly 6, the Varia Radar is more affordable and comes with a lot of device and app connectivity potential. For many, this may seem a no-brainer.
However, it's important to note that it does have some downsides. It lacks 4K video, namely to keep the battery life maximised, and the key issue our reviewer discovered was that in low-light conditions, the lack of image stabilisation meant that it was impossible to decipher car number plates, which would prove to be unhelpful should you be involved in an incident after sundown.
Still, it's a worthwhile investment that our reviewer had a lot of praise for in our Garmin Varia Radar RCT715 review.
GoPro Max 360
A 360-degree camera that offers a range of post-processing options to make professional-looking video accessible to all
Specifications
Video quality:
6k/30fps, 3k/60fps
Image stabilisation:
Post-production
Battery life:
Up to 1 hour 18 minutes (estimated)
Dimensions:
69mm x 64mm x 25mm
Reasons to buy
+
Overcapture stops you missing the action
+
Stabilisation
+
GoPro build quality
Reasons to avoid
-
File management
-
Standard view lacks top-end quality
While creating 360-degree content can offer both immersive virtual reality content or super abstract angles it's actually the GoPro Fusion's Overcapture and Max HyperSmooth Video Stabilization features that are the real selling points.
Recording full 360-degree video, you can reframe it in post-production using the GoPro app to get the perfect shot. Gone are the days of poor framing and missed moments behind the camera. The footage is automatically stabilised in post-production using the Fusion Studio app and produces unrivalled gimbal-like footage.
GoPro isn't alone in the 360-degree camera market but the Max manages to pack a bunch of features, extra sensors and voice control into a classically rugged waterproof GoPro design making it appealing for hectic action sports and creative filmmakers.
DJI Osmo Pocket
Designed for less extreme conditions, the three-axis gimbal and face tracking technology make it a vlogger's best friend
Specifications
Video quality:
4k/60, 1080p/120fps
Image stabilisation:
Mechanical three-axis gimbal
Battery life:
Up to 1.5 hours (estimated)
Dimensions:
121.9mm x 36.9mm x 28.6mm
Reasons to buy
+
Mechanical gimbal stabilisation
Reasons to avoid
-
Very delicate and easily breakable
-
Poor audio quality
Although the DJI Osmo Pocket doesn't offer the rugged exterior of an action camera, if you're looking for a camera to simply record the action rather than being a part of it, the Osmo Pocket has a unique feature.
The Osmo Pocket is built around a three-axis mechanical gimbal that promises to put all electronic stabilisation to shame and produce smooth professional-looking footage. The gimbal has further party tricks in the form of ActiveTrack which follows a selected subject keeping them in frame and Motionlapse to create perfect panning time-lapses.
Unsurprisingly this spinning gimbal mechanism is not very robust and isn't designed to be strapped to a helmet and ridden down a mountain in the rain. However, if you are looking for a pocket-friendly camera that can produce professional shots for vlogging then the Osmo Pocket is going to fare well.
How to choose the best action camera for cycling
Pre-2006, filming action sports was very different. Bulky camcorders weren't waterproof or tough enough and if you wanted a point of view (POV) action shot it would involve an element of DIY'ing to make mounts or harnesses. Now action cameras can be easily mounted to almost anything, record your adventures in 4K video with built-in stabilisation and be shared straight to social media.
The most important consideration when buying a new action camera is what you plan on using it for. While most cameras can record high-quality video and take photos, it is important to consider what other features are a priority. A wide array of video, photo, time-lapse and connectivity options as well as stabilisation, waterproofing and build quality make this decision more complicated.
What video quality do I need?
Action cameras have been capable of shooting in full HD for a while now and many are now able to record 4k plus everything in between. If you want to record slow-motion action look for cameras with high frames per second (FPS) settings, 240fps will allow footage to be slowed down by 8x and even budget cameras will allow at least 2x.
With the rise in popularity of vlogging and producing video edits, high-end cameras offer advanced features to achieve the highest quality. Higher quality optics, stabilisation and audio make a huge difference to a video's quality as well as the ability to record in advance log format. Log formats such as GoPro's Protune or DJI's D-LOG settings capture more data and allows greater flexibility when editing in post-production.
Do I need image stabilisation?
There have been several big advancements in stabilisation recently as camera manufactures try to smooth footage to make the content shot in bumpy environments more watchable. Optical stabilisation offers the best results however electronic stabilisation such as GoPro's HyperSmooth are very capable of removing the camera shake effectively. Even budget cameras are starting to see the benefit of image stabilisation although do not expect the same results as the top of the range models.
Should I get a touchscreen camera?
A touchscreen is the most popular method of control and allows easier shot framing, menu navigation and video replay. However, touch screens are useless in environments that are very wet or require gloves, if you ride in all weathers it's worth considering whether important shooting modes are still accessible through buttons.
Should my camera connect to an app?
Most camera manufacturers offer a mobile phone app that allows remote camera control, video playback and uploads to social media. Some apps have editing features to combine clips and add music before uploading allowing quick edits to be shot, edited and uploaded without needing a computer.
Where should I mount my camera on my road bike?
This all depends on what you're trying to achieve, but generally the most common places to mount an action camera is to the handlebars or beneath the saddle. Depending on how much real estate you have up front, you may want to opt for an upside-down mounting, which doesn't usually affect the footage.
Filming at the front of your bike allows you to capture the open road, whereas filming at the back will allow you to capture footage of your friends and fellow riders, as well as approaching passing drivers.
The latest race content, interviews, features, reviews and expert buying guides, direct to your inbox!
Mildred joined as Reviews Writer for Cyclingnews and BikePerfect in December 2020. She loves all forms of cycling from long-distance audax to daily errand-running by bike, and does almost everything on two wheels, including moving house, and started out her cycling career working in a bike shop. For the past five years she's volunteered at The Bristol Bike Project as a mechanic and session coordinator, and now sits on its board of directors.
Since then she's gone on to write for a multitude of cycling publications, including Bikeradar, Cycling Plus, Singletrack, Red Bull, Cycling UK and Total Women's Cycling. She's dedicated to providing more coverage of women's specific cycling tech, elevating under-represented voices in the sport, and making cycling more accessible overall.
Height: 156cm (5'2")
Weight: 75kg
Rides: Stayer Groadinger UG, Triban RC520 Women's Disc, Genesis Flyer, Marin Larkspur, Cotic BFe 26, Clandestine custom bike
The latest race content, interviews, features, reviews and expert buying guides, direct to your inbox!
Thank you for signing up to The Pick. You will receive a verification email shortly.
There was a problem. Please refresh the page and try again.