Best indoor cycling fans
Turn down the heat in your pain cave with our pick of the best bike fans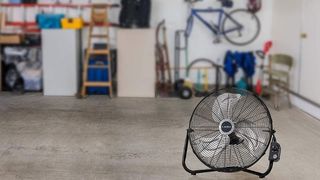 (Image credit: Lasko)
Indoor cycling is a great way to keep on top of your training over winter, but the temperature sure can climb very quickly while you're at it. You may find yourself getting a lot more sweaty than usual while training inside. That's because sweat is the way your body sheds heat, and when you're outside it evaporates. Inside, however, it stays right where it is: on you. 
The impact this has on your training goes beyond feeling wet. With a layer of sweat that won't evaporate, you heat up even more, causing you to sweat even more. With all this loss of fluid, you dehydrate more quickly, and your blood starts to thicken, which causes your heart to pump even harder. Suddenly an indoor bike ride is extremely hard work. Not only do you feel extremely uncomfortable, but your power output plummets at the same time, potentially making all your efforts a waste of time.
That's why it's crucial to stay cool and hydrated while cycling indoors, and one of the best ways of turning down the heat is installing a fan to try to replicate the feel of the outdoors.
Unfortunately it's not as simple as grabbing that fan from another room in your house, you know the one, that oscillates left and right to get the air circulating? That's not going to cut it here. You need a fan that's more suitable for indoor cycling, but don't worry, here's a breakdown of everything you need to consider, along with our recommendations for a great indoor cycling fan.
Cubic feet per minute (CFM)  
CFM represents how much air a fan can project in a minute, and is a very useful measurement to help you determine that a fan is going to adequately cool your pain cave. For indoor cycling enthusiasts, you ideally need a fan that has 7,500 CFM or higher. If you're unable to achieve that, then you'll really benefit from having two less powerful fans. If you do this, resist the urge to have a fan in front, and place one on each side of you instead. This is the best way to maximize the amount of air that actually hits your body. As a final thought, you might want to get a remote to switch the fan on, so you can turn them on when you need them, rather than starting out your ride shivering.
Directional vs oscillating
Most household fans will move left and right, as a way of improving air circulation and cool down the entire room. However when you're in your pain cave, the only cooling that needs to happen is on your body. So get a directional fan that stays exactly where it needs to be: on your body.
After all, when you're cycling indoors, you're cycling on the spot. Faster airflow will always trump the amount of air being produced. What you ideally need is a floor-based directional fan that has a high CFM. That way it will project a lot of air, directly at you.
Sign up to the Cyclingnews Newsletter. You can unsubscribe at any time. For more information about how to do this, and how we hold your data, please see our privacy policy
Thank you for signing up to Cycling News. You will receive a verification email shortly.
There was a problem. Please refresh the page and try again.