Best cycling gloves
Our pick of the best full- and half-finger cycling gloves available for your riding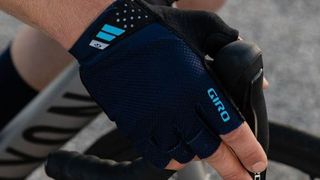 (Image credit: Giro)
There is nothing worse than road rash on your palms. Luckily, today's best cycling gloves offer a simple way around the problem. They come in all different weights, and may also have padding, insulation and waterproofing.  In the northern hemisphere, it's the season for summer gloves but if you live in the southern hemisphere check out our winter cycling gloves guide for riding gloves to keep the hands warm.
Road cycling gloves come in both half- and full-finger options, and different levels of padding if they have any at all. Some are designed for adding comfort, while others are claimed to be a bit more aero than your skin. But all gloves, no matter their intended purpose, will offer a degree of protection from abrasion.
Scroll down for our look at our pick of the available cycling gloves for riding during the summer, plus our guide on how to choose cycling gloves.
Fit
Cycling gloves will fit differently depending on their weight, but, generally, look for a snug fit that doesn't inhibit dexterity or inhibit range of motion. Gloves that are too tight may cut off circulation; too loose and the glove can bunch and cause hotspots, or even blisters.
Palm
Cycling gloves come with all different levels of padding, with racing mitts offering minimal cushioning all the way to plush gel-padded versions designed to keep your palms comfy for hours on end.
There are a couple of different schools of thought when it comes to padding. Most brands prioritize cushioning the heel of your hand, while other brands like Specialized are placing the padding in the middle of the palm to relieve nerve pressure. What works for you comes down to personal preference and the terrain you're riding – glassy Swiss tarmac won't require padded cycling gloves, while hours of washboard gravel likely does.
Most cycling gloves will have a synthetic leather palm, which breathes well and stands up to general wear, tear and abrasion.
Half finger vs long finger
Half-finger cycling gloves - or mitts - are the norm for road riding, and will have a lightweight, breathable material over the back of the hand and a synthetic-leather palm to protect against abrasion. With your fingertips unencumbered, there's no loss in dexterity, and you'll be able to use smartphones and touchscreens with ease. 
But half-finger gloves aren't perfect, and there are several reasons you might want to steer clear. For example, they're not as safe as full-finger gloves simply down to having less skin coverage. In colder weather they're less comfortable, they're pretty tricky to get off your hands sometimes, and let's not forget the resulting tan line.
We will usually don lightweight full-finger gloves when lining up for a crit, in case of a pile-up, or on a mixed-surface ride.
Nose wipe
If you're anything like us, the moment you begin to pedal, your nose also starts to run. Look for cycling gloves with a nose wipe on the thumb that is made from fleece or terry cloth as the material is softer on the skin and provides better camouflage for stowaway boogers.
Sign up to the Cyclingnews Newsletter. You can unsubscribe at any time. For more information about how to do this, and how we hold your data, please see our privacy policy
Thank you for signing up to Cycling News. You will receive a verification email shortly.
There was a problem. Please refresh the page and try again.