Best bike phone mounts
By Mildred Locke published
Keep your cellphone in the most convenient place with our pick of the best bike phone mounts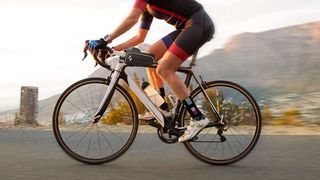 (Image credit: Opamoo)
Whether you're heading out on an all-day ride or your daily commute, it's always helpful to have your cellphone to hand. You may need to keep an eye on your messages and emails as they come through, or perhaps you're using your phone to navigate, rather than shelling out on an expensive GPS computer. Either way, it's better to keep both hands on the handlebars, so having your cell out where you can see it makes life on the bike a lot easier.
That's where a phone mount comes in. Most phone mounts for bikes are easily attachable to the handlebars, and will grip your phone in place so you can see your screen just by glancing down. The way they attach and hold your phone will differ, and it's important to find a model that suits your riding style. After all, if you're going off-road, you need to ensure your mount can handle the rough terrain. The last thing you want is to see your precious phone plummeting into the mud.
So here's our guide to how to choose the right phone mount for your ride, followed by our pick of the best ones available.
Mounting method
How you secure your phone to your bike will depend on the type of mount attachment. Most mounts are small plastic brackets you attach to your bike, and then clip your cellphone into, while others are transparent pockets to keep the water out. Some will clip to your handlebars, while others will velcro to your frame. Some come with added storage.
Most of the mounts listed here have a universal bracket, as it's the most simple and easy style that will suit the majority of people. Sometimes you'll need to consider the model and size of your phone, for example if the phone is held at the corners rather than the sides.. These types of mounts will often allow you to maneuver your phone to adjust the angle, and choose between mounting it in portrait or landscape.
You can also get phone mounts that are integrated within a frame bag. This means your phone will be protected by a (most likely) waterproof cover, and will attach to your frame rather than directly to your handlebars, keeping your cockpit clear of clutter. The advantage of a frame bag phone mount is that you get bonus storage, though if you're opting to have your screen covered, it's important to note that these don't work with Touch ID.
Compatibility
The real deciding factor for you will most likely be which type of mount works best with your phone. They come in various sizes and have different ways of accommodating a variety of phones. But it's still best to double check before you purchase that your specific model or size of phone will fit firmly within the mount. The last thing you want is to see it rattling around. Of course, if you're on a contract and likely to be changing or upgrading to a different model in the near future, consider holding off on purchasing a non-universal mount.
Best value
360-degree maneuverability at a bargain price
The Bovon bike phone mount does everything you need it to do for a hard-to-beat price. It easily attaches to your bike's handlebars, accommodating diameters from 0.8 to 1.6 inches. The mount is compatible with most phone sizes, though it maxes out at 7 inches long. At each corner, clips hold your cellphone in place tightly, so you can see the full screen while you're on the move.
It features 360-degree rotation, so you can maneuver the mount in any direction to suit your riding position. The mount itself is made from silicone which is easy on the delicate surface of your cell, preventing any scratching. It also helps to absorb road chatter, to keep your phone firmly in place.
Heavy duty
Withstands the roughest terrain
If you're heading off road, you need a mount that's sturdy enough to hold your cellphone in place. This mount is designed for use with both bicycles and motorcycles, so it's a heavy duty option that can withstand even the most difficult terrain. It can accommodate handlebars between 0.6 and 1.3 inches wide, and will work with any cellphone up to 3.7 inches wide.
It's easy to install without tools, and once it's in place all you need to do is insert your phone between the corner grips. The rubber and silicon construction helps with shock proofing and scratch resistance, making this a highly durable mount option that remains lightweight and maneuverable.
Most stylish
Bright colors to help you stand out
The Mongoora handlebar phone mount is compatible with bars sized between 0.9 and 1.3 inches. With your purchase you receive three different phone clamps in red, green and black, meaning you can switch up the color to suit your mood. Feeling bold? Go for the bright green. Feeling racy? Red is the fastest color. Prefer to stay low-key? Opt for sleek black.
The silicone clip is designed to grip your phone without scratching it, and absorbs vibrations from the road to help reduce shaking. Another nifty feature of the silicone clip is that it works to prevent your phone from overheating. With everything set up there's still room for your charging cable and headphone jack, and the mount is super easy to install.
Easy installation
Keep your focus on hitting the road
Once you've secured the GUB Aluminum phone holder in place, it's staying put. There's no need for further modifications or adjustments, so you can just put your cellphone in and get straight on the road. The mount is available in three colors: red, blue and black, and each is constructed from durable and lightweight aluminum.
With its adjustable design, the GUB Aluminum phone holder is compatible with all size handlebars. All you need to do is tighten the built-in fastener to secure it. Because it only grips from the bottom and middle, the holder can work with all cellphone sizes.
Waterproof
Keep your phone safe from the elements
Don't be limited to fairweather cycling. With the Opamoo top tube bag, you can have your phone visible but protected behind a waterproof casing made of sensitive TPU, meaning you can still operate your touchscreen. On bright and sunny days, the bag's sun visor will come in handy to help shield the screen for better visibility. Just bear in mind that the covering isn't compatible with Touch ID.
Beneath the phone, the bag itself has ample storage for your essentials, making it a truly versatile and convenient product. Store your wallet, keys, sunglasses and multitool, for example. While most headphones are wireless these days, there's still an invisible port for a headphone jack so no one gets left behind. It's easy to install and secures to the front of the frame with three velcro straps, and some reflective details on the sides of the bag add an extra element of safety, helping you to stay visible in low light conditions.
The Opamoo phone mount is compatible with cellphones below 6.5 inches, including iPhone XR, XS, MAX, X, 8, 7, 6s, 6 plus, and 5s. It's also compatible with Samsung Galaxy s8, s7, and note 7.

Thank you for reading 5 articles this month*
Join now for unlimited access
Enjoy your first month for just £1 / $1 / €1
*Read 5 free articles per month without a subscription

Join now for unlimited access
Try your first month for just £1 / $1 / €1
Mildred joined as Reviews Writer for Cyclingnews and BikePerfect in December 2020. She loves all forms of cycling from long-distance audax to daily errand-running by bike, and does almost everything on two wheels, including moving house, and started out her cycling career working in a bike shop. For the past five years she's volunteered at The Bristol Bike Project as a mechanic and session coordinator, and now sits on its board of directors.
Since then she's gone on to write for a multitude of cycling publications, including Bikeradar, Cycling Plus, Singletrack, Red Bull, Cycling UK and Total Women's Cycling. She's dedicated to providing more coverage of women's specific cycling tech, elevating under-represented voices in the sport, and making cycling more accessible overall.
Height: 156cm (5'2")
Weight: 75kg
Rides: Liv Devote, Genesis Equilibrium Disc 20, Triban RC520 Women's Disc, Genesis Flyer, Whyte Victoria, Cotic BFe 26, Clandestine custom bike
Sign up to the Cyclingnews Newsletter. You can unsubscribe at any time. For more information about how to do this, and how we hold your data, please see our privacy policy
Thank you for signing up to Cycling News. You will receive a verification email shortly.
There was a problem. Please refresh the page and try again.