Best bike grips
Maintain control and comfort with our pick of the best bike grips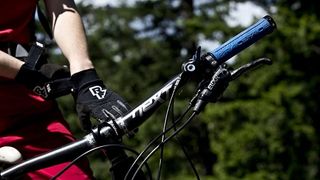 (Image credit: RaceFace)
While they may seem like an insignificant part of the bike, your choice of grips will have an impact on your gear shifting and braking control, as well as how you position your hands and arms. This in turn affects your comfort levels over the course of your ride, so it's really important to get them right. 
Quality grips will suit your physical dimensions, riding style and discipline, while staying comfortable will help you keep control of the bike. Poor quality grips, on the other hand, can lead to hand discomfort and potentially long-term pain.
Generally grips are a very personal thing, and what works for one person may not work for another. The best thing to do is try a bunch, until you find your perfect match. To help you along with this, we've provided some tips on how to choose the right grips for you, and then given you a breakdown of our top picks, so you at least have somewhere to start.
Which type of grip do you need?
There are three types of grips: traditional, ergonomic and lock-on.
Traditional grips are simple rubber sleeves that slot onto the end of your handlebars. They're very cost-effective, though as a compromise you may find them slippery in the wet, and they can be very tricky to remove.
Ergonomic grips are shaped to offer more comfort on longer rides. They usually have a flat surface to rest the heel of your hand on, though you can usually adjust them to suit your personal preference. If traditional grips hurt your hands, try some of these instead.
Lock-on grips include a metallic 'collar' at each end, complete with a hex bolt to lock the grip into place. This means no slipping, and offers perfect control.
Materials
Grips can come in different materials. Most of them will use rubber, or a rubber-like material, while others may be made from foam, leather and even cork. 
Dual compound grips will layer a soft compound rubber over a firmer inner sleeve, to provide a secure hold and maintain the grip's form. Synthetic materials are generally better at moisture management, repelling it, while natural materials tend to absorb it. Some BMX-style grips will have flanges on their inner ends to prevent your hands from accidentally slipping off the bars.
Grip patterns 
These can vary widely, from subtle and 'barely there', to pronounced 'waffle' style patterns. They tend to come down largely to personal preference, and it's worth trying a few to determine which you prefer. What you want is a grip pattern that's comfortable, but also maintains good traction in wet weather.
Sign up to the Cyclingnews Newsletter. You can unsubscribe at any time. For more information about how to do this, and how we hold your data, please see our privacy policy
Thank you for signing up to Cycling News. You will receive a verification email shortly.
There was a problem. Please refresh the page and try again.