Best bike chains
Maximize your drivetrain with our pick of the best bike chains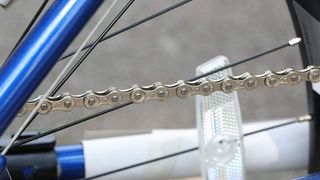 (Image credit: Zonkie)
Your chain is the essential link between the front part of your drivetrain (the pedals, cranks and chainrings) and the rear (the gear sprockets and hub). It's vital to keep this part of your bike clean and happy to keep everything else in working order.
They're also a consumable component, meaning that they wear down after time and need to be replaced. Failing to keep on top of this can result in the rest of the drivetrain wearing down, which becomes very expensive to replace. It's most cost-effective to replace your chain when it's half-worn to extend the lifespan of your drivetrain. You can also extend the life of your chain through regular cleaning and oiling.
So when it comes to replacing your chain, which one do you buy? There are quite a lot of factors to consider. The kind of chain you need depends largely on which type of bike you're riding. Chains come in different widths, to suit specific bike types, and to accommodate different numbers of gear sprockets.
If you're feeling unsure, don't worry. Here's our guide for what to look for in a chain, along with our roundup of the best.
Number of gears
When your chain is worn out, you need to replace it with a new one that matches the number of gears you have. If you're not sure how many gears your drivetrain has, you can count the sprockets on the rear wheel. Or, if you have a gear shifter with an indicator on it, you'll be able to see which number the indicator goes to. Modern bikes usually have between 9 and 12 gears, while some older ones can have between 5 and 8. Plus there are singlespeed bikes with only one gear.
It is crucial to know this, because the width of the chain needs to be compatible with the gaps between the sprockets. The more sprockets, the smaller the gaps, and therefore the narrower the chain. The fewer sprockets, the larger the gaps, the wider the chain.
Compatibility
As a general rule of thumb, chains and cassettes (gear sprockets) will be compatible across manufacturers. Shimano chains will work with a SRAM drivetrain, and vice-versa. The main compatibility issue to be aware of is with Campagnolo, if you have it. Some Campagnolo drivetrains will only work with Campagnolo chains, and the opposite can be true as well
Materials
Unless you're a serious athlete, you probably don't need to worry too much about this, but it's worth knowing that most bike chains are constructed from alloy steel for strength. Some performance models, however, will feature high-end alloy parts, or perhaps hollow pins and side plates to make them lightweight. If you want some weight savings, look for these.
Sign up to the Cyclingnews Newsletter. You can unsubscribe at any time. For more information about how to do this, and how we hold your data, please see our privacy policy
Thank you for signing up to Cycling News. You will receive a verification email shortly.
There was a problem. Please refresh the page and try again.