Vuelta a España stage 7 - Live coverage
Major mountain test awaits as the GC battle takes centre stage
Refresh
Hello and welcome to Cyclingnews' live coverage from stage 7 of the Vuelta a Espana.
Today is the first major mountain stage of the race. There are six categorised climbs squeezed into the stage's 152 kilometres, two first-category tests sandwiching the other four.
Here's how things stand in the GC heading into today's stage.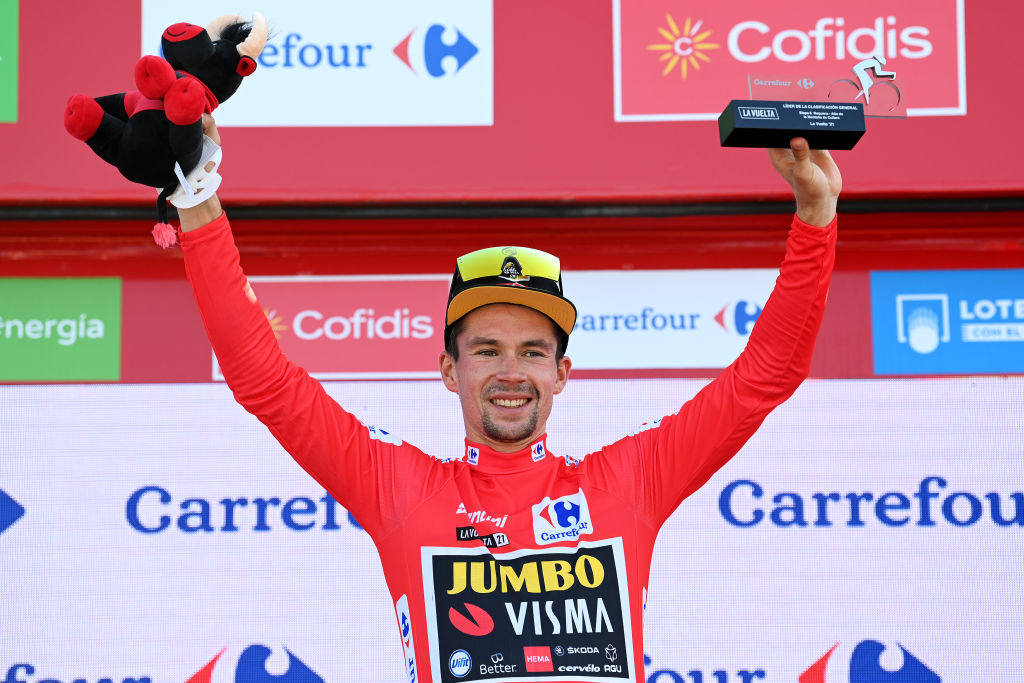 We finish today at the top of Balcón de Alicante. The official stats list this new finish at being 8.4km long and averaging 6.2 per cent. There's a kilometre-long stretch at 11 per cent, a very brief respite, followed by a pitch at 16 per cent. There's another short easing, then another ramp that reaches high into the teens just before the finish.
We're about 20 minutes away from the official start. The first few kilometers are flat but then we hit the Puerto La Llacuna, a first cat climb that will provide an excellent chance for a big break to form.
The Puerto La Llacuna is 9.4km in length and has pitches of around 10 per cent, so we could see the race explode on the climb and it will be fascinating to see how attempts to control the peloton.
We are rolling on stage 7 of the Vuelta but the neutralized zone is just over 8km in length so it will be another 12 minutes or so before the flag drops.
Vuelta a España peloton braced for first full mountain stage - Preview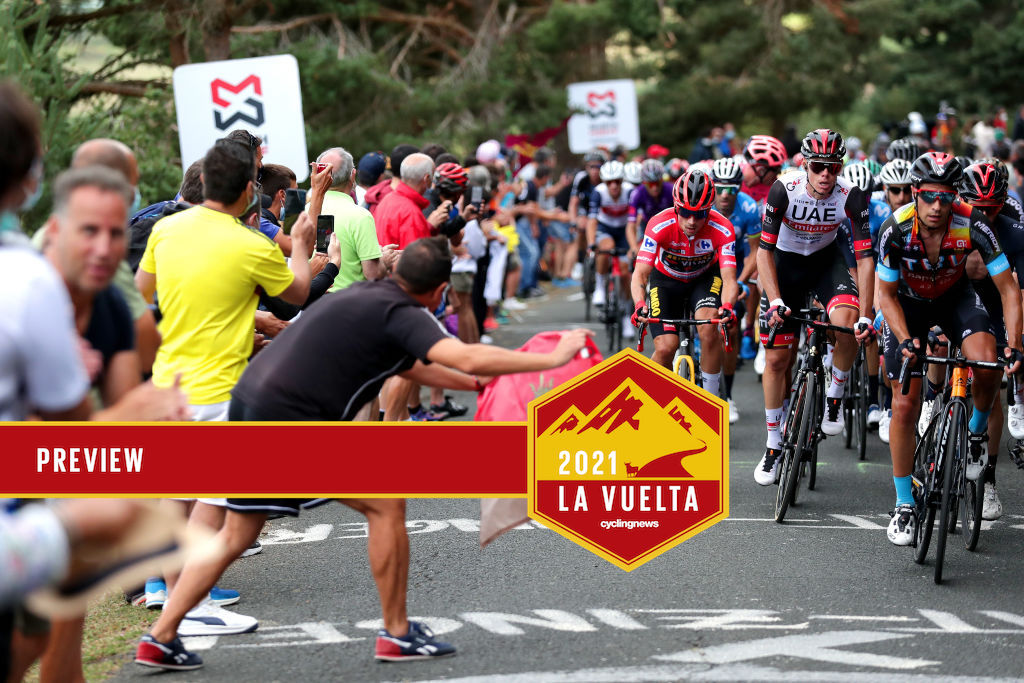 In terms of the conditions, it's another hot day, with not a cloud in the sky. There doesn't appear to be much wind around as we head towards the start line of the 152km to stage. Right now Jumbo Visma have a number of riders on the front, so they're expecting action from the gun and they'll decide which riders form the early break. Or at least they'll try to influence the outcome.
It's a really gentle roll out but that's going to change in just a few minutes as we're 5.1km from the official start.
Idea scenario for Jumbo would be a manageable break of 4-8 riders, no threats on GC and that other teams help them in the chase during the second half of the stage. Lets see what Ineos and Movistar try and do though. They have the keys to unlock this race.
On Ineos, Bernal admitted that the team made a mistake on stage 6 with their pacing.
"We wanted to start in good position, and then Jhonatan was going for it like hell," Bernal said. "He was going so hard - but so hard in fact that we couldn't follow him to tell him to slow down. I just tried to follow him. If I was suffering, I can't imagine what it was like behind.
"Maybe it was a bit of a mistake because he was going so hard we were all having a really tough time following him. It was a short stage, but we paid for it a bit. But that's how it was, and I'm generally happy with how it went."
Click here for the full story.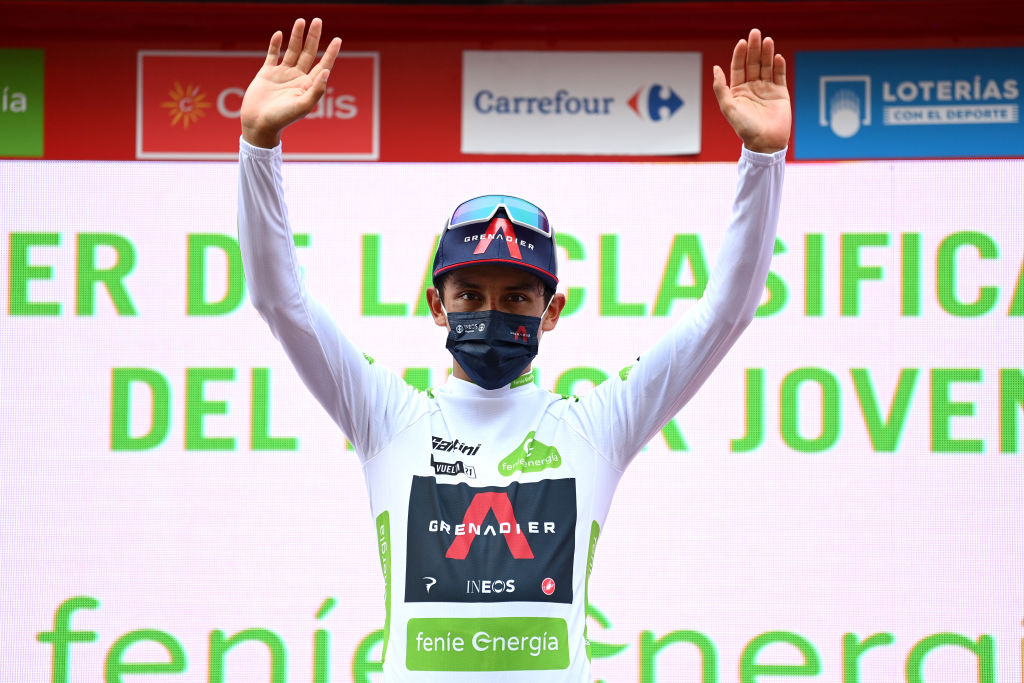 Valverde is on the front as well with about 2.5km to go. He's chatting with Izagirre and the mood does seem relaxed but that will change very, very quickly. Aru is right at the back and he's a rider to watch today. His final Grand Tour is one of the most interesting sub plots in the race so far.
1.3km to go until we're racing on stage 7 of the Vuelta a Espana. Burgos are on the front and you can bet your mortgage that they'll be on the attack.
The flag drops and we have a shallow rise over a bridge but no instant attacks.
And it's a rider from Burgos who kicks things off with the first acceleration. 150km to go. It feels like everyone else is just waiting for the first climb.
But now we have a flurry of attacks and five more riders have kicked clear with Burgos, Cofidis and Alpecin all represented.
It looks like seven riders in total with 149km to go. Burgos have two, there's one from Israel but the gap is only about 10 seconds.
Jetse Bol (Burgos-BH) is there for the break and that could be it.... there are no more moves from the main field at this point as we close in on the first climb of the day.
Leaders in the break are:
Guy Niv (Israel Start-Up Nation) tries to join Floris de Tier (Alpecin-Fenix), Jetse Bol and Pelayo Sanchez (Burgos-BH), Oier Lazkano (Caja Rural Seguros RGA), Eddy Finé (Cofidis), Gotzon Martin (Euskaltel-EUskadi), and Nico Denz (Team DSM).

We've just hit the lower slopes of the Puerto La Llacuna.
Martin is only about three minutes down but really Jumbo Visma will be more than happy with the race situation at this point. Martin is 3'59 down on Roglic as we see Connor Brown is dropped by the peloton.
Mads Wurtz is also dropped, but he did crash hard a few days ago. No time gaps just yet for the break but they're all-in on this move.
Niv has just been caught by the bunch and batches of riders are being dropped.
EF are attacking from the peloton as the lead group are caught. All back together but riders are being dropped consistently at the back of the bunch.
7.2km to go on the climb and the peloton is down to maybe 100 riders as EF go again and it's Carthy who makes an acceleration. He doesn't get a gap but that's a sign of intent.
The bunch is being stretched out again as AG2R have a dig. Philipsen and another 20 riders find themselves out the back.

142km to go and Kenny Elissonde has attacked.
Rein Taaramäe in the KOM jersey is marking moves at the front with Elissonde brought back. 5.5km to go on this brutal climb.
Caja Rural are the next team to ping a ride up the road and Rein Taaramäe goes after this one on his own.
Jumbo are just letting the race play out and they've not really been threatened yet.
Fraile has been dropped. Carthy has also been dropped, which isn't that surprising given his race so far. Nathan Van Hooydonck is with him.
Carthy is almost a minute down on the climb. This climb has blown the race to pieces.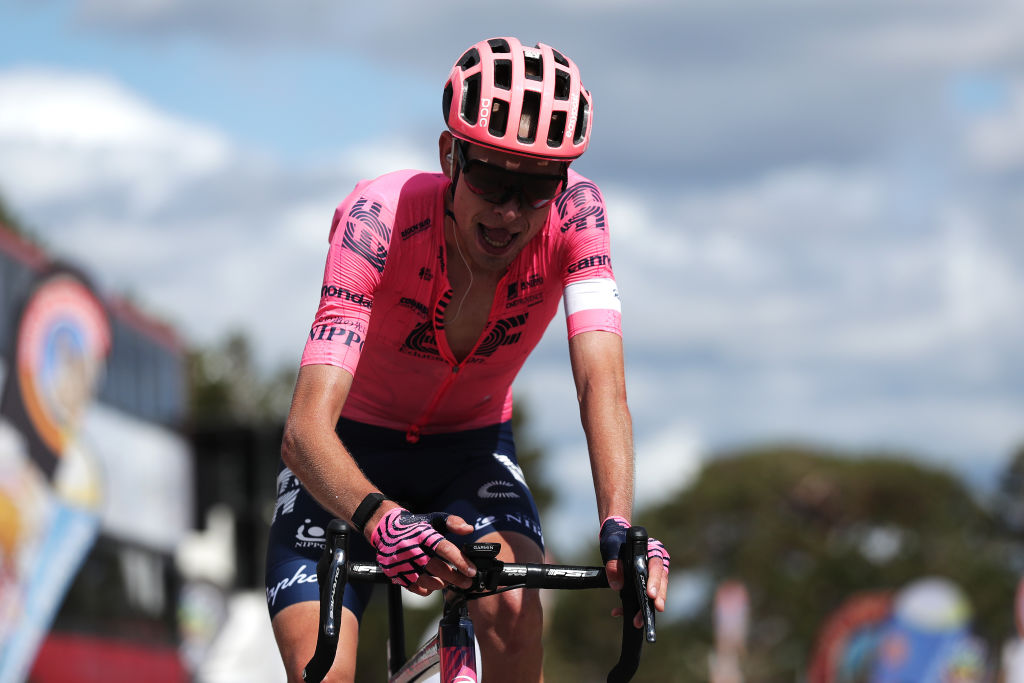 1.5km from the top and Astana are driving this on and there's a massive split in the peloton. Roglic is not there, Kuss is though.
There's a second group coming over, led by Gesink, and Roglic is back to the front of the race. That was a bit of a scare for the race leader.
Knox has been dropped by the leading group, or what's left of it as AG2R raise the pace once more. Another 12 riders are close to creating a gap here.
Elissonde is in the lead group, and there are riders from Bahrain, and Ineos there. I think that's Jack Haig leading over the summit of the climb.
About 20 riders are in the first group with 135km to go. Sivakov is there, Kuss is there. Haig too as we begin the descent.
The pace so far has been relentless but we have a group of four, then a group of about 25. 131km to go.
Martijn Tusveld is our lone leader and he has a handful of seconds over about 30 riders, which include Bernal and Roglic from what I can see. No time gaps.
Martijn Tusveld has been caught and the lead group is about 40-strong with 125km to go.
DSM and Lotto Soudal fire riders up the road as we see Bernal at the back of the peloton, or what's left of it. EF have a rider in the break of three now too. 122km to go.
Roglic has lost a couple more teammates with Gesink and Oomen out the back and at about 50 seconds. All the GC contenders are with Roglic in this second group on the road as six riders form the break with 118km to go.
It looks like a ceasefire in the red jersey group as they ease up and call for support from the team cars with 116km to go. The six leaders now have 1'16.
The easing in pace has allowed Gesink and Oomen to come back.
The six leaders are Geoffrey Bouchard (AG2R-Citroën Team), Diegeo Camargo (EF Education Nippo) and Harm Vanhoucke (Lotto Soudal) and Thymen Arensman, Chris Hamilton and Michael Storer all from DSM. They have 1'22 over Roglic and company.
109km to go
Over a minute for the leaders and DSM will be content with their position but if they hope to win the stage from then they really need to put the hammer down but UAE are setting a ridiculously fast pace because they've missed the move.
Emmanuel Morin has climbed off, his race is over.
We're still some way off the Puerto de Benilloba, the next climb on the stage but the road gently rises from here, all the way to the base.
UAE aren't willing to throw in the towel and the gap now is down to 45 seconds. 106km to go.
The UAE chase has split the peloton and they've carried 23 riders clear of the Roglic group. Bardet, Oomen and Sivakov are in that second group.
105km to go
So we have: Geoffrey Bouchard (AG2R-Citroën Team), Diegeo Camargo (EF Education Nippo) and Harm Vanhoucke (Lotto Soudal) and Thymen Arensman, Chris Hamilton and Michael Storer all from DSM

Second group of 23 that contains Bardet, Sivakov, Felix Großschartner and Oomen at 33 seconds.

Roglic and the GC candidates at 1'20.

Trentin is on the front right now and setting a furious pace for the second group on the road with the gap now down to 29 seconds.
Jumbo are on the front of their main group and they're setting a decent tempo for Roglic. As things stand, this stage will be decided by the GC contenders and not the break.
From our friends at ASO, here are all the riders in the chase group. They're just 23 seconds off the break with 98km to go.
Jumbo-Visma: Sepp Kuss
AG2R-Citroën: Stan Dewulf
Alpecin-Fenix: Jay Vine
Astana-Premie Tech: Alex Aranburu, Gorka Izagirre
Bahrain Victorious: Jack Haig
Bora-Hansgrohe: Felix Grossschartner
Caja Rural Seguros RGa: Jonathan Lastra
Cofidis: Fernando Barcelo, Jesus Herrada
EF Education Nippo: Lawson Craddock
Ineos Grenadiers: Pavel Sivakov
Intermarché-Wanty Gobert Matériaux: Simone Petilli
Lotto Soudal: Andreas Kron, Steff Cras
Movistar Team: Nelson Oliveira, Carlos Verona
Team BikeExchange: Andrey Zeits
Team DSM: Romain Bardet, Martijn Tusveld
Trek-Segafredo: Kenny Elissonde
UAE Team Emirates: Jan Polanc, Matteo Trentin
Almost on the third cat climb of the Puerto de Benilloba and the two front groups have merged to create a 29 rider formation, with the red jersey group at 2'21.
Polanc started the day at 1'42 so he's the virtual leader on the road.
That man Trentin is back on the front of the lead group and setting the pace for the break. There are a lot of passengers but looking ahead the break will need four-five minutes to have a chance of winning the stage today. The gap is at 2'18 for now.
Back down the road and it's Gesink and Jumbo Visma who are setting the pace.
91km to go and Bardet and Elissonde have attacked from the front, as they go for the KOM points. Bardet takes it, no contest in the end with DSM rider showing his climbing class.
Back down the road and Gesink continues to set the pace for Roglic and the rest of the GC contenders. They're at 2'28 with 90km to go.
We have a long descent but then the road goes uphill even before we start the next categorised climb of the Puerto de Tudons. It's a 7.1km, second cat climb. 86km to go.
The gap to the leaders has gone out to 2'46 so they can start to think about a stage win but in all honestly they probably need another minute or two. It's still Gesink setting the pace, so it's basically Trentin vs Gesink.
The break head through the feedzone with 83km to go as Oomen comes up and gives Gesink a bit of a break with the gap at 2'53.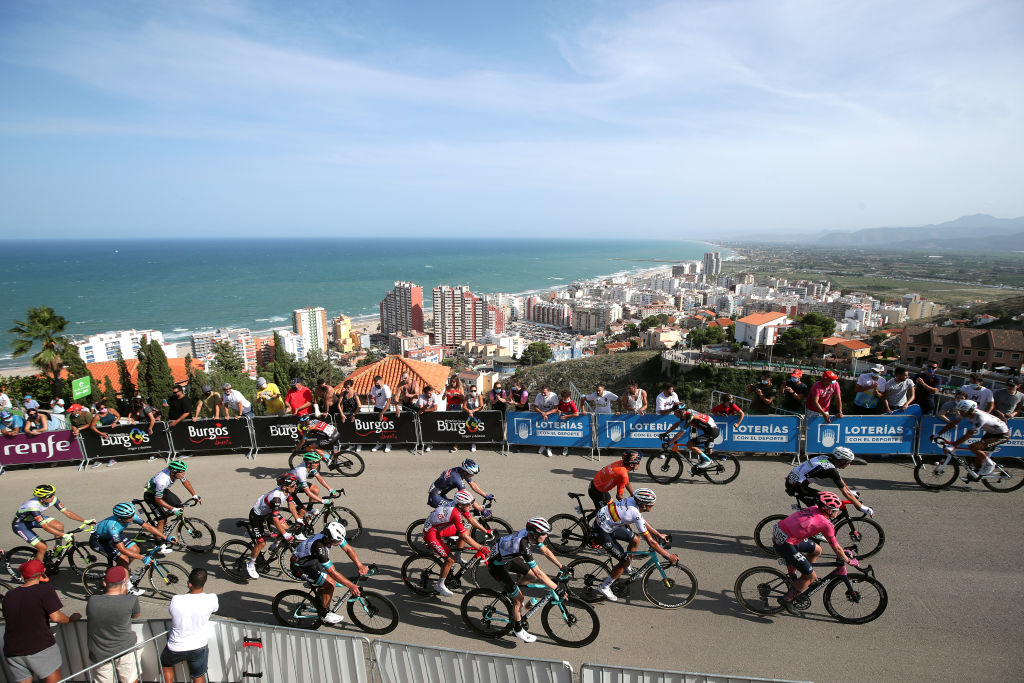 Trentin is doing an incredible job on the front of the break for Polanc but he's also giving those four DSM riders a free ride at the moment. 80km to go.
Oomen continues to lend Gesink a hand but the action has quietened down in the last 30km or so. That's not surprising given the relentless pace we had on the first climb or two.
Trentin is on the lower slopes of the Puerto de Tudons and he has the entire break strung out and the gap at 2'49.
Chris Froome: Don't be so quick to criticise'If I can put any message out there I'd just say just think twice before you hurl an insult at an athlete' says four-time Tour de France winnerhttps://t.co/opgTpex1VeAugust 20, 2021
DSM have put a rider on the front of the break and this climb is crucial as it will determine how the break tackle the second half of the stage. Trentin then moves back to the front and the gap is at 3'00 with 76km to go.
A bit more help from DSM on the front of the peloton, which allows Trentin the chance to have some shelter. The gap is now 3'16 so it's slowly creeping out on this climb but there's still a long way to go.
1.4km to go on the climb, and some points up for grabs again a DSM take over and put two riders on the front of the break.
DSM want these points and Bardet is sitting second wheel with Elissonde marking him.
A few riders are being dropped from the break because of this pace setting from DSM. 600m to go until we hit the summit.
And Polanc has gone for it, and he takes first place ahead of Bardet.
With the gap at 3'28 it looks like a few more teams are starting to form a chase as Ineos and Astana move up. 69km to go.
Haig has moved into the KOM jersey today, tied on 10 points but that can all change on the next climb with five points up for grabs on the Puerto El Collao.
With Kuss in the break Jumbo have seen the American move up into fourth on GC on the road, with Roglic down in fifth as things stand. The gap is crept out to 3'33 with 64km to go.
3'46 now and the stage is starting to get away from the peloton with 56km to go.
We have an intermediate sprint coming up in the next few kilometers as Gesink and Oomen share a few words at the front of the peloton.
The pace has dropped off in the bunch as a few riders stop for a nature break and others drop back to the cars for fresh bidons. There are still a lot of passengers in the break but Kuss, Bardet, and Haig look well positioned for a possible stage win. 4'06 now with 54km to go.
There's still a lot of firepower in the peloton with Ineos, Jumbo and Movistar all with numbers. Here's how things stand on GC heading into the stage.
Bernal is coming back from the cars in the white jersey and he has most of his team still in this red jersey group.
50km to go
Geoffrey Bouchard (AG2R-Citroën Team), Jonathan Lastra (Caja Rural-Seguros RGA) and Thymen Arensman (Team DSM) were dropped on the last climb, leaving us with 26 riders up the road. The gap is at 3'36 with 50km to go.
Looks like Trentin took the points at the intermediate. Matthews was marking moves earlier today but he didn't make it into this attack, and neither did any of the sprinters for obvious reasons.
We're onto the Puerto El Collao, a 9.5km, second cat climb.
Everyone looks a bit shattered after that super fast start to the stage but we still have three climbs to go, including this one. The gap is at 3'37 with 47km to go as Trentin moves back to the front and sets the pace.
And DSM have attacked with 47km to go. Trentin was starting to slow a bit, and Kuss has a mechanical and needs a new bike. It's Hamilton who has gone clear with Sivakov on his wheel. Then the rest of the break make contact - minus Kuss.
Storer goes next with 46km to go.
Storer only has about 5 seconds with EF leading the chase.
And it's Craddock who is leading the chase but Bardet is still there.
Gesink's experience is starting to show and he's lining out the bunch on this second cat climb. Elissonde has been dropped and the front group is starting to split up as Storer is brought back.
43km to go and that's a massive kick from Movistar.
Huge turn of speed from Rojas and Valverde is there. Yates, Carapaz too.
Valverde then takes over as Yates and Carapaz mark him with a rider from Bahrain.
Carapaz is working with Valverde as Jumbo lead the chase.
Jumbo know they have to bring this one back but Carapaz goes again and then it's a massive fall for Valverde.
He's on his feet but he went over the ravine. He just had too much speed into that corner and he went under the barriers. His race is done.
It looks like a collarbone for the Spaniard as up ahead Roglic, Lopez and Carapaz are clear with 42km to go.
Carapaz, Lopez and Roglic have just a few seconds on the bunch, while the break is at 3'26. Valverde is with the medics but he doesn't look keen at getting back on the bike.
UAE have brought the Roglic group back together but