UEC Road European Championships 2019: Men's road race
January 1 - August 11, Alkmaar, Alkmaar, Road - CN
Refresh
Live coverage of the 2019 elite men's European Championship road race rom Alkmaar.
European Championships hub page
European Championships preview
Evenepoel wins men's time trial
Pieters wins women's road race title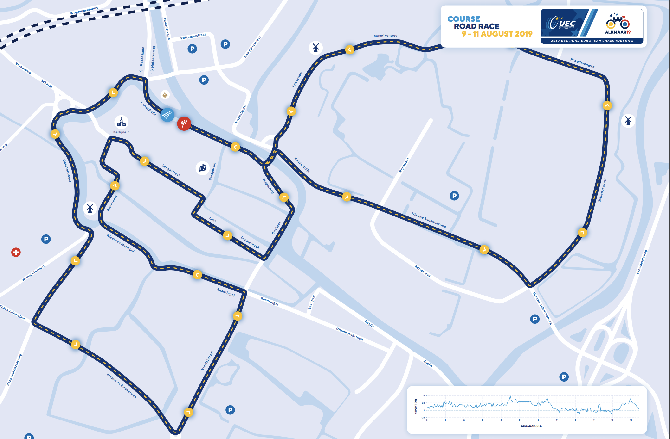 Hello there, and welcome along. The European Championships conclude today with the elite men's road race. Matteo Trentin has been wearing the starred jersey for the past 12 months but today it's up for grabs once again.
We're in north Holland - Alkmaar to be precise - where the wind is still blowing as it has for most of the week. There's also the matter of the twisting, technical finishing circuit that forms most of the route. So it's a flat race but far from straightforward.
As we pick up the action, the race has already been blown apart by the wind. The local laps in town are preceded by one longer 45km loop out into the exposed countryside, and there are already multiple separate groups on the road. As you might expect, Belgium seem to be bossing it.
Belgium have Jasper Philipsen, Yves Lampart and Edward Theuns up in the front echelon. National champion Tim Merlier - who showed just how potent his sprint can be with that nationals win - was there but punctured.
126km remaining from 172km
The race comes back into Alkmaar now for the local laps, after an opening long loop that has already shaken things up. The riders will do 11 laps of the 11.5km circuit, which you can see in the image below.
It's tight, technical, and many feel this is not so much a road race as a glorified criterium or kermesse.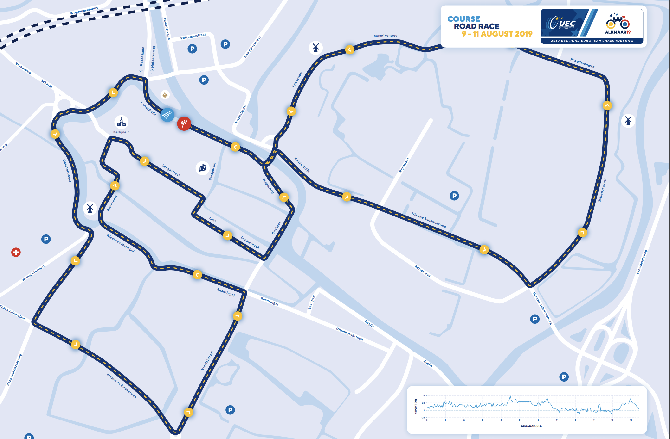 There are around 35 riders in the front group now on the first of the local laps.
The wind is less of a factor on the more sheltered city roads and it looks like the race is coming back together. The second group on the road has joined the front group, and the third group is not far behind now.
A minute's silence was observed on the start line in memory of Bjorg Lambrecht, who died earlier this week at the Tour de Pologne. Lambrecht's compatriots were called to the front to lead the tribute.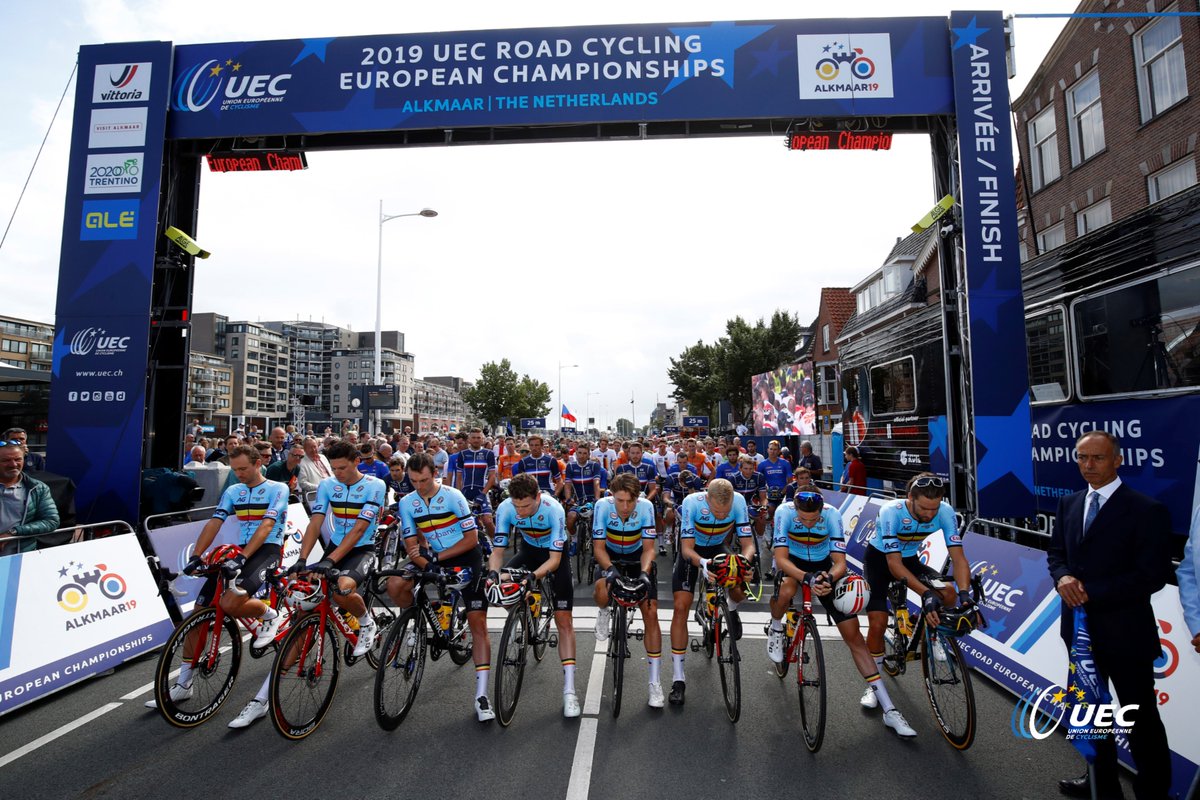 83km remaining from 172km
The peloton is pretty much all back together, with Italy taking control. They have 2018 champion Matteo Trentin, but arguably their stronger candidate is Elia Viviani.
There are around 60 or so rider in the main peloton, which seems calm for now as Italy take the reins. The front echelons came back together and most of the pre-race favourites are in there. However, the rear couple of echelons didn't make it back and it looks like game over for them. Tim Merlier is the notable absentee in that respect.
81km remaining from 172km
Great Britain come through and lead this bunch over the finish line. 7 laps to go now. Mark Cavendish is here for the Brits but he says he's working for Chris Lawless.
Mechanical for Alexander Kristoff, a former European champion, who's back in the cars.
Italy have 2018 champion Matteo Trentin but also Elia Viviani. Other big name candidates for a bunch sprint include Dylan Groenewegen (Netherlands), Pascal Ackermann (Germany), Sam Bennett (Ireland), Arnaud Demare (France).
Kristoff is still chasing, and now he loses the slipstream from the cars. He's alone, with no teammates to help him back. It's not the easiest section to try and get back in, with so many twists and turns, and the need to accelerate sharply out of the bends.
Kristoff appears to have teammates in this bunch, which begs the question why they're not dropping back for him. There are no race radios at the Euros, which might explain it.
There's a 1km cobblestone sector on this circuit but there are big smooth strips on either side of the road, which pretty much negates its impact.
70km remaining from 172km
70km to go and still the Italians lead this bunch. No attacks for the time being.
They cross the line again with six laps to go now. They'll know this run-in like the backs of their hands when it comes to the final lap.
France come to the fore now. They have Bryan Coquard but Demare is their Plan A today.
Italy take it up once more and raise the pace. We're on the most technical section of the circuit now and the bunch is strung out, almost to breaking point.
The Italians are splitting the bunch apart here!
Salvatore Puccio (Italy) and Elmar Reinders (Nethertlands) are dropped from the bunch
It's 2018 champion Trentin drilling it on the front, three teammates on the wheel. Germany are very well placed behind and Luke Rowe has positioned Lawless nicely.
Italy have forced a selection of around 10 riders!
Bennett and Groenewegen are in a group several seconds behind now.
Trentin moves to the back of the front group as Simone Consonni takes it up now. Ackermann is in there with teammates.
It's far from organised in the chasing group as they hit the cobbles. Riders scrambling to try and jump across rather than constructing a coordinated chase.
Also in the front group are Luka Mezgec (Slovenia), who won two stages at the recent Tour de Pologne, and Kasper Asgreen (Denmark), who was runner-up in the time trial earlier in the week. Lawless is there for Great Britain.
Yves Lampaert is up there for Belgium but not their strongest sprinter Jasper Philipsen, who wanted to jump across but looks to have blown up trying to do so.
55km remaining from 172km
Here are the 13 riders in the front group
Trentin, Viviani, Cimolai, Consonni (Italy)
Ackermann, Selig (Germany)
Langeveld (Netherlands)
Lampaert (Belgium)
Lawless (Great Britain)
Asgreen (Denmark)
Senechal (France)
Mezgec (Slovenia)
Baska (Slovakia)
Coquard is cooked after a big turn on the front of the chase group.
The lead group have a lead of 20 seconds.
Behind, they've stopped panicking and stopped attacking each other, instead settling down into a larger chasing pack.
The chase is being led by Norway and Holland. The latter have Langeveld up front but he's just hanging on the back of the group. They want to bring this back for Groenewegen.
France are in a similar position, with Demare behind, but Senechal does come through for a turn.
Trentin takes it up again on the cobbles.
The gap moves out to 30 seconds.
There are 30 riders in the chase group but it doesn't look they have enough firepower.
46km remaining from 172km
The 13 riders in the front group cross the line once more with four laps remaining. It looks like this could well be the decisive selection, and Italy are rewarded for their efforts with a spot in the driving seat. Elia Viviani has no fewer than three teammates with him while everyone else - with the exception of Ackermann - is alone. This is theirs to lose now.
44km remaining from 172km
The Dutch have four riders with Groenewegen in the chase group, and they're working with two of Alexander Kristoff's Norwegian teammates. Still, they're not bringing the gap down. 35 seconds now.
Dylan Van Baarle takes it up for the Dutch now and the gap dips back down to 31 seconds.
The gap is hovering at around 30 seconds. Still a long way to go and the front group will require near total cooperation. Langeveld isn't doing turns but the rest of them seem to be invested, although the responsibility naturally lies with the Italians.
The chase group is now making inroads and the gap falls to just over 20 seconds as they cross the line for three laps to go.
The Dutch and Norwegians are clearly all-in now and they're turning the tables.
31km remaining from 172km
It seems the front group have taken their foot off the gas ever so slightly. They've put in a huge effort to establish a lead and there are still more than 30km to go, so it's understandable. 18 seconds now.
Consonni takes it up now and puts his pain face on. The circuit is at its most technical in the early part and that's where this group will be able to hold onto their advantage.
Cimolai comes through now. Trentin is taking a back seat for now, having done so much to force this clear.
Cimolai is dropped from the lead group. His work is done.
Van Baarle waves his arm in remonstration as Cimolai sits up and gets in the way of the chasing pack.
25km remaining from 172km
Split in the front group! One of the tight bends forces a natural split with Viviani, Lampaert, and Ackermann, and they crack on with it...
20 seconds is the gap still. These three riders are riding cleanly away from their former companions.
Italy won't ride in what's left of that group, and neither will Selig, so the onus is back on the others. We could well see them caught by the chasing pack before long.
And that is indeed the case, as Van Baarle, still on the front, leads the chase group back to the remnants of that front group.
So, as we cross the line for two laps to go, we have three leaders (Viviani, Ackermann, Lampaert) followed at 40 seconds by a larger chase group of 30 or so riders.
With this improvised attack, Viviani, Lampaert, and Ackermann have found more ground and they collaborate nicely to take their advantage out to 49 seconds now.
It's still Holland and Norway doing the work in the chase, though both nations have lost riders. The Dutch have Van Baarle, Sinkeldam, Langeveld, and Teunissen with Groenewegen. For Norway, it's Kristoffer Halvorssen taking it up for Kristoff.
16km remaining from 172km
Still just under 50 seconds for the leading trio, and time is well and truly running out for the chasers.
This is an intriguing lead trio. Ackermann and Viviani are world class bunch sprinters, while Lampaert will surely have to try and do something from range and win alone.
Belgium have numbers in the chase group behind the Dutchmen.
13km remaining from 172km
Great Britain have started to contribute to the chase, and Cavendish, true to his word, is working for Lawless. The gap is still 48 seconds.
They three leaders come into the finishing straight once more. Viviani leads them over the line and looks cool and composed. Pain is etched on the face of Ackermann at the back of the group.
11km remaining from 172km
Van Baarle leads the chasing bunch across the line, but his teammates have dropped back, and Italians and Germans have taken up some of the front places.
10km remaining from 172km
Still 46 seconds for the lead trio with just over 10km to go. It's in their hands but they can't afford to start playing games just yet.
Halvorssen does a big turn and looks cooked. The Dutch have to come back to the fore now and do so with three riders.
Halvorssen and Leezer are dropped after their efforts to reduce the gap. Van Baarle still going strong and the gap is coming down. 37 seconds now.
Selig waves his arm in remonstration now. He's sitting behind the Dutch and vents his frustration at the TV motorbike, which he feels is too close and is giving an advantage to the chasers.
6km remaining from 172km
The front three are looking at each other a little now. They're carrying on but the cooperation looks to be on the wane.
35 seconds now with just over 5km to go. It's seemingly just Langeveld and Van Baarle left doing turns, so the front three are still in the driving seat.
Langeveld peels off. Just Van Baarle now, with a couple of Germans on the wheel. The Dutchman has done so much already today - how much has he got left?
4km remaining from 172km
Van Baarle is going great guns here. He brings it down to 28 seconds with 4km to go. He needs assistance though.
3km remaining from 172km
Van Baarle is done! The Dutchman is cooked and peels off, leaving the Germans on the front, and they quickly stop pedalling
Viviani gets on Ackermann's wheel but the German is fading. Viviani attacks him!
Viviani attacks in pursuit of his trade teammate, and they link up at the head of the race. Ackermann looks out of it now.
2km remaining from 172km
Lampaert and Viviani lead this race, with the chasing group still at 28 seconds.
Viviani looks like he's just sitting on Lampaert's wheel for now. Ackermann is digging in and chasing several seconds back.
Viviani comes through now. This is well and truly in his hands. Lampaert will have to try something else, surely.
1km remaining from 172km
Lampaert comes to the front as they enter the final kilometre
Viviani is in the wheel, heading for the final few hundred metres. It would be a huge surprise if Viviani's not pulling on the starred jersey in a few minutes ' time.
Viviani looks over his shoulder. Viviani is staying put. Here we go. Final 300m.
Viviani sprints and it's utterly convincing. Lampaert sits up, resigned to his fate.
Elia Viviani (Italy) is the new European champion
Lampaert takes the silver medal, bronze for Ackermann.
1 Elia Viviani (Italy) 3:30:52
2 Yves Lampaert (Belgium) 0:00:01
3 Pascal Ackermann (Germany) 0:00:08
4 Alexander Kristoff (Norway) 0:00:33
5 Michael Morkov (Denmark)
6 Sam Bennett (Ireland)
7 Matteo Trentin (Italy)
8 Luka Mezgec (Slovenia)
9 Arnaud Demare (France)
10 Rudiger Selig (Germany)
Let's hear from Viviani
"I think we did a completely different tactic from what we were thinking this morning. This morning we were thinking about the sprint, but then we wanted to make the race hard."
"We see from the other categories - U23, women - the race had a lot of corners, that cobble section, then the wind makes the difference. Five or six laps to go we decided to go, and we split that group. That was the right move. We knew in the last few laps it would be about all about tactics and whoever had something in the legs. Luckily we had still something in the legs.
"It's one of my best wins, because it's totally different from a bunch sprint. I win the Italian championships in a move like this. I know after a Grand Tour I always have a lot of resistance and big legs, so that is an amazing feeling."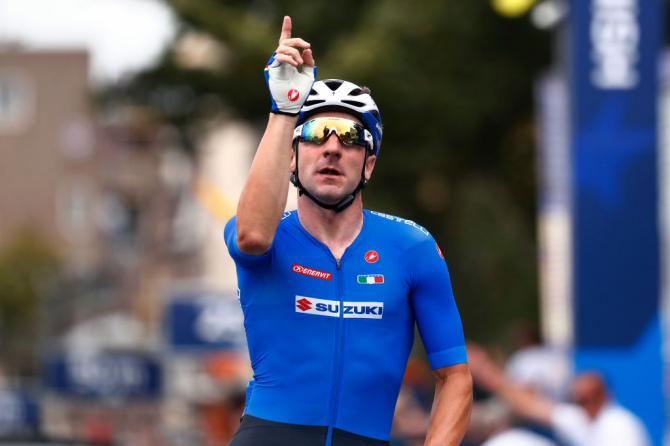 Thank you for reading 5 articles in the past 30 days*
Join now for unlimited access
Enjoy your first month for just £1 / $1 / €1
*Read any 5 articles for free in each 30-day period, this automatically resets
After your trial you will be billed £4.99 $7.99 €5.99 per month, cancel anytime. Or sign up for one year for just £49 $79 €59

Join now for unlimited access
Try your first month for just £1 / $1 / €1
Get The Leadout Newsletter
The latest race content, interviews, features, reviews and expert buying guides, direct to your inbox!
Thank you for signing up to The Pick. You will receive a verification email shortly.
There was a problem. Please refresh the page and try again.