Live coverage
UCI Road World Championships 2021: team time trial mixed relay - Live Coverage
Who will win the rainbow jersey in Flanders
Refresh
Hello and welcome to the Cyclingnews live coverage of the team time trial mixed relay.
As the Cyclingnews blimp takes height, the first team from the UCI World Cycling Centre is underway and out on the 44.5km course.
The Spanish trio is underway.
The TTT Team Relay teams consists of 3 men and 3 women compete against each other in a team time trial.
The men's trio start first and than swap over with the women's trio.
The men's teams will start in Knokke-Heist and ride in the direction of Bruges, over a similar route as the individual time trials.
Upon arrival after 22.5km in Bruges, the women's team will start, for a 22km route with passage at the Damse Vaart and start and finish in Bruges.
The opening kilometres in Knokke-Heist are on twisting roads and so testing for the men's trio.
There are only 13 nations in action but they start in three different waves to avoid teams clashing out on the course.
Poland have also started, meaning there are 4 teams out on the course.
The USA will start next but in 40 minutes, as part of the second wave of teams.
2019 world champions the Netherlands are last off.
The event was not held in 2020 at the reduced world championships in Imola.
This is a simple explanation of how the TTT Team Relay works and shows the World Cycling Centre on the start ramp.
6️⃣ RIDERS ↳3️⃣ MALE RIDERS ↳3️⃣ FEMALE RIDERS ↳ FASTEST OVERALL TEAM WINS 🌈#Flanders2021 pic.twitter.com/ffMXYi7KCzSeptember 22, 2021
Italy are also another favourite today, with world time trial champion Filippo Ganna coming into the men's team.
He was the anchor of the Azzurri as they won the European title in Trento, doing long turns on the front in the men's trio.
Today he rides with Matteo Sobrero and Eduardo Affini.
The Italian women's trio are Elisa Longo Borghini, Marta Cavalli and Elena Cecchini.
Out on the road, the Austrian team are looking good and are well disciplined.
Spain are also making smooth changes as they try stay disciplined and fast.
Mechanical for Poland. One rider has lost contact and will not close the gap.
The other two riders will have to ensure they finish together now.
After the first time check at 14km, Spain are fastest with 16:28.
Poland set 16:37 before losing a rider.
The World Cycling Centre trio set 17:38.
The teams are close to the Brugge change over.
Indeed, here comes the WCC team. When their second rider crosses the line, the women's trio can start.
They get a green light and are off.
The men's WCC trio set a time of 28:10.
Here comes Spain. who set 26:20.
Spain was 1:50 faster than the WCC trio.
There are 12 nations racing today plus the World Cycling Centre team.
Here comes Poland, they set 26:51.
They are 31 seconds slower than Spain.
The Spanish trio seemed happy as they warmed up but are now hurting out on the road.
#Flanders2021 | De forma paralela en Brujas arranca ya también el calentamiento para @SamartinmartinA , @Lourdes_OJ y @ziiortzaa 👌#TeamESPciclismo🇪🇦@ciclistacofidis @InverseTeams pic.twitter.com/2BkdDpURNFSeptember 22, 2021
The Austria men set a time of 26:47. Strangely only two start on the ramp, with the third rider further down the road.
What happened there? A replay shows one rider left before the change over. She stopped and waited but that could be a false start.
Austria could be disqualified for that.
This is how the change over should happen.
🟡🟡🟡🟡🟡🟡🟢🟢🟢🟢🟢🟢Green for GO and the Women's @WCC_cycling team take over for their lap that finishes in Bruges#Flanders2021 pic.twitter.com/NZjN3rfXlVSeptember 22, 2021
Back at the start, the USA and Great Britain teams are preparing to ride.
Their bikes are checked one last time by UCI officials.
The Austrian trio are ridin smoothly together, avoiding the gap in the gap in the concrete roads.
The WCC women are down to two as they face the final 5km.
The USA start their ride, with the men's trio rolling away.
The three men are: Neilson Powless, Lawson Craddock and Brandon McNulty
In three minutes, Great Britain will start. Followed by Switzerland and France.
The USA blast down the Knokke-Heist sea front, being careful on the corners and with the road furniture.
Great Britain are off!
Their men's trio are John Archibald, Dan Bigham and Alex Dowsett.
That's a talented TT trio.
The Great Britain team is a mix of track, time trial and WorldTour riders, combined with Bigham's TTT expertise.
They are Stefan Bissigger, Stefan Kung and Mauro Schmid.
That is also a very strong team and surely medal contenders, with Marlen Reusser in the women's trio.
Here comes the WCC team to the finish.
They're the first team to finish and set 57:18.
Here comes Spain too.
They set 54:54. That is the time to beat.
Meanwhile, the French men start.
They are: Benjamin Thomas, Valentin Tabellion and Thomas Denis.
France's best TT riders are not in action today.
Wow. Poland finish and set 54:12 to beat Spain.
After their mechanical problem, that's a great comeback from the women.
The Austrian team sets 55:22.
The USA at 16:01 at the 14km time check.
However Great Britain are quicker in 15:38.
Can Switzerland beat that?
Ouch! Rear flat for France.
Switzerland hit the time check and are just 0.74 slower than Great Britain.
The French team decide to wait for their rider. That will surely hurt their ride.
Here comes the USA. The men set 25:38 and so the women roll down the start ramp.
Alex Dowsett does an extra long turn and eases up, leaving Archibald and Bingham to bring them home.
They set 24:59. That's fast!
The GB women start.
They are Alice Barnes, Joscelin Lowden and Anna Henderson.
Switzerland finish fast, setting 24:52.
They pulled back time on Great Britain in the second half of their ride.
Switzerland is just 7 seconds faster than Great Britain, so now it's a battle between the women. Of course there are still Italy, Germany and the Netherlands to race.
France sets 26:12. They paid for Benjamin Thomas' puncture and the decision to wait for him.
🇬🇧 Anna Henderson 🤜🤛 Alice Barnes 🇬🇧Team Spirit..💪 that's what we love about the Team Time Trial Mixed Relay #Flanders2021 pic.twitter.com/nNAhB5gKjJSeptember 22, 2021
Belgium will be the next team to start. They kick-off the final wave of teams that also includes Denmark, Germany, Italy and the Netherlands.
The flags show there is a slight breeze on some parts of the women's course.
They ride different roads to the men's.
The Swiss women's team is breaking up under the pace of Marlen Reusser.
Elise Chabbey is dropped but with 11km to go.
Switzerland were only 7 seconds faster than Great Britain, so that could be vital.
The second time split is at 36km, so very soon.
That's a lead of 19 seconds.
Marlen Reusser is no doubt the driving force in that gap. She has to give it all in the final kilometres.
Belgium start their ride.
They have Victor Campenaerts, Yves Lampaert and Ben Hermans in the men's trio.
The king of Belgium and the king of cycling Eddy Merckx is following the Belgian team in a car.
They stop the clock in 52:58.
That's the new best time!
Great Britain are even faster!
They set 51:44.
That's 1:14 better than the USA.
That's a superb ride from Alice Barnes, Joscelin Lowden and Anna Henderson.
They rode well together, with Barnes and Henderson bringing them home after Lowden's big turns.
Here comes Switzerland. Can they beat GB?
They're still 17 seconds faster than Great Britain.
They take over the hot seat even before the USA and GB get there.
They have Filipp Ganna, Matteo Sobrero and Eduardo Affini.
That's a strong trio. Ganna is, well, Ganna. Sobrero is the current Italian TT champion and beat Ganna, while Affini finished 9th in Sunday's TT.
Denmark and Germany are also underway.
Next off is the Netherlands, the 2019 world champions.
The men's trio for the Netherlands are Bauke Mollema, Jos van Emden and Koen Bouwman.
They will have to limit their losses and hope that Annemiek van Vleuten, Ellen Van Dijk and Riejanne Markus can do enough to win again.
At the first time split, Belgium set 15:37.
That's the new best time by less than a second.
Tony Martin is in the last TT of his career.
And he's helping Germany set a fast time of 15:30 after 14km.
On Sunday morning, the 36-year-old German had made the shock announcement that this would mark the end of his career, which has spanned 16 years and nearly 50 victories against the clock.
Click here to read what he said after the individual time trial.
Tony Martin bows out in style at final World Championships time trial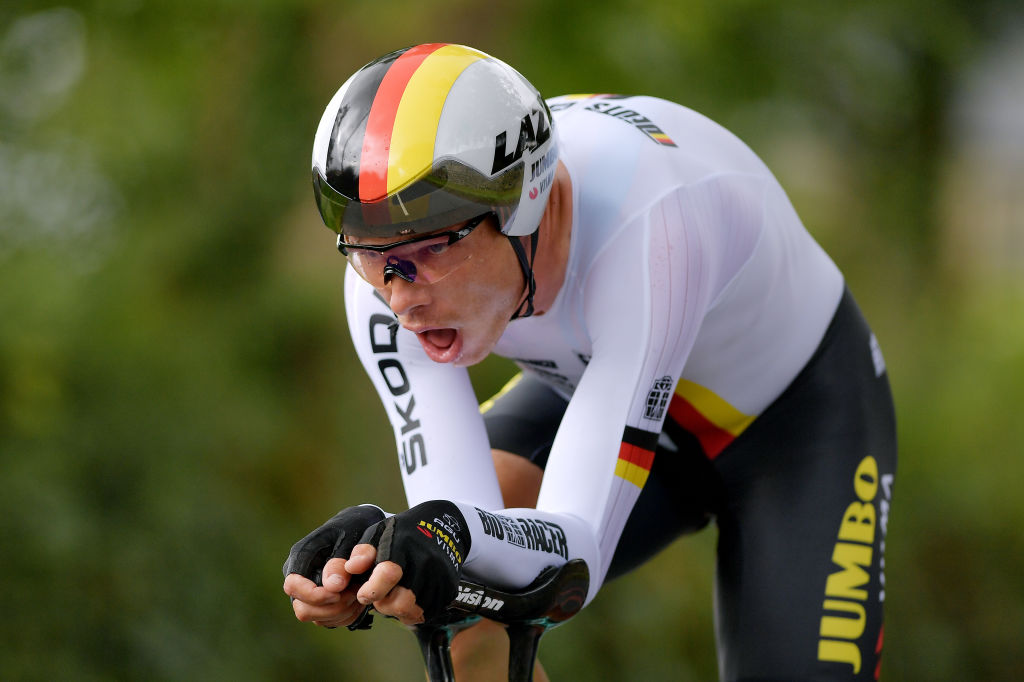 Italy are fast and hit the time check. They are 11 second faster than Germany.
Meanwhile Belgium reach the finish with 2 riders.
They set a time of 24:51. That's less than a second faster than Switzerland.
Can the Belgian trio do better than Marlen Reusser driven Swiss trio?
Here comes Denmark. They're fast too and set a very similar time as Switzerland and Great Britain.
Over to the women to fight for the medals.
Germany reach Bruges in just 2, setting 24:38. That's the new best time.
Tony Martin brings them in.
The German team lead by 13 seconds as the women start their ride.
Tony Martin gave his all and happily hugs his teammate as he officially ends his career.
Here comes Ganna and Affini.
Unfortunately the timing system has failed.
But Italy appear to have earned 20 seconds on their rivals.
Italy set a time of 24:18.
Now it's up to Elisa Longo Borghini, Marta Cavalli and Elena Cecchini to defend the lead on Germany.
They did it well at the European championships and so could the world title is there for the taking.
Interestingly the Netherlands are still in 3. But they're losing time to Italy and Germany.
The women's trio will start with a significant handicap.
Van Emden brings them home in a time of 25: 00.
It's up to Annemiek van Vleuten, Ellen Van Dijk and Riejanne Markus to safe Dutch pride but they face a massive task.
The men lost 40 seconds to Italy.
55.551 km/h 🔥🤯That's the average speed of the Men's Italian team feat. @GannaFilippo at halfway through their TTT #Flanders2021 pic.twitter.com/1Wpe1ZmLBJSeptember 22, 2021
This was the men's Great Britain trio in action.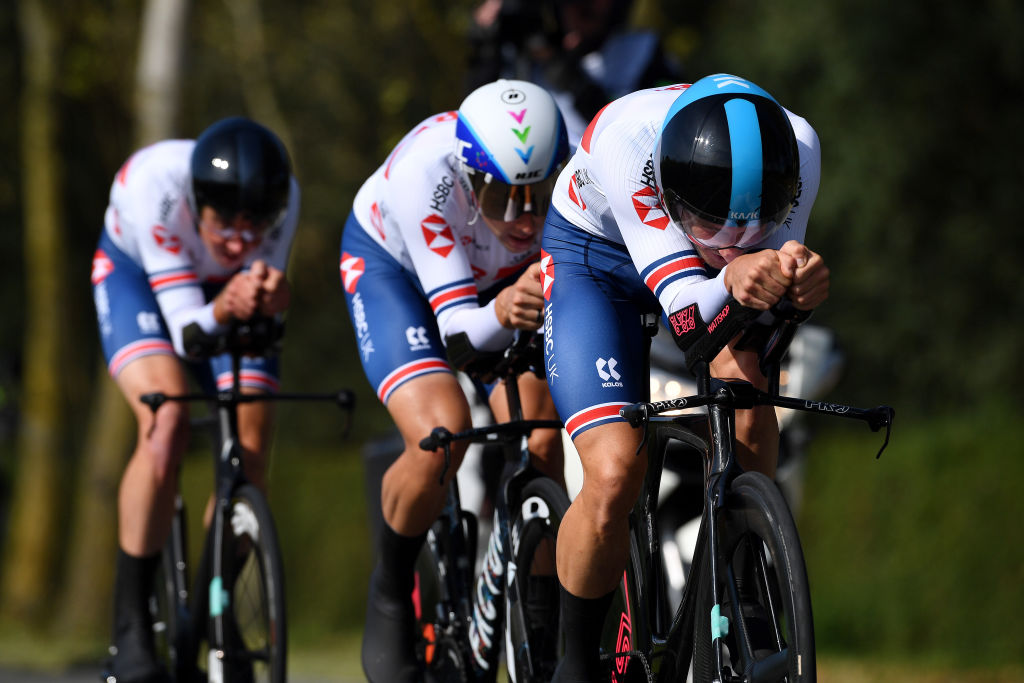 The Belgian team falls apart briefly. The final part of a TTT always exposes any weaknesses.
Belgium reach the final intermediate time check in 41:18. They're losing any chance of a medal.
Italy are more balanced and controlled.
Denmark set 41:22. They're also fading and are down to fourth.
Switzerland remain fastest so far. Can anyone beat them? Perhaps only Italy and Germany.
Elisa longo Borghini is leading Italy through the curves.
Germany set 40:33.
That's fast!
The German team is packed with their team pursuit riders. They know how to ride.
Meanwhile Ellen van Dijk is taking long turns for the Netherlands.But they have a lot of time to pull back.
Here comes Italy to the time check. They're losing time.
They set 40:49.
Italy is now 15 seconds down and are fighting for a podium spot.
Belgium is down to 2 riders as they finish.
They set 52:10 and so slip to third place. But it will not be enough to take a medal.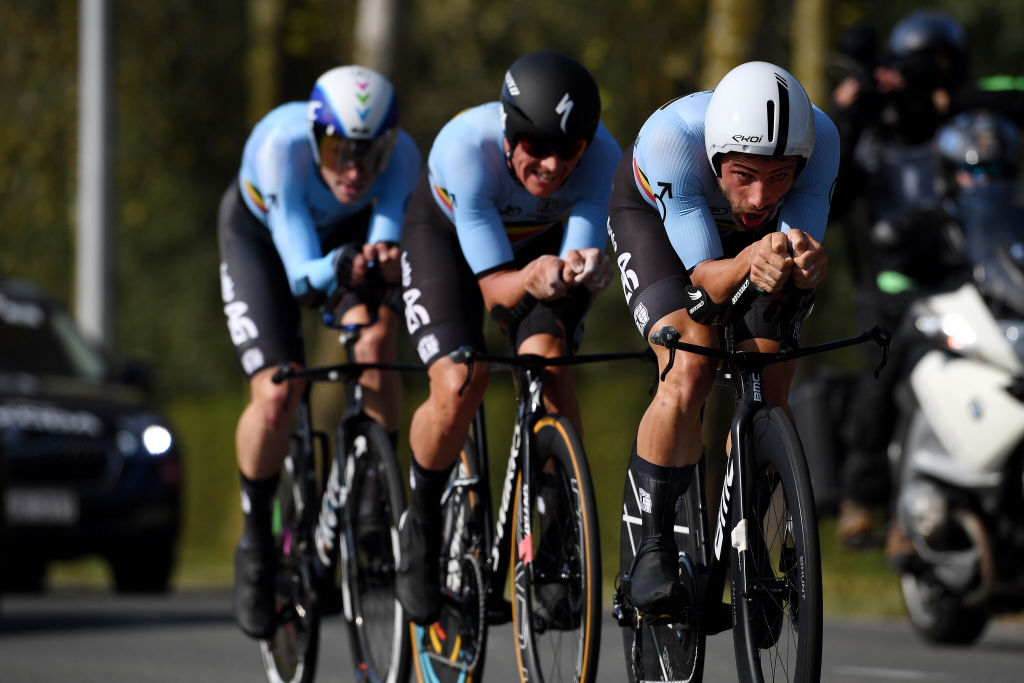 The Netherlands are on a ride. They've pulled back 25 seconds off their loss.
They are 15 seconds down on Germany with 8km to race. This will be close, very close.
Denmark finish in a time of 52:05.
Now it's the final kilometres of Germany v the Netherlands.
Italy is also fighting for the bronze medal.
Here comes Germany. They're fast!
Germany sets 50:49.
That could be enough for the world title.
Lisa Klein, Lisa Brennauer and Mieke Kroeger gave their all to set the fastest time.
They've set up an emotional retirement for Tony Martin.
Italy come in with 2 riders.
Cavalli and Longo Borghini bring it home.
Italy sets 51: 26.
That could be enough to take bronze from Switzerland.
Italy take bronze by 5 hundredths of a second!
The Netherlands are about to finish.
Can they snatch victory from Germany?
The Netherlands have pulled back more time but not enough.
The Netherlands set 51:01. But Germany win the world title!
Germany won by 12 seconds.
That's one final world title for Tony Martin and they rightly celebrate.
Germany were strong in both the men's and women's ride.
German was second fastest in the men's ride and then fastest in the women's ride.
🇧🇪 #Flanders2021What a way to end your career @tonymartin85! 🤩Germany wins the Mixed Relay TTT. pic.twitter.com/mUgUA9oUK4September 22, 2021
Tony Martin, Max Walscheid and Nikias Arndt posted the second quickest time in the first leg and Lisa Brennauer, Lisa Klein and Mieke Kroeger maintained that momentum to claim the gold medal.
Tony Martin pulls on his rainbow jersey and prepares for his final podium and national anthem.
As we await the podium ceremony, the UCI has dumped a load of news after the UCI Management Committee.
It includes the news of a test event cyclo-cross team relay. It will take place during the 2022 edition of the UCI Cyclo-cross World Championships being held in Fayetteville, Arkansas (USA) on 29-30 January.
The UCI said: "This test event will then be evaluated with a view to potentially integrating the team relay into the programme of the UCI Cyclo-cross World Championships in the future."
The three six-rider teams climb onto the podium.
Tony Martin climbs onto the top spot alone for a moment of cheers and appreciation.
Italy take the bronze medals, the Netherlands the silver and Germany the gold and rainbow jerseys.
Here are Lisa Klein, Lisa Brennauer and Mieke Kroeger in action.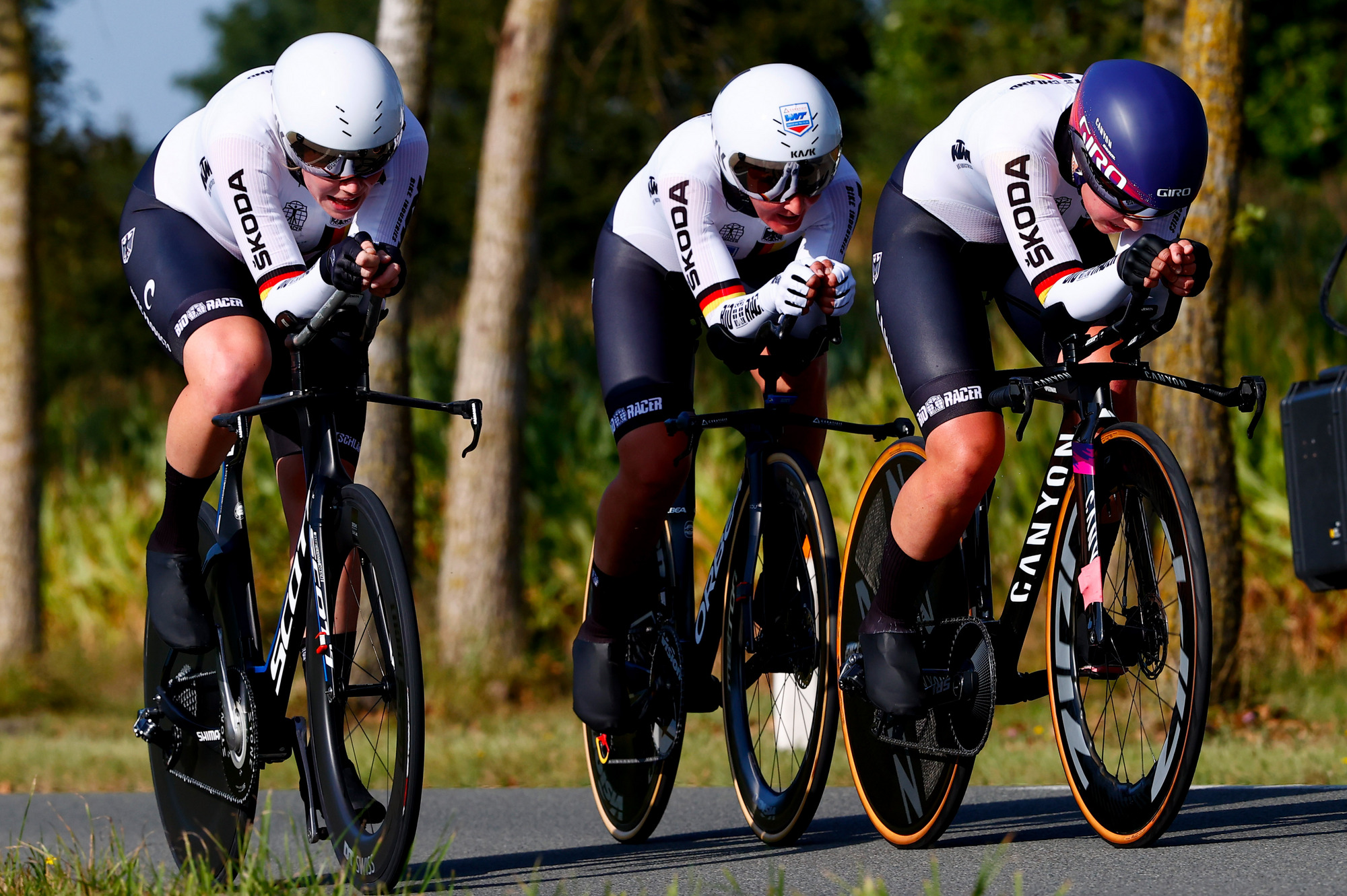 This is the Germany men's trio of Tony Martin, Nikias Arndt and Max Walscheid.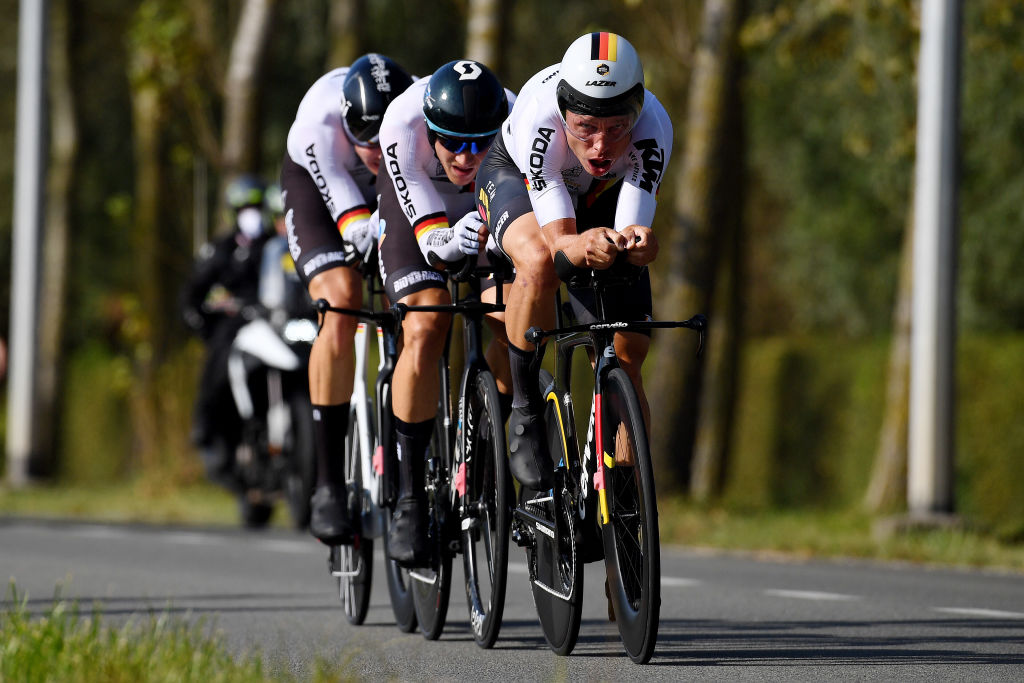 The six German riders also get a nice Tissot watch.
Tony Martin won four individual time trial titles in 2011, 2012, 2013 and 2016. Now he adds a final poignant fifth one on the last day of his professional career.
"It's the best finish, isn't it? Going from the cycling scene with the gold medal is a dream for me, the best situation I can imagine," Martin said.
"I am thankful to the whole team, especially our women, I think they made the difference today. We were hoping for the gold and now the dream has come true and it's time to celebrate."
Martin admitted that his decision to retire was quite sudden and so had not elaborated any plans for the future.
"First of all I'll have a nice celebration tonight, and tomorrow I'll go home. I haven't made any plans, I'll just take a holiday with my family and then we'll see. The decision to retire is quite fresh, so we'll see," he said happily.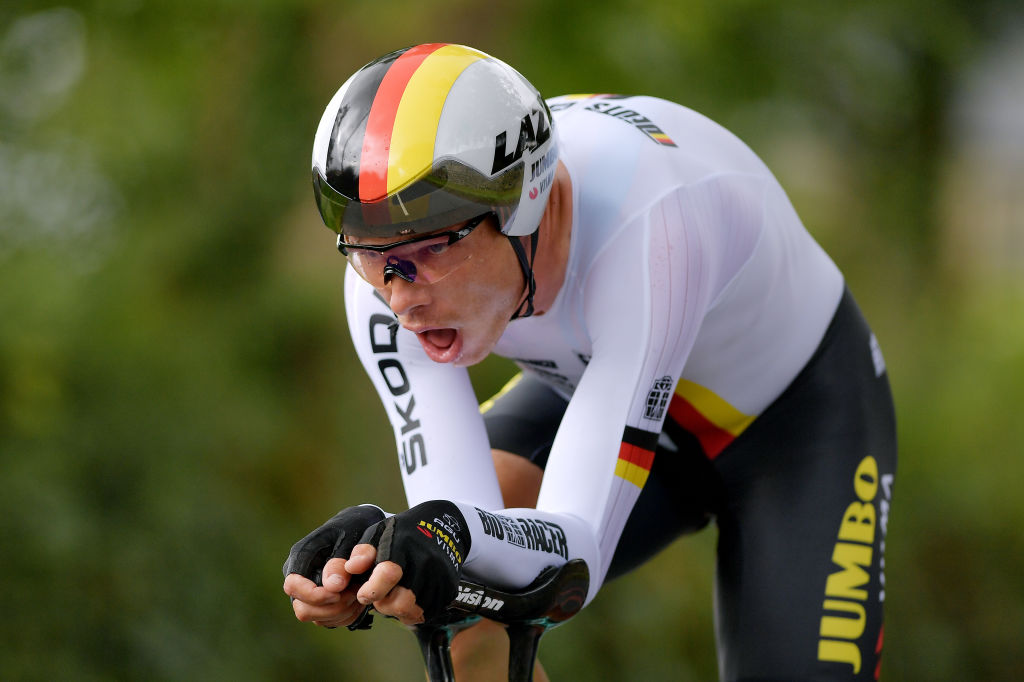 Lisa Klein also spoke after her superb ride with the women. She collapsed on the road after her ride.
"It means a lot and it was a super painful race and I think we all went over our limits," she said.
"It's so great to be part of this team. There's a super good atmosphere. And congratulations on Tony's last race – it was a big honour for all of us to fight with him for the win today."
This is the top five for the TTT Team Relay:
1 Germany 50:49.1
Lisa Brennauer (Ger)
Lisa Klein (Ger)
Mieke Kroeger (Ger)
Nikias Arndt (Ger)
Tony Martin (Ger)
Max Walscheid (Ger)

2 Netherlands 51:01.9
Annemiek van Vleuten (Ned)
Ellen van Dijk (Ned)
Riejanne Markus (Ned)
Koen Bouwman (Ned)
Bauke Mollema (Ned)
Jos van Emden (Ned)

3 Italy 51:26.8
Marta Cavalli (Ita)
Elena Cecchini (Ita)
Elisa Longo Borghini (Ita)
Edoardo Affini (Ita)
Filippo Ganna (Ita)
Matteo Sobrero (Ita)

4 Switzerland 51:26.9
Elise Chabbey (Swi)
Nicole Koller (Swi)
Marlen Reusser (Swi)
Stefan Bissegger (Swi)
Stefan Kueng (Swi)
Mauro Schmid (Swi)

5 Great Britain 51:44.1
John Archibald (GBr)
Alice Barnes (GBr)
Anna Henderson (GBr)
Daniel Bigham (GBr)
Alex Dowsett (GBr)
Joscelin Lowden (GBr)
This is the Team Relay podium with Tony Martin centre stage.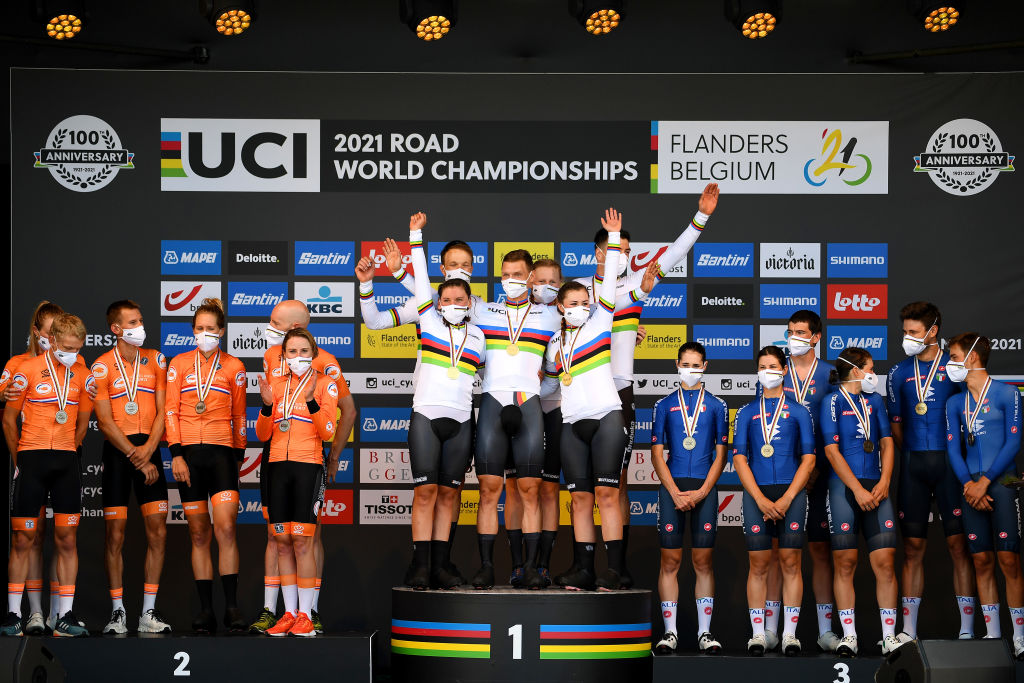 There were lots of celebrations on the podium.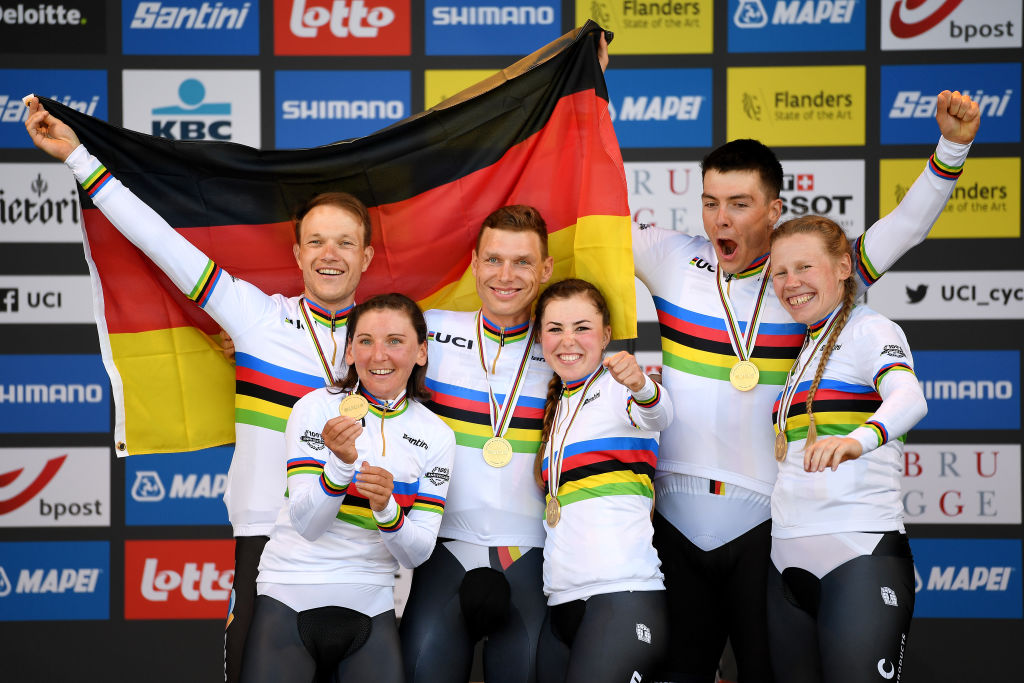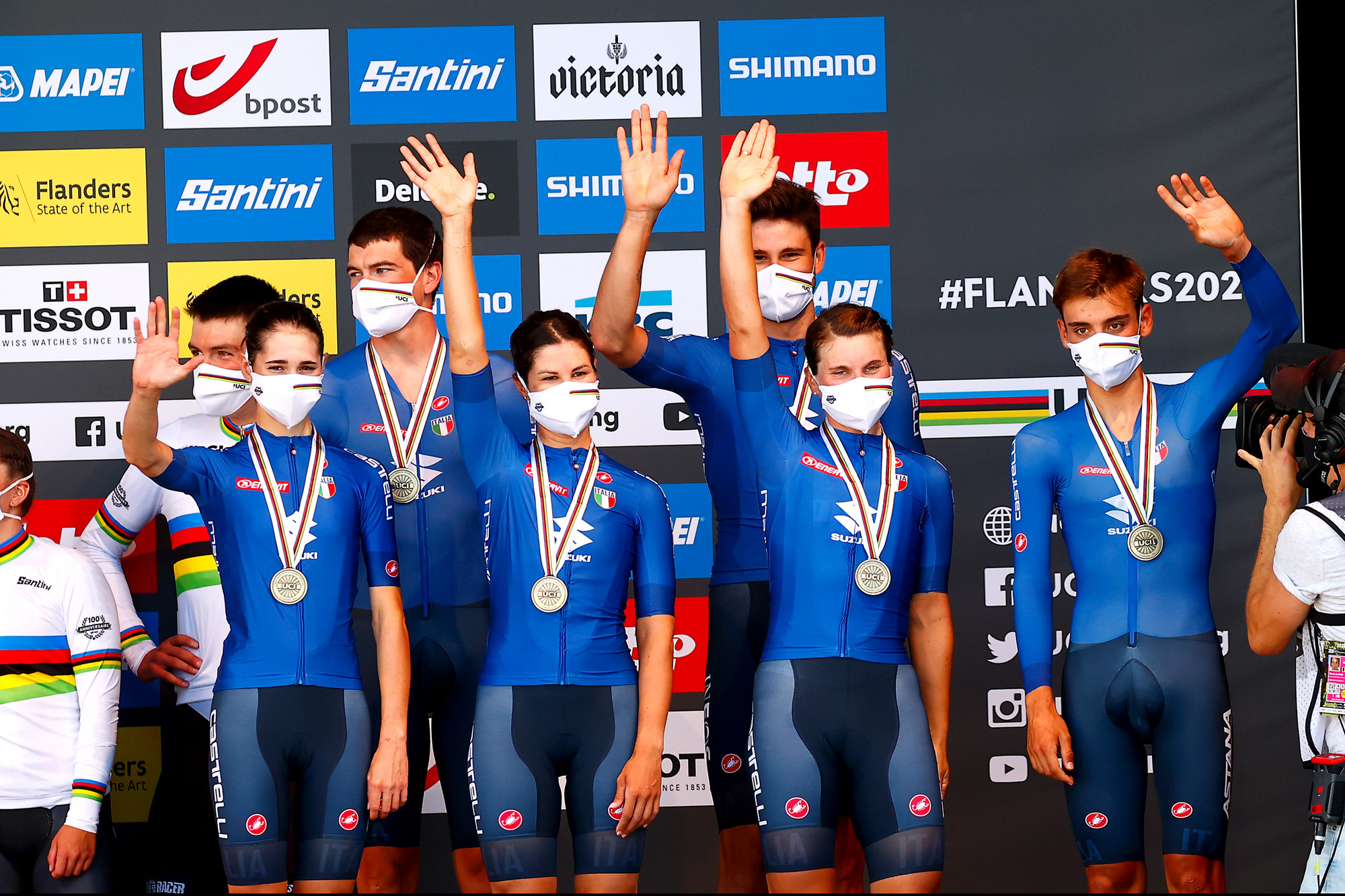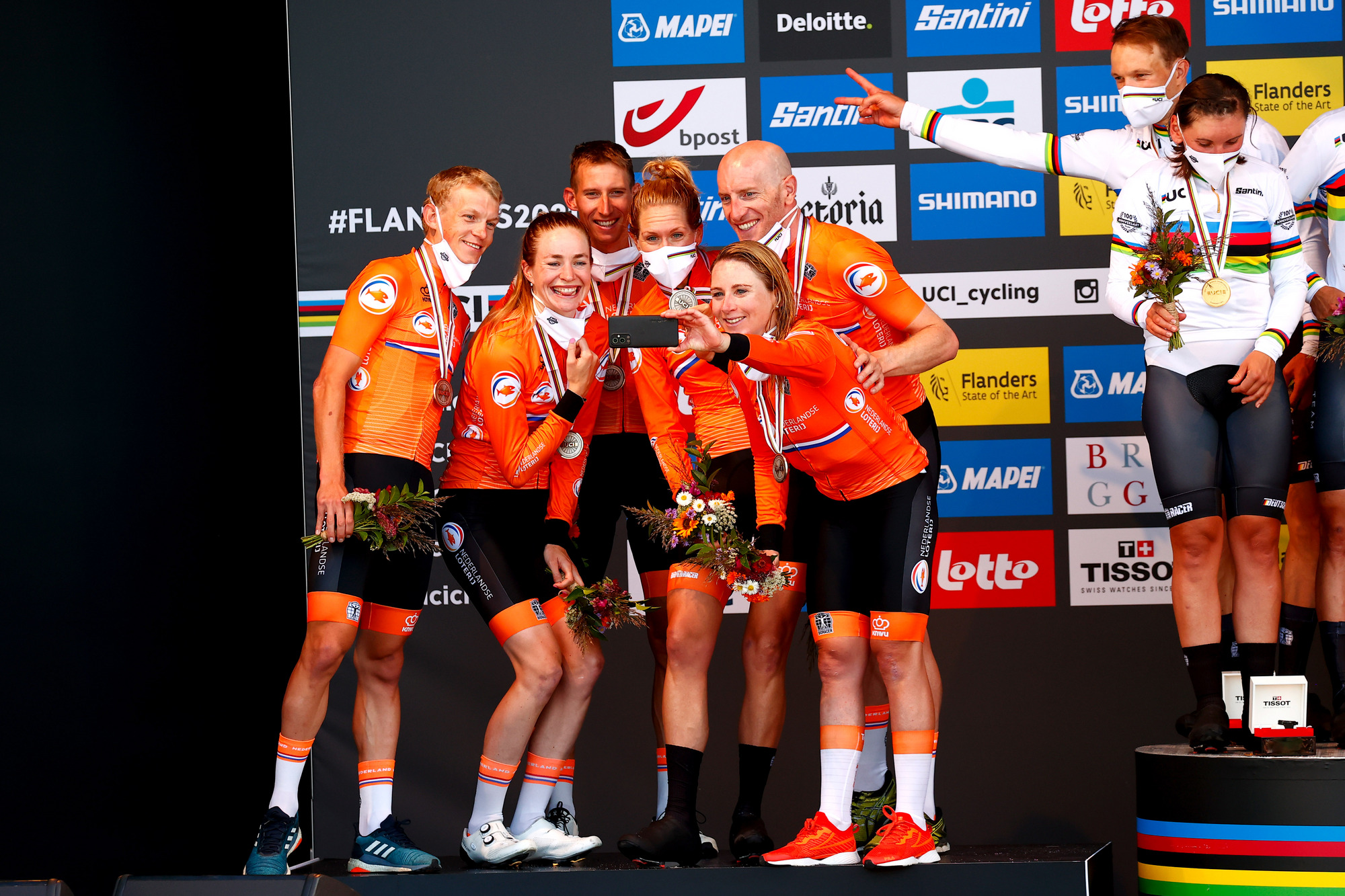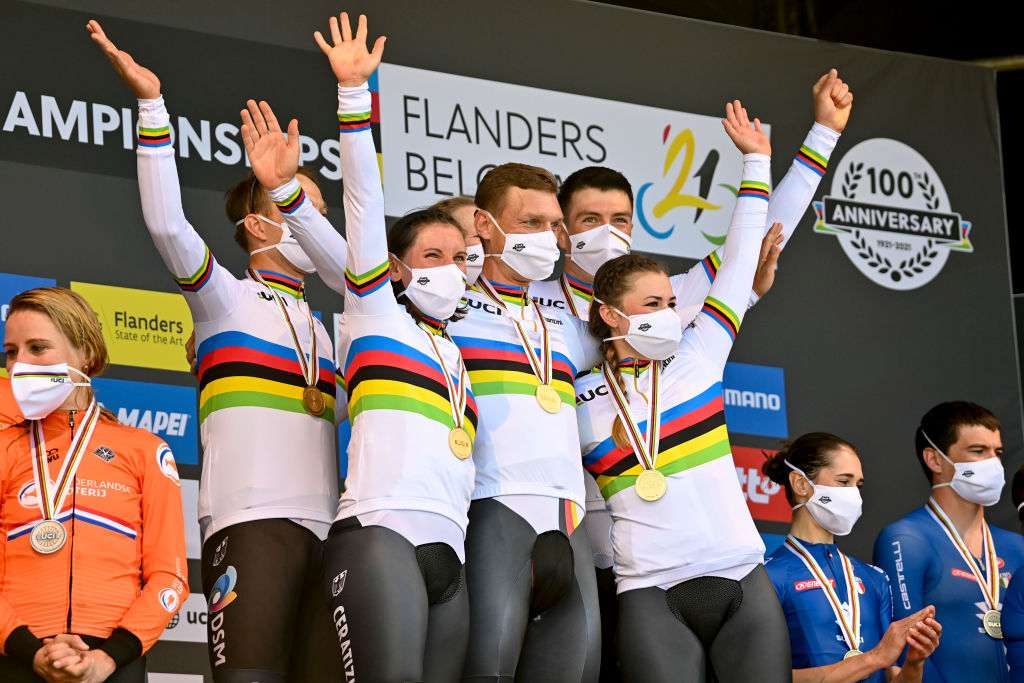 Thanks for joining our full live coverage of the Team Relay TTT.
There is no racing in Flanders on Thursday but we will be back on Friday for the first of the road racing events: the men's Junior road race and the under 23 men's road race.
Join us for all the action.
Sign up to the Cyclingnews Newsletter. You can unsubscribe at any time. For more information about how to do this, and how we hold your data, please see our privacy policy
Thank you for signing up to Cycling News. You will receive a verification email shortly.
There was a problem. Please refresh the page and try again.