Live coverage
Tour of Flanders - Live coverage
All the action from the 105th Ronde van Vlaanderen
Tour of Flanders race hub

Race preview

Start list

10 riders to watch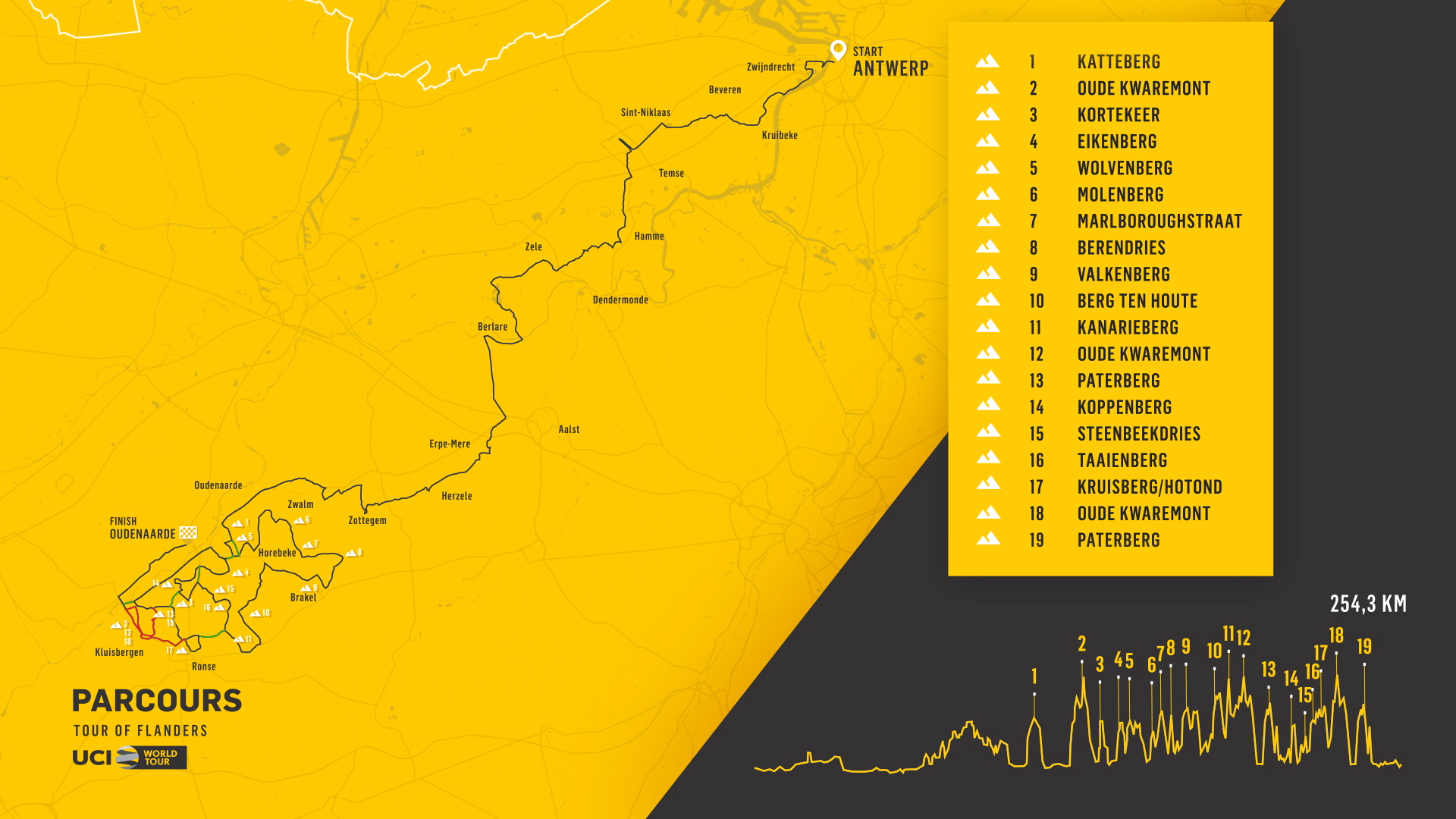 Situation
Kasper Asgreen (Deceuninck-QuickStep) wins the 2021 Tour of Flanders
Refresh
Good morning, and welcome along to our live coverage of the 105th edition of the Ronde van Vlaanderen - or Tour of Flanders. An early start, but who's complaining? This is one of the best days of the year - bike racing simply does not get better than this.
Here's the scene at the start this morning. A grey day but the temperatures aren't too low and there's not much wind about.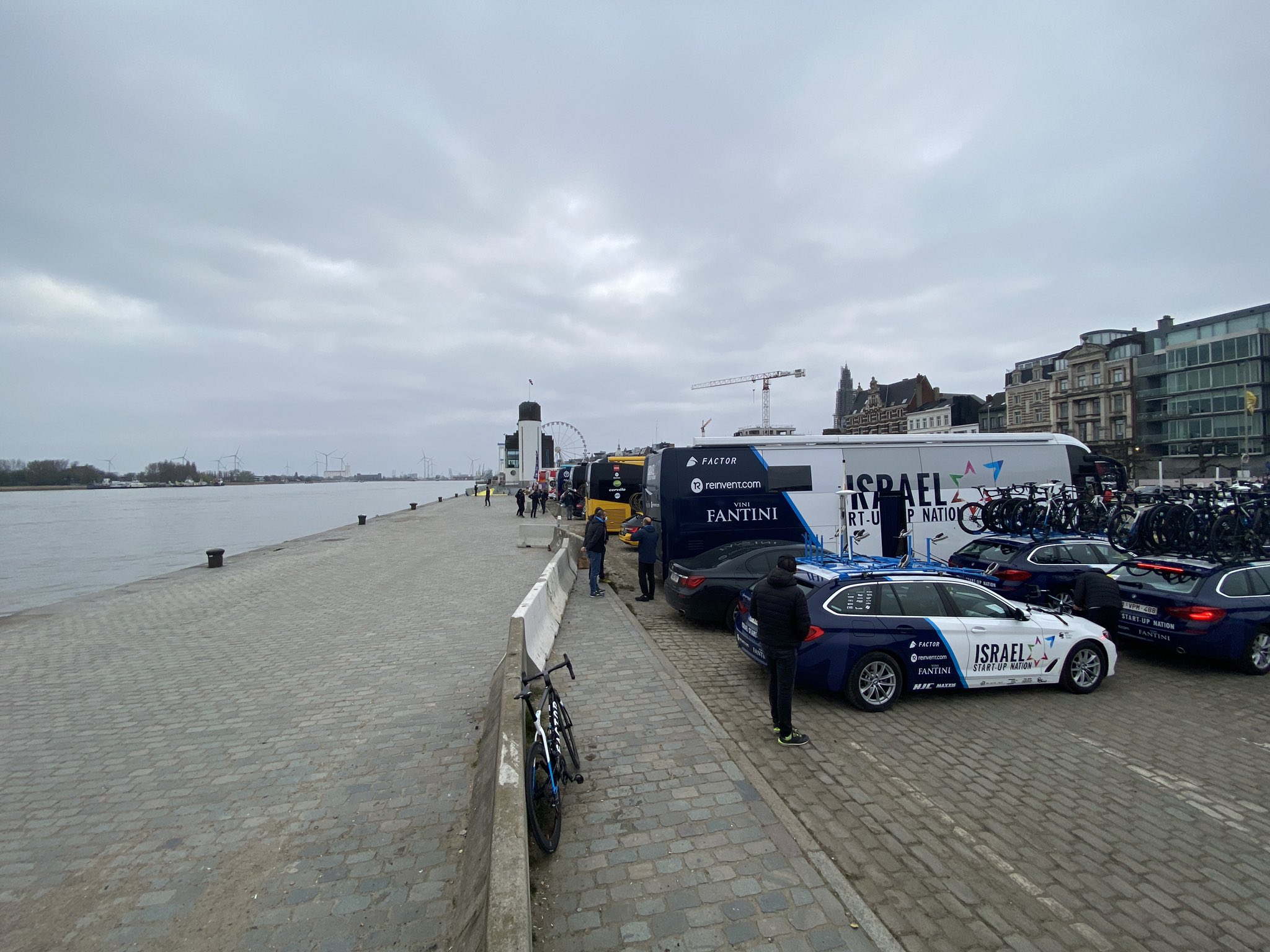 We're in Antwerp. Well, the race is in Antwerp - I am not. Normally at this point I'll be three pastries and two coffees deep, taking full advantage of what is easily up there with the top press room spreads in pro cycling, but the pandemic has me confined to my home office. Extra responsibility on the shoulders of our resident Flandrien Brecht Decaluwé, who'll be helping us bring you all the latest today.
Brecht has immediately come through with the goods. He's grabbed Wout Van Aert, who has this to say: "I think I recovered well from Gent-Wevelgem and did some good training. Everything went according to plan. I guess I'm in top form. The Classics are never a waiting game. It will be a tough and long final."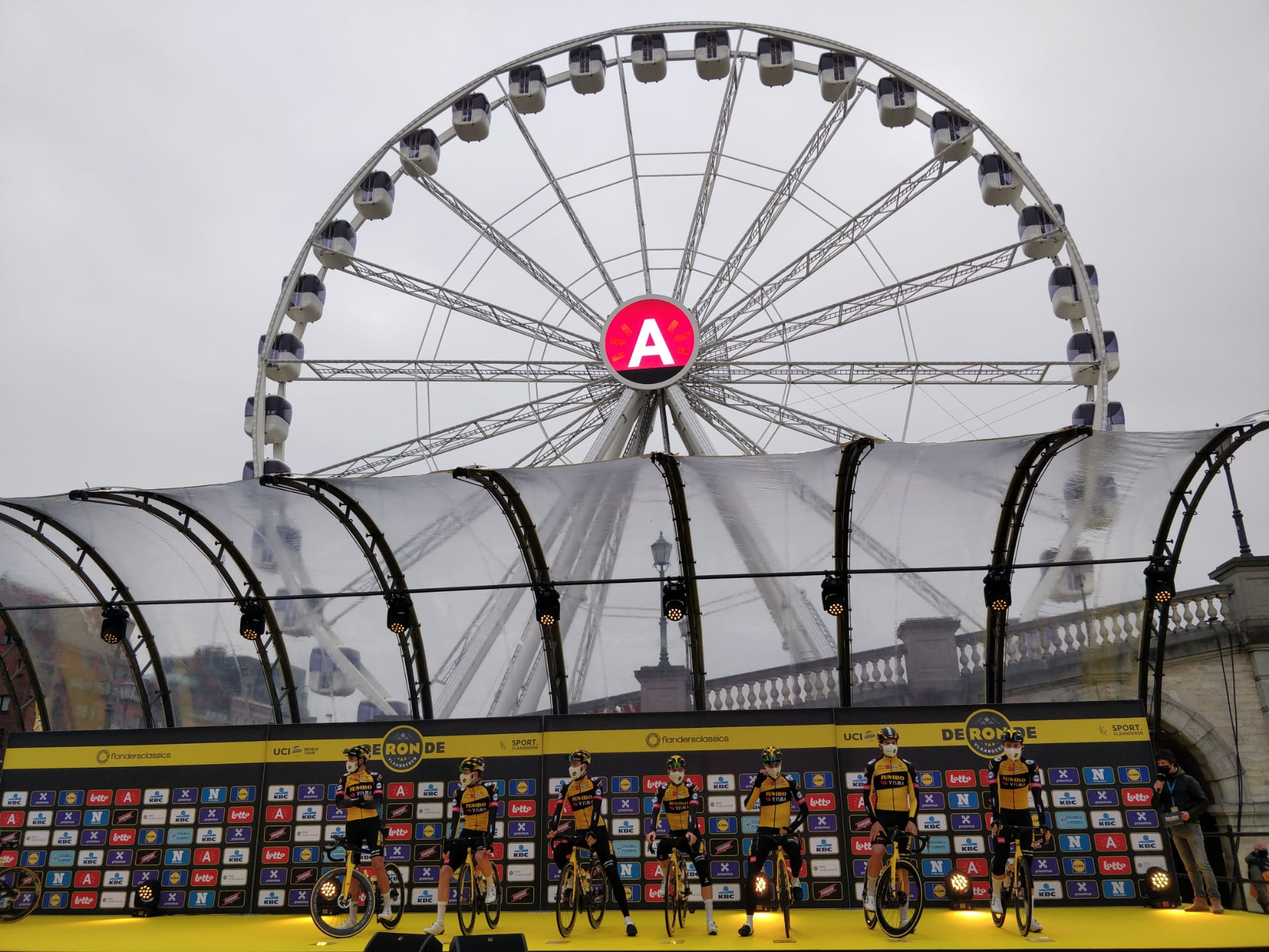 The buses have pulled up and riders are steadily signing on in an eerily quiet Grote Markt square. Some mourned the loss of the old start in Bruges but Antwerp has so far not failed to provide a spine-tingling atmosphere for the most important day of the cycling calendar in Belgium. It's a shame there are no fans but it's an absolute must, and part of the reason these races have been able to go ahead during a particularly grim point of the pandemic is the seemingly effective public messaging for fans to stay at home.
Anyway, the start of the race is coming up at 10am local time. That's only the neutralised start, and the riders will spend 9km and nearly 20 minutes behind the director's car before the race is officially waved underway.
From there, 254.3km and 19 climbs in the Flemish Ardennes will take us to the finish in Oudenaarde at around 4-4.30pm.
We're all set for this 105th edition 💛🖤 #RVV21 pic.twitter.com/v50fvPyWIsApril 4, 2021
And once you're done with that, our 10 riders to watch.
We only had space for 10, but there are plenty more capable of lifting the trophy in Oudenaarde. Here's the full start list.
Here we go. Just moments away now.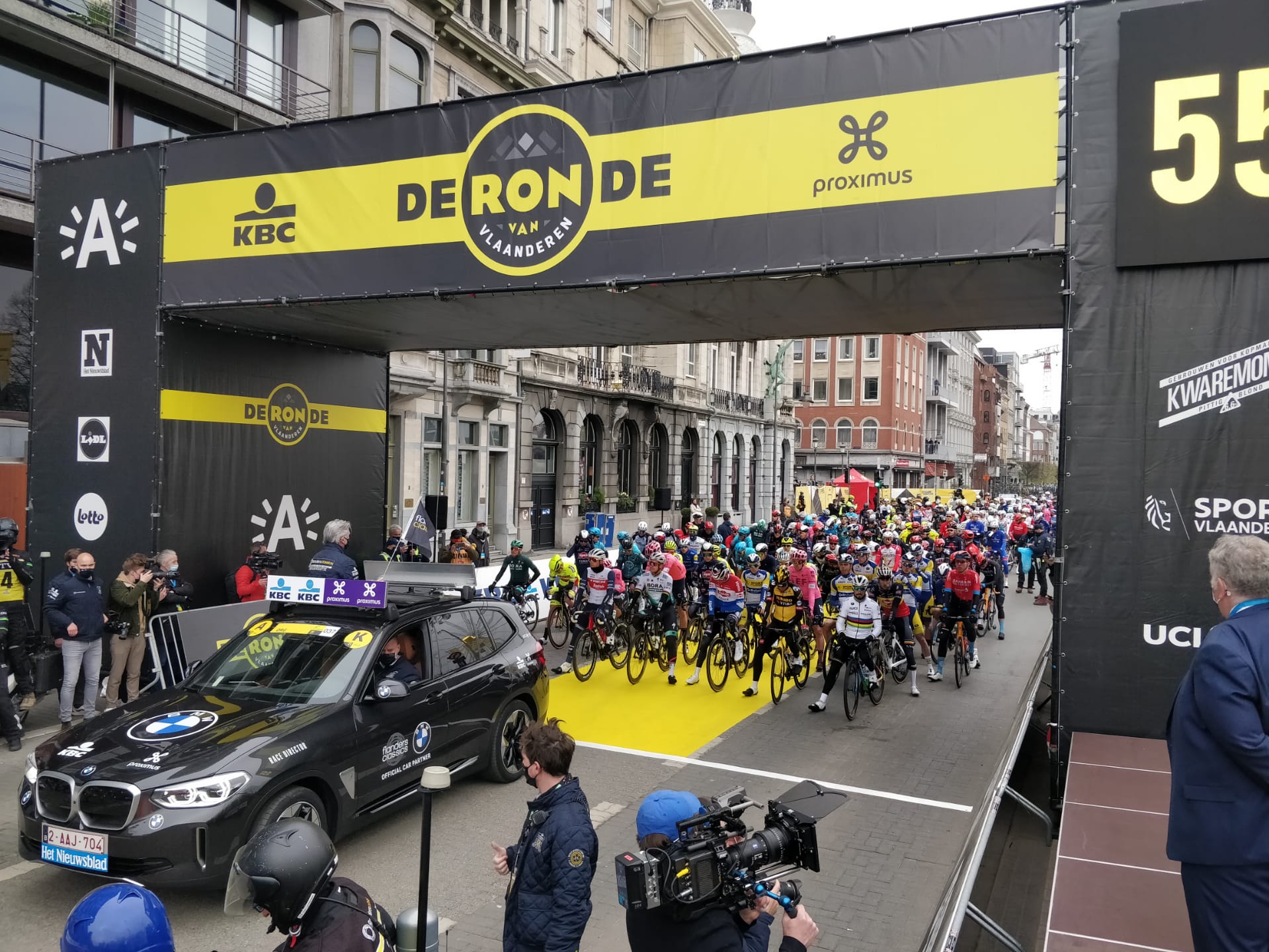 We're off
The riders roll out of Antwerp. A 9km neutral zone and then we'll be racing.
It's going to be fascinating to see how this one plays out. Often a narrative builds towards Flanders but this time there are more question marks than clues. Deceuninck-QuickStep bossed E3 and Kasper Asgreen looked frighteningly strong, but they were well wide of the mark at Gent-Wevelgem and Dwars door Vlaanderen. World champion Julian Alaphilippe, who opened the race on his debut last year, was one of the riders off colour mid-week and hasn't raced much recently, but possesses the obvious class to win this.
The same goes for defending champion Mathieu van der Poel (Alpecin-Fenix). He won Strade Bianche in imperious fashion but that was nearly a month ago now, and he hasn't exuded confidence after his own problems mid-week. The third member of the 'Big 3' is Wout Van Aert, who won Gent-Wevelgem but two days earlier struggled at E3.
QuickStep showed at E3 how Van der Poel and Van Aert's individual strengths can be neutralised by a strong collective. If Alaphilippe, Asgreen, Yves Lampaert, and Florian Sénéchal can hit the right notes, they can put the race in their hands.
As ever, opportunities for others will appear in the cracks. Jasper Steven (Trek-Segafredo) exploited one on at Milan-San Remo and there are plenty of riders who may sit a notch below the Big 3 but are more than capable and worthy winners if the stars align.
A little word about the route. As with last year, there's no trip to the legendary Muur van Geraardsbergen but there are nevertheless 19 climbs on the menu - two up from last year's shortened version.
The Oude Kwaremont is the key climb on the modern Flanders course, now in its 10th year since the move from the Muur and Bosberg finale. The Kwaremont is climbed three times, representing the development of the race.
The first ascent is a sort of entry to the so-called 'hill-zone', coming as the second climb of the day after 120km. The second ascent represents the start of the crucial phase of the race for the favourites with 55km to go. Here, it is paired with the steep Paterberg and followed by the Koppenberg, Steenbekdries, Taaienberg, and Kruisberg. The third ascent represents the endgame with 17km to go. Again, it's over to the Paterberg before the 13km run-in to the finish in Oudenaarde.
The 19 climbs
1. Kattenberg (at 152.1 kilometers from the finish)
2. Oude Kwaremont (122.6 kilometers from the finish)
3. Kortekeer (at 121.2 kilometers from the finish)
4. Eikenberg (at 114.9 kilometers from the finish)
5. Wolvenberg (at 111.8 kilometers from the finish)
6. Molenberg (at 101.9 kilometers from the finish)
7. Marlboroughstraat (at 97.9 kilometers from the finish)
8. Berendries (at 93.9 kilometers from the finish)
9. Valkenberg (at 88.5 kilometers from the finish)
10. Berg Ten Houte (at 76.1 kilometers from the finish)
11. Kanarieberg (at 70.6 kilometers from the finish)
12. Oude Kwaremont (54.6 kilometers from the finish)
13. Paterberg (at 51.2 kilometers from the finish)
14. Koppenberg (at 44.6 kilometers from the finish)
15. Steenbeekdries (at 39.2 kilometers from the finish)
16. Taaienberg (at 36.7 kilometers from the finish)
17. Kruisberg-Hotond (at 26.5 kilometers from the finish)
18. Oude Kwaremont (16.7 kilometers from the finish)
19. Paterberg (at 13.2 kilometers from the finish)
We're off!
For real this time. The race director rises from his sun roof, lifts up his little red flag, and waves us underway.
The first order of the day is the battle for the breakaway. Smaller teams like Bingoal WB and local lads Sport Vlaanderen Baloise will obviously be keen but we've got plenty of WorldTour riders hitting out here.
Jonas Rutsch lines it out. The EF rider has some sizeable prospects in these races but he's still young and is looking for the break this year. No gaps for anyone yet.
More from Brecht. He says Alaphilippe was one of the last riders to reach the start line. Read into that what you will. Asgreen dismissed any notion of the world champion being QuickStep's sole leader. "No, you'll get to see the usual wolfpack," he said.
EF try again, this time through Tom Scully. He's solo at the moment.
Correction. Just had a better shot and it's Stefan Bissegger for EF. The Swiss youngster is a rapidly growing talent. It looked like he was being let go alone but now a response has come.
A group of five is formed at the front but now there are counter attacks.
Bingoal, Topsport, Cofidis, and Movistar all have a rider up with Bissegger.
The counter attack fizzles out and Deceuninck-QuickStep come to the front of the bunch, happy to try and lock this one up.
242km to go
The peloton bunches up and spreads out. It looks like this is our breakaway, settled after just over 10km.
Hang on. Astana break past the QuickStep roadblock and try to open this back up.
Woah!
Ugly scenes here. An Alpecin rider gives a shoulder barge to the Astana rider who was on the attack. A Bora rider is up in arms too.
Not quite sure what that's all about. It looks like the Astana rider, Yevgeniy Fedorov, pulls on the brakes as the front of the bunch is lined out. The Alpecin rider comes around and properly shoulder barges him. Fedorov stays up, then swings back in front, at which point the Bora rider raises both arms towards the commissaire's car.
The five riders in the breakaway are:
Stefan Bissegger (EF-Nippo)
Mathias Norsgaard Jorgensen (Movistar)
Jelle Wallays (Cofidis)
Fabio Van Den Bossche (Sport Vlaanderen Baloise)
Mathijs Paasschens (Bingoal Wallonnie Bruxelles)
Things haven't calmed down after that scuffle. The bunch are still only 30 seconds back and now a rider apiece from Astana and DSM are on the move.
I'm sure the social media bods are busy giffing up that shoulder barge incident. It will be interesting to see if the video referee chooses to look at it and take action.
The counter-attacking duo is Nico Denz (DSM) and Hugo Houle (Astana).
As expected... here's the incident, so you can judge for yourselves
Thomas De Gendt, tweeting from his sofa: "Dangerous behaviour by both riders."
The five leaders have a lead of 1:30 and that should grow as the peloton eases up properly now. Denz and Houle are still in between, 45 seconds behind the leaders.
The five out front aren't waiting up for Houle and Denz. They're having to work hard and are still at 35 seconds. The gap to the bunch is up at 4 minutes now and still rising.
The five riders do look like they're waiting up now, as the gap tumbles.
The junction is made. That makes it seven riders in our Tour of Flanders breakaway.
Stefan Bissegger (EF-Nippo)
Mathias Norsgaard Jorgensen (Movistar)
Jelle Wallays (Cofidis)
Fabio Van Den Bossche (Sport Vlaanderen Baloise)
Mathijs Paasschens (Bingoal Wallonnie Bruxelles)
Hugo Houle (Astana-Premier Tech)
Nico Denz (Team DSM)
220km to go
They have six minutes and rising now as the race settles into a familiar pattern. We've done 35km here and we've still got nearly 70 before we hit the hills of the Flemish Ardennes.
Here's what Van der Poel had to say at the start
"I feel pretty ok, but you have to feel ok in the final. I hope for a good day today. For me, it's mostly comfortable that you've already won the race once - it gets a bit easier for me. I expect some strong teams to open up the race quite early, but we will see how it works out."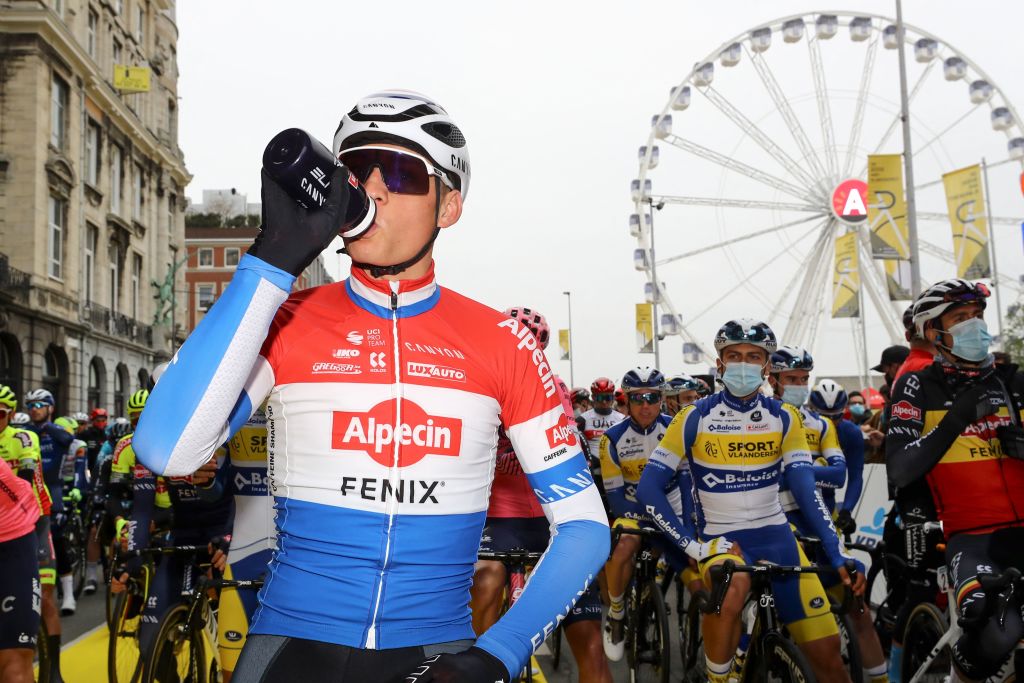 Ryan Mullen abandons
An early exit as Trek-Segafredo's Irishman is struggling with back pain.
Greg Van Avermaet clips off the front of the peloton. It's not an early attack, but we're in Hamme, his home town. He stops and says hello to his partner and children.
Breaking
Otto Vergaerde (Alpecin-Fenix) and Yevgeniy Fedorov (Astana-Premier Tech) have been disqualified after that earlier incident.
Here's a longer clip of the incident. It seems Fedorov pulls on the breaks, causing the anger from Vergaerde and the Bora rider. Still, there is absolutely no excuse for responding with a shoulder barge. You can see that Fedorov then responds by zipping back in front and swerving across. It's hard to argue with both being chucked out.
Ambras in de klas: even hommeles tussen Alpecin en Astana. Krijgt dit nog een staartje? #RVV #RVV21 https://t.co/1F8nI8qnRd pic.twitter.com/V2nyU8QwJIApril 4, 2021
The recriminations commence. Vergaerde is off the back of the bunch and on his way out of the race. The Astana car pulls up and a wagging finger appears from the driver's window. Vergaerde doesn't take kindly to that.
And now Fedorov is back with the commissaire's car. He appears to be being told it was unacceptable to swerve across the road like that.
200km to go
Meanwhile, the Tour of Flanders rolls on. The break have 10 minutes now, as Edoardo Affini (Jumbo-Visma) sets the pace at the head of the bunch.
We've got some reaction from Astana. This is from their director Steve Bauer.
"We have seen the same images that everyone has seen on television. We are disappointed that Fedorov has been disqualified but with the race underway, we won't have an opportunity to speak to him and understand exactly what happened until after the finish. For now, our focus is on the six riders we have left in the race."
And Belgian broadcaster Sporza have used their motorbike-based reporter in the race to grab a word with Vergaerde himself...
"Fedorov still wanted to go to the early break, but he slammed his brakes. I almost crashed and reacted. It is a great pity to let the team down like this, because I was indicated to be in the lead. I can't say much. The jury will probably want to set an example. It's sour."
Another family stop, this time Tom Van Asbroeck (Israel Start-Up Nation). The gap to the break has stopped growing but it's still all calm in the bunch. Affini is still doing all the pace-setting 10 minutes behind the seven leaders.
Deceuninck-QuickStep are usually the early controllers through Tim Declercq but today it's Jumbo-Visma assuming the responsibility to begin with. Wout van Aert is arguably the strongest rider in the race but question marks have been raised over his team. Mike Teunissen, remember, was ruled out of the whole spring through injury. Van Aert was quickly isolated at E3 but then at Gent-Wevelgem Nathan van Hooydonck stepped up and played a blinder with him in that long break, finishing 7th himself. He'll be Van Aert's key lieutenant again, while young talent David Dekker rides his first Monument.
31 Wout Van Aert
32 Edoardo Affini
33 David Dekker
34 Pascal Eenkhoorn
35 Timo Roosen
36 Nathan Van Hooydonck
37 Maarten Wynants
Before we get to the Flemish Ardennes, we can take a look at a few more of the key teams. What to make of Deceuninck-QuickStep? Pretty much unplayable at E3, but off the mark at Gent-Wevelgem and Dwars.
Julian Alaphilippe is the world champion who opened up last year's race, only to be taken out by a race moto. He has the status but hasn't raced much recently and is also targeting the Ardennes Classics later on. Kasper Asgreen was phenomenal at E3, doing a huge solo break then somehow finding the strength for a winning attack. If he gets a gap he's so hard to bring back. Zdenek Stybar was looking good but has been ruled out with minor heart problems. Still, in Florian Sénéchal and Yves Lampaert, the Belgian team have two more bona fide candidates. The former continues to improve, taking 2nd at E3, and has a strong finish on him. Lampaert, meanwhile, has had a quieter time of late but has been stuck behind crashes, mechanicals, and race situations. You could sense his frustration - a sign he knows his form is there. Declercq and Van Lerberghe will be the pure domestiques. As for Omloop winner Ballerini, he's a fast finisher if a bigger group reaches the finish but he was well off it at Dwars midweek and it seems his form is on its way down.
11 Julian Alaphilippe
12 Kasper Asgreen
13 Davide Ballerini
14 Tim Declercq
15 Florian Sénéchal
16 Yves Lampaert
17 Bert Van Lerberghe
177km to go
Affini peels off the front and any faint sense of urgency drains from the peloton. Who's going to take it up?
The indecision in the bunch sees the gap to the break rise to 11 minutes.
What about Trek-Segafredo? They've blown hot and cold this year. It seems to have been victory or nothing. They have Milan-San Remo winner Jasper Stuyven and Kuurne winner Mads Pedersen, the former looking like the more consistent and likely challenger coming into this one. Ryan Mullen has already abandoned with back problems, while Edward Theuns has been ill recently. Quinn Simmons attacked and faded at E3 then didn't finish Dwars. Koen de Kort and Kiel Reijnen will be on domestique duty.
51 Jasper Stuyven
52 Koen de Kort
53 Kiel Reijnen
54 Ryan Mullen
55 Mads Pedersen
56 Quinn Simmons
57 Edward Theuns
Affini is back on the front. The gap grew to 11:30 while he was away.
Bora-Hansgrohe have a couple of riders behind Affini. Peter Sagan is here and while the 2016 winner is not a top contender given the way his spring was knocked back by COVID-19, there is growing suspicion he could do something after he won a stage of the recent Volta a Catalunya.
My colleague Stephen Farrand spoke to Sagan on Friday and got the scoop on his contract situation
Peter Sagan: If Denk doesn't need me I'll be the first person to find a team that does
While we're at it, let's look at Bora-Hansgrohe. Sagan is not their sole leader, as they also have Nils Politt, who looked in decent shape at Dwars but was forced to sit out E3 and Gent-Wevelgem, as were the whole team. Daniel Oss is the man who'll be expected to accompany them deep into this race.
61 Peter Sagan
62 Maciej Bodnar
63 Marcus Burghardt
64 Daniel Oss
65 Nils Politt
66 Lukas Pöstlberger
67 Patrick Gamper
Cobbles!
The break hit the first sector, the Lippenhovestraat. The first climb is still 15km away.
Vegard Stake Laengen's saddle has come off. A kindly spectator picks it up and hands it back to the UAE rider.
Straight onto the Paddestraat cobbles now
A little more urgency in the bunch as they approach the cobbles. Jumbo now have a line of six riders at the head of affairs.
161km to go
QuickStep have moved forward now as they hit the cobbles. The gap to the break is 12 minutes
Here's a shot of our breakaway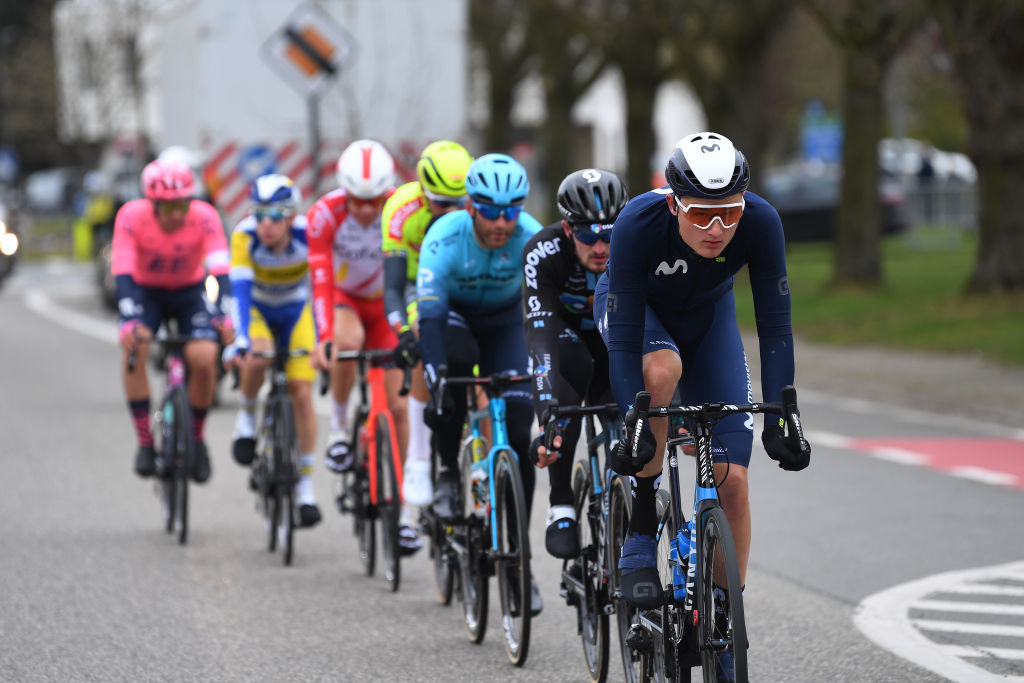 Puncture on the cobbles for Sep Vanmarcke (Israel Start-Up Nation). Some things do not change. Probably the right time to get your bad luck out of the way.
Problem for Warren Barguil (Arkea-Samsic). Yes, the former Tour de France king of the mountains is here, making his Ronde debut. He's not just making up the numbers either. He was so lively in his cobbled debut at Dwars in midweek that some are talking about the Frenchman as a dark horse today.
The peloton are off the cobbles and Alaphilippe and Sagan have a word to call a toilet break truce.
The familiar figure of Tim Declercq is on the front now.
154km to go
We have 100km on the clock and we're about to hit the first of our 19 climbs. It's the Kattenberg - 600 meters long, 6% average gradient, 8% maximum
A short and gentle one to get us into the swing of things. The break tick it off with a lead of 11:50 over the bunch.
The break head onto the Holleweg cobbles now. It's not a climb but it's a drag.
I keep calling them Deceuninck-QuickStep, but for one day only (like at last year's Flanders) they're Elegant-QuickStep. They've rebadged it you fool.
The bunch hit the Katteberg now. Declercq leads them up. The gap is 11:30
Affini takes over on the Holleweg cobbles. It's those two riders trading turns and doing the work in this early foray in the Flemish Ardennes. There's still more than 20km to the first ascent of the Oude Kwaremont, which is where things should start to heat up.
140km to go
The pace has been lifted and the back of the bunch is in one line. The gap to the break is starting to fall now. 1:20 at the minute.
I haven't done a team in a while. How about AG2R-Citroën, who had a major Classics revamp over the winter. Oliver Naesen was their established leader but he's now joined by his more decorated best bud Greg Van Avermaet. Those two have had a funny spring so far. They both made the six-man final split at E3, dropping Van Aert and finishing 4th and 6th. And yet they let Asgreen get away. At Gent-Wevelgem they were chasing the facts all day and actually Naesen revealed he'd received a wave of criticism on social media. Van Avermaet looked really strong at Dwars and looks like the stronger bet, although they'll hope to get into a move together. Stan Dewulf, Gijs Van Hoecke, and Damien Touzé are next in the hierarchy and could try and anticipate in the early attacks.
21 Greg Van Avermaet
22 Stan Dewulf
23 Oliver Naesen
24 Lawrence Naesen
25 Michael Schär
26 Damien Touze
27 Gijs Van Hoecke
Naesen with the pick of the pre-Flanders quotes...
"Whether I am angry with the social media critics? You can't be mad at a donkey for being a donkey, can you."
Anyway, back in the race and the break are about to hit the Oude Kwaremont for the first time.
The Oude Kwaremont is the emblematic climb of the modern Flanders course. We'll do it three times today, now as the prelude, then as the race hits fever pitch, then as the endgame.
It's a long one, some 2,200 metres. It starts off gently on a tarmacked farm road, but soon turns to cobbles and ramps up nastily. It then eases off past the pub at the top. The average gradient is 4% but the maximum is 11.6%.
133km to go
The breakaway calmly tick it off. That's 2 climbs done out of 19. They head over the top with a lead of 11 minutes over the peloton.
And no we look back and see the bunch approach the Oude Kwaremont. The pace is really picking up now. That's because they'll soon be off the big road and onto the farm roads, so positioning is important. It's a full bunch run-in so quite a hectic one.
UAE have taken it up now. Van Avermaet is unconcerned right at the back.
This is more about defense. The favourites won't be hitting out yet but they'll want to stay out of any potential trouble.
Mikkel Bjerg leads the peloton onto the Oude Kwaremont for UAE.
Most of the big names are in the front half of the bunch as they get through the steep section. Van Avermaet still well down.
126km to go
Bjerg leads the bunch to the top of the Oude Kwaremont. The gap to the seven-rider breakaway is down to 9:50
Since they took control there, let's have a look at UAE's team. They have 2015 winner Alexander Kristoff. You never quite know what to expect from the Norwegian, but you can never count him out - he's finished on the podium in the past two editions. Their other leader is Matteo Trentin, who has looked strong so far this spring but continues to search for that cobbled win. Bjerg is doing the early work here, while Bystrom and Oliveira, who both had good hit-outs at Dwars earlier this week, should step up soon.
11 Alexander Kristoff
112 Mikkel Bjerg
113 Sven Erik Bystrøm
114 Ryan Gibbons
115 Vegard Stake Laengen
116 Matteo Trentin
117 Rui Oliveira
123km to go
Next climb up: Kortekeer (1,260m, 6.4% average, 17% max)
The break are on it now.
The bunch is back on wide tarmac but there's a surge of pace ahead of the approach road to the Kortekeer.
The break are still 9:30 out in front. It could be a fair old while before they get caught.
Jumbo set up a train on the left, while Bahrain are prominent through the middle. It's onto a sharp dip downhill (no supertucks) then up and onto the Kortekeer.
Tense moments as they hit one of those 'death ridge' roads at full whack. That's a concrete road with a mini trench down the middle, just the right size for a 28mm tyre to get stuck in.
118km to go
This surge in pace brings the gap to the break down to 9 minutes.
Van der Poel moves up ahead of the Kortekeer. He's lost Otto Vergaerde but has sent Silvan Dillier to the front. The 2020 champion is only a few places back.
Declercq takes it up on the climb now, mid-snack, as you do. His jaws could probably grind concrete.
Another mechanical problem for Michael Schär, AG2R's key domestique and long-time ally of Van Avermaet.
116km to go
The break hit the Eikenberg
It's climb 4 of 19 and it's 1,200m, 5.2% average, 10% max
Schar is really frustrated here. He's having to wait an age for his team car.
Mechanical for Marco Haller. He had a really good outing at E3 and took a top 10. However, the main men for Bahrain Victorious are set to be Sonny Colbrelli and Dylan Teuns. Heinrich Haussler as well.
QuickStep have got themselves organised towards the front of this bunch.
The climbs are starting to come thick and fast now. Next up for the break: Wolvenberg (645m, 7.9% average, 17.3% max)
Another surge in pace in the bunch as they approach the Eikenberg
Bora take it up on the Eikenberg.
Tom Pidcock goes off course. He's on the smooth dirt track by the side of the cobbles, and when he reaches the barriered section he finds himself on the wrong side of the metal. He has to go back around and is now right at the back of this bunch.
Mechanical for Politt on the climb. Bora will knock it off now.
Marcus Burghardt punctures now so he'll be of no help to Politt here.
We mentioned Pidcock, so let's talk about Ineos Grenadiers. The young star wears the lead dossard but it's Dylan van Baarle who represents their best bet. Pidcock was flying at the start of the season but now seems to be tailing off. Famous last words. Van Baarle, meanwhile, was looking quietly strong until he suddenly looked very loudly strong with his staggering 50km solo win at Dwars. They also have Luke Rowe, whose emphasis on one-day racing has waned in the last couple of years, and Ethan Hayter, another rising talent.
171 Tom Pidcock
172 Leonardo Basso
173 Owain Doull
174 Michał Gołaś
175 Ethan Hayter
176 Luke Rowe
177 Dylan van Baarle
QuickStep take it up as the bunch head to the Wolvenberg now. It's still Declercq and Van Lerberghe and they're really digging in.
108km to go
The sustained urgency in the bunch sees the gap to the break fall to 7:30.
Schar has been disqualified
It seems Schar has been thrown out for throwing away a water bottle. There were fans there to pick it up, but the new UCI rules mean riders can only discard litter in designated zones, or it's a DSQ. Wow.
102km to go
Meanwhile the break hit the Molenberg with a lead of 7:15.
This is the 6th of the 19 climbs. It's 450m long, 7% average, 12% maximum.
Laporte is still chasing with his Cofidis teammates. Colbrelli is another big name to suffer a mechanical.
Alpecin and QuickStep have taken the reins in the bunch. The gap continues to fall - 7 minutes now.
100km to go
The break are onto the Marlboroughstraat now. This is a new climb for the race. It's long at just over 2km but pretty gentle, averaging 3% and max-ing out at 7%.
The peloton hit the Molenberg now!
It's a tight bend into it and this time they've blocked off the short cut. A big blockage at the back of the bunch
Asgreen takes it up
Here we go!!
Alaphilippe second wheel on the Molenberg
That shows the importance of positioning into some of these climbs. The riders at the back of the bunch were literally at a standstill as QuickStep were soaring up the climb.
Asgreen knocks it off over the top. They're not fully igniting this just yet.
Splits in the bunch on the Molenberg but it's stitching back together now. Still, a long way from the front to the back.
QuickStep do take it up again now.
Stefan Kung hits the front for Groupama-FDJ.
Ballerini is the QuickStep rider pushing the pace on here, but Van Lerberghe moves back to the front now.
Van Lerberghe gets a little gap and six riders go with him. A moment's hesitation opens a gap to the rest.
95km to go
The break take a lead of 5:45 onto the Berendries. It's climb 8 of 19 and it's 940m with an average gradient of 7% and a maximum of 12%.
The peloton bunches back up now. Dillier and Declercq back on the front.
Barguil has crashed. Not sure how that happened but he's back on his way.
The peloton hit the Berendries and Kevin Geniets (FDJ) attacks.
Ballerini goes after it. So does Edward Theuns.
Jumbo-Visma respond after a while.
Plenty of riders going after this now. Rowe is among them, as is Coquard.
Mads Pedersen dropped on the Berendries. The former world champion's malaise continues.
This isn't a group of big favourites but strong riders nevertheless.
Boasson Hagen is there for Total Direct Energie. Nathan Van Hooydonck is the Jumbo man. Alpecin have a rider there too.
The main seven-man breakaway are onto the Valkenberg now, and they lead by 4:50.
The Valkenberg is 550 meters long, 8.2% average, 13% max
AG2R have missed this and Stan Dewulf is sent forward. Responses come immediately.
Here's the group
Kevin Geniets (Groupama-FDJ)
Davide Ballerini (Elegant-QuickStep)
Edvald Boasson Hagen (Total Direct Energie)
Edward Theuns (Trek-Segafredo)
Nathan van Hooydonck (Jumbo-Visma)
Luke Rowe (Ineos Grenadiers)
Joris Nieuwenhuis (Team DSM)
Bryan Coquard (B&B Hotels)
Boy Van Poppel (Intermarché-Wanty-Gobert)
Oscar Riesebeek (Alpecin-Fenix)
Stan Dewulf (AG2R-Citroen)
As I write that, the race is coming back together. The fragmenting bunch is close at hand as they scale the Valkenberg.
A couple of riders jump across to that move but the main bunch is still close.
Van Aert is there! So's Asgreen.
85km to go
This is coming back but the favourites are being drawn out now.
Connor Swift (Arkea-Samsic) takes it up. The bunch is together now but in one long line
The Omloop winner looks much better than he did midweek. He's not being saved for the final though, but instead to put the pressure on early doors.
The bunch spreads across the road now and the paces ebbs away.
We've had a heavy string of climbs but there's a brief bit of respite now before we head to Berg Ten Houte, where Van Baarle launched his winning move at Dwars.
Israel take it up now, Vanmarcke second wheel.
After Berg Ten Houte there's another small wait for the Kanarieberg, and then a longer wait for the second ascent of the Oude Kwaremont. Will they light it up before then?
80km to go
Ineos take it up in the bunch through Rowe. The gap to the breakaway is down to 3:15.
A reminder that we also have live coverage of the women's Tour of Flanders today. They're underway and you can follow all the action at this link.
QuickStep continue to line out the bunch here.
Crash. A DSM rider is down and it doesn't look good. It's Nils Eekhoff.
That was a nasty crash as the Dutchman clips a wheel and is sent flying. He nearly keeps it up but ends up being flinger to the tarmac. He's back on his feet but looks in some pain, in a rather uncomfortable area.
77km to go
The break hit Berg Ten Houte with a lead of just under 3 minutes.
Alpecin-Fenix tap out a steady tempo on the front of what is still a large peloton.
Van der Poel is right up at the front as the bunch hit Berg Ten Houte now. You can see why, as there's another hold-up at the back. Rowe has to put his foot down.
75km to go
The pace has drained away after a long period of tension in the bunch, and the break take their lead back out above three minutes. Alpecin have three on the front.
Acceleration from Hugo Hofstetter (Israel Start-Up Nation) but it's short-lived.
Politt finds himself on the front. Lampaert is looking alert just behind.
Israel go again, and this time others are drawn out.
71km to go
The seven leaders hit the Kanarieberg - 1km long with an average gradient of 7.7% and maximum of 14%.
It's back together again as Jumbo take it up now.
Alaphilippe has lost some ground in the peloton as Jumbo raise the pace to 70km/h on a false flat downhill.
Soren Kragh Andersen attacks!
The Dane goes on the Kanarieberg. He doesn't have the best string of results so far this spring but the DSM rider is a big danger man.
Andersen has a gap over a group of seven. A bigger gap back to the bunch.
Hooydonck is among those to respond. He's clearly been given the instruction to get in the early moves today.
Ballerini is in there again.
Andersen is solo over the top of the Kanarieberg.
A big gap for the Dane has he starts to dip downhill.
It looks like it's coming back together behind him.
Theuns is on the case with Swift, as are riders from B&B and Israel. More riders look to come across now.
Politt is up there again.
Andersen is caught by that advancing group.
But the gaps are closed up and the peloton is back together again.
Alaphilippe, Asgreen and most of QuickStep are held up
Declercq and Ballerini are down. Alaphilippe and Asgreen more held up. Asgreen is slow to get going but Alaphilippe starts sprinting. He has a kindly wheel in the form of Damien Gaudin (Total)
Alpecin have riders down and Riesebeek doesn't look in a good way.
The bunch seems to have eased a little after that.
Or not. Lotto Soudal drive it on. The bunch is split in two.
Kristoff is chasing. He was also caught up there.
Arkea give it a nudge and one of their riders goes clear with a BikeExchange rider.
More and more riders get back into the back of the bunch. Alaphilippe is there. He's checking his elbow.
Oliver Naesen also held up
Michael Matthews is with Naesen as well.
62km to go
Ineos take it up now but they're not exactly piling on the pace. They're now 2 minutes behind the break.
Asgreen joins the Matthews chase and they all get back onto the back of the bunch.
It doesn't look like the crash has taken out any big names but it may have dented their ambitions.
The peloton bunchs back up as they head towards the Oude Kwaremont, where things should really start to kick off.
So far it feels like a lot has happened but with 61km to go we await our first proper selection.
Total take it up now. Boasson Hagen has already shown himself but their leader is Anthony Turgis, fourth last year.
The latest mechanical is Geniets, himself an improving force in these races.
QuickStep have lost Declercq I think but the rest are still there. Van Lerberghe helped Alaphilippe back to the front but there was no one to pace Asgreen. That's the only problem when you have so many leaders.
Jumbo-Visma take it up now. Kwaremont coming up!
Nieuwenhuis is down, as is Alex Edmondson (BikeExchange)
56km to go
Oude Kwaremont 2
The seven-man breakaway hit the famous climb for the second of three times with 56km to go. Their lead is down to 1:40
Van Den Bossche is dropped immediately
Bissegger looks strong and rides away from the rest of the break. Houle is dropped now.
The peloton hit the Oude Kwaremont. Alaphilippe, Van Aert, and Van der Poel up towards the front.
Campenaerts is leading the bunch up.
A touch of wheels and the Swiss champion hits the deck. He's back up quickly but he's lost his momentum on the steep section.
Lampaert eases off the front.
Wellens follows and Alaphilippe is on his wheel.
Asgreen, Van der Poel, Van Aert all starting to move. This is it
This is where the Tour of Flanders is being opened up for the first time. The gaps are slim as they head over the top but they could well be established on the smooth tarmac.
Van der Poel gives it a nudge and has Asgreen for company.
Van der Poel and Asgreen are away! Van Aert reacts now. He has to
Van Aert is dragging a large group across but everyone is suffering now.
Left turn onto the narrow downhill road to the Paterberg, which is our next climb.
Van Aert makes the junction. That's one bullet down. Still plenty of riders around here.
Bissegger hits the Paterberg alone. He's 1:10 ahead of the bunch.
Paterberg is only 360m but it's super steep, averaging 13% and reaching 20%.
It'll follow the Kwaremont again in the finale later on.
Wellens leads the favourites onto the Paterberg. Still a sizeable group
Just under 30 riders in this group. Asgreen at the front on the steep cobbles.
Asgreen and Van der Poel away again!!!
Wow
They look very much like the strongest riders here at the moment.
Small gaps over the top but gaps nonetheless.
Van Aert was third over the top of the Paterberg, but a few wheel lengths back.
Van Aert accelerates again to claw his way over to Asgreen and Van der Poel as the road flattens out. Others are with him.
Wellens goes now, with Pidcock.
QuickStep mark it with Senechal. Bahrain have a rider there as Turgis responds behind with Alaphilippe in the wheel.
Who said Pidcock was off colour? He drives this four-man split on.
Alaphilippe attacks to try and bridge the gap. He has Laporte with him.
Alaphilippe and Laporte are across to make it a front six. Van der Poel and Van Aert are in a small group behind now.
Six riders in this chase group: Van der Poel, Van Aert, Asgreen, Turgis, Teuns, Stuyven.
The Bahrain rider in the front group is Colbrelli
The Van Aert-Van der Poel group is joined by a larger straggling group now. Another one is just behind that.
46km to go
The Alaphilippe-Pidcock group swells as they catch some breakaway remnants
We're heading towards the Koppenberg now - the 14th of the 19 climbs. This one is so nasty, 600m long but averaging 11 per cent and reaching 20.
Bissegger leads by 30 seconds.
The large Van der Poel-Van Aert group is 15 seconds down on the Alaphilippe group
Alaphilippe accelerated on Koppenberg last year. Will he do the same?
Yes!
World champion on the charge!
Pidcock is looking good but Alaphilippe is away here.
Van der Poel accelerates as well! He's blowing that group apart again
Alaphilippe reaches Bissegger over the top.
Pidcock and Laporte are next. Van der Poel is there, shortly followed by Van Aert and Turgis. Asgreen a bit further back now.
Van Avermaet is behind again but not that far. Sagan a bit further back.
Bissegger sets up shop on Alaphilippe's wheel. Oh no, he comes through for a turn. Fair play. A great ride so far from him and it could get even better.
Bissegger discards a bidon. Is that a designated waste zone. He gently puts it down by a team soigneur but that's a risky move int he current climate.
Van der Poel has gathered 10 riders into a chase group behind Alaphilippe and Bissegger.
42km to go
The Van der Poel-Van Aert group makes it over to Alaphilippe and Bissegger.
So this is the new lead group:
Turgis, Laporte, Alaphilippe, Van Aert, Van der Poel, Haller, Wellens, Pidcock, Bissegger.
AG2R lead a chase group several seconds further back. Asgreen and Van Baarle are in there.
Sagan is in the third group on the road.
Van Aert leads the front group onto the Mariaborrestraat cobbles
Haller attacks!
Another brilliant ride from the Austrian here.
Haller takes a lead onto the downhill part of this cobbled sector, aka the Stationsberg, down to the train station and railway crossing.
38km to go
That chase group with Asgreen and Van Avermaet is getting back to the rest of that lead group now. Haller still solo.
Asgreen hits the front on Boonen's favourite climb. Van Avermaet is more to the fore this time. Van der Poel charging now.
Van der Poel gets across to Asgreen. Van Aert next with a small gap. Alaphilippe is going with them!
Those four are dropping the rest!
Van Avermaet can't match them. Teuns moves around him at the top and looks to get over.
Haller is caught, but now Teuns makes it across. Bahrain have two riders in this elite selection.
Senechal is in the second group but Lampaert is in group 3 with Sagan.
Here's the front group after the Taaienberg
Van der Poel
Van Aert
Alaphilippe
Asgreen
Haller
Teuns
What a group that is. The big 3 are all there, QuickStep have their numerical advantage with Asgreen, and Bahrain have suddenly emerged as a Classics force!
12 riders in the chase group and already it's a mess. Senechal is shouting at Wellens.
35km to go
The six leaders have a lead of 15 seconds over the chasers, which include Van Avermaet, Stuyven, Pidcock, Van Baarle, Turgis, Senechal, Wellens, Vanmarcke, Benoot, Trentin, Madouas.
The gap is still only 15 seconds.
32km to go
Pidcock and Van Baarle look to mount a chase in the group behind. It looks like they're getting it together now.
It's through and off in both groups as they head towards the Kruisberg, the 17th of the 19 climbs.
Van der Poel has a teammate in Gianni Vermeersch in the chase group.
Just 10 seconds is the gap. The chasers seem determined.
28k to go
Onto the Kruisberg now!
2,500m, 5% average and 9% maximum
Pidcock struggling now. Turgis going off the front of the chase
Alaphilippe attacks over the top!
Van Aert is onto it, followed by Van der Poel. Haller losing contact
Haller is grimacing but claws his way back on.
What a move from Turgis. He's nearly across already!
Puncture for Trentin! Nightmare!
Trentin gets a new wheel but that's going to be race over at this point.
Turgis is across. Seven out front now.
They're looking at each other in the chase group now. 12 riders still in there.
Haller attacks! Amazing. Turgis is onto it and Alaphilippe closes the gap.
27km to go
Asgreen attacks!
Van Aert is onto it, as it Van der Poel.
Alaphilippe sits on Turgis as that trio goes away.
And now Haller takes it up for Teuns. Has to.
It's the big 3 but not as we know it. Alaphilippe seemingly content to let this race drift away from him as Asgreen takes responsibility for QuickStep.
Asgreen can point to Alaphilippe behind to make Van Aert and Van der Poel do the work.
Turgis, Haller, Teuns, Alaphilippe follow at 13 seconds. The 12-man chase group is now at 35 seconds.
23km to go
20 seconds now for the trio!
22km to go
We're heading back down towards the Oude Kwaremont now. Just that and the Paterberg remain, followed by a 13km run-in to Oudenaarde.
The 12-man chase group is closing in on the Alaphilippe group.
Asgreen, Van der Poel, and Van Aert have 25 seconds now
Asgreen seems happy to work with Van der Poel and Van Aert here.
Asgreen did launch the attack, so must be comfortable with the situation he finds himself in. He's looked strong on the climbs but strong enough to ride away from those two? If they're together on the run-in, he might sandbag since he wouldn't win a sprint, but he could hit them with an attack and play them off each other.
19km to go
Teuns takes up the chase with Haller, but they're losing ground. 25 seconds with 19km to go
Kwaremont time!
The lead trio turn off the wide road and onto the narrow approach road.
Van der Poel leads them onto the climb.
The Alaphilippe group is caught by that bigger group to make it around 15 in the chase.
Van Aert does a turn but Van der Poel now leads them onto the cobbled section. Now it gets steep.
A steady tempo so far from the defending champion. Fast obviously ,but not all out.
Turgis attacks again from the chase!
Van Avermaet goes with Turgis
Pidcock and Teuns lose contact on the Kwaremont.
Turgis reduces the gap to 15 seconds.
Senechal accelerates just behind.
The lead trio still together on the flatter middle section. It'll kick up again towards the top.
Laporte hits out behind now. Van Baarle looks to go with it
He goes at the top of the Kwaremont! He's away!
Asgreen responds better but is still distanced
Alaphilippe dropped from the group behind!
Asgreen is clawing his way back to Van der Poel as they hit the main road and the dip downhill.
Asgreen on terms!
Van Aert several seconds down.
16km to go
It's straight towards the Paterberg now, for the final shake-up. Words exchange between Van der Poel and Asgreen
Van der Poel leads them on the narrow road down to the Paterberg. Van Aert is at 11 seconds. The reduced chase group is at 30 seconds.
Asgreen hits the front, but Van der Poel wants to be first onto the Paterberg
Van Aert closing in but will he lose more ground on Paterberg?
Van der Poel leads Asgreen onto the Paterberg!
Here we go!!!
They start off side by side
Van der Poel is on the smooth strip on the side. Asgreen on the crown. Van Aert 9 seconds back.
Van der Poel hits it now but the two are well matched
Van Aert is grinding and weaving.
Asgren leads Van der Poel over the top. The pair are together ahead of a fading Van Aert.
Van Aert at 17 seconds now!
Senechal leads the next group over the top with Van Baarle and Van Avermaet. Turgis there too.
12km to go
Van der Poel takes it up on the narrow roads off the Paterberg. It'll soon open out for our long run to the line
How does Asgreen play this? He's not going to win a sprint against Van der Poel, surely.
Van Aert at 27 seconds now and he's going to be caught likely by that fragmented chase group.
In the chase group (third group on the road) at 30 seconds:
Vanmarcke, Laporte, Senechal, Van Baarle, Stuyven, Benoot, Van Avermaet, Turgis, Vermeersch.
10km to go
Into the final 10,000 metres and Van Aert is caught by that chase group. 28 seconds is the gap to the two leaders.
Can this group mount a decent chase? The gap is 26 seconds and is closeable but only with a really coordinated chase, which, in these situations, is a rarity.
Van Aert goes again! He opens a gap over the rest.
8km to go
30 seconds now as Van Aert slots back in. Turgis looks keen here and calls for cooperation.
Senechal and Vermeersch are the ones with the excuse to sit on.
Vermeersch is actively blocking here, moving towards the front of the line before slowing up
7.5km to go
25 seconds now!
Asgreen and Van der Poel working well together. Asgreen has Senechal with a fast finish in the chase group but Van Aert is an obvious threat there. Asgreen will work for now but will attack from range at some point, surely.
6.5km to go
21 seconds now!
6km to go
The gap stabilises at 22 seconds.
Asgreen continues to work with Van der Poel. 5km to go and he can't afford to tow Van der Poel for much longer.
The chasers pass under the 5km to go banner and plenty still pulling through, but there doesn't seem to be the same urgency.
Everyone's doing the bare minimum back there.
4km to go
This is looking good again for the lead duo as the chasers start to ask questions of each other.
3.5km to go
35 seconds now. This is our top two. In what order though? What happens next?
Still Asgreen and Van der Poel trade equal turns. Van der Poel in a perfect situation here.
The chase is done. They all slow up. Van Avermaet launches an attack but it's surely too late.
Stuyven goes with him. Big gap to the rest. They need Asgreen and Van der Poel to start looking at each other
2km to go
2,000m to go. Van der Poel will be happy to sprint this out but surely Asgreen will want to try something different.
Van Aert attacks now from the rest of the chase
Van der Poel zips his jersey the full way up. He comes through for another turn with 1500m to go
Asgreen now on the wheel and biding his time. WIll the attack come now?
1km to go
Flamme rouge!
Van der Poel looks over his shoulder. No move from Asgreen
Van der Poel slows. He's leading out a two-up sprint for the second edition in a row
Asgreen still on the wheel with 500m to go
250 to go and Van der Poel goes!
Here comes Asgreen though
Van Avermaet beats Stuyven in the sprint for third
Kasper Asgreen (Deceuninck-QuickStep) wins the 2021 Tour of Flanders
Incredible finale. Be honest, who saw Asgreen beating Van der Poel in a sprint?
Van der Poel opens up, from just under 250m to go, which is pretty far against someone who perhaps doesn't have the same initial acceleration. It starts off well but Asgreen claws his way alongside and then out in front, at which point Van der Poel suddenly stops and shakes his head.
Results

| Pos. | Rider Name (Country) Team | Result |
| --- | --- | --- |
| 1 | Kasper Asgreen (Den) Deceuninck-QuickStep | |
| 2 | Mathieu van der Poel (Ned) Alpecin-Fenix | |
| 3 | Greg Van Avermaet (Bel) AG2R Citroën Team | |
| 4 | Jasper Stuyven (Bel) Trek-Segafredo | |
| 5 | Sep Vanmarcke (Bel) Israel Start-up Nation | |
| 6 | Wout Van Aert (Bel) Jumbo-Visma | |
| 7 | Gianni Vermeersch (Bel) Alpecin-Fenix | |
| 8 | Anthony Turgis (Fra) Total Direct Energie | |
| 9 | Florian Senechal (Fra) Deceuninck-QuickStep | |
| 10 | Dylan van Baarle (Ned) Ineos Grenadiers | |
Van der Poel is crestfallen. He went straight to congratulate Asgreen but is now over with his girlfriend and leaning over the barriers in disappointment.
Asgreen is the first Danish winner since Rolf Sorensen in 1997.
Van der Poel misses a golden chance to win back-to-back editions, while Van Avermaet claims the fourth podium finish of his career.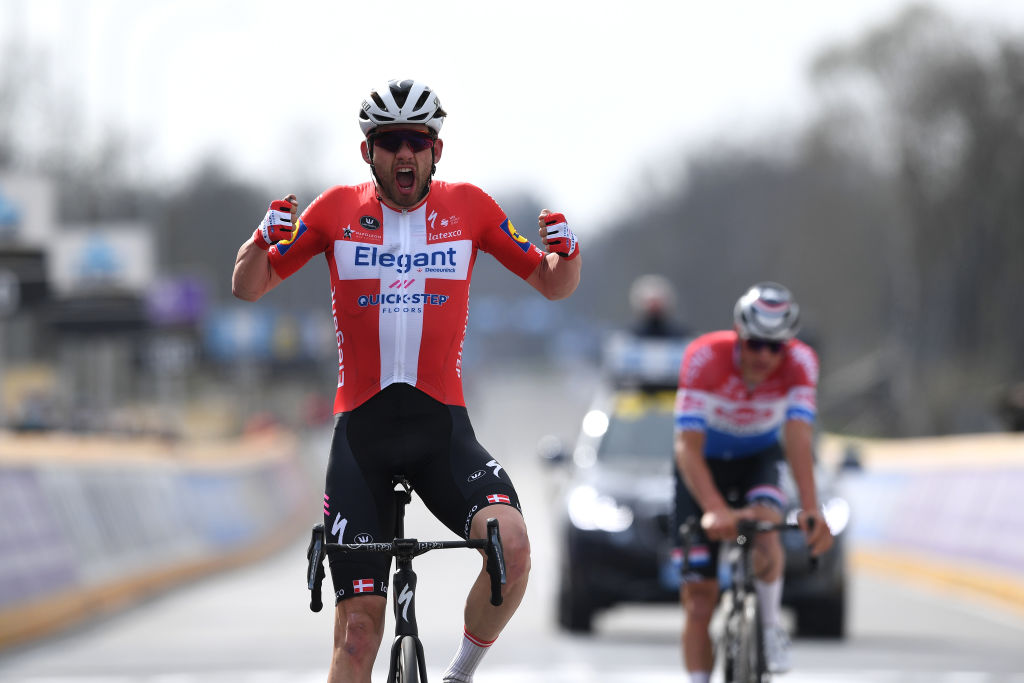 Let's hear from our winner
"I felt good in the last kilometres still so I decided to try and trust my sprint. Going into the last kilometre I got Mathieu on the front and I heard we still had more than 30 seconds so I decided to stay in the wheel, so I could decide when to go. It was a really hard race. We were both on the limit. It was a question of the margins at the end.
"It's incredible. Rolf [Sorensen] gave me some good advice after I won E3. It's been an incredible Classics campaign this year and I'm so happy to finish it off like this.
"It was the plan to start to jumping after second time Kwaremont and we did. We rode a perfect race all day. The guys were incredible - a huge thanks to them. A huge thanks to Tom [Steels] and Wilfried [Peeters] in the car. They prepared this race so well and we know every single metre of the course. It's just an incredible team to be a part of."
Van Aert at the finish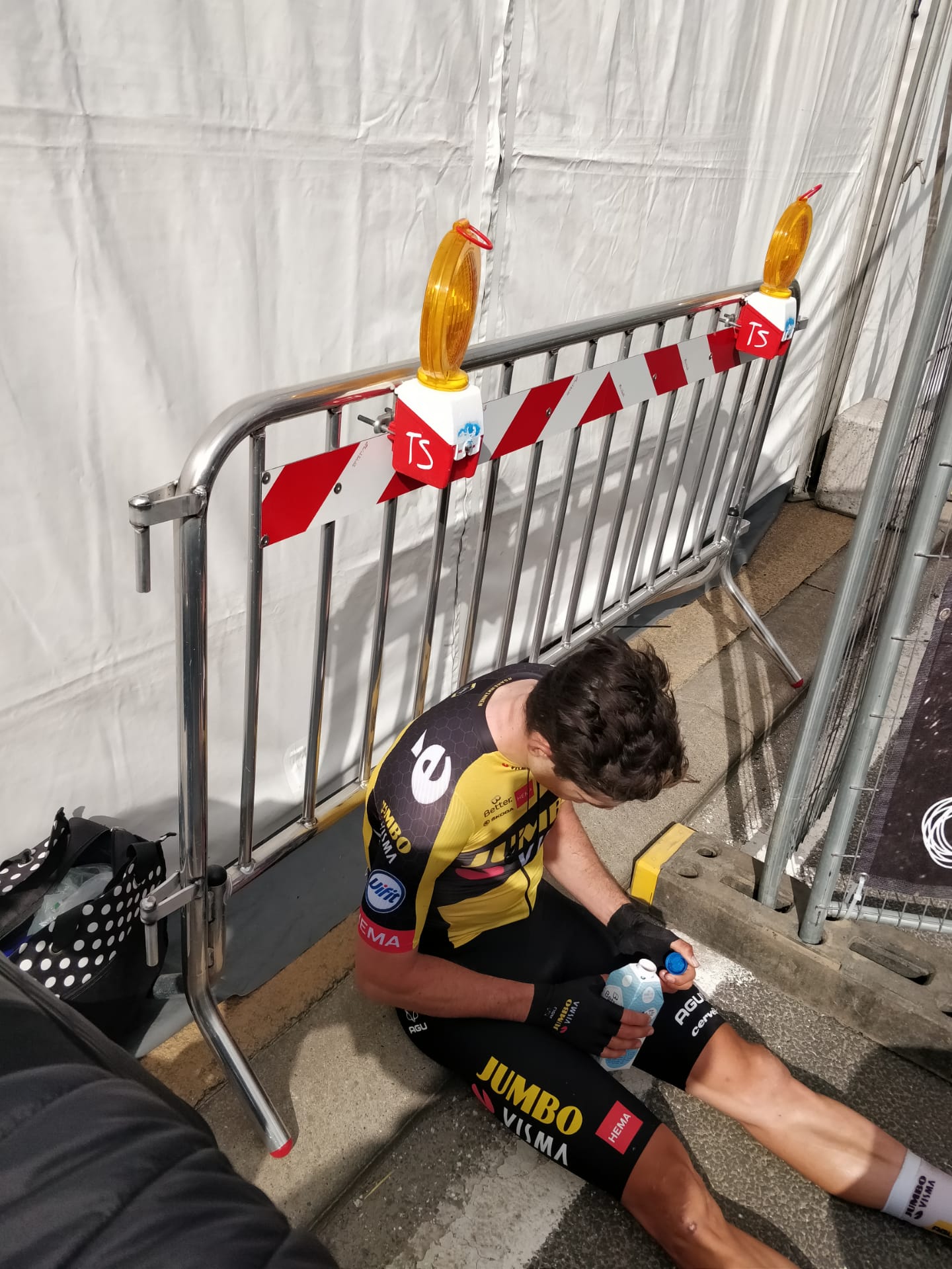 This is the sprint
Asgreen klopt Van der Poel en wint de Ronde van Vlaanderen 2021! pic.twitter.com/Ijb8pN6dRBApril 4, 2021
If I calculated it correctly, 11th Ronde title for Lefevere:Museeuw (x3), Boonen (x3), Devolder (x2), Gilbert, Terpstra, Asgreen#RVV21April 4, 2021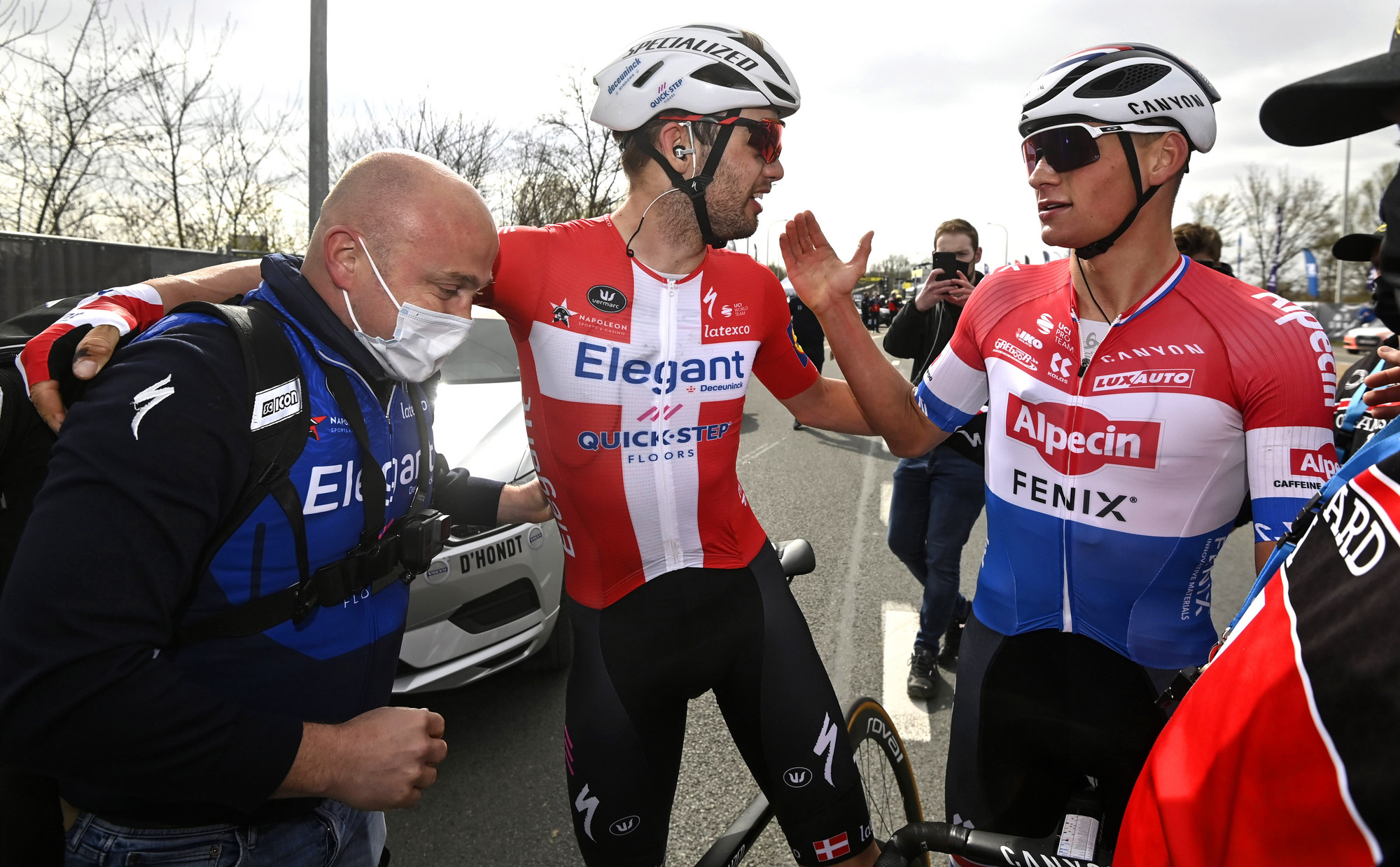 Sign up to the Cyclingnews Newsletter. You can unsubscribe at any time. For more information about how to do this, and how we hold your data, please see our privacy policy
Thank you for signing up to Cycling News. You will receive a verification email shortly.
There was a problem. Please refresh the page and try again.