Live coverage
Tour of California 2019: Stage 2
By LauraWeislo
January 1 - May 18, Rancho Cordova , California, Road - WorldTour
Refresh
Welcome to stage 2 of the Tour of California, 214.5km from Rancho Cordova to South Lake Tahoe.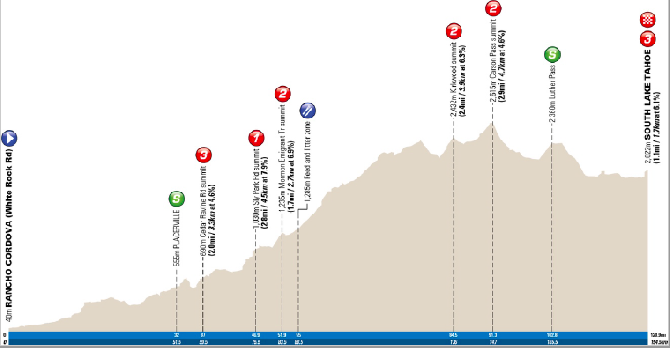 Welcome back for stage 2 of the Tour of California, where Peter Sagan holds the overall race lead after his win in Sacramento.
As you can see from the profile above, it's a long day of climbing, so we're not sure if Sagan will try to defend his lead.
It's a lovely day for the start, with no wind and perfect California temperatures of 70F and sunny.
The riders get a few neutral kilometres before the attacks to get into the breakaway begin.
Meanwhile, do you remember Samuel Sanchez? The 2008 Olympic champion and former podium finisher in the Tour de France has finally got a verdict in his doping case. He's been given a two-year suspension by the UCI despite them ruling his GHRP-2 positive was likely due to a contaminated supplement.
Over in the Giro d'Italia, Elia Viviani seemed to take the victory in the stage 3 bunch sprint, but a dive across the road that impeded Matteo Moschetti earned the Italian champion a relegation, giving the win to Fernando Gaviria.
There's plenty of action as the flag drops to start racing proper, and seven riders quickly establish a small gap.
Kirsten Frattini is in the media car today, and says Sagan won't defend the jersey today.

 
"I don't expect to keep the jersey. It's a hard stage and a hard race," he said.
186km remaining from 214km
Just 8km into the stage and we've already got a good breakaway: Luke Rowe (Team Ineos), Mads Pedersen (Trek-Segafredo), Evan Huffman (Rally UHC Cycling), Davide Ballerini (Astana Pro Team), Pawel Bernas (CCC Team), Michael Storer (Team Sunweb), Michael Hernandez (USA National Team)
They've got about 50 seconds already
10km remaining from 214km
This is a strong breakaway, which is handy because it is a very long day in the saddle. The seven riders pass ranches and rolling countryside as they make their way toward El Dorado Hills.
The breakaway has five out of seven WorldTour teams, which is unusual for the Tour of California. Of the two non-WorldTour, Evan Huffman - a former WorldTour rider now with Rally UHC - has ample experience going on the attack in this race. In 2017 he parlayed breakaways into two stage wins in the Tour of California.
14km remaining from 214km
The peloton seem to be saving their legs for the three long, hard stages and have let the breakaway get two minutes.
It's definitely ranch country here on White Rock Rd. with rolling two-lane country road through the fields and cow-dotted hillsides.
177km remaining from 214km
Sorry for the wrong stage info, we're just 16.3km in and the peloton is enjoying a nice siesta as they amble past fields brimming with yellow flowers.
The gap to the breakaway is out to three minutes.
Of the seven breakaway riders, most are debutantes. While Rowe raced here in 2014 and 2018, he's the only other rider aside from Huffman to have a history in the race.
173km remaining from 214km
Despite this, the seven are working very well together, all rolling through and quickly pulling out a substantial lead on the peloton.
168km remaining from 214km
The peloton has decided that this is the most they're going to let the breakaway get, and the gap has stabilized between 2:45 and three minutes.
The Placerville sprint coming 51km into the stage might liven things up, but at the moment it's just pockets of cheering schoolchildren that are giving life to the race.
164km remaining from 214km
An unclassified climb helps the breakaway get out to 3:15 now as EF Education First patrol the front of the peloton.
The sprint up ahead gives up 3 points and 3 bonus seconds to the winner, which might be of interest to Pedersen, who is the best-placed in the points classification of the breakaway, thanks to his taking the second intermediate sprint in Sacramento.

However it is more likely the breakaway riders will be fighting to get into the mountains jersey today as they have five categorized climbs.
Bora-Hansgrohe are keeping the breakaway at around three minutes, though if not for Sagan, more likely for Grosschartner or Schachmann, both of whom are handy climbers.
Mike Sayers is heading up the USA Cycling national team in the race.
The team was thrilled to see Travis McCabe take second to Peter Sagan on stage 1. Sayers says: "We have a lot of young guys here. Yesterday was more than we could have asked for of our team. Everyone is just so excited to be here."
159km remaining from 214km
Bora's pacemaking has whittled down the leaders' advantage a bit, it's down to 2:30.
Jan Valach, the DS for Bora told Cyclingnews this morning: "Peter's win yesterday was good for Peter's morale and for the team. This race might be too hard for Peter right now, but he is in yellow and he will fight to the end. But we also have Max Schachmann."
The race heads through Sleepy Hollow.... watch out for the pumpkin-head horse riders.
152km remaining from 214km
There are about 10kms to go until the sprint. Normally we'd pick Rowe to take out any sprint, but Hernandez is quick and motivated. Will they fight for it or roll through as a group?
149km remaining from 214km
Hernandez, however, is using his strength to pull the breakaway over a small roller. Eager beaver!
The gap is back out to 3:45 as the breakaway passes a place called "Mud Butt Ranch". 
147km remaining from 214km
5km from the sprint in Placerville.
144km remaining from 214km
1km to go to the sprint with some bands rocking out in Placerville to keep the fans entertained while they await the riders.
Woah, looks like Hernandez is feeling pretty peppy, he's taken out the sprint ahead of Pedersen and Ballerini.
Sprint 1 - Placerville
1. Michael Hernandez (USA Cycling)
2. Mads Pedersen (Trek-Segafredo)
3. Davide Ballerini (Astana)

There is no rest for our breakaway riders, as they are immediately on the first climb - it's not a major ascent, just a 3.1% grade up to Omo Ranch. It's a grind, however, and is classified cat. 3.
101km remaining from 214km
The breakaway riders have 1km to the top of the climb, where the battle for the first KOM jersey commences.
There's a punishingly steep pitch before they'll sprint for the line.
KOM 1 results:
1. Evan Huffman (Rally UHC)
2. Davide Ballerini (Astana)
3. Michael Hernandez (USA)
Results of KOM 2 are in:
1. Ballerini
2. Huffman
3. Hernandez
The break briefly separated at the KOM, but all seven are back together now with a gap of 3:50 over the bunch.
The leaders will be on some winding relatively flat roads for awhile now, although the altitude is always generally going up.
Cyclingnews' Pat Malach spoke with Katusha-Alpecin's Nathan Haas at the start this morning in Rancho Cordova, and the Australian provided some keen insights into today's stage.
"I've done it a few times actually. It's one of the few stages that I'm actually scared of in cycling. It's not very often that you go from sea level to 2,500-2,800 metres without ever having a break in the pedals. It's virtually uphill for 110km, and for those power geeks out there you're average power is exactly the same with or without zero, because you are always on the pedals.
"It's something that grinds you down but you never actually go hard. You just get higher, and the altitude kind brings the theoretical threshold down. A few years ago I actually had to get off the bike at the top of the mountain just to actually take a seat, because it just wiped me.
"It's a monster stage, but I don't necessarily think the strongest rider wins here. It's the ones who find themselves being good at altitude, so lookout for someone like a Lachie Morton, who is an altitude specialist, the Colombian guys coming from home, and anyone like Toms Skujins who's been sitting in Boulder, Colorado, soaking in that thin air. They really have the advantage.
It's a day that I know in seven hours time, whether I'm first or last, I'm going to be empty.
Trek-Segafredo's Skujins has won three stages at the Tour of California, including the stage from Lodi to South Lake Tahoe on a slightly different route than today. Skujins took all three of his wins from Breakaways. We spoke with him this morning at the start.
"I would agree with Nathan, but at the same time I think the only way I can win is from a breakaway. If it comes in a big group, then it's going to be all for Richie [Porte] today.
"The biggest difference between this year and the year I won is that this year it's stage 2, whereas when I won it was stage 5 or something. There are no gaps, so the breakaway is never going to have too much time. That's why I'm also a little bit hesitant to put myself out there. But at the same time, if you don't put yourself out there you don't win."
All these twisting, turning roads heading up into the Sierras are making us a little queasy. The breakaway are making their way up Omo Ranch road.
There's been so much snow in the Sierras this winter that it has caused massive flooding as the snowpack begins to melt, and it's not quite done melting. We've heard there was a small reroute in the final as snow was still blocking one road.

Still, it's nothing like 2011 when the race was due to start in South Lake Tahoe and the morning of the stage, it snowed so hard they had to cancel the stage. The next day's start was moved down to Nevada City, where the city miraculously managed to assemble the infrastructure for the stage start. It was quite an adventure!
101km remaining from 214km
Still 100km to go as the breakaway continue to hold a 3:00 lead.
The sea of trees along the edge of the Eldorado National Forest seems to have lulled us into a parallel universe where the peloton is chasing the breakaway down.

The latest gap is just 1:20 with still well over 100km to go, and a long, long way to the category 2 climb at Kirkwood Summit.
The television coverage is going to start soon, so it seems the peloton want to get their TV time. The leaders are on a twisty, narrow road with cattle grates, heading up to the category 2 ascent on Omo Ranch Rd.
Apologies for an earlier post, the previous climb was Cedar Ravine.
The race situation is a little bit of a mystery as our race radio has been all but silent and the cars have been called out of the gap.

Expect some more attacks on the second half of the stage when the helicopters start hovering overhead.
Of course our tech guide has also been known to be wrong. There was a KOM listed on Omo Ranch Rd. that doesn't seem to be on the race map anymore...
Who doesn't appreciate a little suspense?
Ho ho! There was a KOM just there on Omo Ranch Road. I hope the riders were ready for it! Results soon.
The confusion around the placement of the KOM's has to do with a change of route that made today's already long stage even longer.

It was decided a couple of weeks ago that, because Mormon Immigrant Trail Road is closed because of snow on the highway, the race would make a slight detour.

We had the stage at 194km previously, now the race guide says 214.5km. That's quite a detour!
With the reroute, the race lost the category 1 ascent of Sky Park Road and the cat. 2 Mormon Emigrant Pass, but instead used the cat. 3 Bucks Bar Road at km 68.5 and Omo Ranch Road at km. 95, the results of which are imminent...
Now that the peloton picked up the pace, the breakaway is moving quicker too, and are approaching the feed zone at km 110. Turns out there wasn't a KOM after all.
106km remaining from 214km
The riders have passed the halfway point, phew! But it is almost entirely all uphill from here to the finish.
The breakaway are climbing and climbing, the peloton at 2:35 are also grinding up this long, long ascent - this is small ring stuff and they're not going anywhere fast yet.
107km remaining from 214km
Fortunately there isn't much wind.
To recap the GC, Peter Sagan is in the lead but after a sprint stage, the gaps are pretty small. We expect those to blow out significantly today.
Former race winner George Bennet (Jumbo-Visma) is nicely placed in 9th at 13 seconds.
1 Peter Sagan (Svk) Bora-Hansgrohe 3:14:00
2 Travis McCabe (USA) USA National Team 0:00:04
3 Maximilian Walscheid (Ger) Team Sunweb 0:00:06
4 Kristoffer Halvorsen (Nor) Team Ineos 0:00:10
5 Michael Mørkøv (Den) Deceuninck-QuickStep
6 Owain Doull (GBr) Team Ineos
7 Tyler Stites (USA) USA National Team 0:00:11
8 Felix Großschartner (Aut) Bora-Hansgrohe 0:00:12
9 George Bennett (NZl) Team Jumbo-Visma 0:00:13
10 Laurens De Vreese (Bel) Astana Pro Team
Also well-placed is Bora's Felix Grosschartner. The 25-year-old was 5th in Paris-Nice and won the Tour of Turkey before coming fourth in the Tour de Romandie. That's a rider to watch today.
105km remaining from 214km
There's a bit of a respite from the climbing before the feed zone, where the riders will absolutely want to get their feed bags because they still have 105km to go!!
The breakaway are going to need that sustenance because the peloton is within a minute of them. It's inconceivable how they've done that, becuase the bunch is spread out across the road tempo'ing along.
There's a little attack from the peloton from Hagens Berman Axeon, and it's really caused a reaction.
The peloton is going through the designated "waste zone" where they are supposed to drop empty bottles and food packages. There aren't any fans up there to pick them up.
That attack was reeled in and now there's another move on the descent from a Bahrain-Merida who is just aero-tucking away. He's not serious.
News is filtering to the breakaway that the peloton is feeling feisty, and they've gotten back into rotation formation.
101km remaining from 214km
Axeon Hagens Berman really want to light things up, and Edward Anderson jumps away from the sluggish peloton to try and get across.
Anderson has left the sight of the peloton and is soon has latched on to the breakaway.
The ease with which Anderson got across goes to show how small the gap is, how metered the effort of the breakaway is, and how lazy the peloton is being.
Anderson's presence has given a little life to the move, with the gap now out to 1:25. But once they pass Kirkwood Summit, things will really change - they'll be nearing 2400m in altitude and every effort used now will really hurt at that height.
101km remaining from 214km
The stage doesn't look exciting from the helicopter, yes - but this is 214km, going from sea level to 2400m. That's a big ask of a Grand Tour peloton, but this one is a mix of Pro Continental and WorldTour riders of varying form.

Nobody wants to give up too much too early in this race, considering there are three more 200+km stages ahead. Tomorrow's goes over Mt. Hamilton and is no joke, then the long stage down the coast to Morro Bay, then a shark's tooth of a stage to Ventura.
Danny van Poppel (Jumbo-Visma) has crashed with a CCC Team rider. He's OK, getting a new bike.
The CCC rider didn't go down, but van Poppel managed to hook his bars on that rider's bike - he's chasing back on, his shorts a little worse for the wear.
96km remaining from 214km
Lucky for van Poppel, there's a little bit of a descent and a nice draft off his team car and nary a race judge to be seen.
A CCC rider, maybe the one who tangled with the Dutchman, has stopped for a bike change. The peloton is inching along now 2:00 behind the escapees.
Bora-Hansgrohe set a steady tempo that surely won't hurt Sagan, but is more likely to be for Schachmann or Grossschartner, but Sagan has surprised us in the past in California.
The last year he had a dry spring, he came to the race, slayed the time trial, then held onto the Grand Tour climbers on Mt. Baldy to claim the overall win thanks to some sprint time bonuses. So hey, who knows?
The last time that the race came up to South Lake Tahoe last year, Egan Bernal (Team Sky) jetted away to the win by a minute and a half. He's not here, obvs, as he's broken his collarbone, and neither are Tao Geoghegan Hart who is at the Giro d'Italia and Adam Yates - the only riders who could remotely follow Bernal.

However, in this peloton is Brandon McNulty (Rally UHC) who was fourth on that stage. He won the Giro di Sicilia a few weeks back and is really coming into his own.
93km remaining from 214km
Also in the bunch is Tejay van Garderen (EF Education First), who last year lost the yellow jersey on this stage to Bernal.

Mark Cavendish is being dropped.
Good news for Cavendish, they've not yet set up a barrage, where the officials force the team cars to move on ahead leaving the dropped rider on his own.
Luckily for Cavendish and Eisel, there are a couple other riders in the convoy, one from Israel Cycling Academy, and we're not sure if the CCC rider and van Poppel have rejoined yet. There is still hope. Otherwise, Cav's only chance at prize money will be in the casino tonight.
Back to our eight riders out front, they've found a little descent and the newcomer Anderson leads as they get to the snow line. Brr.
Cavendish is still at the team car, keeping in touch with the convoy as George Bennett drops back with a teammate from the peloton.
88km remaining from 214km
Bennett needs a refreshment, and Floris de Tier gets one for him, then hands it over.

The leaders are still chugging along, Tour of Flanders runner-up in 2018 Mads Pedersen taking a pull.
With Ballerini might lead the KOM competition at the moment by a point over Huffman, there's no guarantee either one of them will wear that mountains jersey tonight. There are still two category 2 climbs ahead, and the breakaway will very much want to stay clear to fight for those points.
85km remaining from 214km
Ballerini and Huffman each have five points, with Hernandez next in line with two.
With the gap going out to 2:15, EF Education First's 'disruptive' pink have come to the front en masse to slash into that advantage.
It's a bit unreal that there are still 20km to the top of the Kirkwood Summit, and a full 84km left to go. The peloton are getting hungry, literally, and have halved the previous advantage.

That news makes the breakaway giddy-up a bit, they're now lined out single file, but uh-oh, the peloton are too.
The tiny form in pink a few wheels behind the much, much taller Taylor Phinney is Sergio Higuita. Standing just 162cm, the Colombian joined mid-season from Manzana Postobon.
Oof the surge in the breakaway has left three riders out - Huffman, Anderson, Ballerini, Hernandez and Rowe are the only riders left.
Alex Howes is setting such a blistering tempo that he's brought the leaders to just a 50 second gap.
 
Are they riding for Van Garderen, or is it for Higuita who was best young rider in the Volta a la Comunitat Valenciana?
Bernas and Storer have made it back into the breakaway thanks to a little descent. It seems Pedersen needed to go to the team car and opened a gap.
79km remaining from 214km
Ballerini gets into an aero position at the front of the seven remaining riders, but it's fruitless. The EF train has them at 15 seconds and closing.
I wish there was a sad emoji as Eisel and Cavendish are shown much further back, the convoy long gone and one lone CHP with them for safety.
Anderson and Hernandez attack as the rest of the breakaway give in and go back to the EF-led bunch.
77km remaining from 214km
Hernandez can only hold onto the Hagens Berman rider for so long, and now it's one against the bunch and over 77km to go.
This might help Cavendish's case, should EF decide to take a breather and let Anderson fry out front. But... no. They're still on the gas.
Anderson still persists, even as Taylor Phinney goes out the other end of the peloton.
There are a number of riders being popped off the back of the bunch now as EF drive the pace and bring Anderson into arm's reach.
The gruppetto is forming at the back with Mads Pedersen, a couple Katusha riders, sprinter Max Walscheid. Another DiData rider seems to be dropping back for Cavendish.
 
It's an explosion out the back as they get up to 2400m in altitude and the pain and suffering ratchet up a notch.
75km remaining from 214km
Anderson is finally caught and it's gruppo compatto.
This stage is reminiscent of last year's Tour de France stages in the Alps where the sprinters suffered mightily and many were time cut.

Oh no, the broom wagon is lurking just behind Cavendish.
On stage 11 in last year's Tour, Cavendish and teammate Mark Renshaw missed the time cut with Marcel Kittel. Let's hope that isn't an omen.
Race leader Peter Sagan is back at his Bora team car getting some fresh bottles. This is one 'sprinter' who isn't giong back to the gruppetto yet.
EF Education First continue to drive the pace hard, stringing out the peloton and further driving nails into the coffin of Mark Cavendish's 2019 Tour of California.
The time limit is 15%, so if it takes them six hours to get to the finish today, Cavendish can finish 54 minutes down. Maybe he knows something we don't.
 
The bunch are flying down a small descent with beautiful snow-dotted mountains in the distance.
Fabio Calabria (Novo Nordisk) has joined Cavendish and Eisel at the back of the race.
65km remaining from 214km
EF's Lachlan Morton has surged off the front.
Morton jumps away and is joined by a Deceuninck-Quickstep rider.
It's Kasper Asgreen who muscled up to Morton.
That acceleration obliterated the peloton. Sagan is heading backwards with a big group of riders.
Now that EF has a man up the road, there is a lot of neck-craning going on in the peloton. Who's going to chase?
Oh dear, Asgreen is really struggling to stay with Morton. He had such a good Classics campaign, and is probably just coming off a break so it's a big ask.
Asgreen with 2nd in the Tour of Flanders, and he's got a fair bit of grinta, but Morton isn't waiting.
On the long, grinding ascent to Kirkwood, the peloton can catch a glimpse of that neon pink up the road, but it's getting smaller and smaller. Asgreen's blue kit, on the other hand, is losing ground quickly.
59km remaining from 214km
This is a surgical attack from Morton, he looks very smooth and controlled. Is he going for the mountains jersey or the stage? There are 5 points available at Kirkwood, which would draw him even with Ballerini and Huffman.
Morton passes vast fields of snowpack, turning grey as they melt. The road, however, is clear and dry and he tucks down low on the descent.
52km remaining from 214km
The peloton is down to just 14 riders after that attack. They catch Asgreen, making it 15 chasing Morton.
We're still working on the identities of the chasing 'peloton'. 15-16 riders there.
The Astana duo of Davide Ballerini and Hugo Houle are there, along with Neilson Powless (Jumbo-Visma), Lawson Craddock (EF Education First) and a number of others.
David de la Cruz (Team Ineos), Rohan Dennis (Bahrain-Merida), Felix Großschartner (Bora-Hansgrohe), Camilo Munoz (UAE Team Emirates), Natnael Berhane and Darwin Atapuma (Cofidis), Alexander Cataford and Matteo Badilatti (Israel Cycling Academy) and Evan Huffman and Rob Britton (Rally UHC) are in that lead group too.
49km remaining from 214km
Morton is also back with the group.
Cataford has pushed on ahead of the group.
The leaders hit the descent with Cataford a few seconds up the road.
Morton led Ballerini and Huffman over the top at Kirkwood, by the way. The Italian then led Huffman over the KOM point at Carson Pass.
Ballerini will be the new leader in the mountain classification.
44km remaining from 214km
Peter Sagan is long gone, of course.
And now Asgreen slips off the front of the lead group.
This is Daniel Ostanek by the way, taking over from Laura Weislo for the last 50km or so.
A largely flat drag until the uphill finish now. There is a lump with 30km to go – Luther Pass is the final intermediate sprint of the stage.
38km remaining from 214km
Asgreen is back with the lead group now. They're all together again.
Actually it was Cataford and Berhane who led Ballerini over the penultimate climb of the day, Carson Pass.
Jumbo-Visma have a man driving the chasing peloton. They have Powless up front but their team leader George Bennett missed the split.
Trek-Segafredo are also present at the head of the chasing peloton. Richie Porte is back there.
31km remaining from 214km
Several teams – EF, Rally, Cofidis, Astana and ICA – have two riders in the lead group, so there could be more riders willing to work up there.
Meanwhile, the chasing peloton is splintering under the pace.
EF are pushing the pace in the lead group, and several riders are dropping off the back.
George Bennett (Jumbo-Visma) attacks the peloton.
11 riders remain up front after EF's pacemaking. The peloton are only 30 seconds back though.
Sergio Higuita (EF Education First) is on Bennett's wheel as they attack from the peloton.
Powless has dropped back to help out Bennett. Richie Porte is at the head of the peloton chasing Bennett's move down though.
20 seconds separate the slimmed-down lead group and chasing pack. It looks a little less than that, though.
29km remaining from 214km
And the catch is made. Just a reduced peloton of around 30 riders at the head of the race now.
A few riders try to clip off the front of the peloton. Four men are up there.
Several more riders are indeed off the front on the descent from Luther Pass.
Asgreen is leading the way along with a rider from Astana, followed by another group.
It's Ballerini again up there with Asgreen.
There are nine riders chasing the duo.
Powless is in that chase group, but the hyperactive television director is cutting from group to group to helicopter and back, not really giving any chance to identify riders.
Van Garderen, Craddock (both EF), Britton (Rally UHC) and Moscon (Ineos) are chasing too.
Max Schachmann too, as well as Mathias Le Turnier (Cofidis), Munoz (UAE) and Jonas Gregaard (Astana).
13km remaining from 214km
They're not far off the two leaders, either.
Moscon and Craddock are leading the charge.
Pogačar (UAE) is among the chasers too.
Munoz has dropped back to try and help Pogačar.
12km remaining from 214km
Munoz and Pogačar make it across to the chasers. Gregaard attacks.
9km remaining from 214km
The lead groups are together now.
This will come down to the final kilometre and the uphill finish.
It's 1.2km at 7.5% so quite a test to end this long day.
Further back, groups are merging, but it should be the lead group contesting the victory here.
Jumbo-Visma looked in a strong position at one point but they really messed this up when the decisive attacks were flying. Powless had dropped back from the initial lead group to try and help Bennett make it across, then the peloton and leaders merged.
And then Bennett seemed to be back among the team cars, possible getting bottles, when this split was made.
4km remaining from 214km
4km to go now and no attacks as the leaders await the final drag.
Inside the final 2km now and the road is about to head upwards again.
1km remaining from 214km
Astana hit the front and Davide Ballerini has launched an attack. The rest of the group look at one another.
It didn't last long though, as van Garderen leads the group back up and past him.
1km remaining from 214km
The group splinters under the pace. 1km to go. Moscon follows van Garderen, with Asgreen and Pogačar behind. Then a gap to the others.
It should be between that quartet.
Moscon heads to the front, then van Garderen.
Pogačar fades and Asgreen takes over at the front!
EF leads the chasing peloton in behind the remnants of the lead group.
Asgreen took first, van Garderen second, then Moscon and Pogačar third and fourth.
Here's the top ten on the stage:


1 Kasper Asgreen (Den) Deceuninck-Quick Step 06:17:11
2 Tejay van Garderen (USA) EF Education First
3 Gianni Moscon (Ita) Team Ineos 0:00:04
4 Tadej Pogacar (Slo) UAE Team Emirates 0:00:10
5 Maximilian Schachmann (Ger) Bora-Hansgrohe 0:00:16
6 Jonas Gregaard Wilsly (Den) Astana Pro Team 0:00:27
7 Rob Britton (USA) Rally UHC Cycling
8 Sergio Higuita (Col) EF Education First 0:00:31
9 Rigoberto Urán (Col) EF Education First
10 George Bennett (NZl) Team Jumbo-Visma
It's the first win of his career for Kasper Asgreen. He took second at the Tour of Flanders last month.
And here's the new top ten on GC. Van Garderen is the new race leader.
1 Tejay van Garderen (USA) EF Education First 09:31:19
2 Gianni Moscon (Ita) Team Ineos 0:00:06
3 Kasper Asgreen (Den) Deceuninck-Quick Step 0:00:07
4 Tadej Pogacar (Slo) UAE Team Emirates 0:00:16
5 Maximilian Schachmann (Ger) Bora-Hansgrohe 0:00:22
6 Rob Britton (USA) Rally UHC Cycling 0:00:33
7 Jonas Gregaard Wilsly (Den) Astana Pro Team
8 David de la Cruz (Spa) Team Ineos 0:00:34
9 Felix Großschartner (Aut) Bora-Hansgrohe 0:00:35
10 George Bennett (NZl) Team Jumbo-Visma 0:00:36
On the podium van Garderen takes the race lead.
Then, Asgreen takes the points jersey, Pogacar takes the young rider's jersey and Ballerini takes the king of the mountains jersey.
Sign up to the Cyclingnews Newsletter. You can unsubscribe at any time. For more information about how to do this, and how we hold your data, please see our privacy policy
Thank you for signing up to Cycling News. You will receive a verification email shortly.
There was a problem. Please refresh the page and try again.