Tour de la Provence stage 3 - Live coverage
All the action on the crucial summit finish finale
Refresh
Hello there, and welcome along as the Tour de la Provence heads for its finale atop the Montagne de Lure. A big summit finish awaits - the biggest climb of the season so far - and we're set to see a showdown in what remains a tight battle for the overall title.
As we pick up the action, just past the halfway mark, we're heading steadily towards the final climb. We have a breakaway of five riders with a lead of 5:30 over the peloton.
The riders up the road are:
Luke Rowe (Ineos Grenadiers)
Romain Combaud (Team DSM)
Alexis Gougeard (B&B Hotels)
Nicolas Debeaumarche (St Michel-Auber 93)
Jonathan Couanon (Nice Metropole)
Groupama-FDJ and Trek-Segafredo are prominent as the peloton sweeps along.
Filippo Ganna (Ineos Grenadiers) produced his latest trick yesterday with an uphill sprint to take third place on the stage and hang onto the black leader's jersey. Can he take it all the way? It's tempting to wonder, but it's highly unlikely, given the severity of the Montagne de Lure and the quality of climbers in this field.
Julian Alaphilippe (QuickStep-AlphaVinyl) is poised at two seconds, while former winner Nairo Quintana (Arkea-Samsic) is a big danger man, albeit further back at 32 seconds.
The breakaway are on the cat-3 climb of the Col de Buire. It's 6.7km long at a gentle gradient of 3.7%, and shouldn't do any real damage at all.
The breakaway have lost some time on that climb. Their lead is down to 3:40.
This isn't just about Ganna, Alaphilippe, and Quintana. There are a host of good climbers in this field who are out of GC contention after the crosswind stage, but who could take the day's honours today. Michael Storer (Groupama-FDJ) and Ivan Sosa (Movistar) are chief among them.
AG2R Citroën are also prominent towards the front of the bunch. They have Aurelien Paret-Peintre 11th overall but also Geoffrey Bouchard as a climbing option.
We're into the final 50km and the gap to the five-man break is down to 3:20.
A bit more on our final climb. Officially it measures 13.4km, with an average gradient of 6.7% that's steepest and most sustained in the top half.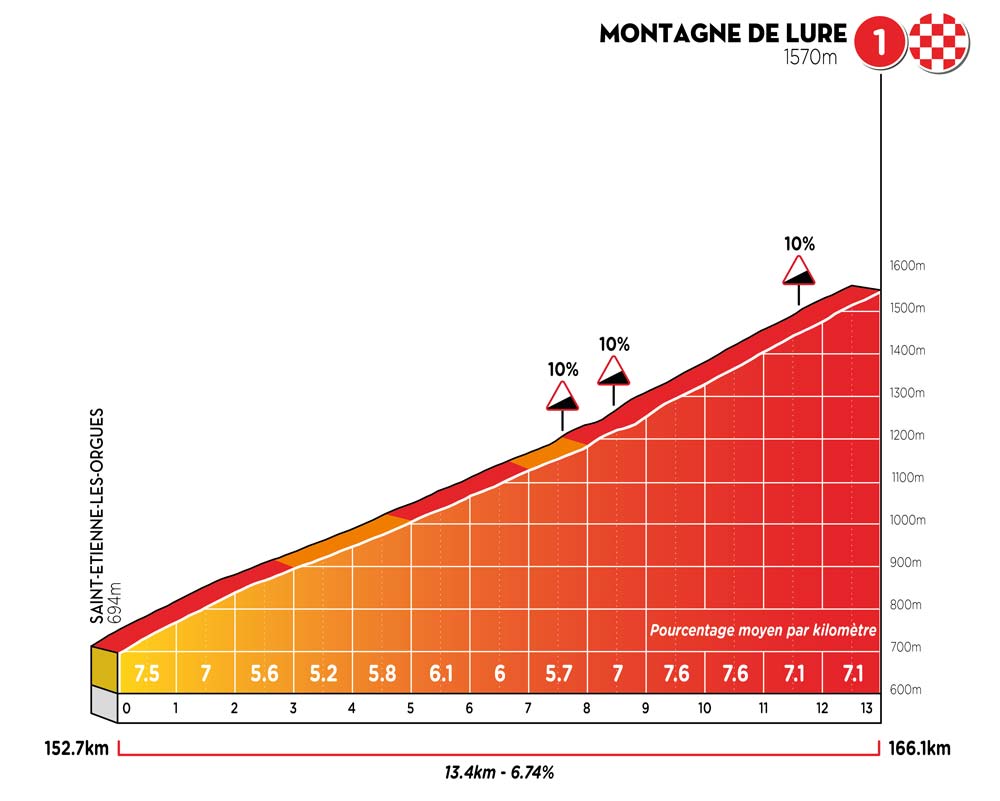 It's not a very well known climb but Alberto Contador and Richie Porte have both won there in Paris-Nice.
40km to go
Into the final 40 now and the five-man break see their lead dip below the three-minute mark.
We're descending gently and it's all calm for now. There's a short uncategorised climb coming up before a brief dip down to the foot of the Montagne de Lure. The pace and intensity in the bunch should steadily start to ratchet up from here.
Here's Rowe sparking the breakaway at the start of today's stage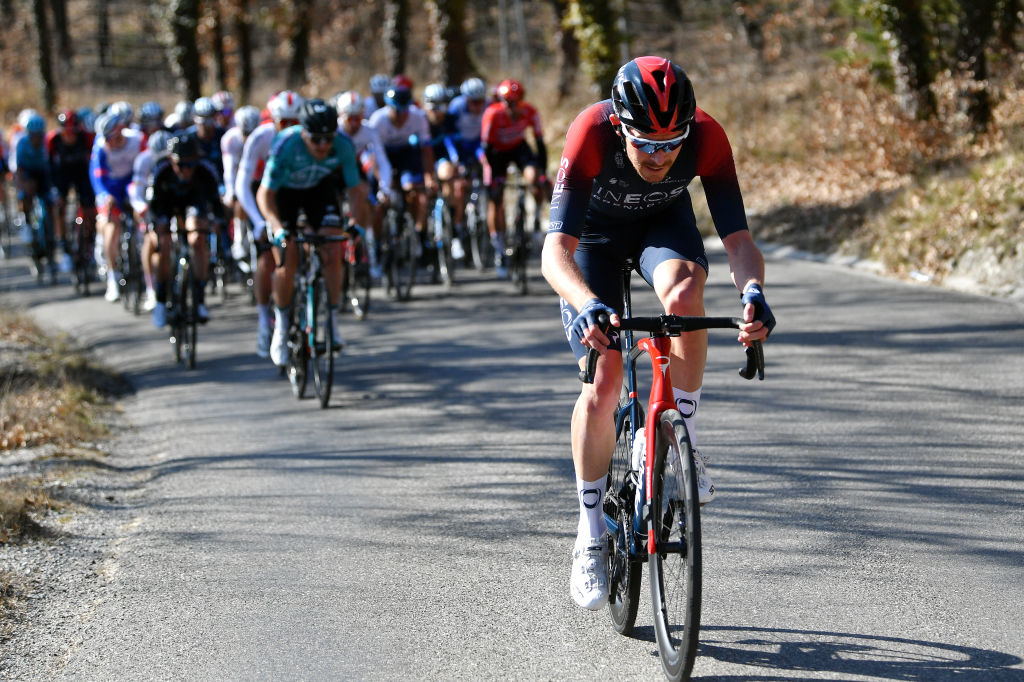 And here's how the peloton has looked for much of the afternoon.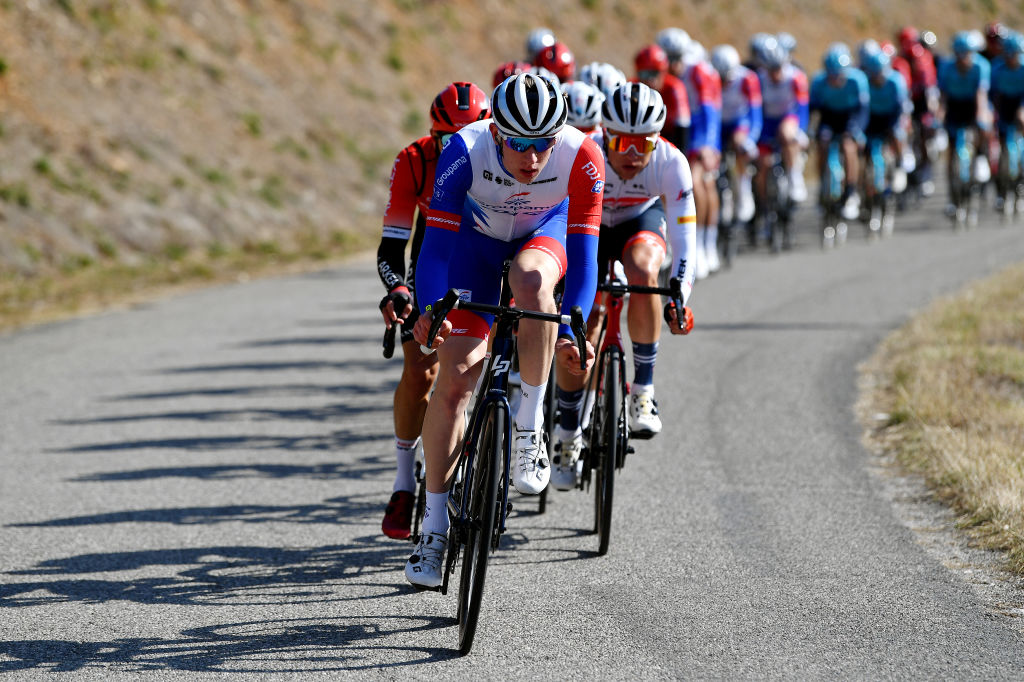 We've spoken about Storer and Quintana but Trek-Segafredo are another of the teams taking command at the head of the bunch and they have a really strong team here. They have Elissonde, Cataldo, and Ghebreigzabhier, but it's their young Dane Mattias Skjlemose who they'll be working for today. He's fifth overall at 25 seconds.
Pierre Latour (TotalEnergies) is another rider we need to talk about. Not the purest climber, and not at his best for the past couple of years, but he remains a talent and sits third overall at 14 seconds. His best climbing came at the 2018 Tour de France, where he finished 13th overall and won the white jersey for best young rider while supporting Romain Bardet at AG2R.
We're through Forcalquier and are climbing now on that uncategorised incline that precedes our final mountain.
The breakaway have held firm and still have 2:37 but it's getting a little twitchy in the bunch now as they themselves head through Forcalquier, heading past the ancient cathedral.
25km to go
The road pitches uphill and rises out of town. Gougeard is immediately dropped. We'll let him off - he was in the break yesterday and nearly pulled off a big upset.
Astana hit the front of the bunch now. They have Samuele Battistella fourth overall. He's not really a pure climber but could hang on for a good overall finish today.
This little climb is actually a bit of a test and might be categorised in another race. The break crest the first lip and sweep downhill but it'll kick up again shortly.
Here come Movistar, fashionably late to the party. They have an interesting situation. Matteo Jorgenson is sixth overall and developing as a week-long racer, while Ivan Sosa is the defending champion who's already out of contention but is among the top pure climbers in this field.
Alaphilippe nearly has a mishap. He drifts off the side of the road and looks like he's about to go down into the little grassy ditch but somehow manages to pop back out unscathed.
20km to go
Into the final 20 and the gap between break and bunch stands at 2:05. Not long now until the real action kicks off.
Couanon blows his nose, sending a snotball back. Luke Rowe is snug in the slipstream and takes it full in the face. He asks the Frenchman what an earth he's thinking.
TotalEnergies appear en masse at the head of the bunch. We haven't seen them all day but here they are to set up Latour. He's shown flashes recently but could we see him back to his best this season?
The gap quickly drops to 1:30 as they dip down to the final climb.
Just over 17km to go and there's a small rise ahead of the final descent to the foot of the Montagne de Lure. TotalEnergies are vying with Trek for the front and they're shifting now.
Total have control for this fast and nasty descent.
15km to go and they hit 75km/h down this hill. It's splitting.
Four splits in the bunch on this descent.
One small one at the front that should stitch together imminently but one bigger more concerning one halfway down.
The front split is stitched but there's still a group of 30 left behind, with other stragglers behind them. Are there any GC riders in there and can they shut this down? We're climbing soon.
Ganna, Alaphilippe, Latour, Quintana all present and correct up front.
13.8km to go and Combaud attacks the break ahead of the final climb.
Debeaumarche goes with him but Rowe and Couanon fall away.
13.4km to go
Here we go! Montagne de Lure begins...
Combaud and Debeaumarche hit it with a lead of a minute over the front bunch.
The back of the peloton quickly fragments further as they start the climb. It seems like all the overall contenders are in the main bunch up front.
It's a calm start as Total and FDJ lead the way. They're losing ground to the break again. 1:10 is the gap now.
A reminder of how the Montagne de Lure measures up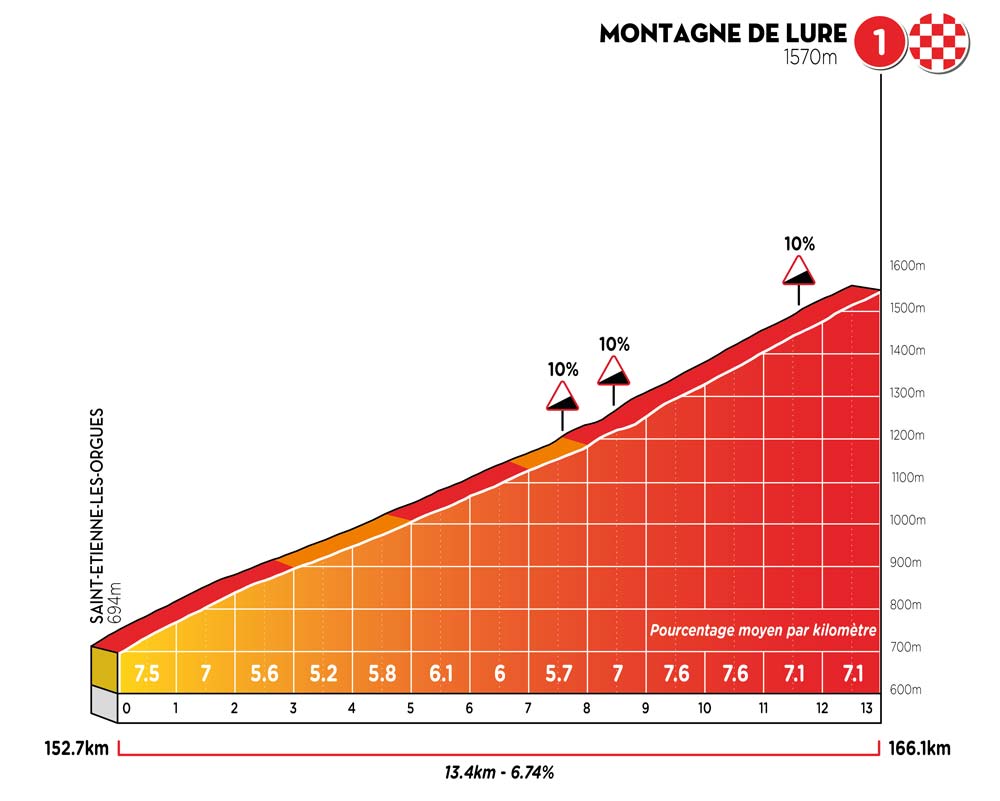 Bruno Armirail has taken responsibility for FDJ and is setting a strong tempo now. The bunch lines out.
Armirail has lifted the pace notably, and the gap to the two leaders comes down to 50 seconds with just over 11km to go
They catch Rowe and Couanon now.
Rowe looks around and tries to pick out the race leader, his teammate Ganna. There's not much he can really do for him here.
We're 3km into this climb and the gradient eases now for a couple of kilometres to around 5%.
Rowe has linked up with Ganna towards the back of this bunch, which is still pretty big.
Rowe pulls off now and is dropped. Ganna looks ok for now.
A quick kilometre ticks by on those gentler gradients. Combaud and Debeaumarche continue to lose ground. 30 seconds now.
The DSM rider kicks away from Debeaumarche and this time he's away and alone.
Armirail is still on the front. He has three Total riders on his wheel but as I write that one of them has to pull out of the line, unable to even follow at this point.
8.5km to go
Armirail's leader, Storer, sits behind the two remaining Total riders. Three Arkea riders line up behind him, with Alaphilippe around the middle of the pack and Ganna towards the back.
Armirail had a great season last year and is fast becoming one of the top domestiques in the peloton. FDJ value him very highly.
7.5km to go
Combaud is now 25 seconds up the road. The bunch is still pretty big.
Armirail starts to grimace and gurn but he hasn't whittled this bunch down that much yet. Just under 7km to go but the steepest stuff is coming in the final 5km, where we should get the fireworks.
Armirail is done. The Frenchman pulls aside after a huge turn.
Latour's last domestique takes it up now. 6km to go and they're 17 seconds behind Combaud.
Around 30 riders left in this pack, and it bunches up for a second there.
And now QuickStep hit it. Louis Vervaeke hits the front for the Belgian team.
Ganna is looking good in the middle of this group....
5.5km to go and Vervaeke takes it up ahead of two Arkea domestiques. The French team are having a good start to the season but Quintana getting back to his best could be huge for them.
Six seconds for a fading Combaud. He'll be caught shortly.
5km to go
Here we go then. Combaud is caught and we're about to hit the steep stuff. It's all above 7% from here.
Vervaeke continues to set the tempo. Quintana moves up the line as Storer slips back.
When will Quintana go? He needs to find 32 seconds on Ganna. Alaphilippe, meanwhile, only needs two.
Now! Is the answer to that question, as if on cue.
Arkea drill it and Quintana takes flight with 4.3km to go
Alaphilippe goes after him!
The pair of them are away, and now they're turning.
Two more riders trying to get across now.
It's Sosa and Ghebreigzabhier behind.
Alaphilippe can't respond!
3.3km from the top and Quintana breezes clear of the world champion.
Sosa drops Ghebreigzabhier and makes his way over to Alaphilippe
Ghebreigzabhier drops back to pace Skjelmose. They're in a group with Jorgenson. Ganna is much further back and slipping out of the overall lead.
Alaphilippe survives an acceleration from Sosa but he's swinging already.
And now Alaphilippe has to relent. Sosa simply eases clear in the saddle.
Alaphilippe produces a huge out-of-the-saddle acceleration to try and salvage this but Sosa is away.
Elissonde is also with Ghebreigzabhier, pacing Skjelmose further down the climb.
2km to go
Quintana has found 27 seconds over Sosa!
Alaphilippe is cooked. He's caught by the Trek group, who also have Van Wilder and Jorgenson in tow.
Alaphilippe maybe went too early in responding to Quintana's first attack? He needs to keep the Colombian within half a minute, but there are also 10 bonus seconds for the winner, so it's not looking good.
1.2km from the top and Quintana is posted at 25 seconds in front of Sosa, who himself is fading.
Sosa is not far in front of this Trek-led chase group.
No sign of Ganna, but he's out of the race lead here.
And now Alaphilippe puts Van Wilder on the front of this chase group as Elissonde dangles off the back of it.
Quintana is into the final km and he has 26 seconds in hand.
Quintana enters the barriers and springs out of the saddle. He's got the stage win in the bag and it looks like the overall title is his as well.
Quintana comes to the line and lifts his arm. He wins the final stage of the Tour de la Provence.
Here comes the rest. Sosa is hanging on as Van Wilder goes so hard he drops Alaphilippe
Skjelmose sprints to second place, with Jorgenson also rounding Sosa at the line to take third.
They're at more than 30 seconds so Quintana has won the overall title.
Ganna crosses the line at 1:22!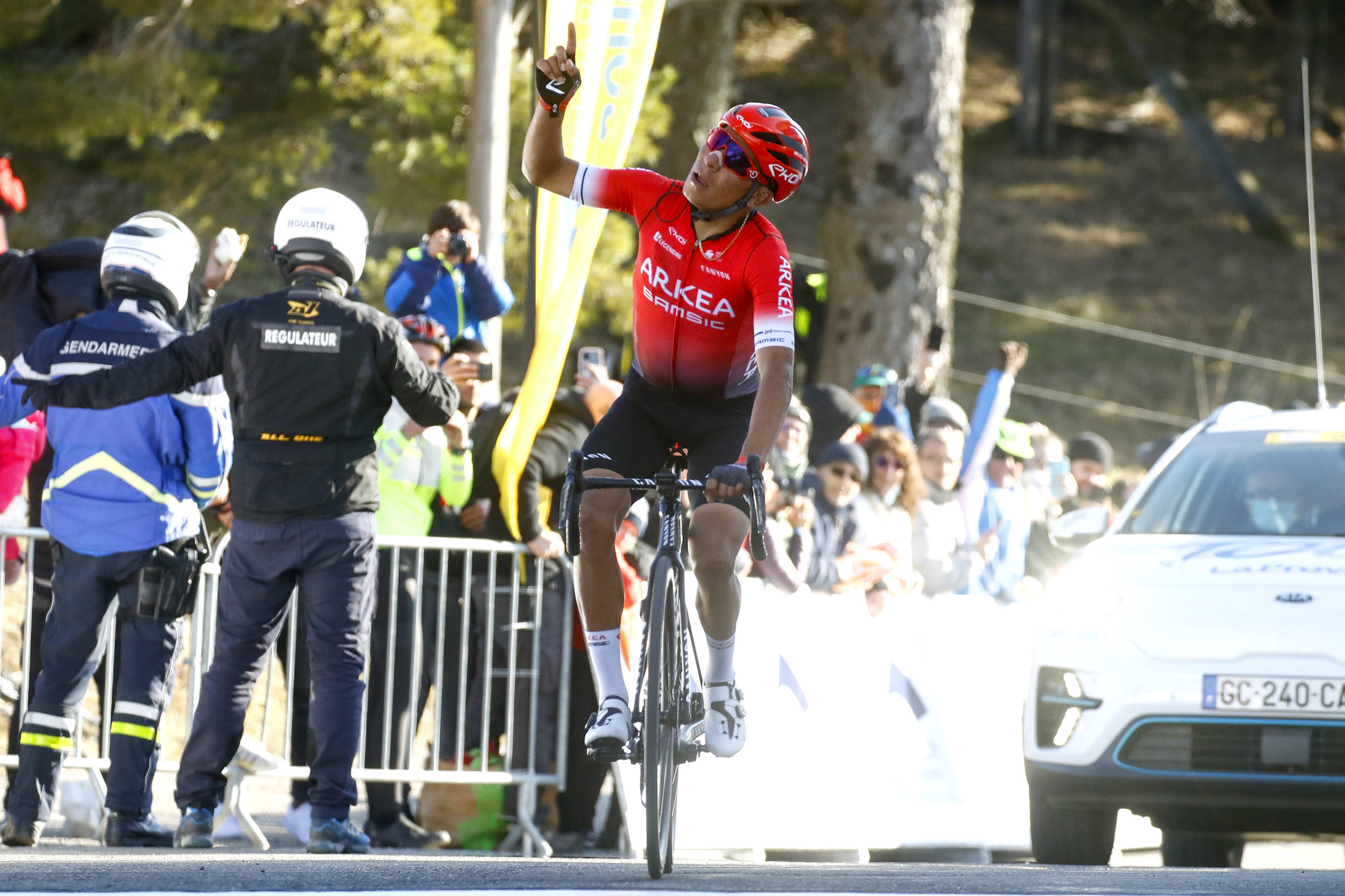 Breaking: Filippo Ganna has been disqualified for an illegal bike change.

Thank you for reading 5 articles in the past 30 days*
Join now for unlimited access
Enjoy your first month for just £1 / $1 / €1
*Read any 5 articles for free in each 30-day period, this automatically resets
After your trial you will be billed £4.99 $7.99 €5.99 per month, cancel anytime. Or sign up for one year for just £49 $79 €59

Join now for unlimited access
Try your first month for just £1 / $1 / €1