Tour de France Femmes avec Zwift stage 2 Live: Reaction to a dramatic day
By Dane Cash published
Vos wins from elite late break as crashes and wind cause chaos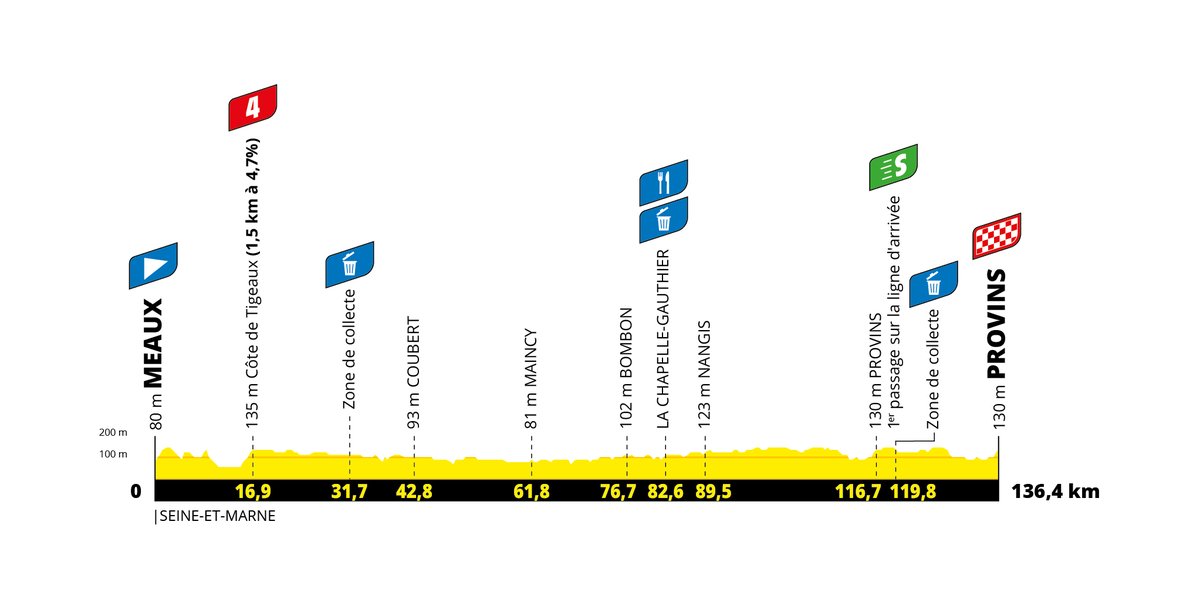 The Tour de France Femmes: the complete guide
Tour de France Femmes – Analysing the contenders
How to watch the 2022 Tour de France Femmes – live TV and streaming
Wiebes beats Vos to claim stage 1 win and yellow jersey at Tour de France Femmes
Race Notes
- Marianne Vos wins stage 2 of the Tour de France Femmes
- Dutchwoman takes yellow jersey after winning from late break in chaotic run-in
- Longo Borghini and Niewiadoma gain time after also making the move
- Crashes and chaos: Cavalli out, Uttrup Ludwig loses time on tough day for FDJ
Refresh
Bonjour and welcome to the Cyclingnews live coverage of stage 2 of the 2022 Tour de France Femmes.
As our live coverage starts, the riders are signing on in Meaux to the east of Paris.
2ème étape @LeTourFemmes : 136km entre Meaux et Provins et une nouvelle arrivée au sprint à prévoir. @velopipoire sera bien protégée pour jouer sa carte. Allez les filles ! #TDFF pic.twitter.com/ljsmlWQMq5July 25, 2022
On Sunday Lorena Wiebes (Team DSM) out-sprinted Marianne Vos (Jumbo-Visma) to win Sunday's opening stage of the Tour de Frances Femmes avec Zwift, which took riders 82km on a Parisian circuit from the Eiffel Tower to the Champs-Élysées.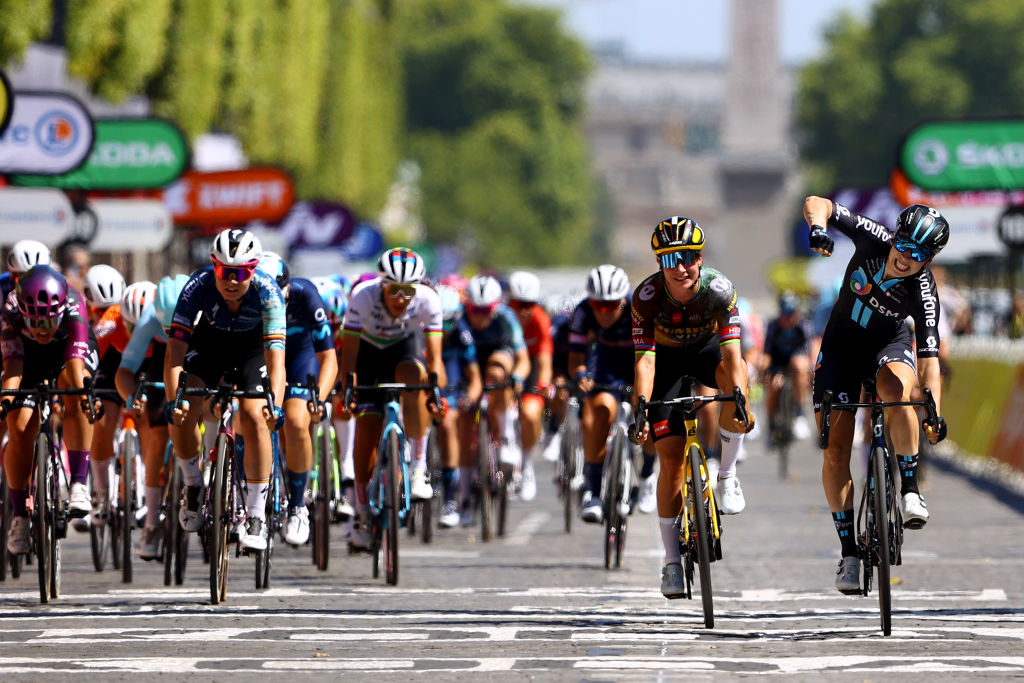 The second stage of the 2022 Tour de France Femmes will be underway soon. Race leader and stage 1 winner Lorena Wiebes will be aiming to make it two in a row, but there will be quite a few potential contenders hoping to best her in Provins.
Neutral rollout has commenced, and the riders are on their bikes and moving! They are heading to Meaux.
The peloton is onto the course and racing is officially underway.
Why wait to get the action started? Attacks have begun to fly already as riders try to establish an early break. Four opportunists are ahead of the pack at the moment.
The quartet at the front is composed of Rotem Gafinovitz (Roland Cogeas Edelweiss Squad), Femke Gerritse (Parkhotel Valkenburg), Marit Raaijmakers (Human Powered Health), and Sabrina Stultiens (Liv Racing-Xstra). They already have some breathing room, but more riders are trying their luck from the pack as well.
123.3km remaining
The four escapees have one minute on the peloton.
The four attackers are making their way up the Côte de Tigeaux, a short, fourth-category ascent of 1.6km at 4.4%.
The advantage of the break is now up to two minutes. Those out front will have a chance to battle for two QOM points here.
Gerritse crests the climb first to take the two QOM points on offer at the top, with Raaijmakers nabbing second place for a single point. Gerritse is now on even terms with her teammate Femke Markus in the polka dot points department. Whichever rider is sitting higher on GC at the end of the stage will wear the jersey on Tuesday.
The gap is inching up towards three minutes. It can often take quite a lot of back and forth before a clear break is established on a stage, but these four riders jumped early on and it seems to have stuck.
99.2km to go
With a little under 100km left to race, the gap is now at about three minutes.
Lorena Wiebes began this stage in yellow, and she and her DSM teammates are hoping to get more out of today's finish too. (Image credit: Getty Images)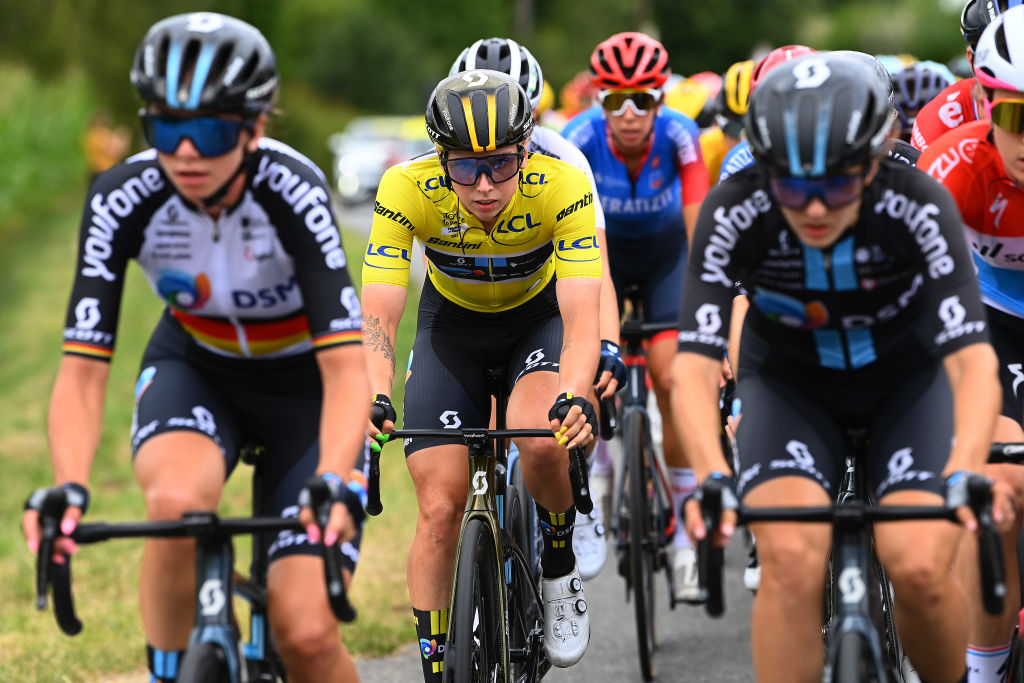 The wind is picking up, and so is the pace. The gap is down under two and a half minutes.
The riders are making their way towards Provins, where they will cross the finish line a first time for an intermediate sprint, and then again to finish the stage. Provins is a UNESCO World Heritage Site where quite a few medieval structures are still standing. They offer a glimpse into a town that was a prominent host of trading fairs, and several of the historic buildings date back to the 12th century.
84.8km remaining
The speed is having an impact. A handful of riders have been dropped from the pack, and the gap has been brought down to around 1:15.
The peloton has made up a lot of ground in a short amount of time. The break's gap is now down to just 45 seconds.
It doesn't seem like that long ago that the four riders off the front had a healthy gap, but it's down under 10 seconds now. That was quick.
And the quartet has been caught.
74.5km remaining
A number of different teams have a presence at or near the front of the pack. DSM, Movistar, Parkhotel Valkenburg, Trek-Segafredo, Human Powered Health, and Liv Racing-Xstra are all visible.
Sandra Lévénez (Cofidis) and Julie De Wilde (Plantur-Pura) are chasing back after some sort of incident, potentially a touch of wheels.
The pressure at the front has eased slightly and several chasers have caught back on. Still, the peloton continues to move along at a healthy pace.
BikeExchange-Jayco gets in on the action near the front of the pack.
69km remaining
So too does Jumbo-Visma as the peloton rides around the Château de Blandy, an impressive fortification.
🏁 78km The break has been caught, the peloton is now bunched. L'échappée a été reprise, le peloton roule groupé.#TDFF #WatchTheFemmes pic.twitter.com/H0833j6sQZJuly 25, 2022
62km remaining
Belgian road champ Kim de Baat (Plantur-Pura) stocks up on bottles back at the team car.
Half an hour after the early break was caught, the pack continues to lead the race with no new established breakaway move.
48.5km remaining.
We're down into the last 50km of the stage.
The riders will arrive at the Provins finish line for the first time in about 20km. An intermediate sprint awaits.
There has been a crash at the back of the bunch. Several riders went down.
28.9km remaining
Soraya Paladin (Canyon-SRAM), Morgane Coston (Arkéa), and Anya Louw (AG Insurance-NXTG) are among those caught up.
That crash saw several riders hit the deck, but fortunately they all remounted.
🏁 30km 💥 Crash in the pack! Every riders are back on their bikes. 💥 Chute dans le peloton ! Tout le monde est remonté sur le vélo. #TDFF #WatchTheWomen pic.twitter.com/ksc2Yh6sYsJuly 25, 2022
Maike van der Duin (Le Col-Wahoo), leading the young rider's classification, puts in a big dig. An AG Insurance-NXTG rider tried to follow the move and crashed hard rounding a corner.
And there has been another bad crash. Marta Cavalli (FDJ-SUEZ-Futuroscope) and Nicole Frain (Parkhotel Valkenburg) were among those going down hard.
21.5km remaining
Minutes later, there is yet another serious pileup. Cecilie Uttrup Ludwig (FDJ-SUEZ-Futuroscope) and Laura Süssemilch (Plantur-Pura) are among the fallers.
With so many crashes behind, Maike van der Duin has a 20-second gap on the peloton as the intermediate sprint nears.
Maike van der Duine takes maximum points at the sprint. Wiebes wins the battle for second out of the pack.
World champ Elisa Balsamo (Trek-Segafredo) spurs a a number of riders into a move to bridge up to van der Duin. Marianne Vos (Jumbo-Visma) and Kasia Niewiadoma (Canyon-SRAM) are there in a group of six.
Meanwhile, Cecilie Uttrup Ludwig is trying to chase back to the pack in a group with several teammates after her crash.
16.2km remaining
Van der Duin, Vos, Niewiadoma, Balsamo, Elisa Longo Borghini (Trek-Segafredo), and Silvia Persico (Valcar-Travel & Service) are off the front with a gap of about 20 seconds to the "pack," which is a much-reduced group after so many crashes have left riders chasing in several different groups behind.
As the danger posed by this move becomes clear, several teams are helping DSM work at the front of the pack in an attempt to keep the gap manageable.
The six out front are pushing hard. They have a 24-second gap right now to a peloton that is lined out in pursuit. Uttrup Ludwig is behind that with about 30 seconds to make up to the pack.
10km remaining
We're into the final 10km of the stage now. The six escapees have almost half a minute on the first chasing group on the road, with other small groups behind that.
Demi Vollering (SD Worx) and Juliette Labous (DSM) push the pace at the front of the pack.
The peloton has not been able to close this move down and they are running out of road. The gap is at almost 40 seconds.
3.6km remaining
Three-time world road champ Vos will surely be a dangerous rider in this finale. Meanwhile, current world road champ Balsamo has to like the way this is playing out with a teammate in the group alongside her.
Van der Duin has been named the day's most combative rider.
1.5km remaining
With 1.5km to go, the stage looks set to come down to a battle among the six leaders: Van der Duin, Vos, Niewiadoma, Balsamo, Longo Borghini, and Persico. However it plays out, the yellow jersey will likely change hands, with Vos in an excellent position to challenge for the overall lead.
Evita Music (FDJ-Suez-Futuroscope) crashes at the back of the bunch.
Balsamo puts in a turn and then takes her foot off the accelerator, dropping out of the group with Longho Borgini for Trek-Segafredo left to try her luck.
With 500 to go Niewiadoma launches.
Vos responds in a matter of moments and immediately surges to the front.
Vos holds on out front to take a clear victory on stage 2 of the Tour de France Femmes. She has taken yellow as well!
Persico, who seemed to be struggling through those final few kilometers, navigated that finish well to claim second on the day. Niewiadoma took third.
Wiebes leads a group of chasers over the line at 29 seconds down. She has ceded the race lead at the Tour de France Femmes to her Dutch compatriot Marianne Vos. Persico moves up to second overall at 10 seconds back, with Niewiadoma now third overall, 12 seconds behind Vos.
Marianne Vos takes the win – and the yellow jersey – on stage 2 of the Tour de France Femmes.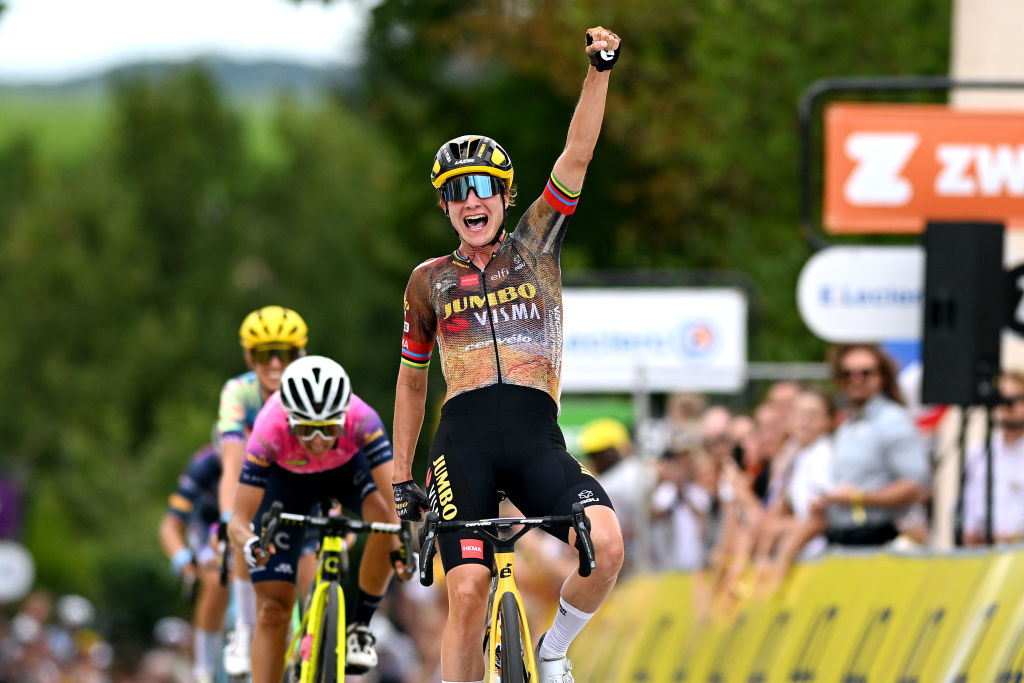 "It's not revenge, it's just a beautiful day," said Vos, who had to settle for second on stage 1, after her stage 2 win.
"I can't describe what happened. We knew we had to be focussed, we knew we had to be alert on the bell lap because it got narrow and the wind played a role. But I didn't expect we would break away and stay away. Like yesterday, the team did a perfect lead-out on the Champs Elysées and now they brought me perfectly into this bell lap to the sprint. Elisa Balsamo attacked and apparently that was the moment to go."
Crashes impacted quite a few riders today. Nicole Frain, who went down very hard, manages to finish in a group 3:22 back. Amanda Spratt arrives much further back. Giro Donne runner-up Marta Cavalli, who had been among the pre-race GC favorites, does not finish the stage.
All told, it was a very difficult day for FDJ-Suez-Futuroscope. Cavalli is out of the Tour de France Femmes, while Cecilie Uttrup Ludwig finished the stage 1:38 down.
After two stages of the Tour de France Femmes, Marianne Vos (Jumbo-Visma) leads the general classification and the points classification. Femke Markus (Parkhotel Valkenburg) leads the mountains classification. Maike van der Duin (Le Col-Wahoo) leads the young riders' classification.
It wasn't quite a win, but second on the day and moving into second overall aren't a bad a birthday performance for Silvia Persico (Valcar-Travel & Service), who turns 25 today.
Here are the results from today's stage.
A 134km stage 3 from Reims to Épernay awaits the peloton tomorrow. There are a few small climbs on the menu, including a short but steep third-category climb in the last 20km and an uncategorized ascent in the last 10km. Vos will take a GC lead of 10 seconds into the stage.
That's all for today's live coverage of stage 2. Thanks for joining us, and be sure to tune in again on Tuesday as the Tour de France Femmes peloton embarks on its third day of racing so far. Riders will roll out for the neutral start at 12:50 p.m. local time in France, with a finish expected at some time around 4:20 p.m. local time.