Live coverage
Strade Bianche 2019
By PFletcher
March 9, 2019, Siena, Siena, Road - WorldTour
Refresh
Full live coverage of the 2019 Strade Bianche, the iconic one-day race that runs through the rolling dirt tracks of Tuscany
Dry and dusty dirt roads expected to inspire a fast 2019 Strade Bianche
Gallery: Strade Bianche dependably delivers the drama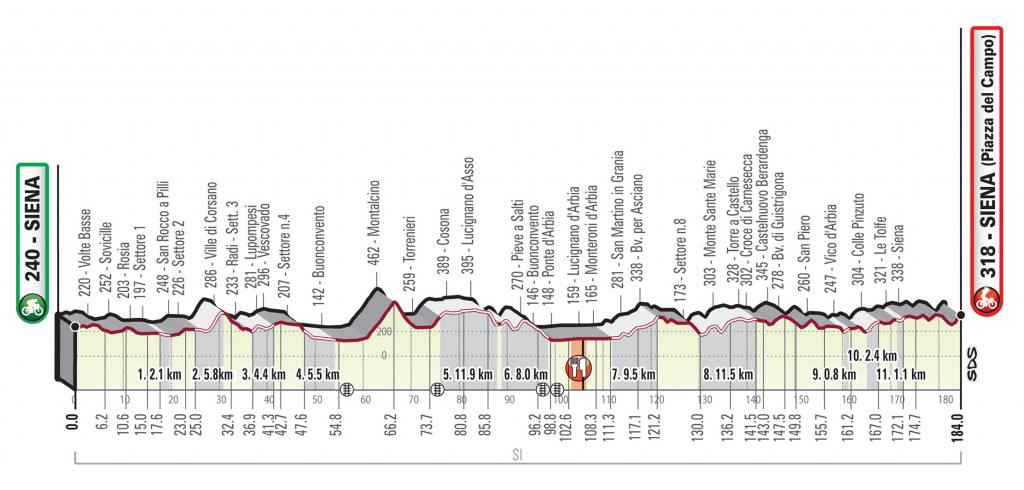 Good morning, and welcome to our live coverage of the 2019 Strade Bianche, a race that seems universally popular. Still young - this is only the 14th edition - the race has wasted no time in working its capturing hearts and minds, with the iconic rolling dirt tracks that wind through the Tuscan countryside producing some of the most spectacular images and racing of the cycling season. Here we go!
The riders have all signed on under blue skies in Siena. It's a far cry from last year's apocalyptic sloppy and cold conditions. Riders will be caked in dust, rather than mud, by the time their return back to Siena for the dramatic rise up the Via Santa Caterina and down into the Piazza del Campo. 
The riders are rolling and are on their way through the neutralised zone to the start. 
Now's a good time, if you haven't already, to read our resident Tuscan Stephen Farrand's full race preview. Here it is.
And for another appetiser, why not flick through this gallery of photos from last year. 
Strade Bianche dependably delivers the drama – Gallery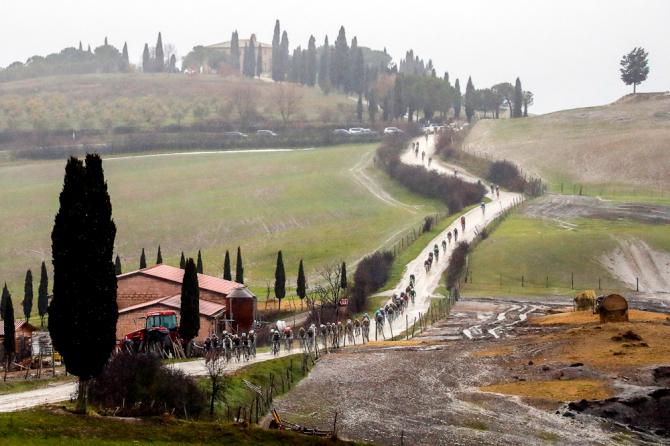 Tiesj Benoot (Lotto Soudal) has been declared fit to try and defend his title, and he'll face stiff competition from a stellar line-up, the big absentees being Peter Sagan and Alejandro Valverde. 
Greg Van Avermaet (CCC Team) is a big candidate, especially in the more clement conditions (he hates the cold). Wout Van Aert finished third last year and returns this year as a fully-fledged road rider for Jumbo-Visma. Alexey Lutsenko is flying for Astana. Lotto have Time Wellens as well as Benoot. Team Sky have Geraint Thomas and Gianni Moscon. 
And then there's Deceuninck-QuickStep, who have come racing out of the traps with three wins from three so far this Classics campaign. They have a formidable line-up once again, with former winner and cyclocross world champion Zdenek Stybar, who won Omloop last week, Julian Alaphilppe, who makes his debut here but can seemingly do anything, and Pieter Serry, who looks in great form and played a leading role here 12 months ago. 
I knew I'd miss someone out and as soon as I hit send on that last post, I remembered Vincenzo Nibali (Bahrain-Merida) is here. Winner of Milan-San Remo last year, as well as Il Lombardia and all three Grand Tours. He was off the pace at the UAE Tour but he'll go and win this now, knowing me. 
The race is underway and we're waiting for the first main breakaway to form.
The peloton is still as one as we approach the first gravel sector. 
The first sector comes after 17.6km and is 2.6km long. A break should form there.
There are 11 sectors of the eponymous strade bianche (white roads), totalling 63 kilometres. 
The early sectors should be quiet but the climb to Montalcino after 66km marks the second phase of the race, and is followed by the fifth and sixth sectors near that are 11.9km and 8km long, with only one kilometre on paved roads between them. 
Sectors 7 and 8 are crucial and should reveal who will and won't be in with a shot of victory. Seven climbs for almost all of its 9.6km and a descent leads to sector 8, another long hilly one at 11.5km.
Sectors 9, 10, and 11 are shorter but key selections will have been made by this point and they should be the scene of the end-game attacks, ahead of the dramatic finale in the centre of Siena. 
164km remaining from 184km
No breakaway to speak of yet as we tick off the first sector. It's been a fast start to the race.
The women's Strade Bianche is also taking place at the moment and they're heading into the final 65km now. We also have live coverage of that, and you can join my colleague Kirsten Frattini for it at this link.
The peloton is still all together as they hit the second sector. 
The second sector is uphill but still no one has managed to break away, despite numerous attacks. 
150km remaining from 184km
Four riders have managed to open a small gap as we come down towards sector 3.
The four riders up front are:
Alexandre Geniez (AG2R La Mondiale)
Nico Denz  (AG2R La Mondiale)
Diego Rosa (Team Sky)
Leo Vincent (Groupama-FDJ)
The leading quartet comes off the third sector having grown their lead to one minute.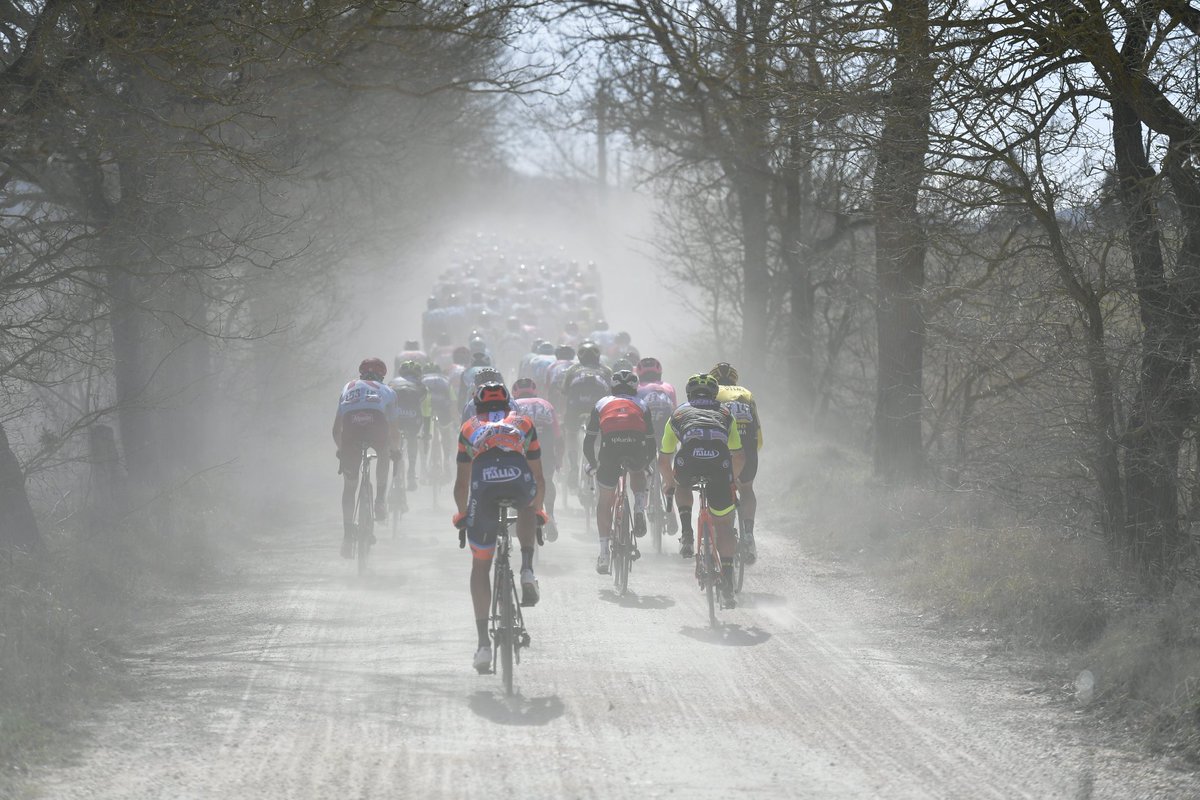 134km remaining from 184km
The riders are 50km in, and on the fourth sector of strade bianche, the longest so far at 5.5km. The four breakaway riders aren't being allowed much leeway by the peloton.
The average speed for the first hour of racing was a zippy 42.4km/h. 
I threw some big names out earlier, but there are always outsiders in a race as open as this. Here's the full start list. Have a look through and tell me who you fancy today. You can get in touch via Twitter @paddyfletch. 
Geniez, Rosa, Denz, and Vincent have extended their advantage to three minutes. They'll soon be climbing towards Montalcino.
This is a small but strong break, with Rosa and Geniez standing out especially. None of the second-division Pro Continental teams are represented. 
4:30 is the gap as the four leaders hit the climb.
The riders are over the top of the Montalcino climb and the gap to the breakaway is falling. 
109km remaining from 184km
With 75km on the clock, it's down to 2:30 for Geniez, Denz, Rosa, and Vincent.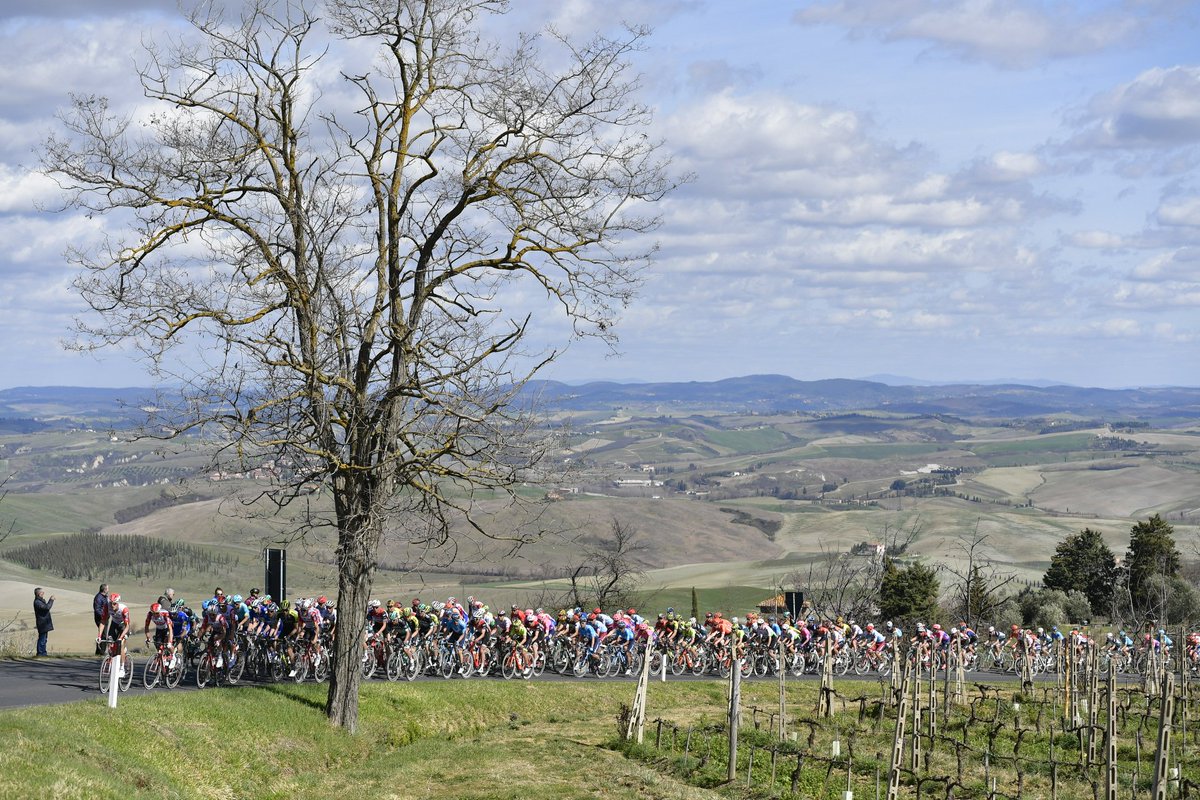 The riders are heading onto sectors five and six (11.9km and 8km respectively) Separated by just one kilometre of paved roads, it's almost one long 20km stretch of strade bianche in the Crete Senesi hills. This is the first big test for the riders. 
The peloton continues to draw closer on sector five and the gap comes down towards the two-minute mark. 
It's splitting up on this extended gravel section now. Geniez is pressing on in the breakaway, while the pace has been ratcheted up in the peloton behind. 
Geniez punctures! The Frenchman loses ground and it's now Rosa and Denz at the head of affairs. Vincent is slipping further back.
79km remaining from 184km
Vincent is caught by the peloton. They're back on the tarmac and heading through the feed zone but the race will soon hit those all-important seventh and eighth sectors. 
Geniez finds himself 1:30 down as we approach sector 7.
The pace in the peloton has eased after the feed zone and the gap to the front of the race is back up above three minutes.
Geniez is slipping further back and it looks like he'll be back in the peloton soon.
73km remaining from 184km
Rosa and Denz hit sector 7. It's 9.5km long and almost all uphill.
The gradients and gravel are biting and Rosa is clearly the stronger of the two leaders. He has dropped Denz and is cracking on alone.
Geniez, meanwhile, is back in the bunch.
We're nearing the end of sector 7 and Rosa has already put 40 seconds into Denz.
Two riders attack from the peloton on the tarmacked descent between sectors 7 and 8. They are: Quentin Juregui (AG2R La Mondiale) and Jan Tratnik (Bahrain-Merida).
54km remaining from 184km
130km on the clock and Rosa leads the race onto sector 8. Denz is 1:30 back, while the peloton - where the big moves are yet to happen - is at 2:20.
A reminder of the profile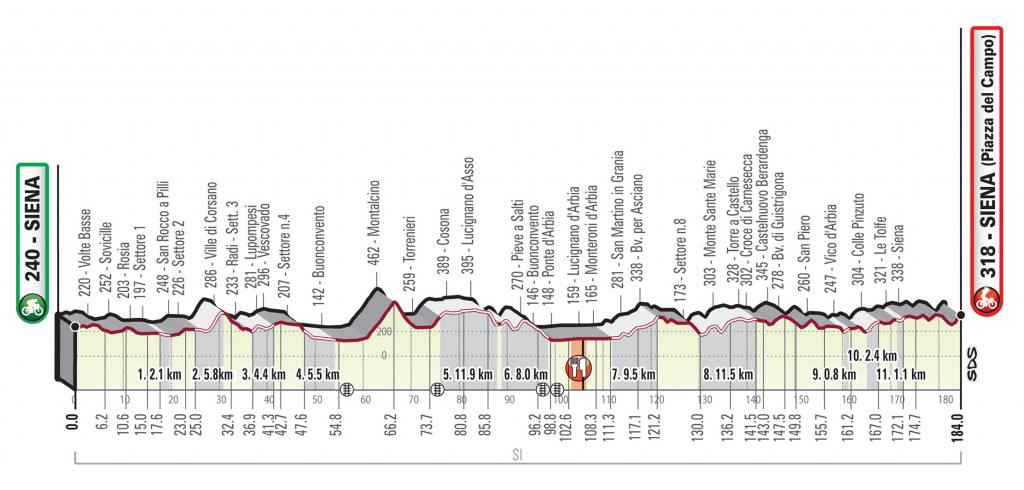 Jauregui and Tratnik are taken back in by the peloton. And Denz is also caught now. That leaves Rosa as the lone leader in front of a peloton that is now reducing in number and rapidly advancing. 
Van Avermaet comes to the front of the main group. It's starting to hot up now.
Fuglsang attacks now and it's splitting up big time.
A group of around 15 is moving clear from the rest of the peloton. 
Benoot and Wellens are up front for Lotto Soudal
Stybar and Alaphilippe have both made the selection for QuickStep. They have Serry in a small group not far behind with Nibali.
The gravel sector continues to rise and fall. Rosa ploughs on, one minute clear of the peloton which has blown to smithereens.
Wellens is particularly aggressive in this select group.
Lutsenko is here for Astana.
Van Avermaet is present and correct. QuickStep also have Lampaert.
Kreuziger, Nibali, Serry, Kung all in a chase group of around 15 riders.
Geraint Thomas is also in that group. It's the third on the road behind Rosa and then the main chase group with the big selection of the biggest riders.
Wout Van Aert has made it into the select group. He was third last year. 
Here are the names in this selection.
Benoot, Wellens, Van Avermaet, Fuglsang, Schachmann, Lutsenko, Stybar, Alaphilippe, Lampaert, Bettiol, Clarke, Seigle, Van Aert, Power, Skujins. 
43km remaining from 184km
Rosa finally comes to the end of sector 8. That was bruising, and it has seen the race really ignite for the first time. 
Rosa has a lead of 45 seconds over that first chasing group. The Nibali/Thomas group is a futher 30 seconds back.
Lampaert is doing the bulk of the work on the front of the first select group, trying to drive it clear on these tarmacked roads ahead of the finale. 
37km remaining from 184km
Rosa has ridden a great race up front today but it's almost over. That group is just 18 seconds back now.
36km remaining from 184km
Rosa is caught.
So, that group of 15 riders - which is now 16 with Rosa - leads the race. One minute behind them is the chase group with Nibali. 
54km remaining from 184km
We have around 10km of tarmac now before sector 9. It's short but steep, as with the two subsequent sectors that will see the decisive attacks being made by this front group.
It's not out of the question that the chase group could come back but, with a lead of more than a minute, it looks like our winner will be one of those 16 riders in the front group.
You should be able to see the riders in the group - and their teams - on the right-hand side of your screens. 
Schachmann had dropped back to the second group but now he's on the move again and trying to make his way across to the front of the race.
The gap is coming down. 40 seconds now.
Schachmann is chasing across wtih Viacheslav Kuznetov (Katusha-Alpecin). They're only 15 seconds back now.
25km remaining from 184km
The two chasers are fighting to make the junction ahead of the all-important sector 9. This is a big effort that could cost them. 
The pace in the lead group rises as they kick out of the corners. Lampaert is still doing a lot of work for his teammates. 
23km remaining from 184km
Sector 9 begins and immediately kicks up
Schachmann and Kuznetsov make it across on the early slopes. 
Lampaert leads the group behind but a gap is opening.
Alaphillipe senses danger and attacks!
Alaphilippe almost immediately makes it across. He looks strong.
Skujins attacks now as the road tips downhill back on the tarmac.
20km remaining from 184km
Into the final 20km and Fuglsang, Alaphilippe, and Van Aert lead the way by 25 seconds.
There have been some attacks behind, from Skujins and Benoot, but this trio has fully established itself.
On to sector 10. It's slightly longer, at 2.4km, and uphill again. 
Fuglsang, the former mountain biker, hits the front. He looks very strong. Alaphilippe follows but Van Aert is losing the wheel.
Fuglsang and Alaphilippe are away.
Fuglsang and Alaphilippe have 45 seconds on the rest now. Van Aert in between. 
17km remaining from 184km
Clarke attacks from the chase. 
Clarke is brought to heel by Wellens
Fuglsang and Alaphilippe come off the gravel for three kilometres of tarmac ahead of the final sector. 
The gap is growing. 55 seconds now.
Clarke, Wellens, and Seigle have a small gap over the rest of the chase.
Van Aert is still alone, chasing. There's no time check at the moment.
Fuglsang and Alaphilippe trade turns. They're working well together at the moment and still putting time into the chase.1:05 now.
14km remaining from 184km
Van Aert is alone at around 30 seconds down on Alaphilippe and Fuglsang.
The chase group has been whittled down. In there are Benoot, Wellens, Van Avermaet, Lampaert, Seigle, Stybar, Lutsenko, Skujins, and Clarke.
The pace has drained from that chase group now. They are now 1:30 behind Alaphilippe and Fuglsang and seemingly out of the picture if the two leaders collaborate on the run-in.
But first is the final sector of strade bianche. Sector 10. It's short, but steep once again. Here we go!
Alaphilippe looks in difficulty and Fuglsang attacks!
Alaphilippe gets out of the saddle and onto the wheel. 
11km remaining from 184km
That's it for the strade bianche. The leading duo come off the rough stuff and it's now tarmacked from here to the finish line. 
Van Aert follows over the top at 32 seconds.
The chase is splitting on the final sector. Van Avermaet, Stybar, Lutsenko, Benoot, Wellens and Power are up at the front of that group but they're 1:45 down now. 
Van Aert is not giving up on this. It's a brave effort but even if he does make it back against the odds, it will surely cost him on the final haul up through Siena. 
10km remaining from 184km
10km to go and Fuglsang and Alaphilippe continue to trade turns. They lead Van Aert by 35 seconds and the rest of the chase group by 1:25 now. 
In the final kilometre the road heads viciously uphill through the walls of Siena, reaching 16% on the iconic narrow Via Santa Catarina, lined with fans. The narrow twisting roads then lead to a sudden drop to the finish line in the Piazza del Campo. It's impossible to overtake on that drop, and very difficult before it, so it's all about being first to the top of Santa Catarina. 
We all know about Alaphilippe's punch. This is the winner of last year's Fleche Wallonne, after all. Fuglsang will be scratching his head here. That said, after a hard race, it does come down to legs and freshness.
8km remaining from 184km
The time gaps remain stable. Van Aert battles gamely on alone at 35 seconds. Van Avermaet, Wellens, Benoot and the rest of the chase at 1:35.
Clarke attacks again from the chase.
Lutsenko closes him down, with Stybar and Van Avermaet. 
6km remaining from 184km
The two leaders are in full aero tuck as the road flies downhill on the run-in to town. 
Alaphilippe's speed is too much for Fuglsang and too much for the motorbike in front, it seems.
Fuglsang gets back on and now the road heads uphill. 
Van Aert is still at 30 seconds. 
The main chase group is at 1:25. This is surely between Fuglsang and Alaphilippe now.
Is the cat and mouse beginning? Fuglsang swings over to the right and looks over at Alaphlippe. The Frenchman doesn't acknowledge him.
Alaphilippe responds but they're starting to play with each other now. Van Aert comes back to 25 seconds.
Fuglsang leads to the top of the rise and looks over. Alaphilippe comes through now. They're working together again. Van Aert goes back to 33 seconds. 
Van Avermaet and his fellow chasers are at 1:05.
4km remaining from 184km
Alaphilippe stretches his back and tightens his shoes, right in front of Fuglsang. Mind games already.
4km remaining from 184km
The pace drops again and Van Aert is still going full gas. 22 seconds now.
Alaphilippe looks relaxed, casual almost, but now comes through for a turn and lifts the pace.
Onto the last descent into town now, and Van Aert continues to come back! 15 seconds for the Belgian.
Meanwhile, Van Avermaet and co are at 55 seconds.
2km remaining from 184km
Back onto the wide flat road that will lead into the city centre. 
Van Aert continues his charge. 11 seconds now. He can see them, but what has he got left?
Alaphilippe leads through the roundabout and onto the narrow road into town.
Both riders are leaving something in the tank. Fuglsang on the front getting not turn from Alaphilippe.
And Van Aert comes straight past!
Alaphilippe is finally forced into action, and raises the pace to shut the Jumbo-Visma man down.
Into the walls of Siena and the final kilometre!
The road is already uphill but it's about to get a whole lot more dramatic. It's between this trio.
Onto Via Santa Catarina. Van Aert leads. He cracked dramatically her last year and fell off his bike.
Van Aert leads, then Alaphillipe.
Fuglsang attacks! Alaphilippe repsonds immediately.
Fuglsang is first to the top. Can Alaphilippe come round?
Yes! One dart takes him past the Dane on the twisting roads
Alaphilippe has a gap and takes it into the last corner....
And he makes no mistake. Alaphilippe wins!
Julian Alaphilippe (Decueninck-QuckStep) wins Strade Bianche
Van Aert stays on his bike this time and claims third place for a second year in a row.
Stybar finishes fourth, just ahead of Benoot, then Van Avermaet, Lutsenko, Clarke.
1 Julian Alaphlipppe (Fra) Deceuninck-QuikcStep 04:47:14
2 Jakob Fuglsang (Den) Astana 00:00:02
3 Wout Van Aert (Bel) Jumbo-Visma 00:00:27
4 Zdenek Stybar (Cze) Deceuninck-QuickStep 00:01:00
5 Tiesj Benoot (Bel) Lotto Soudal 00:01:00
6 Greg Van Avermaet (Bel) CCC Team 00:01:01
7 Alexey Lutsenko (Kaz) Astana 00:01:04
8 Simon Clarke (Aus) EF Education First 00:01:08
9 Toms Skujins (Lat) Trek-Segafredo 00:01:12
10 Tim Wellens (Bel) Loto Soudal 00:01:21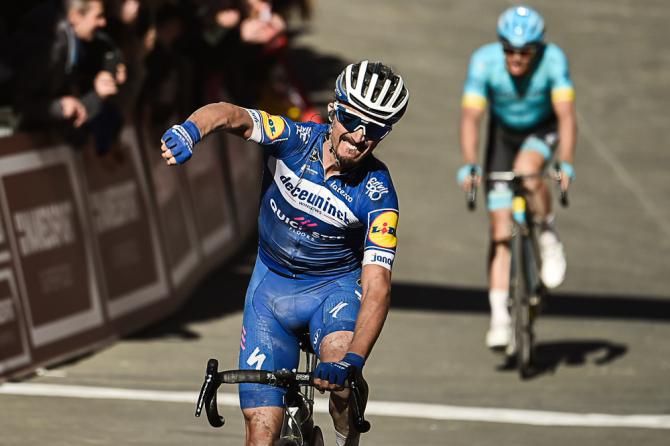 "It's unbelievable," says Alaphilippe, who was riding Strade Bianche for the very first time.
"I was focused all day on the finale. I was lucky to never crash nor have a flat tyre. My team did a great job in protecting me. Jakob Fuglsang was very strong but I made no mistake. However, I wasn't confident in winning until the last corner. This is a wonderful victory."
What a win from Alaphilippe, who is just getting better and better.
2017 was ok but the Frenchman finally won his first big race last year at La Flèche Wallonne, and went on to win two stages at the Tour de France, the Clásica San Sebastián, and the Tour of Britain. That form has clearly carried over into 2019, this being his fourth victory of the year after two stage wins at the Vuelta a San Juan in Argentina and one at the Tour Colombia. 
The Frenchman has always had the potential to pretty much anything, and he's really putting it all together now. Who knows what the limit could be for him. 
And what of his Deceuninck-QuickStep team?
They were the most successful team at the Classics last year but this year is something else entirely - a level of dominance that has never been seen before. After Zdenek Stybar at Omloop Het Nieuwsblad, Bob Jungels at Kuurne-Brussel-Kuurne, and Florian Senechal at Le Samyn, Patrick Lefevere's team have won all four Spring Classics so far, in the space of a week, with four different riders. And Philippe Gilbert and Yves Lampaert are yet to be fully unleashed. Frightening. 
Sign up to the Cyclingnews Newsletter. You can unsubscribe at any time. For more information about how to do this, and how we hold your data, please see our privacy policy
Thank you for signing up to Cycling News. You will receive a verification email shortly.
There was a problem. Please refresh the page and try again.