Live coverage
Giro d'Italia 2019: Stage 15
By PFletcher published
January 1 - June 2, Ivrea, Italy, Road - WorldTour
Refresh
Live coverage of stage 15 of the Giro d'Italia, sees the race leave the high mountains for a hilly route inspired by Il Lombardia.
Stage 14: Carapaz solos to victory and overall lead
Nibali: Roglic had a different kind of attitude today

Giro d'Italia: Passo Gavia removed due to avalanche threat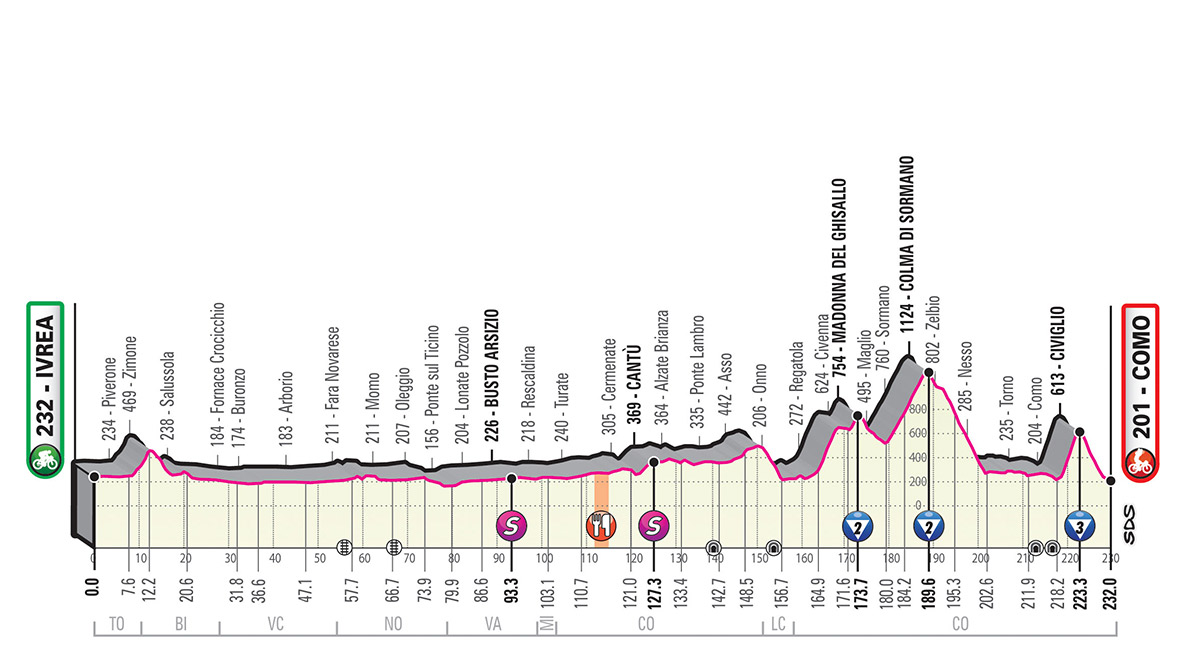 Welcome. The high mountains have well and truly delivered at a Giro d'Italia that some were writing off. We have more of them next week but first, ahead of the second rest day, we have a stage that is hilly rather than mountainous. Still, inspired by the late-season Classic, Il Lombardia, it's the sort of terrain that could provoke aggressive racing. We'll have it all covered right here.
Here's what's in store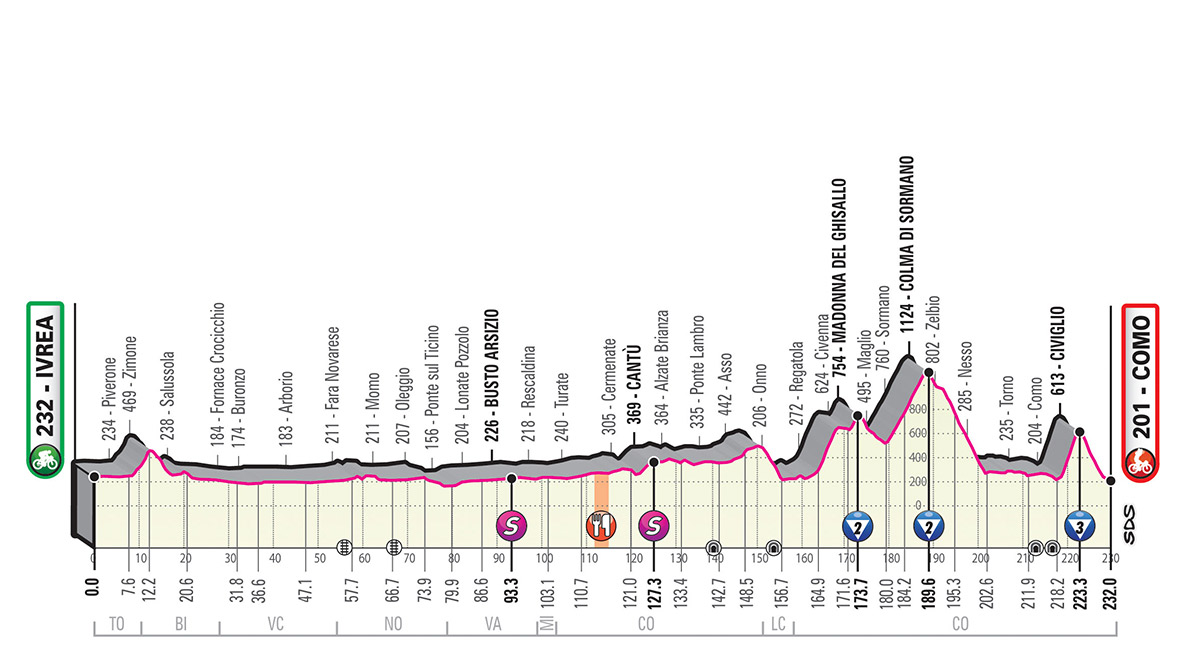 The stage distance is a little shorter than Il Lombardia but is still 232km long and includes the climb up to the Madonna del Ghisallo, the easier side of the Colma di Sormano and then the 9.7 per cent Civiglio climb overlooking Como.
The riders have gathered on the start line and will soon be rolling out. There's a lengthy neutralised section before the race proper gets underway. It's going to be a long day in the saddle.
Before we get going, now's the time to catch up on yesterday's action. Richard Carapaz soloed away to the stage win and his rivals marked each other to such an extent that he gained enough time to take the pink jersey as overall leader of the race. Report, results, photos in the link below.
Stage 14: Carapaz solos to victory and overall lead
Here is Carapaz at sign-on this morning. Mikel Landa is next to him, not looking so smiley. He came roaring back the two previous days but now finds himself very much the secondary rider in the Movistar hierarchy. It keeps happening to him.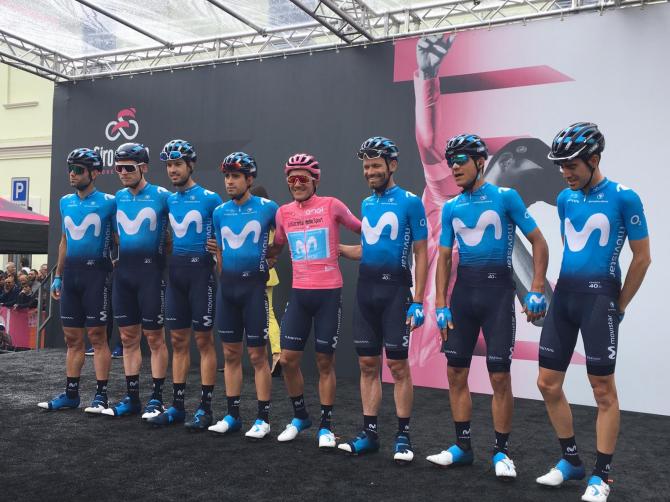 The riders are rolling and waiting for the flag to drop. We can expect a decent fight to get in the breakaway today.
Plenty of breakaway attempts in the opening kilometres but nothing sticking yet.
Vincenzo Nibali is the fan favourite at the Giro. This was the scene this morning.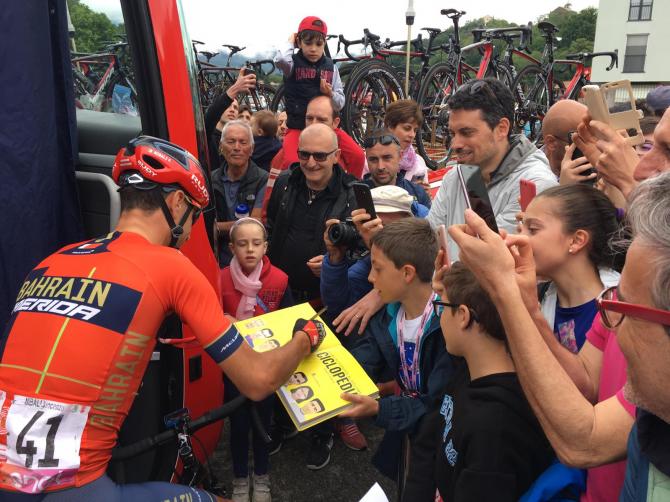 Nibali will be very much at home on this terrain. He is a two-time winner of Il Lombardia (2015, 2017), and on both occasions the race, which alternates in direction, finished in Como like it does today. The finales are slightly different to what we have today, but the basics the same - Ghisallo, Sormano, Civiglio then into Como.
223km remaining from 232km
Adam Hansen (Lotto Soudal), Manuele Boaro (Astana) and Michael Gogl (Trek-Segafredo) nearly formed a breakaway, but didn't.
It's one-long-line sort of stuff out there. Many sense an opportunity to win from the break today. With 232km on today's menu, many more won't want to be doing this for too much longer.
Dario Cataldo (Astana) and Mattia Cattaneo (Androni Giocattoli-Sidermec) have opened up a small gap.
Cataldo and Cattaneo haven't exactly been let off the leash just yet, but they take their advantage out to 30 seconds.
Not to be outdone by Nibali, here are Richard Carapaz's fans. He is the first Ecuadorian to wear the maglia rosa.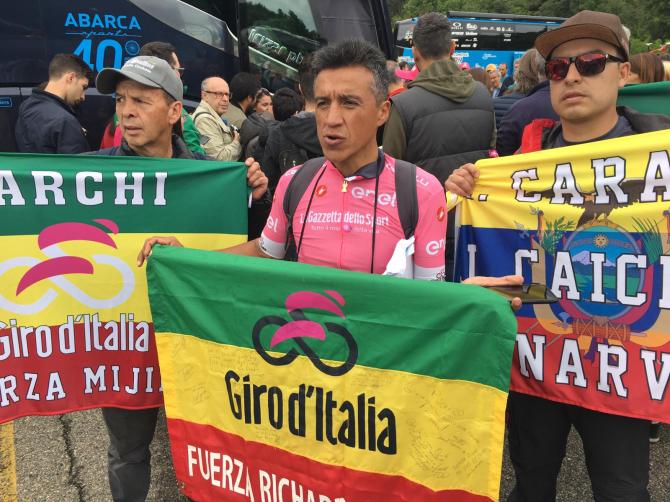 Bardiani and Nippo are the other two Italian Pro Conti teams who you'd think would want to be represented in this break. They were on the front of the bunch but Cataldo and Cattaneo are now gaining time.
200km remaining from 232km
As the two leaders drift out to more than a minute, Guy Niv (Israel Cycling Academy) and Francois Bidard (AG2R La Mondiale) jump from the peloton to try and make it across.
Bidard is taken back. Niv still in no-man's land.
That said, Nibali's coach, Paolo Slongo, didn't see it quite the same, and came out with another nice line...
"When Roglic was working, Carapaz was gaining time, so let's just say he was riding in front of the others."
192km remaining from 232km
The bunch has upped the pace. Niv has been caught and the two breakaway riders are just 40 seconds away now. We've already ridden 40 kilometres.
The average speed after one hour of racing is 44.1km/h.
The two breakaway riders are gaining ground once more.
And now it seems the peloton has well and truly taken its collective foot off the gas. Cataldo and Cattaneo all of a sudden have a lead of four minutes.
182km remaining from 232km
That's it, then. That's the break of the day. All that for a two-man escape. We're almost 50km in and we have another 100km or so of largely flat roads before the stage will really come to life.
5:30 now for the breakaway duo.
Neither poses any sort of threat in terms of the overall standings. Cattaneo is third overall at 37:41, while Cataldo is 57th at 01:07:28.
No Gavia
The other slice of big post-stage news yesterday was that the Passo Gavia, the Cima Coppi as the highest point of this year's Giro, has been cut from the route. That's because there's still a load of snow and ice up there and it will be impossible to make the roads safe by Tuesday. Stage 16 will instead take in a couple of earlier climbs, taking in Aprica via the harder side before doing the Mortirolo as planned. Full details here.
65km on the clock and the breakaway duo have taken their lead out to nine minutes.
The peloton are enjoying a period of calm after the fast start. The gap to Cataldo and Cattaneo has yawned out to 11 minutes.
150km remaining from 232km
Movistar are on the front of the peloton. They're hardly chasing, as the gap grows to 12:15, but they're in controlling mode now they have the pink jersey on the back of Richard Carapaz. They played it adventurous and tactical in the past few days but it will be interesting to see how their approach changes now.
It's Jasha Sutterlin setting the pace for the Spanish team. It's a big gap but there's still a long way to go and there should be plenty of interest in the stage win, so we should see other teams contribute to a proper chase at some point.
The breakaway duo are coming towards the first of two intermediate sprints on today's stage, at Busto Arsizio. There are maglia cicliamino points on offer and, with only two in the break, there'll be enough left to draw out Arnaud Demare and perhaps Pascal Ackermann from the peloton.
138km remaining from 232km
Cataldo rolls through the intermediate sprint. No contest from Cattaneo.
A few drops of rain out there and the clouds are darkening.
And now the rain does start to fall, and it's on with the capes. There are some steep, technical descents coming up in the finale and wet roads are going to make it even more treacherous.
Here come the peloton into Busto Arsizio for the intermediate sprint.
Points classification leader Demare does indeed hit out, and takes maximum points - six of them, in fact. Ackermann went for it too but was pipped to second place by Demare's lead-out man Jacopo Guarnieri. Nice move from FDJ, who successfully pull off what Bora tried and messed up a few days ago, if you remember.
125km remaining from 232km
With 125km to go, Cataldo and Cattaneo have found another minute. Their lead stands at 13:15, with Movistar back on the front of the bunch after the sprint.
"Let's race first, then we can talk."
Hear from the other side of that rivalry. Roglic was characteristically inscrutable at the finish yesterday, but hinted that he and Nibali had sort of buried the hatchet with a fist-bump outside anti-doping. The two did fail mount a decent chase, however, and as a result Roglic has let Carapaz become a real danger man. Stephen Farrand has the full story here.
116km remaining from 232km
Still the gap grows and grows. 15 minutes now for Cataldo and Cattaneo.
An interesting performance from Simon Yates yesterday. His pre-race bluster ("my rivals should be shitting themselves") has been fully exposed but he fought back with a decent second place in Courmayeur. It was perhaps, embellished by the fact that it was the stalling of the favourites that allowed him back into the picture, having been dropped on the Colle San Carlo. But still, Yates dug in gamely and never really let the others disappear on the climb. He's back up into the top 10 overall and there's life in him yet at this Giro.
Simon Yates fights back with a show of pride in Courmayeur
108km remaining from 232km
Cataldo and Cattaneo are coming towards the second intermediate sprint, at Cantù. There are no maglia ciclamino points on offer here, so no battle between Demare and Ackermann from the peloton, but there are bonus seconds. Three, two, one for the first three across the line, meaning there's one left for the peloton, but that's not going to be enough to see the GC riders hit out.
104km remaining from 232km
And still the gap grows. Cataldo and Cattaneo have 16 minutes now, and might just be starting to get excited here.
Movistar seem happy to let these two breakaway riders stay away to contest the stage. That takes away 16 of the bonus seconds. No other teams seem keen to chase in order to set up a stage win, which is strange given there are plenty without a win. We could see these two contest the stage before a GC battle behind.
As I write that, Mitchelton-Scott hit the front...
We talked about Yates a little earlier. This is a parcours that suits his style.
The gap is starting to come down under Mitchelton's pressure. There's still just about enough time for this to come back together.
95km remaining from 232km
The gap is down to 14:30.
Mitchelton are riding hard. They've taken 2:30 off the gap quite quickly. We still have 20km or so before the climbing begins, and after that, if the big names start racing hard, the gap to the two leaders will fall quickly.
88km remaining from 232km
A reminder of the stage profile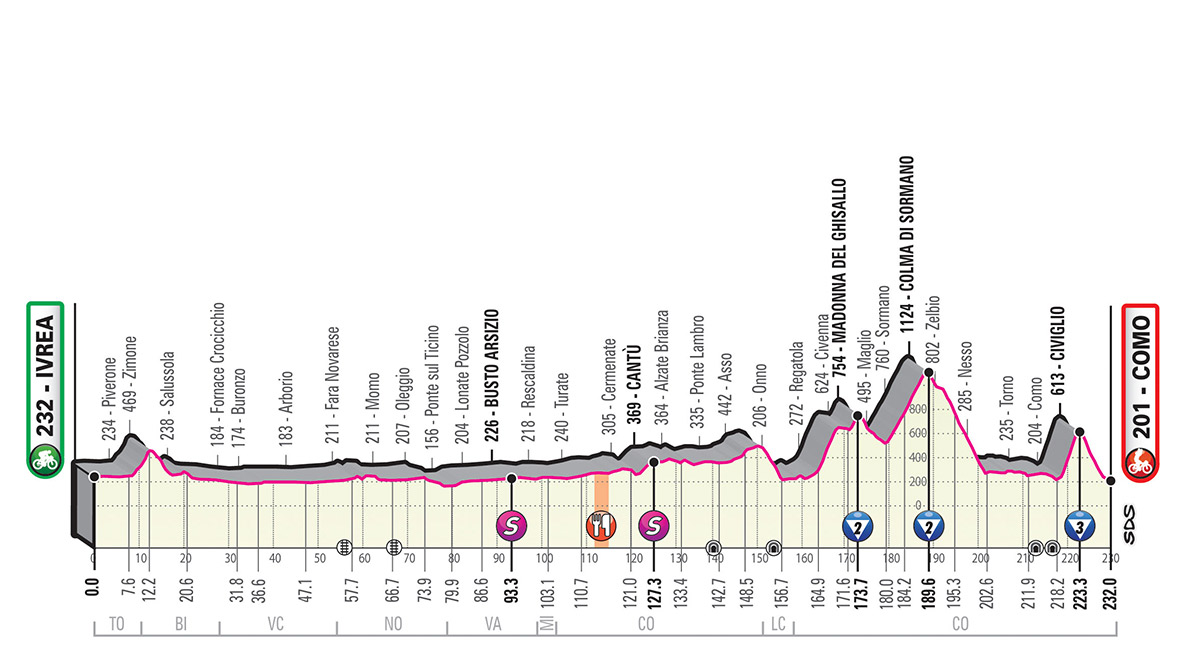 A reminder of the overall standings before things get serious
1 Richard Carapaz (Ecu) Movistar Team 58:35:34
2 Primoz Roglic (Slo) Team Jumbo-Visma 0:00:07
3 Vincenzo Nibali (Ita) Bahrain-Merida 0:01:47
4 Rafal Majka (Pol) Bora-Hansgrohe 0:02:10
5 Mikel Landa (Spa) Movistar Team 0:02:50
6 Bauke Mollema (Ned) Trek-Segafredo 0:02:58
7 Jan Polanc (Slo) UAE Team Emirates 0:03:29
8 Pavel Sivakov (Rus) Team Ineos 0:04:55
9 Simon Yates (GBr) Mitchelton-Scott 0:05:28
10 Miguel Angel Lopez (Col) Astana Pro Team 0:05:30
84km remaining from 232km
The gap continues to fall. Just over 12 minutes now.
It's still a tall order, and you sense Mitchelton-Scott will need help from other teams, but so far it's just them doing the chasing.
78km remaining from 232km
Six Mitchelton riders on the front, rouleurs Jack Bauer and Luke Durbridge doing the bulk of the heavy lifting. The gap is down to just over 11 minutes.
The largely flat opening section of this stage is over. The breakaway duo are now on that little descent down from Onno. The first climb, up the Madonna del Ghisallo, starts with around 67km to go, so in just under 10km' time.
In the space of 30km, Mitchelton have taken 5:30 out of the break.
Mitchelton peel off now and Enrico Gasparotto attacks from the bunch.
Gasparotto is going nowhere as Mitchelton reassemble. Other teams are starting to move up and look for position now.
70km remaining from 232km
The peloton are descending now, and Schwarmann hits the front for Bora. Jumbo-Visma are behind.
The riders are hugging Lake Como as they prepare to turn back on themselves and take on the Ghisallo, where they'll climb to the iconic chapel on the top.
The peloton has split on the descent.
Bora and Jumbo are working in the first split.
67km remaining from 232km
Here we go then. Cataldo and Cattaneo hit the Ghisallo with a lead of 9:25.
This is how it looks in detail.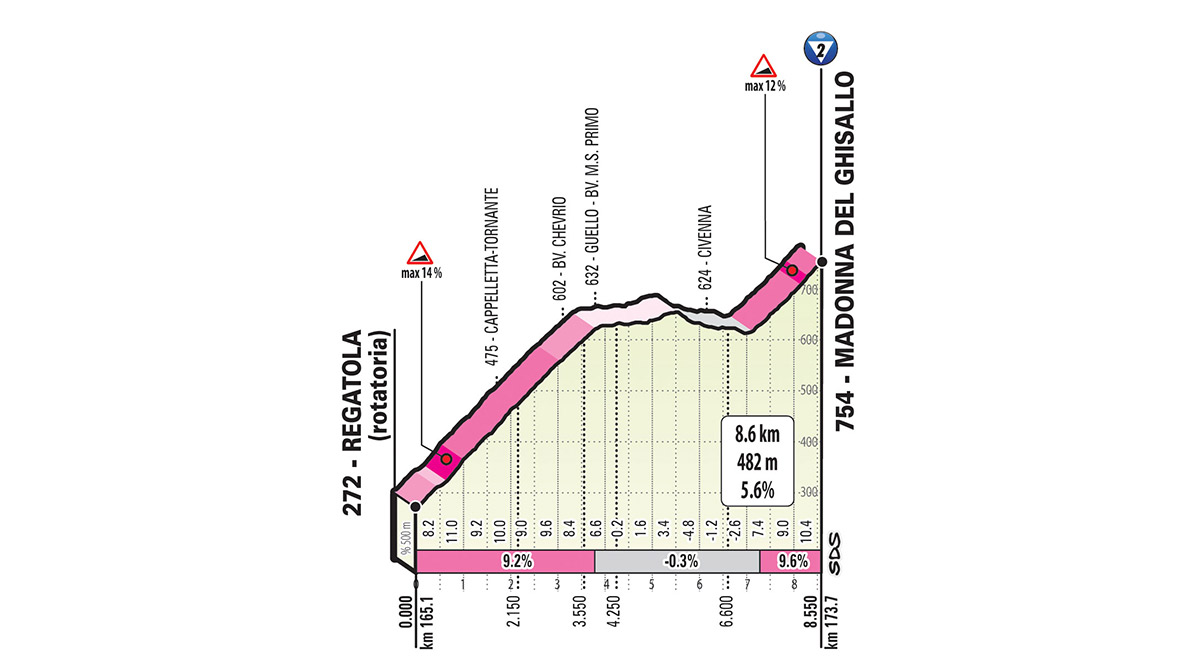 Cataldo and Cattaneo drop down into the small gears as the gradients hang in the double digits. They're tapping out a steady rhythm, but it looks like the peloton might be set to take this on rather more aggressively.
Bahrain lead the peloton onto the climb, a Jumbo train alongside, with Mitchelton on the other side of the road.
The peloton has still not come back together. It doesn't look like any big names have missed out.
The peloton are still on the approach to the climb. There are some Jumbo riders in the second split. Roglic is up front but has potentially lost key teammates.
The gap continues to plummet as the peloton charges towards the climb. 8 minutes now for the two leaders.
Here we go then. The peloton hit the Ghisallo.
Mitchelton take it up again through Juul-Jensen as the group begins to thin out.
Amador comes through now to lift the pace for Movistar.
Amador leads the way. The other Movistar men slip back a couple of places as Yates and Hamilton sit just behind.
And now the pace has been knocked off slightly.
Bahrain move to the front now. It's Pozzovivo and Caruso in front of Nibali and they raise the pace once more.
Cataldo and Cattaneo are on the flatter section in the middle of the climb. They have 7:20 in hand now.
The road now tilts downhill for the two leaders but it will become very steep again near the top.
Sep Kuss dropped. It seems Tolhoek is the only Jumbo rider left with Roglic.
Mechanical for Cattaneo in the break. He needs a new bike and that's not going to help their cause.
Jan Bakelants (Sunweb) attacks as the bunch slows slightly.
Cattaneo is back with Cataldo. They still have 7:20.
And now the two breakaway men come into the final section of the climb, riding alongside the masses of fans as the chapel's bells ring out. A great sight.
58km remaining from 232km
7:16 is the gap as the head down towards the foot of the Sormano.
Movistar hit the front on that flat and then downhill section of the climb. Bakelants is just ahead.
The Sormano holds bad memories for Bakelants, who suffered a terrible crash in the 2017 Il Lombardia, heading over the barriers and into a ravine and suffering broken vertebrae and ribs. It was on the side of the Sormano that he'll soon be climbing.
Mitchelton-Scott put themselves back on the front of the bunch as Amador falls away. Kuss is back in for Roglic.
Hamilton leads the way on the final section of the Ghisallo. He's having a great debut Grand Tour. Yates is in second position.
They near the top and that means Ciccone clips away to take some more mountains points.
Bakelants crests first. He has a handful of seconds but won't be out for much longer.
The gap is down to 6:52 as the peloton begin the short descent.
Bakelants is swallowed up by the bunch now.
51km remaining from 232km
Cataldo and Cattaneo hit the Colma di Sormano. Remember, this is the 'easier' side - not the muro (wall) side.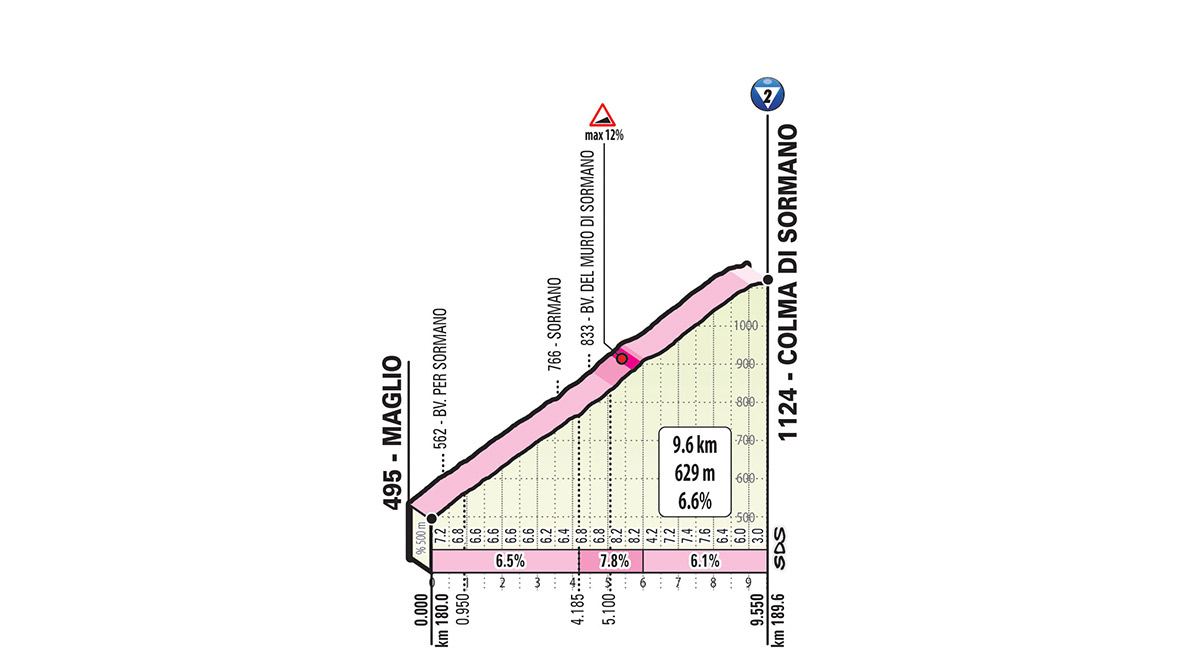 And now the peloton hit the climb. It's Hamilton who's still setting a strong tempo on the front. Yates and Nieve are in the wheel, with Movistar and Carapaz just behind them.
As they round the hairpins, the gap stands at 6:10. It's still touch and go as to whether the break or the bunch will fight for stage honours.
It's still Hamilton on the front of the bunch, which is a relatively small one now. Nieve has dropped back but Yates is still second wheel.
Bob Jungels is dropped, for a fourth day in a row.
Landa reacts, and so does Carapaz. Wow.
Nibali goes with it, too. Gap to the rest.
Majka is leading the chase, but now he pulls over and ushers Roglic through.
Roglic is making his way back with a group of eight or so.
Roglic and co are back up and the group swells to 12.
Sivakov now makes his way back in, and more come back into the frame.
No response this time. Carretero takes to the front for Movistar and sets the pace for Carapaz.
Interesting response from Movistar to those Yates attacks. Landa followed the first one, but rather than let his teammate mark it, so did Carapaz... No such reaction to the second one, and they're using a teammate to keep Yates under control.
Carretero is holding Yates at a little over five seconds at the moment.
The breakaway duo are in the final couple of kilometres of the climb, while the GC riders are just past the half-way point and coming to the steepest section.
Carretero continues to lead the chase for Carapaz. Landa a few more wheels back. Nibali is up there with Caruso. Roglic is alone again.
Around 20 riders in that group.
43km remaining from 232km
Yates' accelerations have seen the gap to the breakaway duo fall to 4:10.
Yates as 15 seconds as he rides out of the saddle and looks around. He's into the final 2km of the climb now but it doesn't look like he's in full flight.
Cattaneo leads the race over the Sormano, Cataldo in the wheel. They begin the descent back down towards Como, but hopes of contesting stage honours are fading at the moment.
Caruso hits the front now. He did a great job yesterday. Nibali also has Pozzovivo with him.
Mollema, Zakarin, Ciccone are a few of the other names in this GC group.
Yates is still within touching distance and it looks like he'll be caught before long.
Caruso continues the charge at the top of the climb
Attack from Lopez in the final 500 metres.
Lopez flies past Yates. Caruso marks it. Gap to the rest.
Sivakov sets off to try and shut it down. Lopez is his big threat for the white jersey.
Lopez leads over the top but the group is pretty much back together as they start the descent.
Lopez is also well flanked. He has Izaguirre and Hirt with him.
33km remaining from 232km
The leaders are taking on this tricky descent and trying to cling onto their advantage. They have stemmed the tide and still have 4:05.
Cataldo is pushing on through these tight corners and Cattaneo is struggling to keep up.
We've had a few more riders come back to the GC group on the descent.
Here's the GC group.
Caruso, Pozzovivo, Nibali, Carapaz, Landa, Carretero, Roglic, Majka, Formolo, Lopez, Izaguirre, Bilbao, Hirt, Zeits, Yates, Hamilton, Sivakov, Dunbar, Zakarin, Mollema, Ciccone, Dombrowski, Carthy, Henao, Polanc, De la Parte, Hindley.
Cataldo and Cattaneo are above lake Como and coming to the bottom of this descent.
The road flattens out now for the breakaway riders for around 16 kilometres. This is where they could really suffer but they're holding onto 4:05 for now.
The main group of favourites finish the descent and head onto the flat. It looks like they're easing up here, and no one seems willing to chase.
Astana have five riders in here but they're not going to chase as they've got Cataldo up front.
Nibali is the other rider with notable support and indeed Caruso comes to the front now.
Roglic calling for the car. Not sure what the issue is.
Roglic drops back to the car to get some food and drink on board before it's too late.
23km remaining from 232km
The gap to the break rises to 4:16.
Movistar hit the front of the main group now, as Amador comes back into the fray. They're not going to give it full whack, and it looks like the victory will be going to one of our two breakaway riders.
The GC group is swelling as the pace remains controlled. We should see action once again on the Civiglio but for now they're resigned to seeing the stage win go to the break.
Dombrowski is back on his feet but that was a strange crash - he just swung out in the middle of the road, taking out Chris Hamilton and holding up Zakarin too.
20km remaining from 232km
Amador leads the bunch as the breakaway duo move back out to 4:50 with 20km to go.
It's not clear what happened to Roglic there. It didn't seem he was caught up in that crash. He grabs a bottle from a car and presses on.
Roglic is on his teammate Tolhoek's bike...There must have been some sort of mechanical.
Roglic is 20 seconds behind.
Amador is still on the front of the bunch, now with arms folded over the bars. Are Movistar raising the pace?
They must, be, as the gap to the break has dropped to 4:20. Roglic, however, is making his way back to the back of the group.
Roglic successfully makes his way onto the back of that group. Panic over for the Slovenian.
The problem now for Roglic is that he's now on a bike that doesn't properly fit him. With the tough Civiglio climb coming up, that could be an issue.
15km remaining from 232km
Cataldo and Cattaneo forge on. This flat section must seem interminable. Just over 1km from the foot of Civiglio.
Replays show Tolhoek handing Roglic his bike at the side of the road. The Dutchman was just coming back to the GC group when he was called upon to give up his bike.
Into Como and onto Civiglio. It's short, but it's a brute.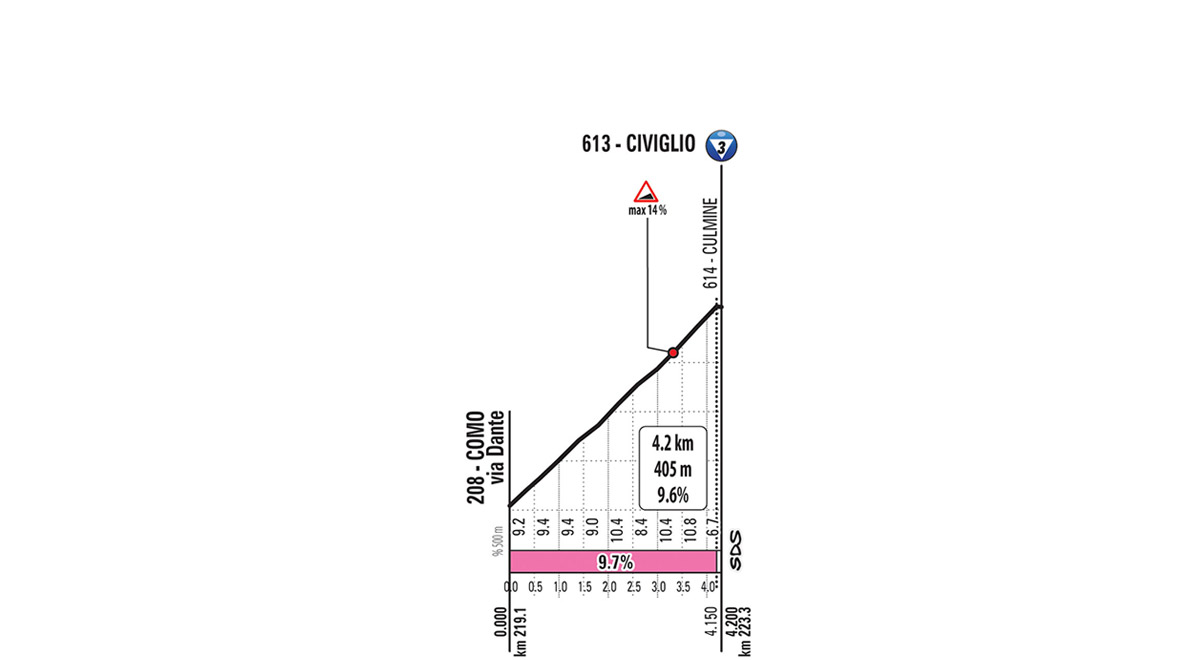 Cataldo and Cattaneo's advantage has dropped to 3:35.
How long will these two stay together? They've worked together for so long for that common cause, but now they become enemies. Having looked the weaker descender, Cattaneo surely has to try something on the uphill here.
Carretero leads the bunch into Como and towards the foot of Civiglio.
They hit the climb now. Movistar still in control through Amador now.
Amador swings off. Carretero takes it up now. Carapaz and Landa are in the wheel.
Carthy has had a yo-yo Giro put is pulling away nicely here. He was in the white jersey a couple of days ago but is now 17th overall.
Carretero continues to set the pace behind. The group has reduced to around 25.
No instant reaction again, and the Briton is away. The stage win is surely gone, but he could still gain a bit more time today.
Carthy is 15 seconds ahead. Yates is making his way across.
10km remaining from 232km
10km to go and Cataldo and Cattaneo are still together.
Carretero peels off, leaving Carapaz in the wind.
The race leader swings over, and Nibali begins to take it up. His teammate Pozzovivo now takes control.
They're pulling away here as Roglic spins on his teammate's bike.
Landa is sitting on Roglic's wheel.
Formolo is there to chase for Majka.
Nibali and Carapaz reach Yates.
Landa attacks now to try and leave Roglic
The gaps are small but significant. Roglic is just behind Lopez.
9km remaining from 232km
Nibali smells blood and kicks again!
Carapaz is equal to it once more.
Up front, Cattaneo accelerates in the final km of the climb but Cataldo is going nowhere.
Yates loses the wheel of Nibali and Carapaz. Roglic is dragging his way back to Landa.
The two breakaway riders now have just 1:05 on Nibali and Carapaz.
8km remaining from 232km
Nibali and Carapaz reach Carthy.
8km remaining from 232km
Cataldo and Cattaneo crest the climb. They're still together. They'll descent into Como and fight it out in a sprint.
Nibali was doing all the work in the duo but now Carapaz takes it up.
Carapaz breezes up alongside Carthy. The gap to Roglic is 17 seconds as it stands.
Roglic comes over the top with Landa and Lopez. Majka is further back.
So, Cataldo and Cattaneo lead.
55 seconds behind are Nibali, Carapaz, Carthy
13 seconds further back are Roglic, Landa and Lopez.
Yates is alone in between the Carapaz and Roglic groups.
Nibali knows these roads like the back of his hand and it's showing on this descent.
The Slovenian overcooks a corner and hits a barrier. He's back up pretty quickly but he's going to lose time here.
Roglic is passed by Majka.
Nibali has won Il Lombardia twice on these roads and is gapping Carapaz and Carthy on the descent.
Roglic is almost 30 seconds down on Nibali after that crash.
3km remaining from 232km
3km to go and Cataldo and Cattaneo head into town. They start to play cat and mouse but can't afford to with just 48 seconds and Nibali breathing down their necks.
Yates has caught Carapaz and Carthy. Nibali is away.
Cataldo leads the way but looks around. He's not easing up, though, and they should still take this with 2km to go.
Nibali comes onto the flatter roads and gives it everything.
40 seconds now is the gap to Roglic.
Carapaz, Carthy, and Yates use numbers to get back to Nibali on the flat. They're back together now.
Roglic is back with Izaguirre and Mollema. This is a real blow to his chances.
1km remaining from 232km
Final km for the breakaway duo. Cataldo leads the way into the home straight.
Nibali and co are in sight behind but the win is in the bag. But for which one?
Cattaneo jumps but he can't come round. Cataldo takes it
The next group comes home now, 20 seconds down on Nibali. It contains Lopez, Majka and Landa.
Roglic drags himself across the line now, 50 seconds down on the winner and 39 seconds down on Carapaz and Nibali.
Top 10
1 Dario Cataldo (Ita) Astana Pro Team 5:48:15
2 Mattia Cattaneo (Ita) Androni Giocattoli-Sidermec 0:00:00
3 Simon Yates (GBr) Mitchelton-Scott 0:00:11
4 Hugh John Carthy (GBr) EF Education First 0:00:11
5 Richard Carapaz (Ecu) Movistar Team 0:00:11
6 Vincenzo Nibali (Ita) Bahrain-Merida 0:00:11
7 Miguel Angel Lopez (Col) Astana Pro Team 0:00:36
8 Rafal Majka (Pol) Bora-Hansgrohe 0:00:36
9 Domenico Pozzovivo (Ita) Bahrain-Merida 0:00:36
10 Mikel Landa (Spa) Movistar Team 0:00:36
Carapaz extends his lead over Roglic to 47 seconds. Nibali is still third at 1:47 but has gained a crucial 40 seconds on Roglic.
General Classification after stage 15

1 Richard Carapaz (Ecu) Movistar Team 64:24:00
2 Primoz Roglic (Slo) Team Jumbo-Visma 0:00:47
3 Vincenzo Nibali (Ita) Bahrain-Merida 0:01:47
4 Rafal Majka (Pol) Bora-Hansgrohe 0:02:35
5 Mikel Landa (Spa) Movistar Team 0:03:15
6 Bauke Mollema (Ned) Trek-Segafredo 0:03:38
7 Jan Polanc (Slo) UAE Team Emirates 0:04:12
8 Simon Yates (GBr) Mitchelton-Scott 0:05:24
9 Pavel Sivakov (Rus) Team Ineos 0:05:48
10 Miguel Angel Lopez (Col) Astana Pro Team 0:05:55
Here's Cataldo
"I was not thinking to go in the break today because I had two difficult days. This morning I was just thinking 'I have to go to the finish line'. But at the beginning the legs were ok, I just tried one time to follow Cattaneo and the legs were going well. At that moment I said it would be difficult to go to the finish but step-by-step it went ok, I was eating the right way, drinking the right way, and at the end I was confident in myself. It was an amazing finale.
"Cattaneo was not giving me any change anymore [in the closing kilometres]. I was keeping going on my pace to not let them come through. I said 'ok I do my best in the sprint' and it was ok. It's something amazing - something I've been dreaming of all my life."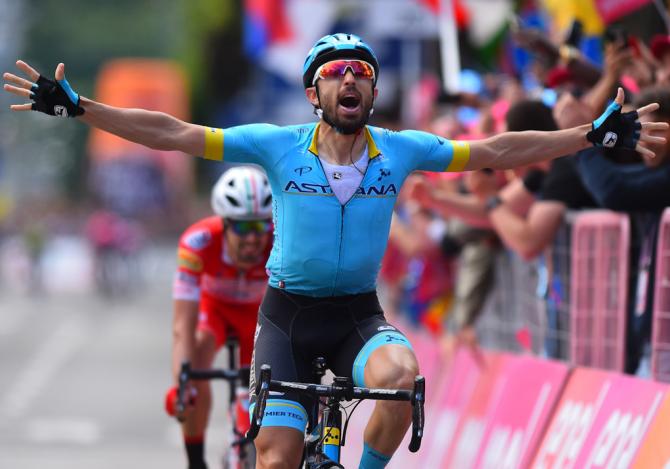 Sign up to the Cyclingnews Newsletter. You can unsubscribe at any time. For more information about how to do this, and how we hold your data, please see our privacy policy
Thank you for signing up to Cycling News. You will receive a verification email shortly.
There was a problem. Please refresh the page and try again.