Live coverage
Circuito de Getxo – Live coverage
Stuyven, Pedersen, Gaviria, Nizzolo and Landa do battle at the Spanish one-day race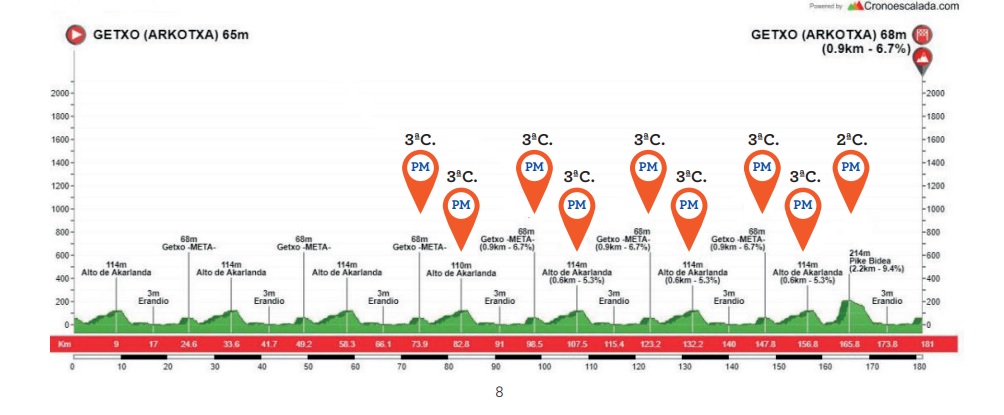 Result
1 Damiano Caruso (Ita) Bahrain McLaren 4:11:09
2 Giacomo Nizzolo (Ita) NTT Pro Cycling 0:00:01
3 Eduard Prades (Spa) Movistar
4 Jon Aberasturi (Spa) Caja Rural-Seguros RGA 0:00:03
5 Jasper Stuyven (Bel) Trek-Segafredo
6 Pello Bilbao (Spa) Bahrain McLaren
7 Charles Planet (Fra) Novo Nordisk
8 Mauro Finetto (Ita) Nippo Delko One Provence 0:00:07
9 Eliot Lietaer (Bel) Bingoal-Wallonie Bruxelles
10 Eduardo Miguel Florez (Col) Androni Giocattoli-Sidermec
Refresh
Hello and welcome to our live coverage of the Circuito de Getxo 2020, the third Spanish race to take place since the season restarted in late July.
It's a rainy day here in Getxo as we start our live coverage in medias res.
The break is already established, with eight men up the road in Getxo, just north of Bilbao in the Basque Country.
The riders are 2:40 up the road at the moment with 50km of racing gone.
They are: Oier Lazkano (Caja Rural-Seguros RGA), Julen Irizar (Euskaltel-Euskadi), Iván Cobo (Equipo Kern Pharma), Ángel Madrazo (Burgos-BH), Riccardo Verza and Daniel Viegas (Kometa Xstra), Lionel Taminaux (Bingoal-Wallonie Bruxelles), Luca Pacioni (Androni Giocattoli-Sidermec).
This race is one for the puncheurs and punchy sprinters. Carlos Barbero, Diego Ulissi, Nacer Bouhanni and Giovanni Visconti have all won the race in recent years.
There are six laps of a circuit around Getxo for the first 152.5km of the race, with the Alto de Arkalanda (0.8km, 3.6 per cent) climb featuring on the circuit along with a climb across the finish line that measures in at 0.6km and 6.7 per cent gradient.
After the six laps comes another ascent of the Arkalanda before a southern loop taking in the Pike Bidea (2.2km at 9.1 per cent), which peaks 17km from the line and a flat run-in before that final 600-metre climb to the line.
We have five WorldTour teams in the race today (Movistar, Bahrain McLaren, Trek-Segafredo, UAE Team Emirates and NTT Pro Cycling), as well as seven ProTeams (Caja Rural-Seguros RGA, Euskaltel-Euskadi, Nippo Delko One Provence, Burgos-BH, Bingoal-Wallonie Bruxelles, Novo Nordisk and Androni Giocattoli-Sidermec).
The start list is rounded out by six Continental teams (Equipo Kern Pharma, Efapel, Kometa Xstra, Gios Kiwi Atalantico, Feirense and Work Service Dynatek Vega).
There are quite a few big names racing here today, too.
Last year's winner, Jon Aberasturi, wears number one for Caja Rural. Euskaltel-Euskadi are back too, making their third race appearance since their new sponsorship deal.
Movistar have brought their B-team, though JJ Rojas is suited to this kind of terrain.
Trek-Segafredo have their Classics specialists, Jasper Stuyven, Mads Pedersen and Edward Theuns.
UAE Team Emirates are led by Fernando Gaviria, fresh off a stage win at the Vuelta a Burgos, while Juan Sebastián Molano dominated the sprints at the Tour Colombia 2.1.
NTT Pro Cycling, meanwhile, have sprinter Giacomo Nizzolo to rely on, while climbers Ben O'Connor and Louis Meintjes are also here.
Finally, Bahrain McLaren have brought their climber Mikel Landa, as well as Pello Bilbao and Heinrich Haussler.
110km to go
The peloton roll through the finish for the third time today. Viegas led the break through.
Trek-Segafredo and Nippo Delko One Provence lead the peloton with UAE Team Emirates up front as well.
96km to go
Two hours of racing gone and the break pass the 100km to go marker. They just passed the Arkalanda for the fourth time, with some mountain competition points on offer.
Cobo lead the break over the top, having earlier grabbed some points on the first classified climb of the day.
Cobo leads the mountain competition with 6 points while Madrazo has 4 and Lazkano has 1.
The break is strung out on the flat as the pace is upped. All still together, though.
It's all calm at the moment. The break is working together while UAE Team Emirates lead the peloton.
80km to go
Riccardo Verza drops back from the break, the first rider to do so. Seven men left up front now.
The gap between break and peloton is around two minutes.
72km to go
Cobo grabs more points over the Arkalanda. 12 points for him now and he has a strong claim for the mountain classification with five classified climbs to go.
Fernando Gaviria drops back to chat with his DS Neil Stephens in the team car. All seems fine. A thumbs up for the Colombian.
The gap to the break remains steady at two minutes.
61km to go
Actually, Gaviria does seem to have a mechanical problem. He's back with the team car now. His UAE Team Emirates teammates control the pace at the front.
Bahrain McLaren push the pace at the front as they head uphill towards the finish line. The gap is down to 1:40.
57km to go
Almost three hours of racing over and done with now. Cobo took another three points there, by the way.
A look at the peloton out on the road.
#CircuitoGetxo -56 km to go 🏁 pic.twitter.com/W6xCjLO0PaAugust 2, 2020
54km to go
Oier Lazkano has attacked the break! Some action after a while of frankly not a whole lot going on.
Nobody was able to respond to the Basque rider, who jumped away as the peloton closed to within a minut of the break.
World champion Mads Pedersen has attacked from the peloton now. They're on the sixth ascent of the Arkalanda.
Pedersen catches and passes the remains of the break. Taminaux, Irizar and Cobo get on the Dane's wheel.
44km to go
It seems like Pedersen was just stretching his legs with that effort. The peloton are about to sweep them up. Lazkano remains out front, however.
Lazkano is going all-out here. Three climbs to go.
An Efapel rider has gone down in the peloton. It looks like Cesar Fonte. His right leg is hurting.
UAE Team Emirates continue to drive the peloton behind Lazkano.
41km to go
42 seconds between break and peloton at the moment.
It's almost over for Lazkano. He's in his aero tuck but they're closing in.
35km to go
Lazkano is still hanging on, actually, as he heads towards the finish line in Getxo once more.
Attack from the peloton on the climb. It's a Bingoal-Wallonie Bruxelles rider.
More riders follow, and they catch Lazkano as he passes the finish line at the top of the climb.
That injection pace has fractured the peloton.
There's a small group just off the front of the peloton on the descent, but it's a matter of metres rather than seconds.
Laurens Huys (Bingoal) and Juan Osorio (Burgos-BH) are among the riders attacking at the front.
Lazkano and Ruben Fernandez (Euskaltel-Euskadi) are up there too.
30km to go
Now Edward Theuns has a go.
Nobody managed to create a lasting gap to the peloton.
Now a handful of riders go again. Six men are off the front.
28km to go
The attackers aren't getting much of a gap, however.
Alessandro Fedeli (Nippo) attacks on the final ascent of the Arkalanda. It's just him for now.
Juan Pedro Lopez (Trek-Segafredo) and Juan Irisarri (Caja Rural) are trying to bridge across.
Fedeli gets into a Froome-like aero tuck on the descent, determined to eke out an advantage.
20km to go
Several riders have hit the deck in the peloton. Mikel Landa is among them. Most of them are up and away quickly, but a Burgos-BH rider stays down.
Landa gives a thumbs up to the camera. His team are still working up front.
18km to go
Bahrain have ended Fedeli's adventure out front.
Just one climb left before the uphill finish now. It's the second-category Pike Bidea.
Measuring in at 2.2km at 9.1 per cent, the Pike Bidea is the toughest climb of the race, the only chance for any puncheurs or climbers to shed the sprinters before the end.
Pello Bilbao (Bahrain) is up front with Juan Pedro Lopez (Trek). Lazkano is somehow still up there too! What a ride from the Caja Rural man today.
The peloton is really falling apart on this climb. Biniam Grmay (Delko) pushes on, while Bilbao, Lopez and two others follow.
Gonzalo Serrano (Caja Rural) and Damiano Caruso (Bahrain) are the other men up front.
17km to go
Serrano pushes on to the top. Pello Bilbao, Damiano Caruso, Biniam Grmay, Juan Pedro Lopez are following.
They're back together with Serrano on the descent. A Movistar rider chases.
Nelson Oliveira is the Movistar man chasing the leaders. And he's made it across.
13km to go
Bahrain McLaren are beginning their tactical moves. One attacks, one sits on.
We haven't had a time gap to the peloton yet. This group looks quite strong though – it wouldn't be a surprise to see them contest the finish.
Disaster in the break! Grmay, Lopez and Serrano have all crashed approaching a roundabout.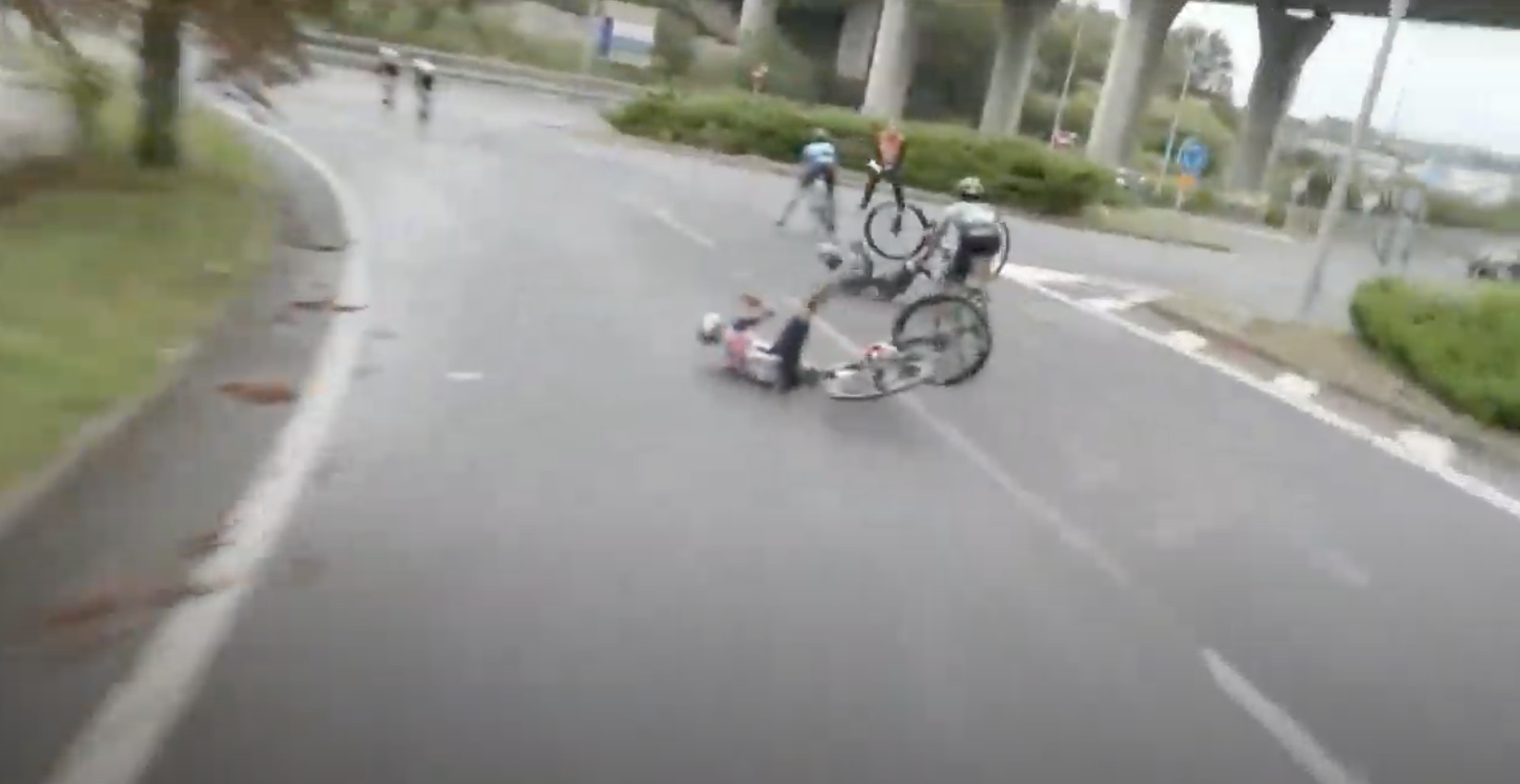 10km to go
Caruso and Bilbao were long gone before the crash happened. Oliveira just about avoided sliding out, while it looks like Grmay might have touched his wheel or just gone down while trying to avoid the Movistar man.
15 seconds between the leaders and the peloton. It's just the two Bahrain riders and Oliveira up front now.
8km to go
Caruso attacks as Bilbao sits on Oliveira's wheel. That's the big move.
6km to go
The peloton has caught Bilbao and Oliveira. It looks a tough ask for Caruso to stay away now.
It looks like the time gap is about 20 seconds. The riders are on a long straight right now so they can see Caruso up ahead.
4km to go
There are only around 20 riders in the 'peloton'. 22 seconds to Caruso.
Nizzolo is in that chase group, as is reigning champion Aberasturi.
Jasper Stuyven is in there too. No word on the likes of Haussler or Gaviria yet.
2km to go
Caruso is giving his all here. He's edging ever closer to the line. His advantage is around 12-15 seconds.
1km to go
Final kilometre for Caruso! It's looking good for the Italian.
He's on the climb now. The chasing group follow, still around 10 seconds down.
300 metres to go and Caruso has this in the bag. A great move over the final climb from Bahrain McLaren.
And Caruso takes the win!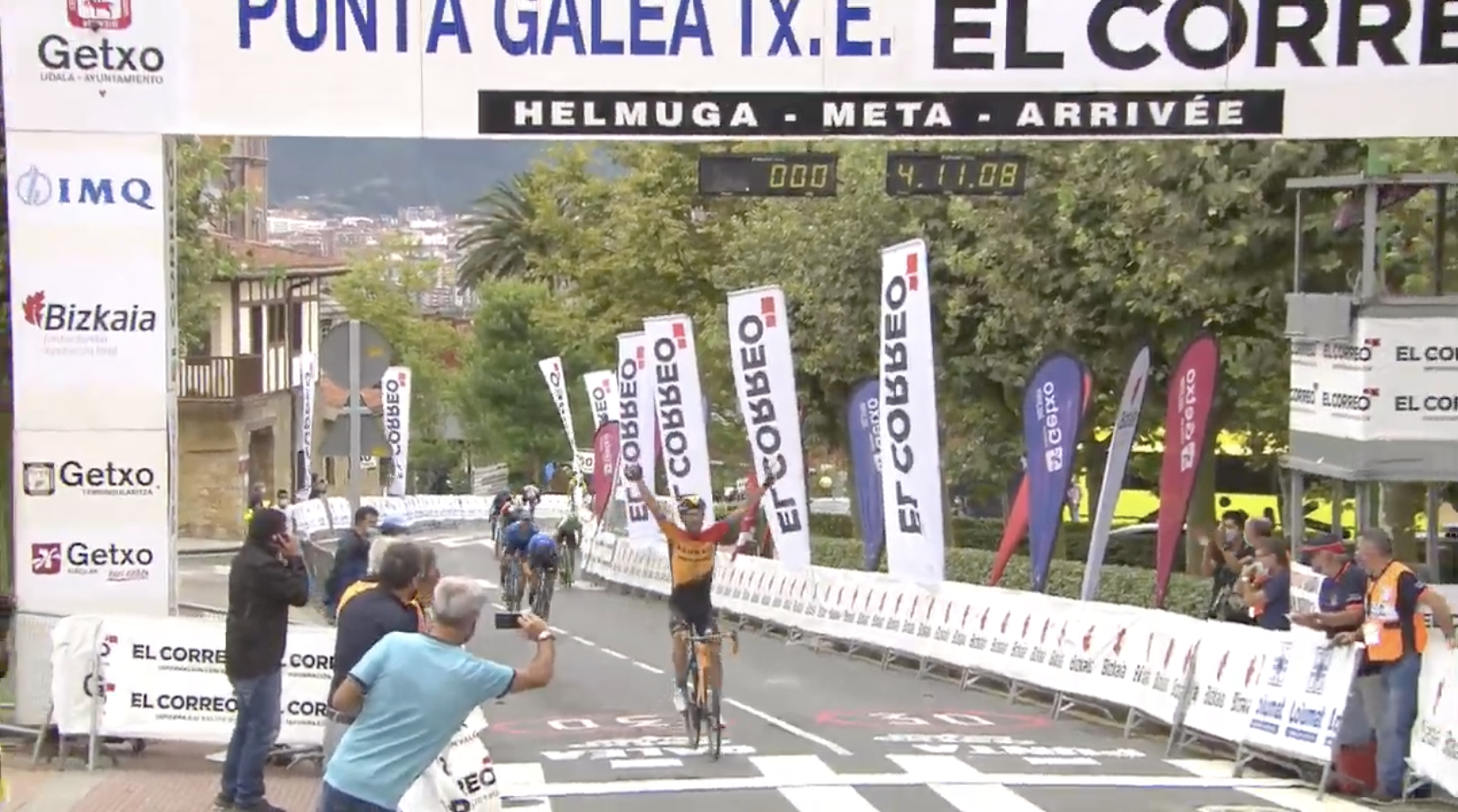 Giacomo Nizzolo (NTT Pro Cycling) and Eduard Prades (Movistar) totok second and third in the reduced sprint behind the Italian.
That's Caruso's first victory since stage 5 of the Settimana Coppi e Bartali back in 2013.
Last year's winner, Jon Aberasturi (Caja Rural) took fourth today, while Jasper Stuyven was fifth.
Caruso has a wealth of TTT victories to his name courtesy of his time at BMC, and he can also count top tens at the Giro d'Italia and Vuelta a España on his palmarès. It's good to see him get a win for himself though, after seven long years without one.
No full results just yet, but here's the top five
1 Damiano Caruso (Ita) Bahrain McLaren 4:11:09
2 Giacomo Nizzolo (Ita) NTT Pro Cycling 0:00:01
3 Eduard Prades (Spa) Movistar
4 Jon Aberasturi (Spa) Caja Rural-Seguros RGA 0:00:03
5 Jasper Stuyven (Bel) Trek-Segafredo
A look at the podium ceremony from today's race.
Years from now, people will look at this photo and wonder what on earth is going on. pic.twitter.com/IwtTwCXYrCAugust 2, 2020
That's all from us at the Circuito de Getxo today. It was a very good race with a dramatic run-in to the finish.
Join us again for more live coverage in the near future, and be sure to check the site for a full report and results soon.
Sign up to the Cyclingnews Newsletter. You can unsubscribe at any time. For more information about how to do this, and how we hold your data, please see our privacy policy
Thank you for signing up to Cycling News. You will receive a verification email shortly.
There was a problem. Please refresh the page and try again.