Tributes flood in for Pat Malach on social media
A huge number of messages show love and respect for our colleague and friend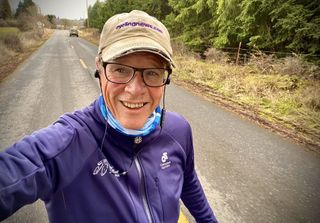 (Image credit: Pat Malach)
Monday was a dark day when we found out that our colleague Pat Malach had died over the weekend at the age of 55.
Pat was more than just a coworker to us, he was a friend with a sharp wit, a dry and sometimes dark sense of humor, who even in the most stressful times could break up the tension with a joke.
When he first applied to fill a freelance role at Cyclingnews, he stood head and shoulders above the rest with a superb cover letter that listed numerous ideas for stories. Invariably he wanted to focus on the unknowns, the smaller races, the Continental teams going up against the big dogs.
He had already been covering the local Oregon races, writing race reports and posting his excellent photos on Oregon Cycling Action for years.
Pat gave a voice to the up-and-coming riders, he listened with empathy and his deep understanding of the sport and how difficult it is to excel in showed in his writing - always respectful of the riders but never fawning with admiration.
Sometimes his laid-back questions backfired and after the shock wore off, his inciting Jens Voigt to curse profusely at his line of query would undoubtedly stand as one of his highlights during his time at Cyclingnews.
Pat was almost always one of first at the team buses in the morning and the last out of the press room at night. He came online early when working from home and stayed up late helping our Australian team during Tour Down Under.
Over the past year, Pat rekindled his joy of riding, rising early to enjoy the sunrise or planning his day around an evening spin. He was a man who favored the functional over the fancy – no carbon/aerodynamic/lightweight/expensive gear, just two older Specialized bikes, one aluminium Allez and a Rockhopper mountain bike – that brought him to moments of joy that he shared on social media.
In fact, he just had his old Specialized tuned up by a local mechanic because the rear wheel had seized up. His last words to me were "new rear wheel (hub was fried), new cassette and chain, new brake pads, cables replaced and lubed and gearing tuned up. Bike runs like new. Plus, it's spotless top to bottom".
Pat would probably hate it if we said that he died doing what he loved, but in this case it's true. He was loving life more than ever this year and loving the bike most of all.
- Laura Weislo
Tributes to Pat have flooded in since the news of his passing. Here are some of the many that have been posted on social media from friends and colleagues across the cycling world.
Sign up to the Cyclingnews Newsletter. You can unsubscribe at any time. For more information about how to do this, and how we hold your data, please see our privacy policy
Thank you for signing up to Cycling News. You will receive a verification email shortly.
There was a problem. Please refresh the page and try again.