Tom Dumoulin's arguments against MPCC are not reasonable, says Legeay
'Big leaders have a responsibility to make the sport credible, not simply to win big races'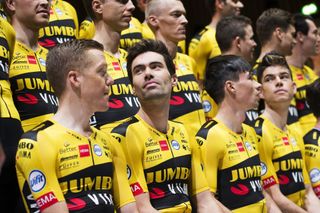 (Image credit: Getty Images Sport)
The president of the Movement for Credible Cycling (MPCC), Roger Legeay, has rejected Tom Dumoulin's arguments for leaving the organisation and said that the Dutchman had not cited the body's stance on ketones as a reason when he resigned via email in March.
Dumoulin revealed that he had left the MPCC during an interview with Wielerflits on Sunday, in which he described the MPCC's stance on the use of ketones as "hypocritical" and criticised the voluntary body for not publicly opposing the running of Paris-Nice during the coronavirus pandemic. A number of teams, including Dumoulin's Jumbo-Visma squad, withdrew from the race, citing concerns about the spread of COVID-19.
Although Jumbo-Visma are not part of the MPCC, whose members adhere to voluntary anti-doping measures that go beyond UCI regulations, Dumoulin had remained a member on a personal basis at the beginning of this year, having signed up during his time with Team Sunweb.
"I respect the choice of any individual, but in the case of Tom Dumoulin, the arguments he has advanced are simply not good ones," Legeay told Cyclingnews on Monday.
"The MPCC didn't intervene one way or another about whether Paris-Nice should take place.
"We made one statement about the pandemic, after Paris-Nice, when we said that riders should respect the rules of their governments and not train outdoors if that was the recommendation in their country. That was our position, which hasn't changed, and I think that's legitimate, normal and credible. At the time of Paris-Nice, there was no lockdown [in France] and there was no prohibition from the government, so the organisers were able to hold the race."
Legeay also rejected Dumoulin's contention that the MPCC had been hypocritical to decry the potential health risks posed by ketone ester supplements while staying silent on a bike race taking place during a global pandemic. Dumoulin conceded that it would also have been hypocritical on his part to remain a member when his Jumbo-Visma team uses ketones, as confirmed by manager Richard Plugge last year.
Legeay said that the MPCC's initial reservations about the use of ketones followed a study at the University of Leuven that suggested potentially sizeable performance-enhancing properties, while concerns regarding their possible long-term impact on health were later raised by team doctors.
"Tom Dumoulin says that he respects the MPCC rules regarding corticoids, and that's very good," Legeay said. "He said it was the MPCC who suggested ketones were a dangerous substance, but it wasn't like that at all. It was in a Belgian scientific journal, where they concluded that taking ketones improved performance by 15 per cent. It wasn't the MPCC who said that. Ketones weren't prohibited by the MPCC until that publication emerged.
"We then wrote to WADA, citing the research, to ask what they thought about the use of ketones. WADA said they knew that ketones were being used in sport, but it was too soon to say that with certainty if they enhanced performance. But if there is no improvement in performance from ketones, then what's their purpose? And if there is an improvement in performance, then should they be taken?
"Both issues – the possible performance-enhancing effects and the risk of future problems – are negative. A lot of MPCC team doctors looked at those things and said, 'We're not using ketones.' There are too many unknowns about ketones, so we have decided not to allow their use until more is known. That's the situation."
The stance, Legeay suggested, is in line with the MPCC's previous prohibition on the use of tramadol, a measure that was later adopted by the UCI. As well as raising questions about the use of ketones, the MPCC is currently lobbying WADA to prohibit the use of Thyroid Stimulating Hormone.
"It's a bit different to ketones, because thyroid medication really has nothing to do with sport at all, so we're absolutely opposed to its use by athletes," Legeay said.
Grand Tours
The MPCC was first established following the 2007 Tour de France, with seven founder members. The group expanded rapidly in size following USADA's Reasoned Decision on the Lance Armstrong case in 2012, but a number of teams have since left the body – including Jumbo-Visma (then LottoNL-Jumbo), who withdrew in 2015, citing concerns about the reliability of the MPCC's voluntary cortisol testing after George Bennett was stopped from starting the Giro d'Italia.
Nine WorldTour teams are currently members: Cofidis, NTT, Team Sunweb, Lotto Soudal, Groupama-FDJ, Bora-Hansgrohe, AG2R La Mondiale, EF Education First and Israel Start-Up Nation.
Of the 37 Grand Tours held since the movement's inception, only five have been won by riders who were competing for MPCC teams at the time, and thus subject to additional, voluntary rules. Dumoulin's 2017 Giro d'Italia victory in Team Sunweb colours was the most recent example, but Legeay insisted that the Dutchman's decision to leave the MPCC has not damaged the organisation's credibility.
Dumoulin has spoken in favour of more stringent testing in the past, including in the wake of his former Team Sunweb teammate Georg Preidler's confession last year. On that occasion, Dumoulin warned that cycling "shouldn't get lazy" about the threat of doping.
"It's a demonstration of the value of the MPCC," Legeay said. "If he's on a team that uses ketones – and I don't know if he uses them himself – that's his reason and that's his right, but concerning the MPCC, I think our credibility is total in this affair."
Legeay said that Dumoulin had emailed him in March to tender his resignation from the MPCC, although on that occasion he cited only his dismay at the body's inaction over Paris-Nice and did not mention the use of ketones.
"He didn't speak about ketones at all; he only spoke about Paris-Nice and how he felt about the MPCC's role there. I responded to him on March 19 in the same way I've responded to you," said Legeay, who expressed surprise that Dumoulin had not chosen to discuss his concerns before tendering his resignation from the group.
"Why adhere to the MPCC measures when you're with Sunweb and then stop adhering to them when you move to Jumbo-Visma? There's no reason to do that. He was adhering to the MPCC's rules and then he left. He could also have called me and explained, but he didn't do that at all. Riders who are in the MPCC always have the chance to make their voice heard on issues that concern them.
"What I regret, beyond Dumoulin, is that our sport still needs to give itself credibility. And who can bring that credibility? The riders, the big teams, all the managers. They are the ones who are responsible for the credibility and the image of our sport. That's the reality.
"The big leaders have a responsibility to make the sport credible, not simply to win big races. The best way to do that is to adhere to the MPCC's philosophy, and not to make arguments against the MPCC that aren't reasonable."

Thank you for reading 5 articles in the past 30 days*
Join now for unlimited access
Enjoy your first month for just £1 / $1 / €1
*Read any 5 articles for free in each 30-day period, this automatically resets
After your trial you will be billed £4.99 $7.99 €5.99 per month, cancel anytime. Or sign up for one year for just £49 $79 €59

Join now for unlimited access
Try your first month for just £1 / $1 / €1