Team GB to use small-pitch chains worth £450 in Tokyo Olympics track events
By Josh Croxton published
Shorter 3/8-inch pitch spotted on team's Lotus x Hope HB.T bikes at team holding camp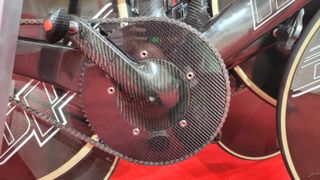 (Image credit: Anonymous)
In the relentless pursuit of track cycling gold medals, Team GB will rarely leave a stone unturned, and the Tokyo Olympics are no different. The latest technological development fitted to the team's radical Lotus x Hope HB.T track bikes is the inclusion of special chains with a shorter pitch, along with accompanying chainrings and sprockets.
The chain found on the majority of road bikes features a 1/2-inch pitch, however, the Team GB squad will all be using bikes with shorter 3/8 inch pitch chains. Cyclingnews understands the chains will have a width of 1/8 inch, in keeping with track bike chain norms.
Chain pitch is commonly understood as the distance between two pins on a chain, although it is actually measured by halving the distance between the first and third pin in a row.
Of course, short-pitch chains aren't a completely novel technology. Way back in the late 1970s, Shimano marketed a collection of track-cycling-focussed Dura-Ace components with a 10mm pitch, but the technology never caught on and the standard 1/2 inch (12.7mm) pitch has been an accepted industry standard.
Team GB's Communications Officer, Chidi Onuoha, has confirmed to Cyclingnews that the chain itself comes from Renold, a British brand that is an official equipment supplier to Team GB. Via its website, Renold markets two chains, the standard-pitch Velo CT which retails for an already staggering £250.00, and the Velo CT-T, with its shortened 3/8 inch pitch, which retails for an astonishingly steep £450.00.
The obvious reason for the switch is the promise of an increase in performance, but Team GB representatives are tight-lipped as to exactly how the decision was made, and in what way the smaller pitch aids performance.
Various theories exist. Some focus on the ability to retain the same gear size while shrinking the components used, saving weight, reducing flex and/or increasing aerodynamics as a result of the smaller sizes. However, the chainrings used by Team GB riders at the holding camp in Newport were of normal circumference. We counted 90 teeth on one chainring - much higher than usual - which suggests that Team GB actually sees more benefit in using a greater number of teeth (on a similar-sized chainring and sprocket) than they do in using smaller components.
An alternative theory centres around the increase in contact points between chain and chainrings. To this end, New Motion Labs recently released a novel chain design with two rollers that grip either side of a modified tooth profile, rather than a single roller that 'rolls' through the arc between the teeth.
The claims by New Motion Labs are increased efficiency - ie, fewer watts wasted to friction - and durability. While the shorter pitch chains are very different in design, it would certainly increase the number of contact points between chain and chainring, and potentially therefore more evenly distribute the load applied to the chainring and sprockets, and could potentially yield similar results.
Of course, with more contact points, the smaller pitch design could also result in greater friction. Without a lab for testing, we can't know for sure, but what we do know is that Team GB is meticulous in its approach, and would have undertaken the necessary tests to find the fastest setup for its riders.
According to Team GB, the cranks used are the Look Zed 2, which benefit from adjustable length via an interchangeable insert at the pedal spindle. A separate source tells Cyclingnews that the chainring is made from Fibre Lyte, a custom carbon fibre chainring manufacturer.

Thank you for reading 5 articles this month*
Join now for unlimited access
Enjoy your first month for just £1 / $1 / €1
*Read 5 free articles per month without a subscription
after your trial you will be billed £4.99 $7.99 €5.99 per month, cancel anytime. Or sign up for one year for just £49 $79 €59

Join now for unlimited access
Try your first month for just £1 / $1 / €1
As the Tech Editor here at Cyclingnews, Josh leads on content relating to all-things tech, including bikes, kit and components in order to cover product launches and curate our world-class buying guides, reviews and deals. Alongside this, his love for WorldTour racing and eagle eyes mean he's often breaking tech stories from the pro peloton too.
On the bike, 30-year-old Josh has been riding and racing since his early teens. He started out racing cross country when 26-inch wheels and triple chainsets were still mainstream, but he found favour in road racing in his early 20s and has never looked back. He's always training for the next big event and is keen to get his hands on the newest tech to help. He enjoys a good long ride on road or gravel, but he's most alive when he's elbow-to-elbow in a local criterium.