How much does a Tour de France bike cost?
It's no secret that pro riders get the very best available, but exactly what would that cost to replicate?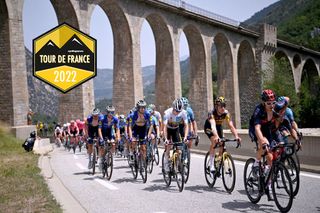 (Image credit: ANNECHRISTINE POUJOULATAFP via Getty Images)
It's no secret that riders in the Tour de France get to ride the very best bikes available. One of the many perks of being a professional cyclist is getting to ride the best road bikes in the world and not having to pay for them. Of course, rarely are they allowed to keep them, but with new sponsors providing another high end bike the following year, there's little need.
The sport's governing body, the Union Cycliste Internationale (UCI), has a rule that means any product used in competition must be made available for public sale, which means that you could own the bike that Tadej Pogačar is using. Of course, it's probably no surprise to read that such high-end bikes are often very expensive, but the question we've been wondering is: exactly how expensive? How much does a Tour de France bike cost?
The answer depends on a variety of factors and will vary from team to team. Within the 2022 Tour de France, there are 18 different bike sponsors, and while they all work in the same market - and thus, their bikes are often priced to compete against each other - each brand will have a slightly different pricing structure to its range of bikes.
If you're after a ballpark figure of the cost of a Tour de France bike, then between £10k - £14k (€12 - €15k / US $13k - $16k / AU $16k - $22k) per bike is a safe round-number estimate, but don't leave yet. Below, we dive deeper to break down the cost of some specific Tour de France bikes, and we may just have uncovered the most expensive bike in the race.
Cost of a Tour de France bike broken down
Firstly, it's important to recognise that a bike is made up of various components. Starting with the frame and fork, there is then a groupset, wheels, tyres, cockpit components such as the handlebar and stem, and the finishing kit such as the saddle, bar tape and pedals. To quantify the cost of the bike as a whole, you need to calculate the sum of its parts.
It's also worth noting that depending on the terrain of the stage ahead, riders will often be given different frames or different components to improve the bike's suitability to the course.
To calculate the true retail cost of a Tour de France bike, we've picked a few bikes from the Tour de France and calculated the cost of each.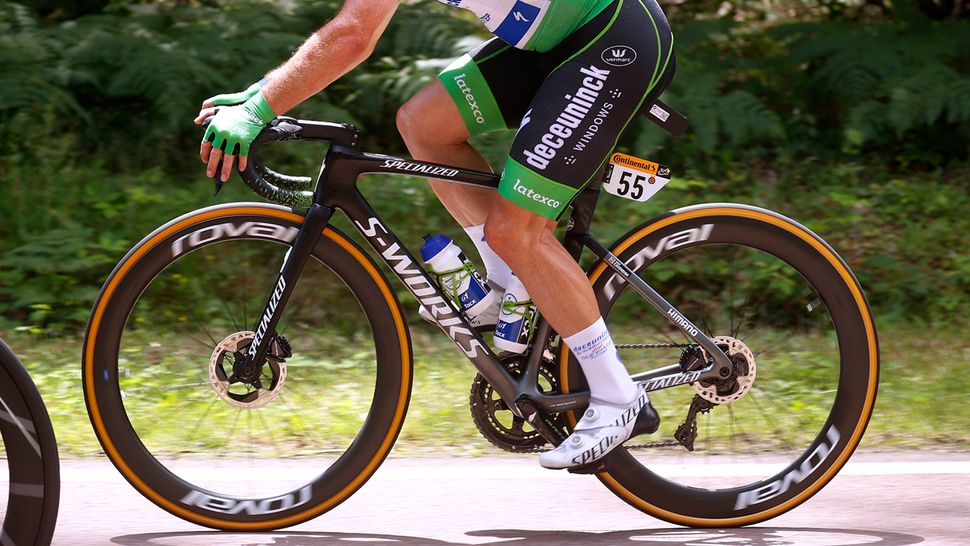 QuickStep-AlphaVinyl's Specialized S-Works Tarmac SL7
On the face of it, calculating the cost of QuickStep-AlphaVinyl's Specialized Tarmac is reasonably simple, since his team's entire bike comes from the same sponsor and it's almost entirely off-the-shelf in terms of its specification, but there are a couple of added hidden extras that bump up the cost.
Aside from the paint, which is specific to the team, the S-Works Tarmac SL7 complete with Roval Rapide CLX II wheels and Shimano Dura-Ace Di2 groupset can be bought from Specialized - as well as various retailers. During the 2021 Tour, the bike above (ridden by Mark Cavendish) was fitted with the 11-speed version of the groupset, but in 2022 the team will use the newer 12-speed groupset. With this fitted, the S-Works Tarmac SL7's retail cost is an already eye-watering £13,200 / €14.500 / $14,250 / AU$20,100.
However, in this example, Cavendish specced a different saddle, swapping the S-Works Romin Evo saddle for the 3D-printed Specialized S-Works Power with Mirror, which is £390 / $450 / AU$750, increasing the bike's value by £135 / €130 / $150 / AU$330.
In addition, the team are sponsored by Ceramicspeed, who supplied the team with its pre-treated 'UFO race chains', which are basically standard chains treated with a low-friction lubricant to save watts. The cost of one of these chains is €149, around €100 more than standard.
Approx total cost: £13,435 / €14.730 / $14,500 / AU$20,580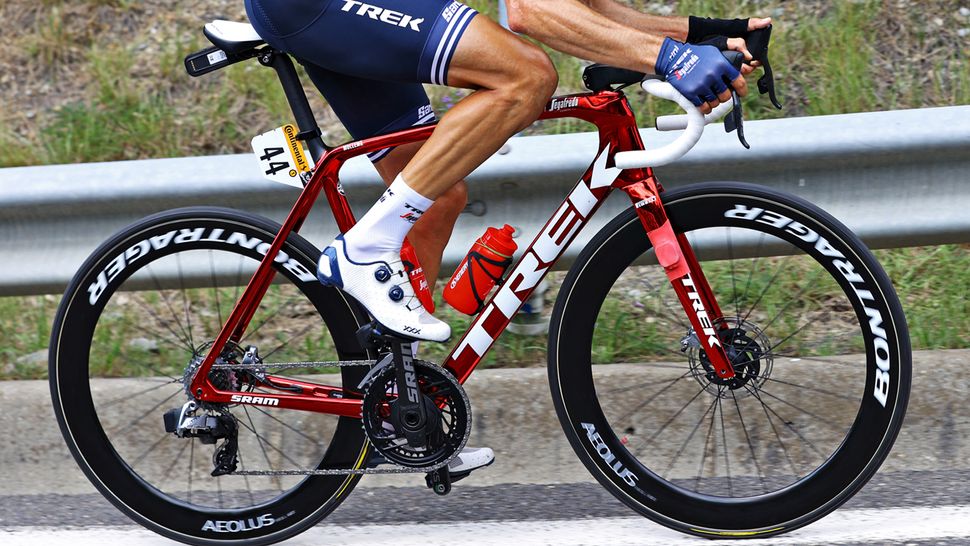 Trek-Segafredo's Trek Emonda SLR 9 Disc
Like Cavendish, the entirety of the Trek Emonda SLR that Trek Segafredo rode in 2021 - seen above piloted by Bauke Mollema - is available to buy 'off the shelf' as a complete bike, with its Bontrager wheels and SRAM groupset. It is available from Trek or third party retailers at £11,600 / €13.099,00 / $12,999.99 / AU$16,999.99.
Among the changes made, Mollema switched out the Aeolus RSL 37 tubeless wheels in favour of the deeper Aeolus RSL 62mm wheels, and the Aeolus Pro saddle for the Arvada Pro, albeit neither of which came with any extra cost in their retail prices.
He also added a couple of Bontrager XXX bottle cages, totalling £89.98 / €149,98 / $159.98 / AU$199.98.
Total cost: £11,689.98 / €13.248,98 / $13,159.97 / AU$17,199.97
EF Education Easypost's Cannondale SuperSix EVO Hi-Mod
As showcased above, some teams' entire bikes can be bought off the shelf in pretty much the exact spec ridden by the riders, save for a few comfort tweaks and minor performance improvements. That makes it quite a simple process if you want to cosplay as a pro at the weekends.
However, replicating the spec of other teams can be much more complex. Take EF Education-EasyPost, whose Cannondale bikes are fitted with aftermarket wheels, chainsets, cockpits, saddles, bar tape, and more. Even the hanger that holds the derailleur in place is new.
Taking Owain Doull's bike as our example, we'll start with the cost of a full bike, and swap out the components as needed. We'll do that based on their retail prices for simplicity, but it's worth bearing in mind that if you were to try to replicate this process in real life, you'd be forced to take a hit on the value of components being replaced since you'd be selling them second-hand.
If you head to Cannondale's website, the full bike will set you back £11,500. Given the long list of swapped-out components, to calculate how the price grows and falls from , we're going to need a table!
Swipe to scroll horizontally
| Stock component | Price | New component | Price | Cost difference |
| --- | --- | --- | --- | --- |
| HollowGram 45 SL KNØT carbon wheels | £1,100 | Vision Metron 60 SL Disc tubeless | £1,892 | £792 |
| SAVE SystemBar cockpit | £250 | Vision Metron 6D integrated | £598 | £348 |
| Shimano Dura-Ace chainset | £549.99 | FSA PowerBox carbon crankset (with power meter) | £952 | £402.01 |
| Fizik Tempo Argo R3 | £140 | Prologo Scratch M5 NACK | £174.99 | £34.99 |
| Inner tubes | £10 | Muc Off Tubeless valves and sealant | £35 | £25 |
| Total removed | £2049.99 | Total added | £3651.99 | £1602 |
There's also the addition of a Silca Chisela computer mount at £116.00, and Elite Custom Race bottle cages at £28.
We'll waive the added cost of the bottles, since that's peripheral to the bike itself. Also, we'll ignore the anodised derailleur hanger (we've no real idea of who makes it), and due to the insignificant cost difference that the new bar tape adds, we'll ignore that too.
Approx total cost: £13,246
Approx currency conversion (June 2022): €15.400 / $16,250 / AU$23,400
The most expensive Tour de France bike? Filippo Ganna's Pinarello Bolide TT
There's no greater arms race in cycling than in the world of time trialling, and as such, it's here that the money really starts to stack up. Nowadays, we have such a deep understanding of aerodynamics, rolling resistance and drivetrain efficiency, and how they all affect the speed at which a rider will travel for a set power. Therefore, the time and research going into developing time trial bikes, components and clothing is growing exponentially as the available gains get smaller and smaller. The result is the cost of the products that are created are pretty darn expensive.
Two-time world champion, Filippo Ganna, is quite possibly the most optimised rider on the start ramp from an aerodynamics perspective, so let's dive into his bike, just to get an idea of how incredibly expensive some of the Tour de France TT bikes can become.
To complicate things a little, Ganna will undoubtedly ride aboard a yet-to-be-released Bolide, after Geraint Thomas was spotted aboard a new bike at the Tour de Suisse. We don't know any pricing details of that bike, so we'll focus on the pricing of the previous Bolide, with the assumption that the new bike is likely more expensive still.
Starting with the frameset, the Bolide TT is available to buy at Sigma Sports (opens in new tab) for £11,000.00. That includes the frame, fork, seatpost, aero cockpit, headset, bottom bracket and integrated brakes.
On top of this, based on recent races, Ganna is likely to use a pair of wheels from Princeton Carbonworks: the Blur 633 rear ($2,500) and Mach 7580 front ($3,950). Total cost $6,450 (Approx £5,250 after conversion).
He'll also need a groupset, and in his last race, he used the older 11-speed Dura-Ace R9100 model, which is priced at approximately £4,000 once you factor in the power meter, the time trial shifters, the time trial brake levers, and the removal of the brake calipers (since they're integrated to the frame).
Next up is the custom-moulded aero cockpit. No information is available on pricing of this, nor for the stock aero bar that comes fitted to the bike, so we'll have to make some assumptions. Given the non-custom nature of the stock aerobar, and apparent lack of any real aero consideration of the extensions, we're pitching these at around £500. This is in line with similar products, such as the PRO Missile and the Vision Trimax SL.
The replacement added for Ganna is the Talon TT aero cockpit from Pinarello's component subsidiary brand, MOST. It's made using a 3D scan of Ganna's body and arms, and is then 3D printed from titanium. Pinarello doesn't publicly advertise the cockpit's price, so we reached out to the brand for details.
"This exclusive service is now also available to the public," explained chief marketing officer, Federico Sbrissa. "It requires an appointment with a scanning centre located in UK or in Italy, which can be booked by contacting Pinarello directly through one of its official retailers. Pricing will be based on the result of the preliminary assessment."
Later in his response, Sbrissa gave a rough price for the service of €17,000 - €20,000 (approx. £14600 to £17250). In our estimations, that makes it the most expensive component in the peloton. For the sake of working out an approximate bike value, we'll choose the middle value of €18,500 (£17,250).
Beyond these main components, there are other 'finishing' components to add on. Continental GP5000 S TR tyres will cost £150 for a pair, while the tubeless conversion will likely add another £25 (as we found on Doull's Cannondale above). There's also a Fizik Transiro Mistica KIUM saddle, all £165 of it.
Approx total cost: £37,340
Approx currency conversion (June 2022): €43.350 / $45,600 / AU$65,900
How many bikes do teams have at the Tour de France?
Most riders will usually have two bikes available to them on any given day, with key riders having even more. Some teams will also have two different types of bike - one that is lighter in weight for the climbing days, and another that is more aerodynamic for the flatter, faster days. They will also have one or two time trial bikes per rider for the time trial stages.
If you extrapolate that out to eight riders per team and take into account bikes that have been crashed out, it's not uncommon for teams to have 60 framesets and over 100 wheelsets. Hunt Bike Wheels previously confirmed to Cyclingnews that it supplied 115 wheelsets to Qhubeka Assos for the 2021 Giro d'Italia.
Can you buy a Tour de France bike?
Article 1.3.006 of the UCI Technical Regulations states:
"Equipment shall be of a type that is sold for use by anyone practicing cycling as a sport. Any equipment in development phase and not yet available for sale (prototype) must be subject of an authorization request to the UCI Equipment Unit before its use. Authorization will be granted only for equipment which is in the final stage of development and for which commercialization will take place no later than 12 months after the first use in competition."
To simplify, this means teams can only use technology that is available to the public, or prototypes of tech that are planned to make it into the public domain within 12 months.
Therefore, you can indeed ride the exact same bikes as the WorldTour pros… just know you'll need deep pockets.
What do Tour de France teams pay for their bikes?
This depends on the sponsorship deal the team managed to strike with manufacturers of the frames and components, but for the most part, teams will not pay a single penny for their bikes.
Understandably, we're not privy to the ins and outs of these commercial negotiations, but the rough details are no big secret. The bike industry is rife with brands vying for attention, and there's no bigger stage than the Tour de France. Be they bike brands, kit manufacturers or shoe suppliers, they all want to put their product in front of the worldwide audience, and they all have something to offer that the team needs.
The types of sponsorship agreement varies greatly by team, usually dependent on the team's success - or likelihood thereof. A winning team is better publicity, after all.
Some deals will be for the frameset alone, meaning the team needs to head elsewhere for a supply of wheels, groupsets and everything else. Others, like Trek Segafredo and QuickStep-AlphaVinyl mentioned above, will get complete bikes supplied by the brand.
In addition, some sponsorship agreements are a simple handover of product in return for the publicity it will garner, while others are fully integrated technical partnerships where the two parties work together to innovate, develop and market their products.
Moreover, rather than paying for the bikes, some deals will actually also involve a cash injection alongside the provision of equipment, meaning these teams are given bikes and money. Hands up anyone who's ever left a bike shop richer than when they entered...? No, nor us.

Thank you for reading 5 articles in the past 30 days*
Join now for unlimited access
Enjoy your first month for just £1 / $1 / €1
*Read any 5 articles for free in each 30-day period, this automatically resets
After your trial you will be billed £4.99 $7.99 €5.99 per month, cancel anytime. Or sign up for one year for just £49 $79 €59

Join now for unlimited access
Try your first month for just £1 / $1 / €1
The latest race content, interviews, features, reviews and expert buying guides, direct to your inbox!
As the Tech Editor here at Cyclingnews, Josh leads on content relating to all-things tech, including bikes, kit and components in order to cover product launches and curate our world-class buying guides, reviews and deals. Alongside this, his love for WorldTour racing and eagle eyes mean he's often breaking tech stories from the pro peloton too.
On the bike, 30-year-old Josh has been riding and racing since his early teens. He started out racing cross country when 26-inch wheels and triple chainsets were still mainstream, but he found favour in road racing in his early 20s and has never looked back. He's always training for the next big event and is keen to get his hands on the newest tech to help. He enjoys a good long ride on road or gravel, but he's most alive when he's elbow-to-elbow in a local criterium.
The latest race content, interviews, features, reviews and expert buying guides, direct to your inbox!
Thank you for signing up to The Pick. You will receive a verification email shortly.
There was a problem. Please refresh the page and try again.